MOUNT PLEASANT, Iowa -- As he had done after every campaign stop in Iowa since announcing his presidential campaign, Beto O'Rourke was shaking as many hands and taking as many selfies as his staff would allow when an attendee grabbed his attention.
David Suarez leaned over the counter at the Mount Pleasant coffee shop where O'Rourke spoke Friday morning to ask the former congressman about DREAMers, immigrants brought to the United States as children whose legal status remains in limbo after the Trump administration rescinded protections given to them under former President Barack Obama.
O'Rourke told Suarez he supports immediately legalizing DREAMers, referencing, as he so often does, his hometown of El Paso and the way its diverse population of immigrants is able to come together to find solutions and common ground.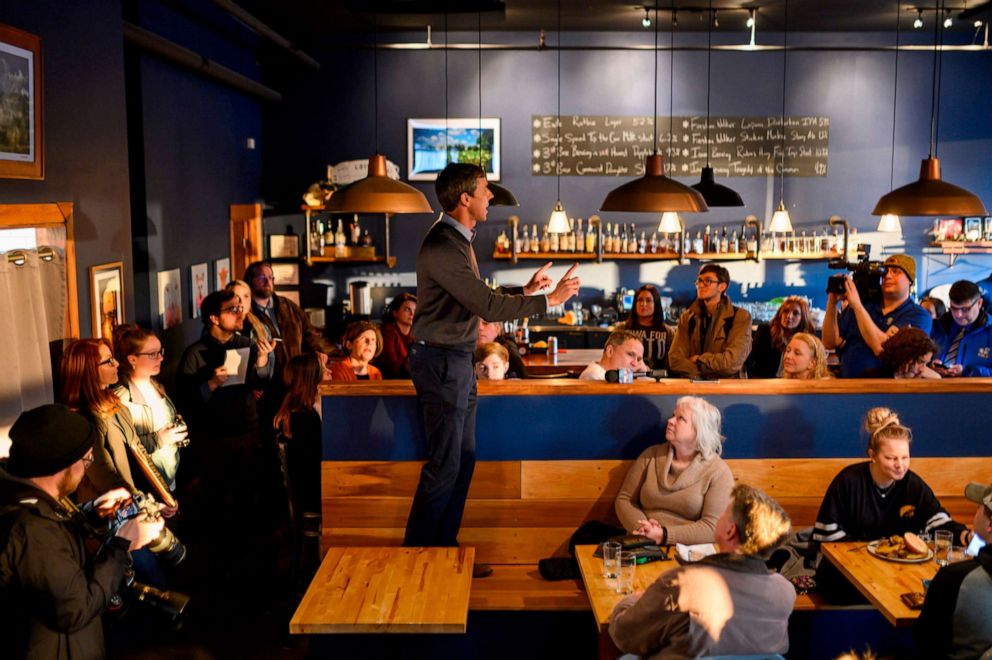 The answer sounded good to Suarez, but in a town that saw 32 undocumented immigrants rounded up last year by the U.S. Immigration and Customs Enforcement agency (ICE), the issue hits home for many of the town's Hispanic residents, and it was not sufficient.
"This is a big concern for our Hispanic community here in Mount Pleasant," Suarez told ABC News. "That sounds good in a speech, but we have to see the actions.
"He looks like a very good candidate, but we have to wait a little bit more until we can see the other candidates and what they propose," Suarez said of O'Rourke, the former three-term congressman who shot to national stardom during his losing U.S. Senate bid last year against one of the GOP's most polarizing figures, Sen. Ted Cruz.
The impression of O'Rourke as a relentless optimist was echoed by many of the people, mostly Democrats, who showed up to see him talk about why he has jumped into a crowded Democratic primary field that has swelled to over 15 candidates.
"I don't know if Beto can win," Jackie McVery, who supported Hillary Clinton in the 2016 Iowa caucuses, said prior to O'Rourke's second event in the state in Fort Madison. "I just have to see how he interacts with other candidates, if he has that fight ... because Trump is mean, he's cruel, he will tear his family apart. ... If Beto can stand up to him then I think he has a huge chance."
Campaigning from the bed of a pickup truck, standing on the front bar of coffeehouses, and after a St. Patrick's Day-themed 5K race, O'Rourke said his campaign for president will be much like his long-shot bid to unseat Cruz, focused on "showing up everywhere," and speaking to voters disillusioned with the political process.
"This campaign has got to be about learning from the people we meet and finding a way to bring people together," O'Rourke told reporters after finishing his 5K race. "This pace and this manner of campaigning is not just perhaps the best way to win, it may be the only way to serve if we're going to beat the challenges before us."
It's a welcome message for many who showed up at O'Rourke's events, but with just under a year until the 2020 Iowa caucuses, many Democrats in the state are withholding judgment on the Texan's chances against a field of Democrats that already includes six U.S. senators and could soon see the candidacy of former Vice President Joe Biden.
"I'm real curious about some of the women, but we haven't seen any of them yet," Susan Fisher said at O'Rourke's event in the town of Washington, Iowa, mentioning Senators Kamala Harris of California and Amy Klobuchar as candidates she'd like to hear from personally.
It's an foregone conclusion for many Iowans that they get a personal look at those eyeing the White House.
Jeri Sanburn, another Democrat who showed up to O'Rourke's Washington event, recounted her multiple personal interactions with former President, then-Senator Barack Obama, during his 2008 presidential campaign.
O'Rourke eschews the comparisons some make of him to Obama, calling the president an "extraordinary human being," but adding, "I'm flattered by any comparison but I know myself well enough to say I don't come anywhere close."
When asked outside of his campaign stop in Washington about whether Biden should run for president, O'Rourke heaped praise on the man currently leading in most early polls of the Democratic field.
"I don't see why not," O'Rourke said when asked if Biden should get in the race. "I think he's done an extraordinary job for this country as senator and as vice president."
When a voter at one of his events in the town of Independence stood up to say he did not want Biden to run, O'Rourke said he disagrees, saying he would welcome Biden's perspective in the race.
"He's been there, done that. He's just too old," that voter, Jake Blitsch, a Navy veteran, told ABC News after the event. "I want to see someone younger than me."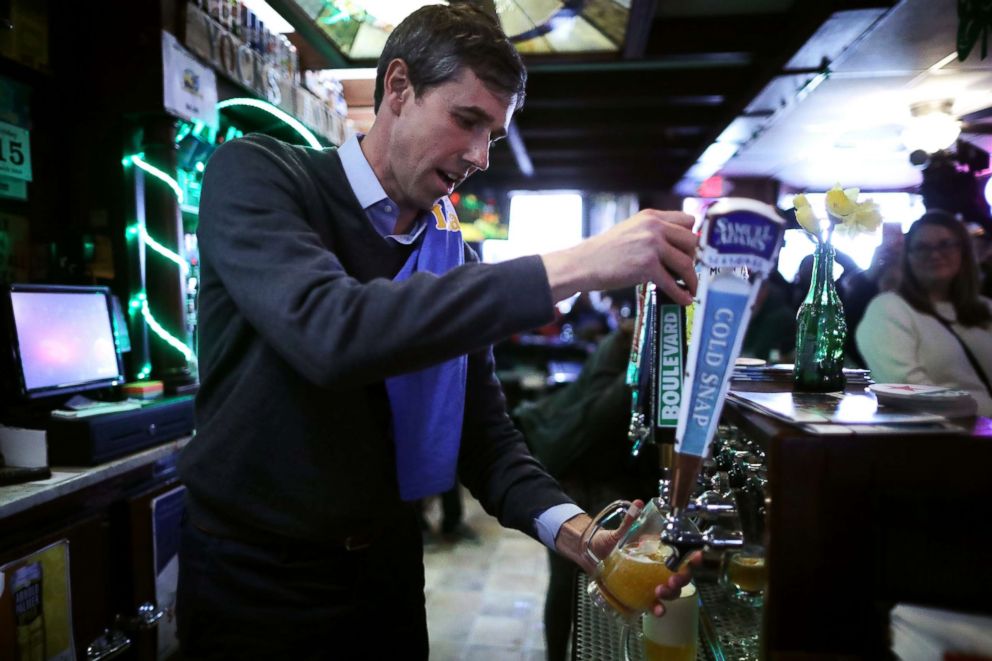 O'Rourke, who said during his 2018 race that he would vote to impeach President Donald Trump, believes the issue should now be left up to his former congressional colleagues. Still, he said it is "beyond a shadow of a doubt that the president sought to collude with a foreign power against the United States to undermine our democracy."
"You're asking me, 'Has the president committed impeachable offenses?' Yes, period," O'Rourke said.
The first days of O'Rourke's presidential candidacy were, like many, far from perfect. The candidate issued apologies for both a joke he made about his wife primarily raising his three kids, and a report about disturbing writings of his as a teenager.
"My ham-handed attempt to try to highlight the fact that Amy has the lion's share of the burden in our family ... should have also been a moment for me to acknowledge that that is far too often the case, not just in politics, but just in life in general," O'Rourke said during a podcast taping Friday evening in Cedar Rapids.
Of his teenage writings, O'Rourke said, "I'm mortified to read it now, but I have to take ownership of my words and understand the way they make people feel when they read them."
In spite of the joke and the writings, O'Rourke is unwavering in his confidence that his presidential campaign can tap into the same type of organic enthusiasm and grassroots energy that defined his race against Cruz, a tall order to replicate over what is sure to be a grueling, almost two-year campaign.
O'Rourke, while acknowledging he fell short last year, is adamant that his 2020 race will be run in the same way, despite the logistical challenges.
"It's a big country, and traveling to be with everyone in a campaign that receives no PAC contributions, in a way that feels right to me, which is ensuring that no one is left behind or taken for granted. We go everywhere and really run this for an entire country," O'Rourke said.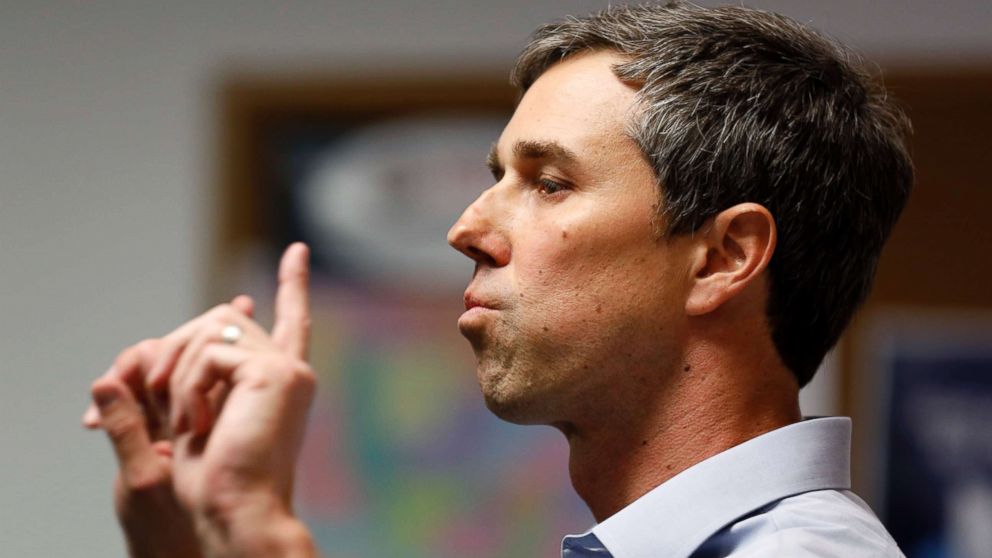 "That's going to be our challenge. It's a function of geography and time, but I will work with everything that I've got, I will do my best to be part of the largest grassroots campaign this country's ever seen," he added.
That strategy will continue in the coming days, as O'Rourke continues his initial campaign blitz with two stops in Wisconsin and rumors of a bigger swing through the Midwest ahead.
As he got into the Dodge Caravan he has been driving around Iowa, O'Rourke said the plan is to drive the car all the way to the state that follows Iowa in the presidential nominating contest some 1,200 miles to the east -- New Hampshire.