Biden to announce US will buy 500 million vaccine doses to donate to poorer nations
Biden teased the announcement before embarking for the G-7 summit in the U.K.
As pressure mounts for the U.S. to share its vaccine surplus with the world, President Joe Biden has struck a deal with vaccine giant Pfizer to buy another 500 million more doses that would be distributed to lower-income countries, according to a person familiar with the plan.
The deal calls for 200 million doses delivered this year and distributed through the global vaccine program "Covax." Another 300 million would be delivered in the first half of 2022.
Biden was expected to discuss the details on Thursday in the United Kingdom where he is meeting with the leaders of the Group of Seven nations -- his first foreign trip since taking office.
Before departing, Biden teased to reporters that he has a COVID vaccine plan for the world.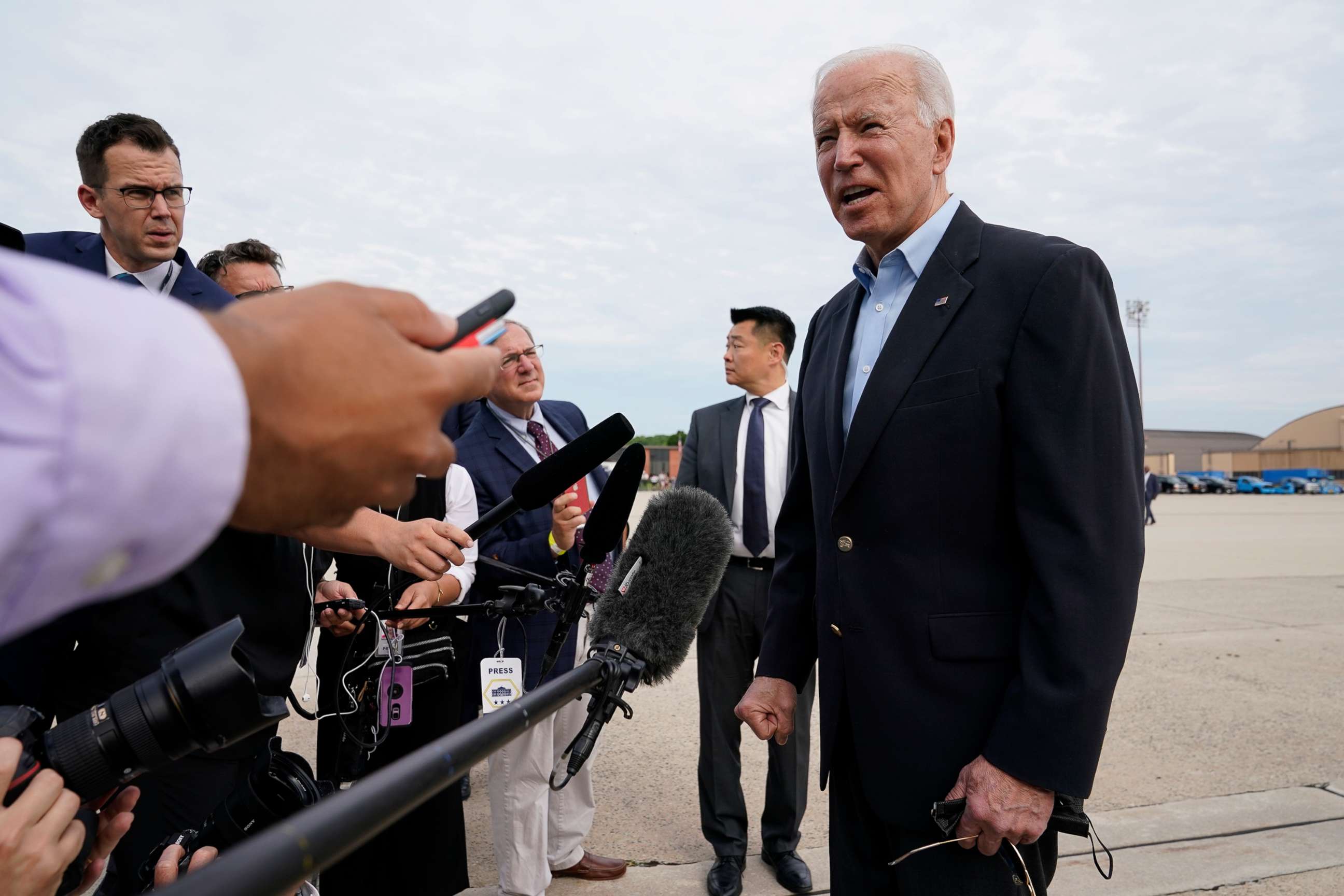 "I have one and I'll be announcing it," he told reporters.
The White House declined to provide details publicly. The Washington Post first reported the plan.
National security adviser Jake Sullivan said more details would come Thursday.
"We'll be able to talk about additional steps the United States has taken to help donate more doses to poor countries around the world, and also to leverage what the United States is doing to help get the world's democracies to increase their commitment to supplying vaccines to the developing world, to help end this pandemic once and for all," he said.
The 500 million doses planned would be in addition to the 300 million the U.S. bought for itself from Pfizer and is still distributing across the U.S. But as vaccine doses continue to roll in, state governors have stopped ordering large shipments, particularly for the one-shot Johnson & Johnson vaccine. According to data provided by the Centers for Disease Control and Prevention, only 11 million Johnson & Johnson doses have been administered in the U.S. out of 21 million delivered by the federal government.
Now, the Biden administration is scrambling to figure out what to do with the extra doses before many of them expire. Ohio has warned it has some 200,000 vaccine doses set to expire this month, while Arkansas counts 70,000. Mississippi has returned to the federal government some 872,000 doses.
J&J said in a statement that it's working with the federal government to try to extend its shelf life for its vaccine doses, and federal officials are working through the logistics of possibly shipping some extra doses overseas.
A State Department spokesperson told ABC News the federal government "is committed to working to make sure that vaccine is utilized, whether in the United States or elsewhere."
That process though can be somewhat complicated, officials say, with the U.S. needing to coordinate first with a country's medical agency to share safety and regulatory information and provide supplies like needles, syringes and alcohol pads. The vaccines also have specific handling requirements, including temperature-controlled storage to remain effective.
"Over the coming weeks, we will work to get doses to countries and get shots into arms as soon as possible," the State Department said in a statement.
Dr. Anthony Fauci, Biden's chief medical adviser and the nation's top infectious disease expert, said Wednesday he has been "very vocal about the need to have a global solution" to the variant. If the virus spreads rapidly in other countries where vaccinations are scarce, it's possible that more dangerous variants can form.
"There certainly is a possibility there will be the emerging of a variant that would elude the protection of a vaccine," Fauci told MSNBC on Wednesday.
ABC News' Conor Finnegan, Cheyenne Haslett and Molly Nagle contributed to this report.