President Joe Biden said Thursday he is launching a "whole-of-government effort" in response to the Supreme Court allowing the nation's most restrictive abortion law to take effect in Texas, directing his Gender Policy Council and the White House legal team to tap federal agencies to ensure women maintain their constitutional right to an abortion.
The new law in Texas has raised concerns among Democrats and abortion rights advocates that there will be efforts in other states to imitate it. The Supreme Court ruling provides a fresh incentive to act on abortion on a federal level while reigniting the national political divide over abortion, the 1973 Roe v. Wade decision legalizing it, and the high court itself.
"While the Chief Justice was clear to stress that the action by the Supreme Court is not a final ruling on the future of Roe, the impact of last night's decision will be immediate and requires an immediate response," Biden said in a statement.
"Hence, I am directing that Council and the Office of the White House Counsel to launch a whole-of-government effort to respond to this decision, looking specifically to the Department of Health and Human Services and the Department of Justice to see what steps the Federal Government can take to ensure that women in Texas have access to safe and legal abortions as protected by Roe, and what legal tools we have to insulate women and providers from the impact of Texas' bizarre scheme of outsourced enforcement to private parties," the statement said.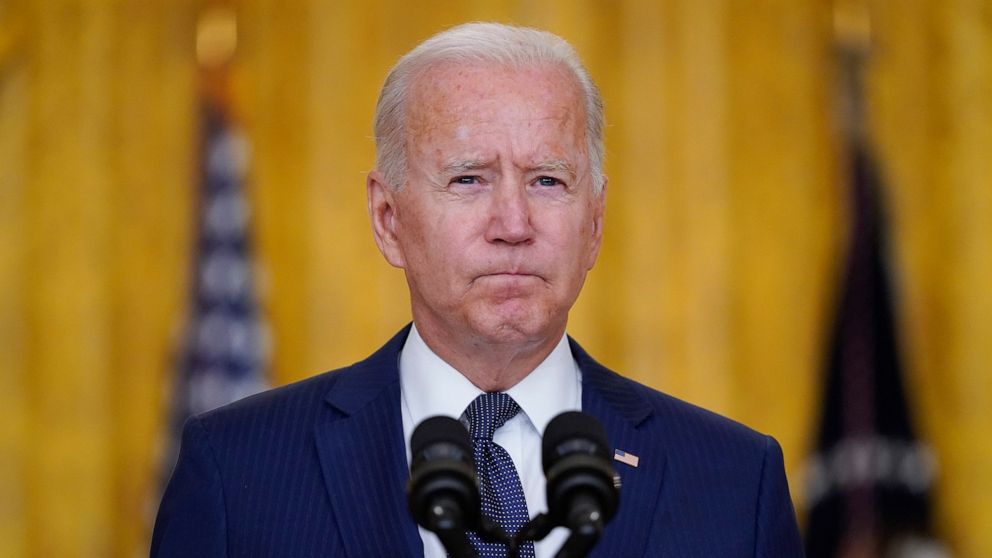 Attorney General Merrick Garland also said in a statement that the Justice Department is "deeply concerned" about the Texas law, known as SB 8, and is "evaluating all options to protect the constitutional rights of women, including access to an abortion."
The Supreme Court in a 5-4 vote Wednesday night formally rejected a request from Texas abortion providers to block the state's severe law restricting the procedure while legal challenges continue. Most abortions in Texas are now illegal after six weeks of pregnancy, and private citizens -- who do not have to be Texas residents -- are encouraged to sue a person they believe is providing an abortion outside the new parameters or assisting a woman in getting one, such as a rape counselor or an Uber driver taking a woman to a clinic.
Mallory Quigley, the vice president of communications of the Susan B. Anthony List, a group opposed to abortion, hailed what she called the "pioneer legislation."
"We're incredibly hopeful and encouraged by the fact that the Supreme Court is allowing the law to remain in effect while litigation continues," she told ABC News. "This is a message we want to take to voters about the differences between the two sides."
But Biden said the decision "unleashes constitutional chaos and empowers self-anointed enforcers to have devastating impacts" and that the law will now "significantly impair women's access to the health care they need, particularly for communities of color and individuals with low incomes."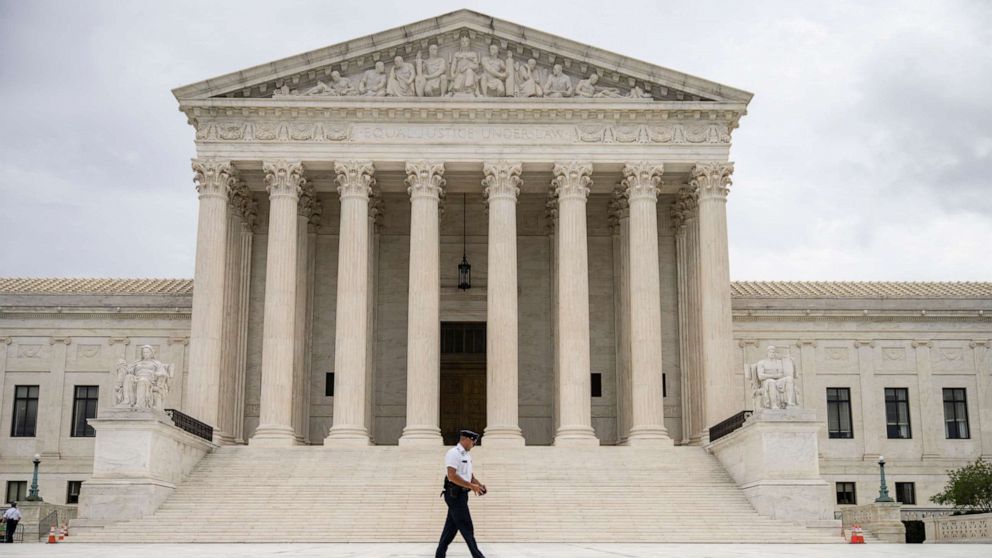 "This law is so extreme it does not even allow for exceptions in the case of rape or incest. And it not only empowers complete strangers to inject themselves into the most private of decisions made by a woman -- it actually incentivizes them to do so with the prospect of $10,000 if they win their case," Biden's statement said. "For the majority to do this without a hearing, without the benefit of an opinion from a court below, and without due consideration of the issues, insults the rule of law and the rights of all Americans to seek redress from our courts."
Vice President Kamala Harris joined Biden on Thursday in condemning the Supreme Court's inaction.
"This decision is not the last word on Roe v. Wade, and we will not stand by and allow our nation to go back to the days of back-alley abortions," Harris said in a statement. "We will not abide by cash incentives for virtual vigilantes and intimidation for patients. We will use every lever of our Administration to defend the right to safe and legal abortion -- and to strengthen that right."
White House press secretary Jen Psaki said at a briefing on Thursday that the president would be "eager" to sign a bill that solidifies the right to an abortion as the law of the land.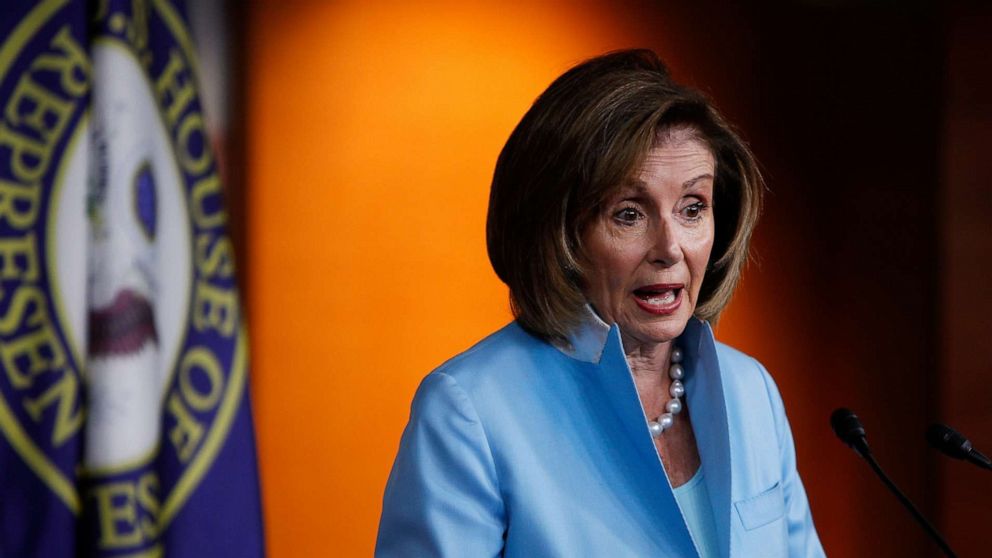 Echoing the White House, House Speaker Nancy Pelosi -- who at a press conference in Austin said she expects to see "copycat" legislation in other states and reiterated the need for legislation to protect women -- called the court's decision "cowardly" in a statement and vowed to bring up the Women's Health Protection Act, a measure that would codify Roe v. Wade, for a vote.
"The Supreme Court's cowardly, dark-of-night decision to uphold a flagrantly unconstitutional assault on women's rights and health is staggering," she said in a statement. "Upon our return, the House will bring up Congresswoman Judy Chu's Women's Health Protection Act to enshrine into law reproductive health care for all women across America."
The House is scheduled to return from recess on Sept. 20., but that vote will only be symbolic given that Democrats don't have 60 votes to pass the bill in the Senate or 51 votes to change Senate rules to allow its passage over GOP opposition.
Still, the Supreme Court's decision has prompted progressive Democrats to renew their calls for changes to the Senate's filibuster rules -- and for legislation that would expand the number of seats on the Supreme Court.
"We need to restore balance to the court after Donald Trump and Senator Mitch McConnell blatantly stole the seats of Justice Scalise and Justice Ginsburg," Sen. Ed Markey, D-Mass., said in a statement.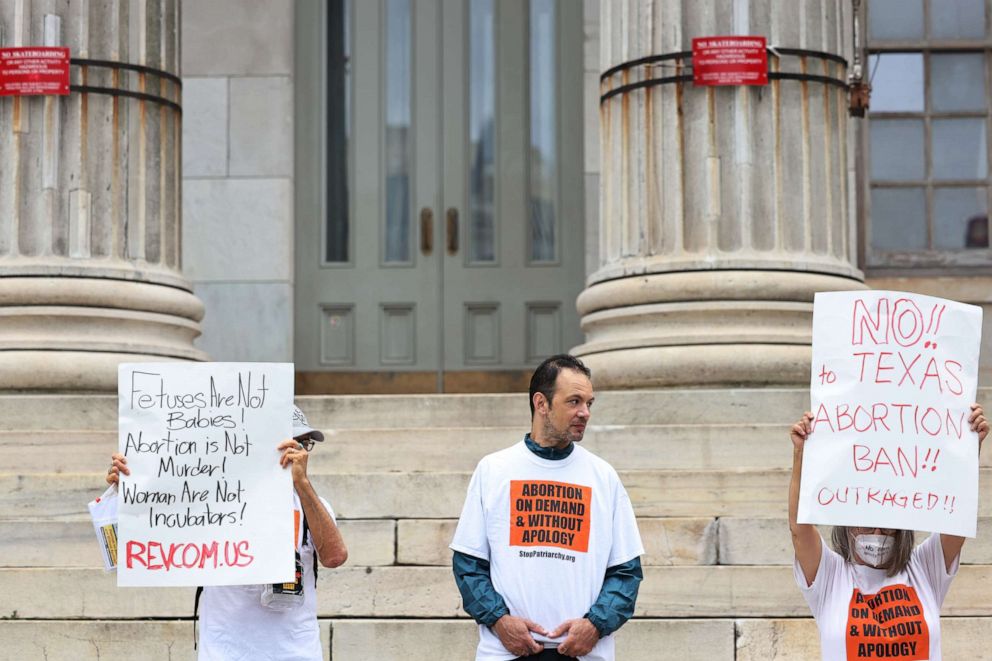 Asked about the potential for expanding the number of justices on the Supreme Court, Psaki said at a briefing on Thursday that Biden's view remains "unchanged" and that he has already tasked a commission, which has yet to present its findings to him, with looking into court expansion and term limits.
"He's waiting for the conclusion of this report, looks forward to reviewing it, seeing where they come out," Psaki said.
Advocates are concerned, in the meantime, about other states passing laws similar to the one in Texas.
Nancy Northrop, president and CEO of the Center for Reproductive Rights, told CNN on Thursday she expects the Supreme Court decision will embolden states "to completely ignore Roe v. Wade."
While the majority of state legislatures are not currently in session, about 70 bills attempting to ban all or most abortions were introduced this year, according to the Guttmacher Institute, which tracks state-level sexual and reproductive health bills.
Eleven states could end up using a similar enforcement strategy to Texas', Elisabeth Smith, director of state policy and advocacy at the Center for Reproductive Rights, told ABC News by email on Thursday afternoon. She said the organization expects that when many state legislatures resume meeting in 2022, "We will see the majority of copycat legislation introduced."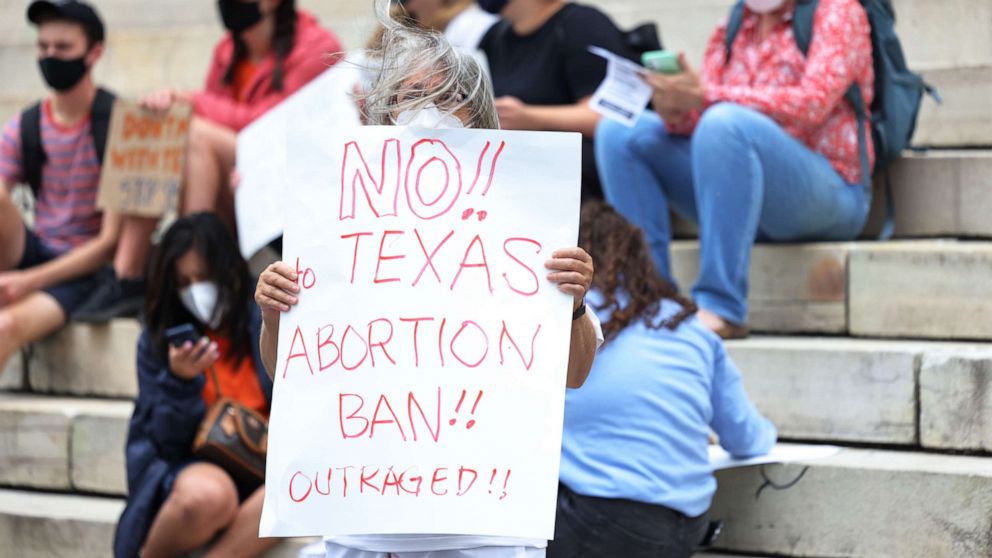 The Texas law is unique in that it expressly prohibits the state from enforcing the ban, instead authorizing private citizens to bring civil suits against anyone who "aids or abets" an abortion -- but not the patient herself. The enforcement mechanism has complicated the legal dispute before the Supreme Court because it is not clear who might bring a lawsuit and how widespread private legal action might be.
"According to the center's research, there are 24 states that are hostile to abortion rights," Smith wrote. "Given Texas' success thus far, we expect that many of these states will attempt to mimic them. Right this moment, there are 11 other states with six-week bans on the books that are not being enforced. What is stopping these states from using Texas' enforcement strategy to avoid accountability in the courts?"
Florida's legislature, for example, is not in session, but at least one state representative, congressional candidate Anthony Sabatini, has promised to introduce the "exact same" bill as Texas' in the Sunshine State.
He told ABC News on Thursday the bill is being drafted. Florida Senate President Wilton Simpson also said to WFLA News that the Florida legislature would take up a bill similar to the Texas law in the next session.
In Arkansas, State Rep. Jason Rapert, a far-right conservative who claims to be the original sponsor of the first fetal heartbeat bill to pass in the U.S., which since failed in court, said on Thursday he is already pushing a bill that would update Arkansas law to mirror the Texas SB8 law before the state legislature adjourns.
"I look forward to working with my fellow legislators adding cosponsors and @AsaHutchinson to pass this important legislation before we adjourn the legislative session," he said in a tweet.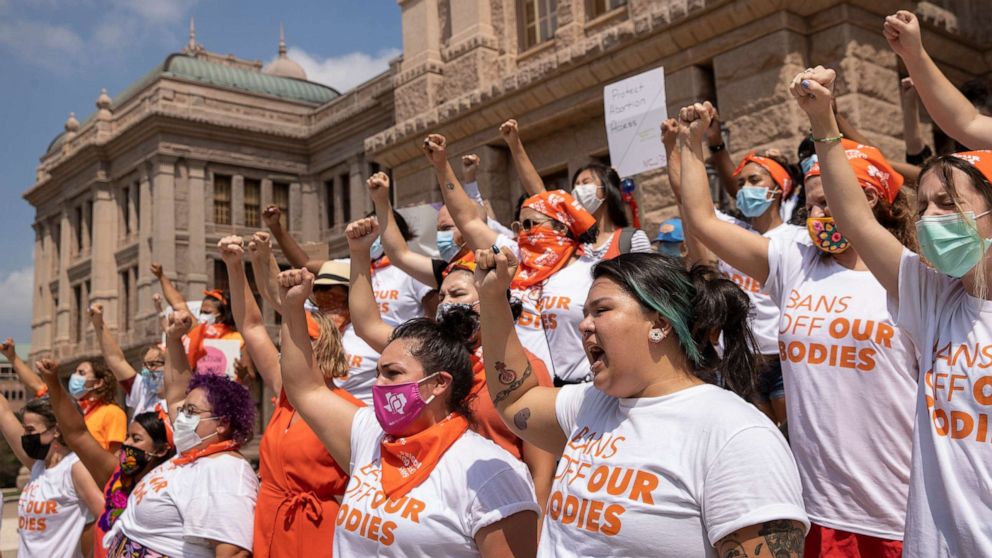 And South Dakota's Republican Gov. Kristi Noem -- a potential 2024 presidential candidate -- not wanting to be outdone by Texas Gov. Greg Abbott, another potential 2024 candidate, tweeted on Thursday that she's asked someone in her office to look into Texas's new anti-abortion law and how it compares to South Dakota's because she wants her state to have "the strongest pro life laws on the books."
But other states may go in the opposite direction and could enhance abortion protections as a result of the Texas law.
"States that are committed to abortion rights and abortion access will likely strengthen their own laws in response to the Supreme Court's decision to let this Texas law take effect, similar to the protections that were enacted after the 2016 election," Smith said.
More than six in 10 Americans say they agree with the Roe v. Wade Supreme Court decision establishing a woman's right to an abortion, according to a national Quinnipiac poll from May, a view that has remained consistent in the nearly two decades Quinnipiac has polled on the issue, it said. In 2003, Americans agreed with the Roe decision 62-35%.
Amy Hagstrom Miller, CEO of Whole Women's Health, which operates four clinics in Texas, told ABC News her team is not giving up the fight to ensure women in Texas have access to reproductive health care.
"At this moment we are in an unprecedented and complicated situation," she said, "but we are sure of one thing -- our values, our commitment, and what we stand for has not changed."
ABC News' Devin Dwyer, Benjamin Siegel, Maiam Khan and Alex Mallin contributed to this report.