Biden classified documents need to be reviewed for national security risks, Schiff says
"I'd like to know what these documents were," Rep. Schiff said on "This Week"
Rep. Adam Schiff, a former chair of the House Intelligence Committee, said Sunday that classified documents recently discovered to be in President Joe Biden's possession from his time as vice president need to be assessed for their national security implications.
"I don't think we can exclude the possibility without knowing more of the facts," the California Democrat said of the Biden documents during an appearance on ABC's "This Week" when pressed by co-anchor Jonathan Karl about any national security risks.
Schiff said that he would like to see more information from the intelligence community on the details of the documents, noting that he expects similar details regarding the trove of classified materials that were recovered from former President Donald Trump's Mar-a-Lago resort.
"We have asked for an assessment in the intelligence community of the Mar-a-Lago documents," Schiff said. "I think we ought to get that same assessment of the documents found in the think tank as well as the home of President Biden. I'd like to know what these documents were. I'd like to know what the [intelligence community's] assessment is, whether there was any risk of exposure and what the harm would be and whether any mitigation needs to be done."
Beginning last week, the White House acknowledged in a series of statements that Biden's attorneys in November found classified records from his time as vice president while they were packing up his files at an old office in Washington, D.C.
Further searches by Biden's team found classified records at his home in Wilmington, Delaware, according to the White House, which disclosed the matter to the public amid news that the Department of Justice was investigating.
The president is cooperating and his lawyers quickly flagged the issue to the National Archives in the fall, his aides have stressed.
On "This Week," Karl asked Schiff whether the White House had been forthcoming enough, given the two-month delay since the initial documents were discovered before the 2022 midterm election.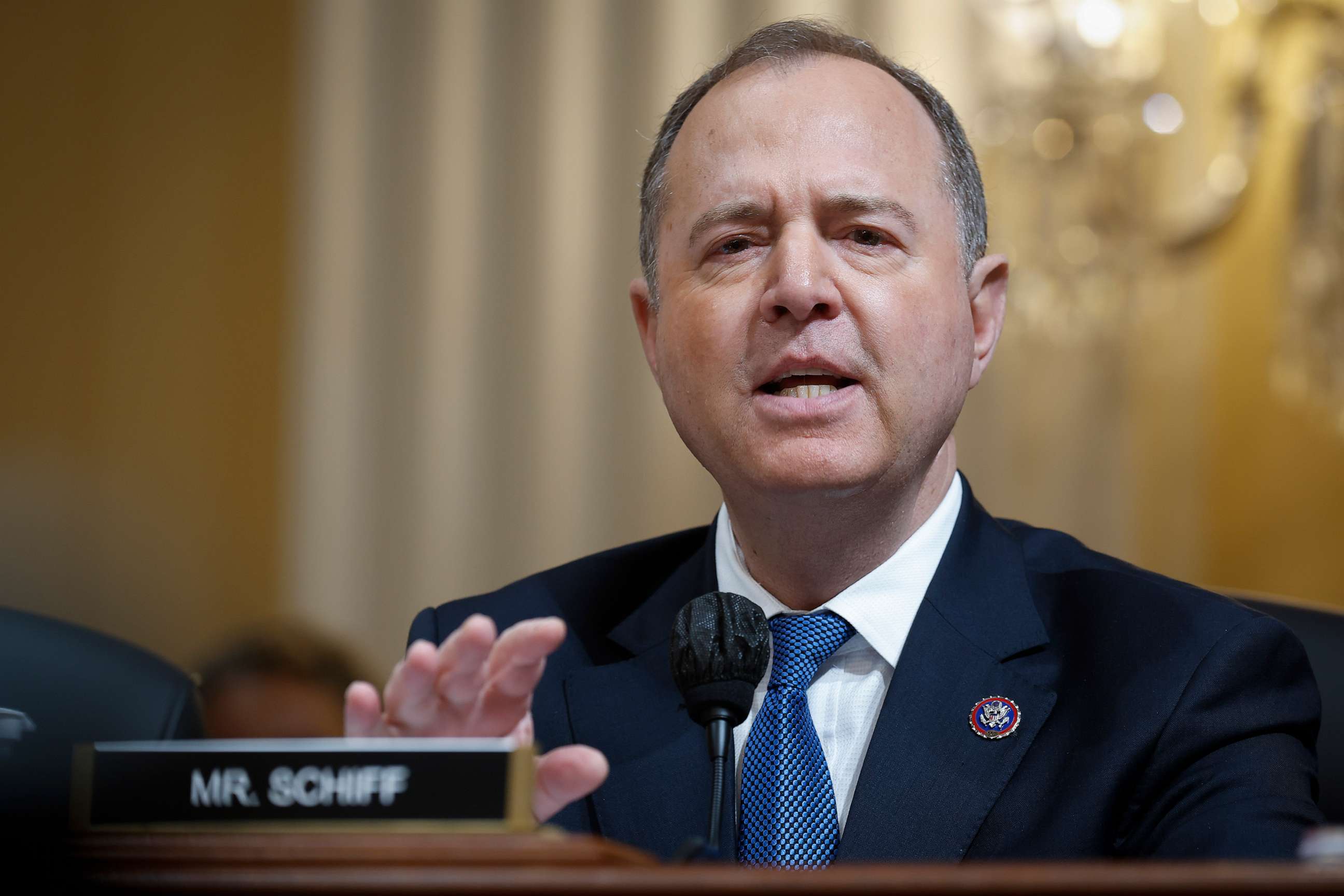 "I think the administration will need to answer that question. I'm going to reserve judgment until they do," Schiff said.
He said he thought Attorney General Merrick Garland made the right decision to appoint a special counsel to review Biden's handling of the sensitive documents -- a view echoed by Republican Rep. Don Bacon of Nebraska and Democratic Sen. Raphael Warnock of Georgia, who also appeared on "This Week" on Sunday.
"The attorney general has to make sure that not only is justice evenly applied, but the appearances of justice are also satisfactory to the public. And here, I don't think he had any choice but to appoint a special counsel," Schiff said. "And I think that special counsel will do the proper assessment."
But, he said, "I still would like to see Congress do its own assessment of and receive an assessment from the intelligence community of whether there was an exposure to others of these documents, whether there was harm to national security in the case of either set of documents with either president."
Schiff criticized new House Oversight Committee Chair James Comer, R-Ky., who has notified the Biden White House of a congressional probe but said last year that looking at Trump's handling of classified documents "will not be a priority."
"Those requests [to the Biden White House] are completely hypocritical when you consider what he said about the Mar-a-Lago situation. I think Congress ought to handle both situations the same way," Schiff said.
And while "the Biden administration ought to cooperate with any appropriate inquiry from Congress," Schiff said, oversight efforts shouldn't be used as political roadblocks.
"Congress shouldn't try to interfere with the investigations. I think, sadly, that's what Mr. Comer's object is," Schiff said.