President Joe Biden visited the U.S.- Mexico border on Sunday, his first trip since taking office, with a stop in El Paso, Texas, before he headed to Mexico City for a North American leaders' summit.
In El Paso, Biden met with local politicians, border officials and others involved with immigration; he also toured a border wall. The president's trip was relatively brief and he appears not to have met with any migrants directly.
According to a White House official, Biden wanted to highlight El Paso as a model for what can be done with the immense task of migration management in the face of intense challenges the city has faced.
In the past month, El Paso has become an epicenter for the ongoing surge of people arriving to the U.S. in the south.
However, the number of migrants illegally crossing into El Paso is down more than 70% since the recent surge in December, the White House official said in a statement. Border Patrol in El Paso is also now making about 700 apprehensions a day on average, down from a peak of 2,500 in December, according to a source familiar with the data.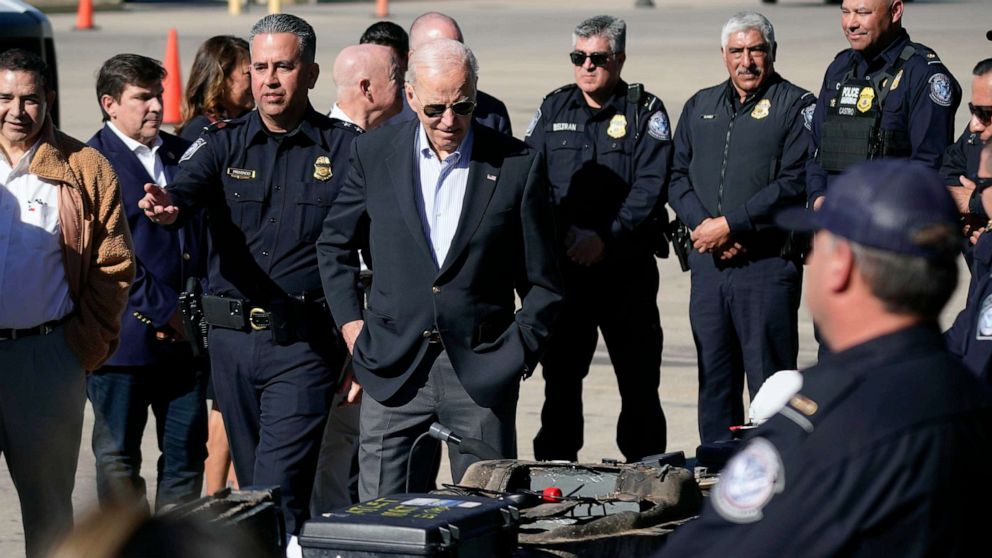 Since October, the number of illegal border crossings by Venezuelan migrants into El Paso has dropped to a quarter of what it was before the administration launched the first push in its latest border crackdown.
During his border trip Sunday, Biden assessed the implementation of $600 million in improvements to El Paso's busiest land border crossing, the Bridge of the Americas port of entry, according to the White House.
There, he met with law enforcement officials and watched demonstrations.
Biden also visited the El Paso County Migrant Services Center, which uses Federal Emergency Management Agency funding to support struggling migrants. At the center, he asked questions about their operations.
The White House official said ahead of the president's arrival that he would be joined on his trip by Homeland Security Secretary Alejandro Mayorkas -- whom Republicans have singled out for criticism, calling on Mayorkas to resign -- and Biden was planning to meet with local leaders and regional lawmakers, including Democratic Texas Reps. Henry Cuellar, Vicente Gonzalez Veronica Escobar; El Paso Mayor Oscar Leeser; and El Paso County Judge Ricardo Samaniego.
Biden was greeted in Texas by Gov. Greg Abbott, a Republican. The men shook hands and Abbott handed Biden some papers, which Abbott later told reporters was a proposal with five solutions to immigration problems.
Abbott said the White House had reached out to his office on Saturday night to invite him to greet Biden at the airport.
Biden arrived in El Paso in the afternoon and stayed for about three hours before departing to Mexico City for summit meetings on Monday and Tuesday, according to his schedule.
In addition to this other stops, Biden made an unannounced appearance at a wall along the border, walking along it and briefly speaking to the press. He was there for about 27 minutes.
According to pool reporters traveling with him, he said the federal government would provide every resource needed at the border. He also said he had not read Abbott's letter yet and he called the situation in Brazil -- where protesters stormed government buildings -- "outrageous."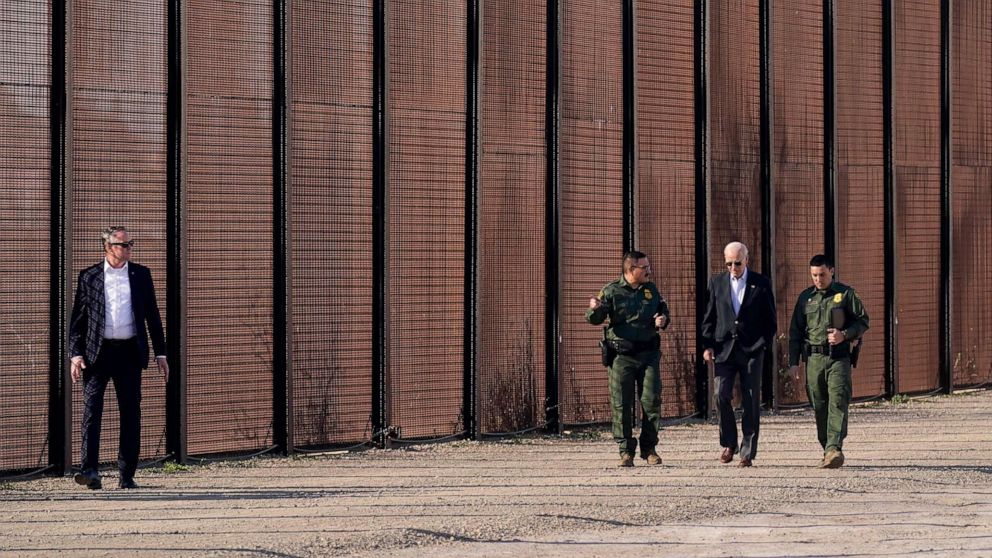 Biden's visit to Texas comes after an avalanche of GOP criticism focusing on what they cast as the president's two-year delay in personally witnessing and addressing ongoing immigration.
"After almost two years in office, President Joe Biden has said he is finally going to visit our southern border. This checks a box, but it doesn't even begin to solve the problems we are facing there," Sen. Shelley Moore Capito, R-W.Va., wrote in an op-ed Saturday.
"The president neglecting to visit the southern border—during a time when we are facing record illegal crossings and there is a clear crisis—would be the equivalent of our commander-in-chief not visiting the Pentagon during a military operation, not going to the National Institutes of Health (NIH) during the COVID-19 pandemic, or not assessing the damage after a natural disaster, just to name a few," Capito wrote.
Mayorkas described the issue another way in an appearance on ABC's "This Week" on Sunday.
'We are dealing within a broken immigration system that Congress has failed to repair for decades," he said, telling anchor George Stephanopoulos that he doesn't intend to resign. "The world is dealing with the greatest displacement of people since World War II, in the Western Hemisphere. Our entire hemisphere is gripped with a migration challenge," Mayorkas added.
Last week, the Biden administration announced a plan to expand border enforcement, including more expulsions of migrants but also a new pathway to seek refuge in the United States.
On Thursday, Biden said his administration will admit 30,000 migrants each month from Cuba, Haiti, Nicaragua and Venezuela, but they would have to meet strict criteria including having a sponsor in the U.S.
He is also further restricting migrants from those same four countries who try to cross the border illegally, announcing his administration will expand policies to remove them under Title 42, a public health restriction, or through enhanced standard immigration processing.
Under this protocol, officials expect to send as many as 30,000 of the migrants back to Mexico each month.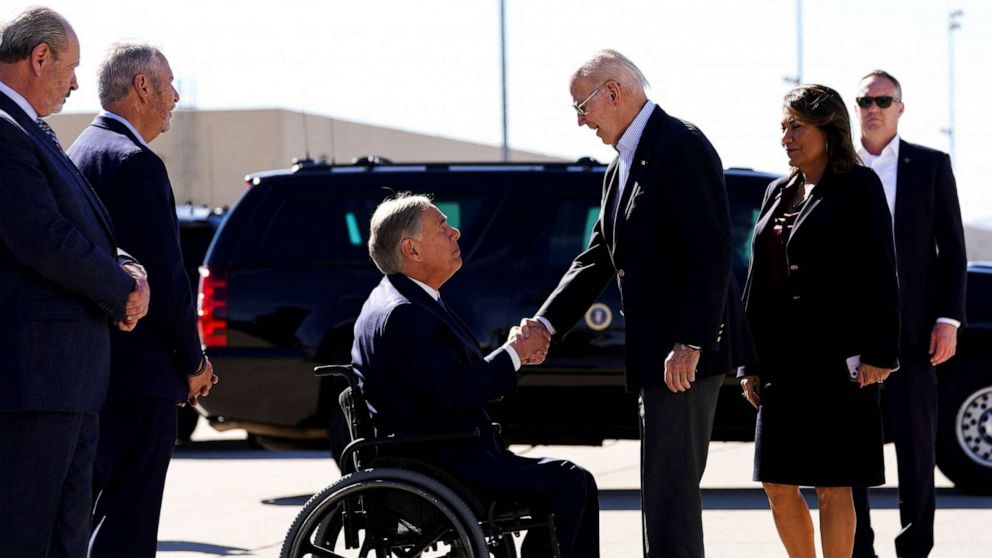 Responding to these steps, the American Civil Liberties Union said that Biden's actions "further ties his administration to the poisonous anti-immigrant policies of the Trump era instead of restoring fair access to asylum protections."
Gov. Abbott has also called Biden's border enforcement plans "nothing more than a band-aid for a historic flood."
In announcing the immigration actions on Thursday, Biden tempered expectations by saying they "aren't going to fix our entire immigration system" but would rather help manage a "difficult challenge."
In the 2022 fiscal year, southwest border encounters reached 2,378,944, according to U.S. Customs and Border Patrol data. The latest figures for fiscal year 2023 show that the El Paso sector alone has encountered 106,561 migrants. (Those figures can include one migrant who is encountered multiple times.)
Immigration has been a major source of GOP-fueled criticism for Biden since he took office.
It will also be one of the biggest points of discussion among Biden, Mexican President Andrés Manuel López Obrador and Canadian Prime Minister Justin Trudeau during the summit in Mexico City.
Fentanyl trafficking, trade and economic development are also expected to be discussed.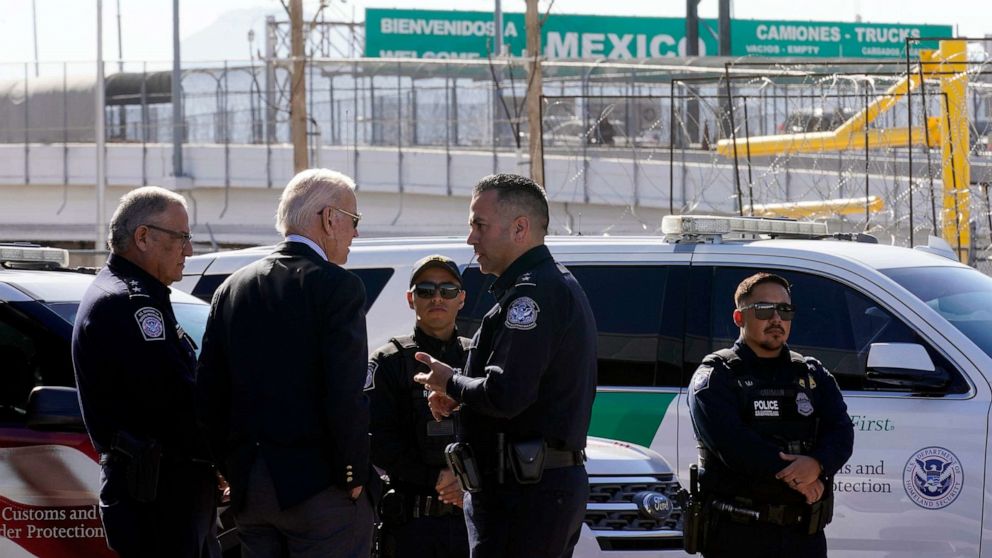 White House spokesperson John Kirby said last week that Biden would meet one-on-one with López Obrador on Monday and have another one-on-one meeting with Trudeau on Tuesday before all three gather.
Cooperation with Mexico will be key for the Biden administration to manage migration along the southern border and an in-person meeting will give Biden an opportunity to convince López Obrador to accept more migrants from countries that block U.S. expulsions.
It'll be the first time the three leaders meet together in person since November 2021, when Biden hosted a summit at the White House.