Biden promises 3 million new jobs in caregiving, early education in 3rd pillar of his economic plan
Biden laid out the plan during remarks Tuesday in Delaware.
Former Vice President Joe Biden launched the third pillar of his "Build Back Better" economic policy in a speech in New Castle, Delaware, Tuesday, focused on creating 3 million new jobs in the areas of caregiving and education, and looking to draw a sharp contrast with President Donald Trump on his handling of the COVID-19 crisis.
"This man simply doesn't understand," Biden said of Trump in his remarks. "He can't deal with our economic crisis without serving and saving and solving the public health crisis. For all his bluster about his expertise on the economy, he's unable to explain how he'll actually help the working families hit the hardest. You know, he's quit on you and he's quit on this country."
Biden's plan, which senior Biden officials outlined to reporters on a call Monday night, centers around expanding access to long-term care for elderly and disabled Americans, as well as creating accessible, safe childcare options for working parents. The plan would create 1.5 million new jobs in both fields, and would also focus on increasing pay for caregivers and early childhood educators, say advisers.
"We're trapped in a caregiving crisis within an economic crisis, within a health care crisis. You're doing everything you can, but this president is not," Biden said Tuesday in a policy-centric and at times personal speech that touched on his own experience as a single father after losing his first wife and daughter in a car accident in the early 1970s.
"I understand, to my very core. And I also know that together we can do this. This is America. We don't settle. We aspire. And we succeed," Biden said of the issues facing working families.
The plan, the campaign said, will be combined with Biden's pledge to provide 12 weeks of paid family and medical leave, and would create "job-enabling jobs," allowing an additional 2 million workers who have had to stay home with a loved one to return to the workforce -- creating 5 million jobs in total.
According to a 10-page summary detailing the policy, the plan would first focus on keeping current workers employed by providing "states, tribal and local governments with the fiscal relief they need" to retain their workers, as well as keeping child and long-term care services operating during the ongoing COVID-19 pandemic.
"It is a time of huge anxiety for parents who are watching the impacts of having their kids out of school or out of care for an extended period of time," a senior Biden official said on the call Monday night.
"It's an enormous economic weight on the parents who have really an impossible choice to make: Care for their children, or go to work to earn a paycheck. The financial burden and the emotional burden are massive for parents who are just trying to do right by the kids," the official said.
While the plan was billed as a pillar of his overall plan to restore and grow the economy, Biden, throughout his remarks, spoke about his personal connection to the plight of working parents and individuals caring for elderly or ill loved ones, and framed the policy as helping women in particular, who often fill the caregiving role.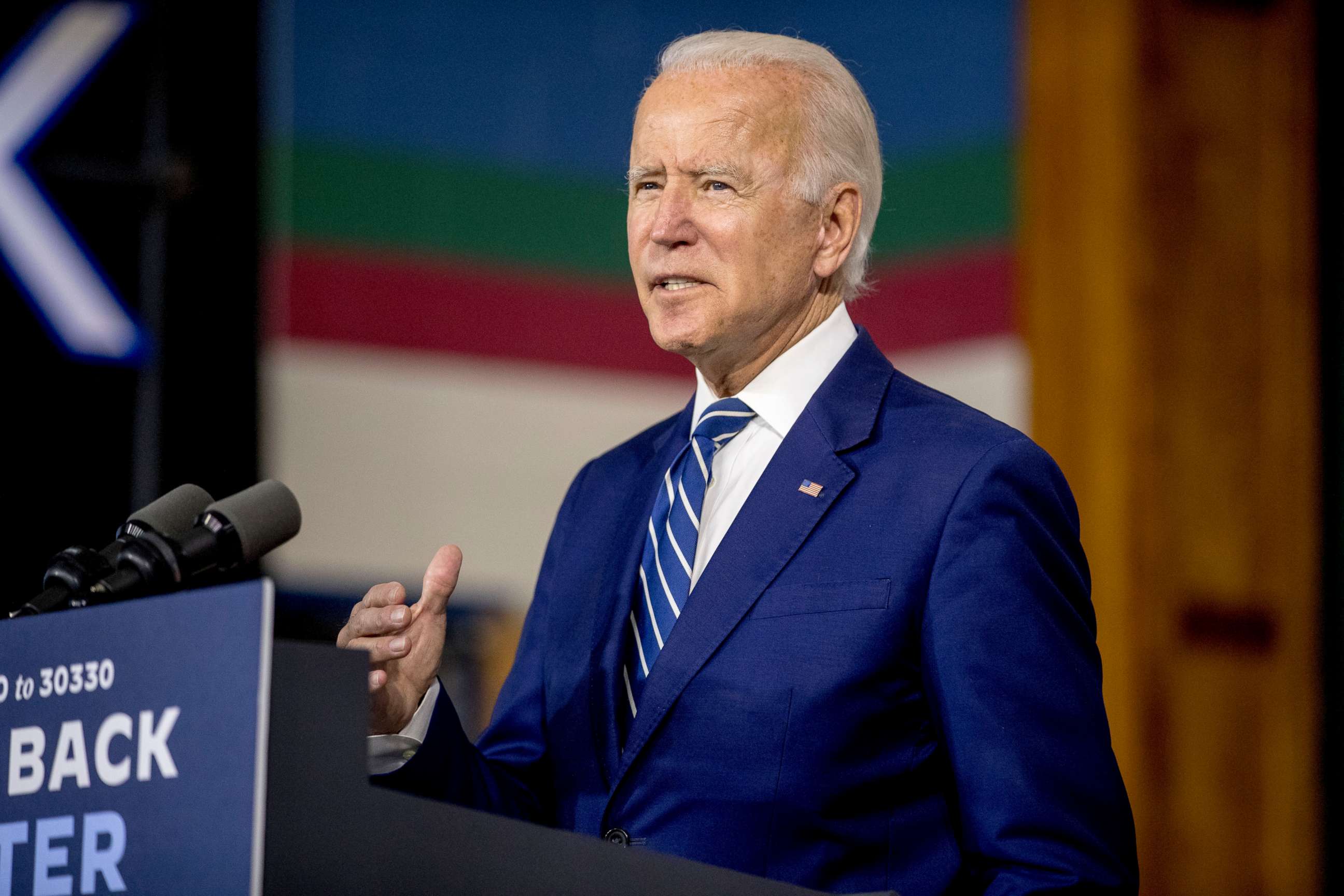 "As many of you know, I was a single parent for five years after my wife and daughter were killed and my two boys were badly injured. Even though I had a lot more support than a lot of people going through tough times today, it was hard," Biden said.
"We know so many of you are going through the same thing without the kind of help I had, but now everything, everything feels different. There's just that feeling, that sense, when you just don't know if everything is going to turn out OK," he said.
Biden's plan for long-term care would provide more funding to states to help end the waitlist for home and community services under Medicaid, while also putting an emphasis on recruiting and training new health professionals, creating 150,000 new community health positions, and establishing new long-term care options, according to advisers.
Also in the new plan is the creation of a Public Health Jobs Corps made up of at least 100,000 Americans from local communities to help identify individuals at risk of contracting and spreading infectious diseases like COVID-19, help provide COVID-19 vaccinations to at-risk populations when they are available, and provide support to low-income communities, minority communities and older adults who are at the highest risk from the virus.
The plan also aims to build up the nation's childcare infrastructure by delivering on Biden's long-held promise to provide all 3- and 4-year-olds access to free pre​-kindergarten education, as well as tax credits for low-income and middle-class families to help pay for the care.
"For children under the age of 5, no family earning below 1.5 times the median income in their state will have to pay more than 7% of their income for quality care, which was ​the ​affordable childcare​ benchmark set by the Obama-Biden Administration," says the the plan summary. "A typical family will pay no more than ​$45 per week​."
Biden's plan will also seek to accelerate the construction of newer, safer childcare facilities, increase pay to teachers and education workers, and provide legislation that would expand those workers' right to collectively bargain.
Unlike the other pillars of his economic policy, Biden's campaign included how this portion of the plan would be paid for.
According to the summary released by the campaign, the plan will cost $775 billion over 10 years and will be paid for by "rolling back unproductive and unequal tax breaks for real estate investors with incomes over $400,000 and taking steps to increase tax compliance for high-income earners."
This plan also builds on Biden's proposals to support informal caregivers -- family members or loved ones who do this work unpaid -- by including a ​$5,000 tax credit​ for informal caregivers, ​as well as Social Security credits​ for people who care for their loved ones, and ​professional and peer support​ for caregivers of wounded, injured, or ill active-duty service members and veterans​.
This is the third pillar of Biden's Build Back Better economic policy, and follows the release of the domestic manufacturing and innovation and environmental and green energy infrastructure portions of the plan.
The plan also includes a final, forthcoming pillar focused on "advancing racial equity" and closing the racial wealth gap, according to the campaign.