— -- Former Vice President Joe Biden promised House Democrats on Wednesday he would spend "all the time" they wanted him to help win back the House in this year's election but dismissed a shout for him to re-enter the political fray himself while heavily criticizing President Donald Trump.
"I have committed and I mean it — I will spend all the time any of you want me to making sure we win back the House," he said to a standing ovation.
But he declined to commit to a run for himself. His name has been touted as a possible challenger to President Donald Trump in 2020.
"Run, Joe, run," some one shouted as Biden came into the auditorium.
"No, no, no," the former vice president responded.
Biden played a combo role of cheerleader and critic in his 30-minute remarks - praising Democrats' chances to retake the House in the November midterm election and criticizing Trump's tenure in the White House, calling his presidency "a tragedy."
"This president is doing great damage," he said.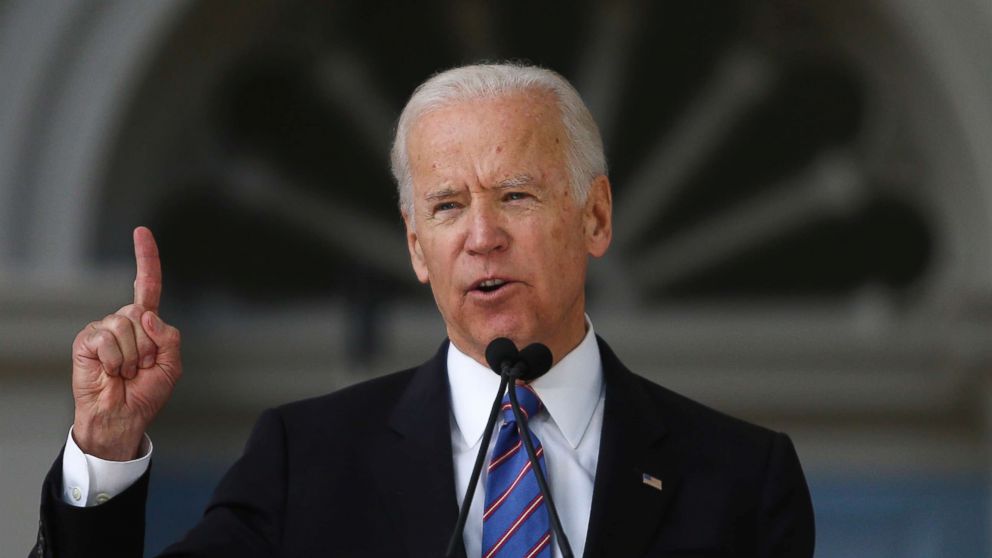 Despite his "no, no, no" when called to run, his remarks sounded like a stump speech and he touched on themes that could make up a campaign platform. In addition to criticizing the president and the Republican Party, Biden called on Democrats to listen to the middle and working class and to save healthcare, Medicare and Social Security.
"We're having great trouble of doing the real work of restoring the middle class and the working class," Biden said of the partisan atmosphere in Washington. "The president is looking out for himself only and his party is only looking out for the president. So it's our job to remind the American people we're looking out for them," he said.
And, he added, Republicans are getting ready to attack entitlements like Medicare and Social Security.
He echoed the campaign theme he pushed in 2016, when he campaigned for Hillary Clinton's presidential bid when he urged Democrats to remember the blue-collar and middle class voters. These voters used to be part of the Democratic base but helped elect Trump in 2016.
"A lot of people are worried 'will there be any middle class jobs for me,'" he said. "We got to talk to them more. We have to let them know 'we hear you.'"
Biden, who is a popular figure in the party and helped campaign for now-Sen. Doug Jones in the Alabama Senate election in December, praised Democrats' chances in the midterms.
"We have a real opportunity to take back the House," he said. Democrats need to pick up 25 seats in order to take control in the lower chamber. The Senate is a tougher climb. The Democrats are defending 24 seats to the Republicans' eight, in addition to the two independents that caucus with them.
But Biden was optimistic.
"We actually have a chance of winning back the Senate too," he said. "It's a climb but it's a real."
Biden addressed House Democrats at the U.S. Capitol building where they are holding their annual issues conference. They were scheduled to be in Cambridge, Md., but that got changed so Democrats could be available to vote as needed on government funding measures.
He's also been doing a lot of media appearances to talk about his book "Promise Me, Dad: A Year of Hope, Hardship, and Purpose."
About 100 Democrats were in the room to hear from the former vice president. Several remained on the floor of the House of Representatives to support Democratic Leader Nancy Pelosi, who was sixth hour of continuous floor remarks. Pelosi spoke as both parties worked out a deal to fund the federal government to protest a lack of a solution for Dreamers, those illegal immigrants brought to the U.S. as children.