President Joe Biden visited Tulsa, Oklahoma, to mark the centennial of the 1921 Tulsa Race Massacre, becoming the first sitting president to visit the historic Greenwood neighborhood to acknowledge the atrocities that took place there.
Biden toured the Greenwood Cultural Center and then privately met with survivors ahead of remarks in which he announced new actions his administration is taking to narrow the racial wealth gap between Black and white Americans.
Biden also called for June to be "a month of action on Capitol Hill" on voting rights legislation and announced he's appointing Vice President Kamala Harris to spearhead the administration's efforts to combat, what he called, "the assault on the right to vote."
The president was introduced by Lauren Usher, a descendent of a Tulsa Race Massacre victim. The living survivors -- aged 101 to 107 -- looked on during his speech.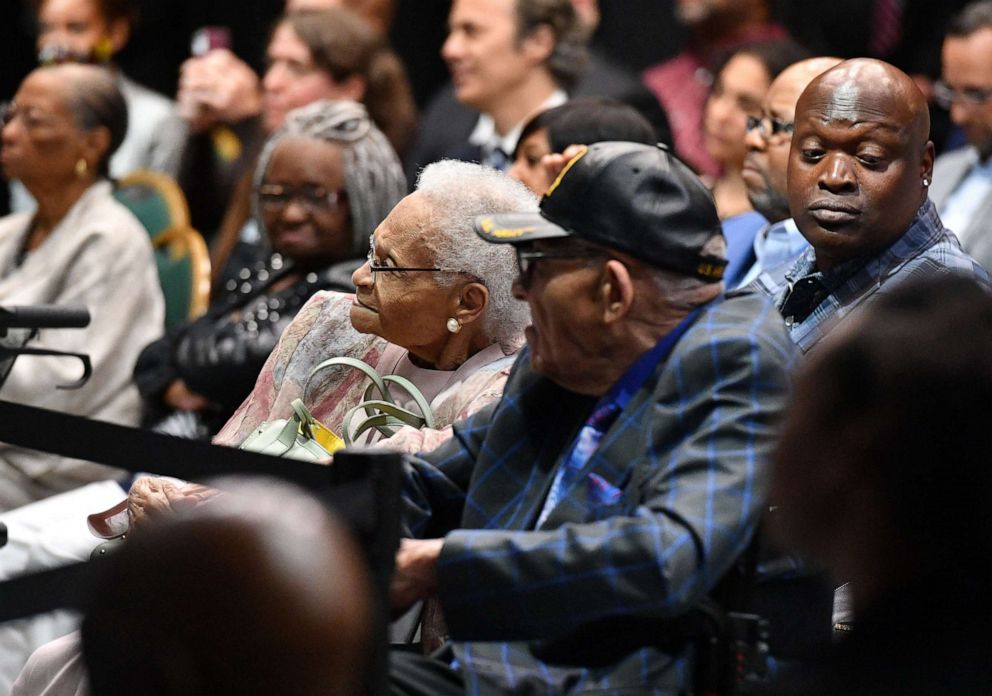 "You are the three known remaining survivors of a story seen in the mirror dimly. But no longer. Now, your story will be known in full view," Biden began.
He acknowledged that the history of the attack has been whitewashed and overlooked in the past 100 years -- made evident by the fact, he said, that he is the first president to visit Greenwood.
Repeating a line he said on an earlier tour of the center, Biden told the audience of roughly 200, "It wasn't a riot, it was a massacre."
Biden met with the three living members of the Greenwood community who survived the massacre ahead of his remarks: Viola "Mother" Fletcher, Hughes "Uncle Red" Van Ellis and Lessie "Mother Randle" Benningfield Randle.
All three testified before Congress last month, calling for reparations -- but Biden did not directly call for them in his speech, despite descendants wanting to have that conversation. Last year, they filed a lawsuit against the city of Tulsa and others demanding compensation for what they called the ongoing "public nuisance" inflicted on them and other families for decades following the attack.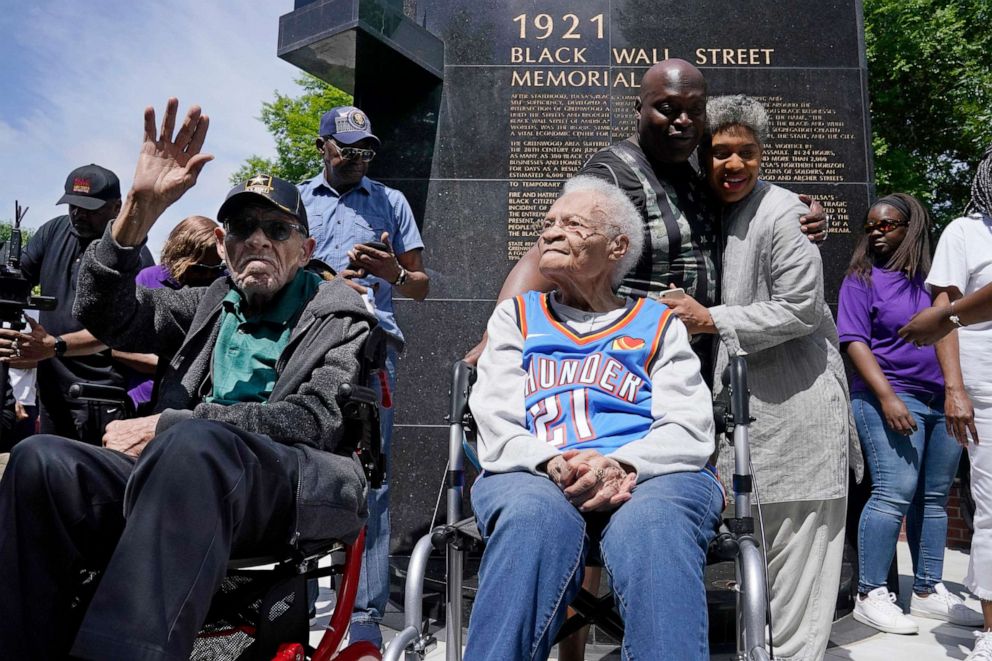 In his remarks, Biden detailed the events which sparked the white mob to descend on Greenwood. Gunshots were fired outside a courthouse after a young, Black man was accused of assaulting a white, female elevator operator and arrested.
"It was an innocent interaction that turned into a terrible, terrible headline allegation of a Black male, teenager attacking a white female teenager," Biden said, explaining that crowds gathered outside the court.
"Literal hell was unleashed," he said.
On the evening May 31, 1921, and into the following day, a mob of armed, white men flattened the all-Black Greenwood neighborhood in Tulsa known as "Black Wall Street."
"A mob tied a Black man by the waist to the back of their truck with his head banging along the pavement as they drove off. A murdered Black family draped over the fence of their home, outside. An elderly couple knelt by their bed, praying to God with their heart and their soul, when they were shot in the back of their heads," Biden said. "Private planes dropping explosives, the first and only domestic aerial assault of its kind on an American city, here in Tulsa."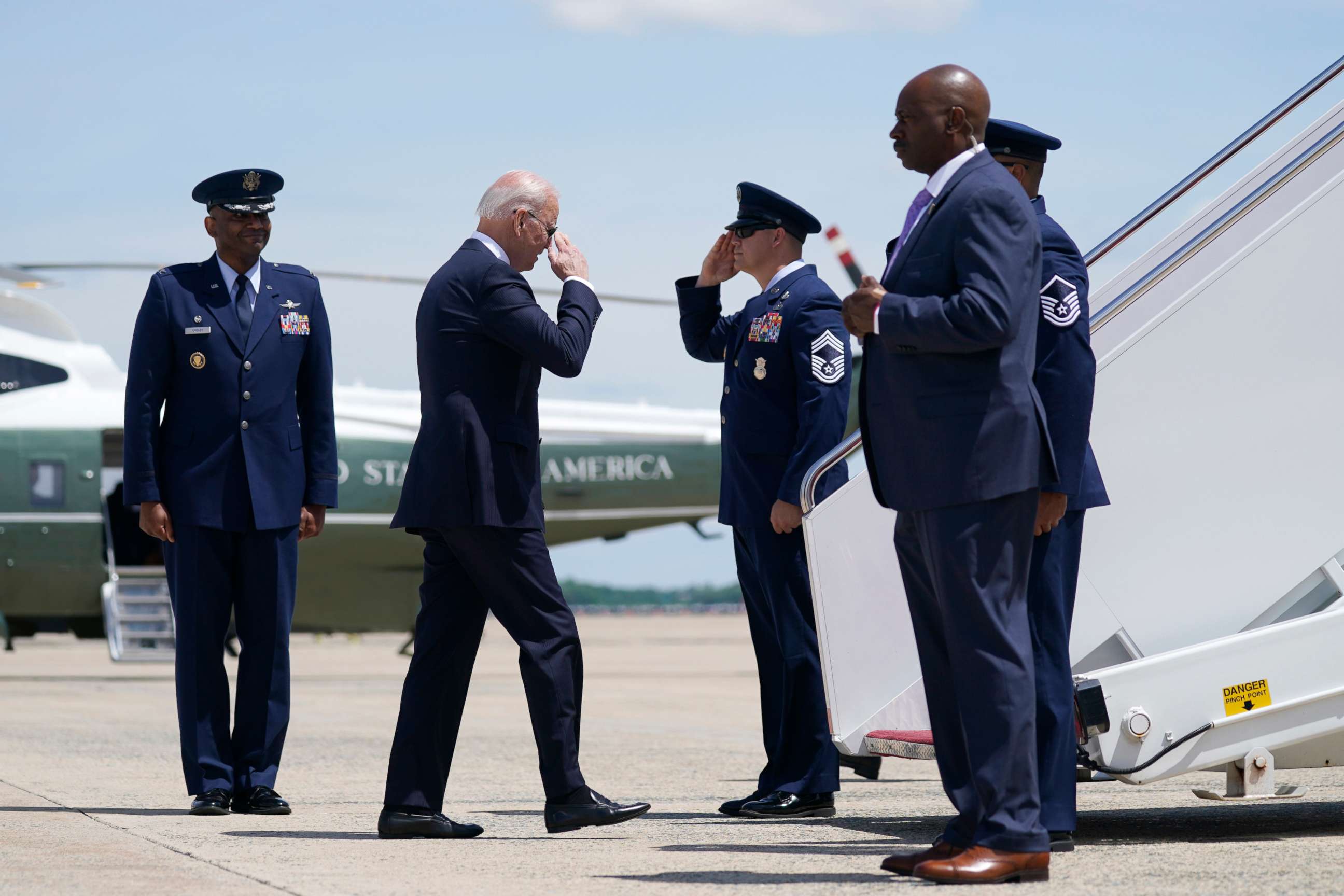 Painting the picture that Mother Fletcher says she lives with each day, Biden said, "100 years ago, at this hour on this first day of June, smoke darkened the Tulsa sky, rising from 35 blocks of Greenwood that were left in ash and ember, razed, in rubble."
With members of law enforcement and government employees working against Black residents, the state of Oklahoma recorded only 36 deaths, but a 2001 commission reported the number killed was as high as 300. The commission found an estimated $1.8 million in damages -- renewing calls for reparations -- which would come out to more than $25 million in 2021. As many as 10,000 residents were displaced or put in internment camps after the massacre was painted as a "riot" to prevent Black businesses from collecting on insurance claims.
"I come here to help fill the silence because in silence wounds deepen," Biden said to applause. "As painful as it is, only in remembrance do wounds heal."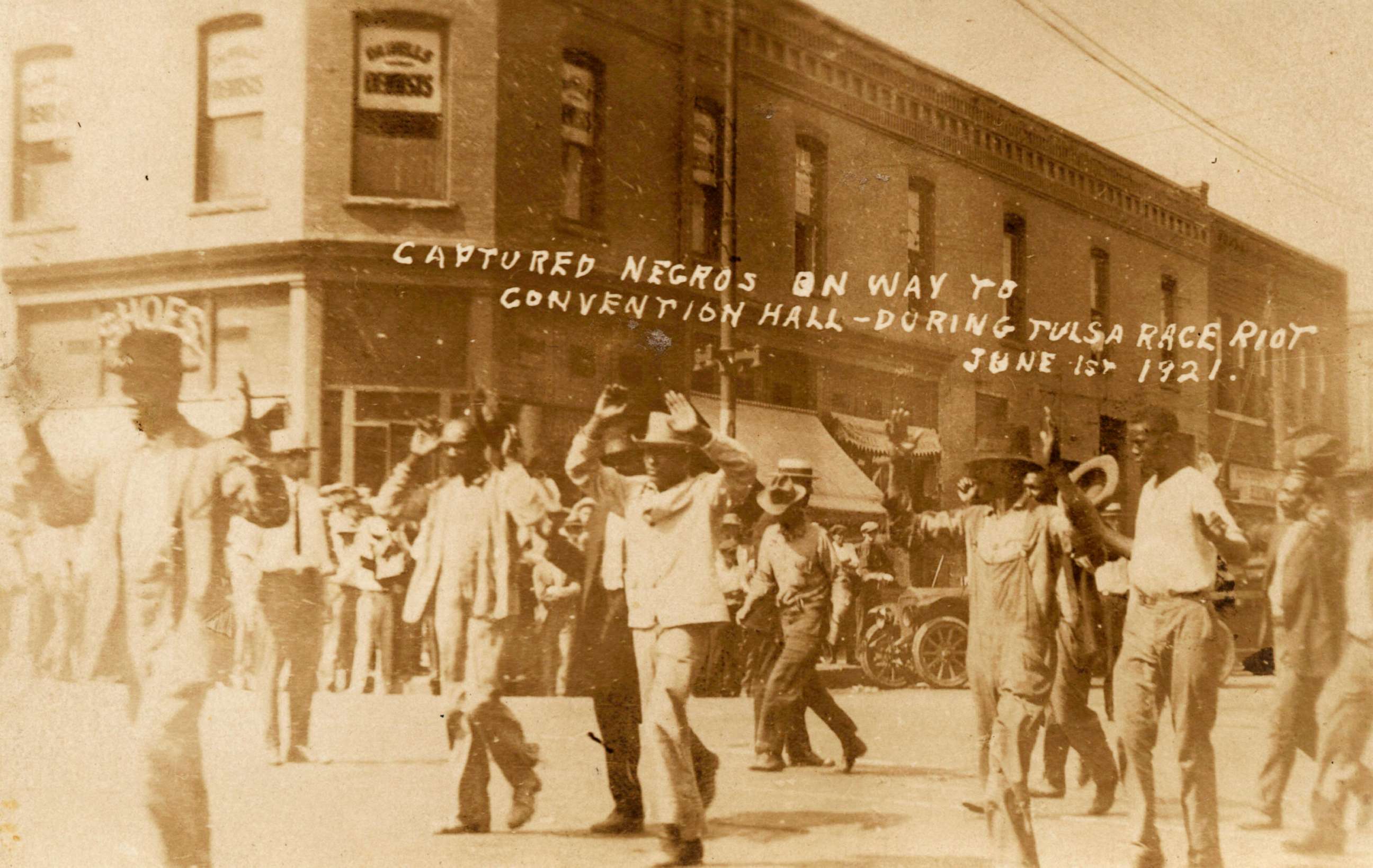 Biden, at one point, called for a moment of silence for the descendants of Greenwood.
"May their souls rest in peace," he said, hanging his head.
He also warned against complacency, saying, "hate is never defeated" but "only hides."
"Folks, we can't -- we must not give hate a safe harbor," Biden said. "Terrorism from white supremacy is the most lethal threat to the homeland today -- not ISIS, not al-Qaida, white supremacists."
In an attempt to begin to make amends, the president proposed a broader agenda to address racial inequities beyond Tulsa in his remarks -- starting with atoning for the federal government.
New steps the administration wants to take include directing more federal contracts to small and minority-owned businesses, expanding access to homeownership and launching infrastructure programs intended to repair neighborhoods like Greenwood.
But the NAACP and other civil rights groups criticized Biden for not including steps Tuesday to reduce student loan debt -- one of the biggest obstacles preventing Black Americans from accumulating wealth, advocates say.
"Student loan debt continues to suppress the economic prosperity of Black Americans across the nation," Derrick Johnson, the NAACP president, said in a statement. "You cannot begin to address the racial wealth gap without addressing the student loan debt crisis."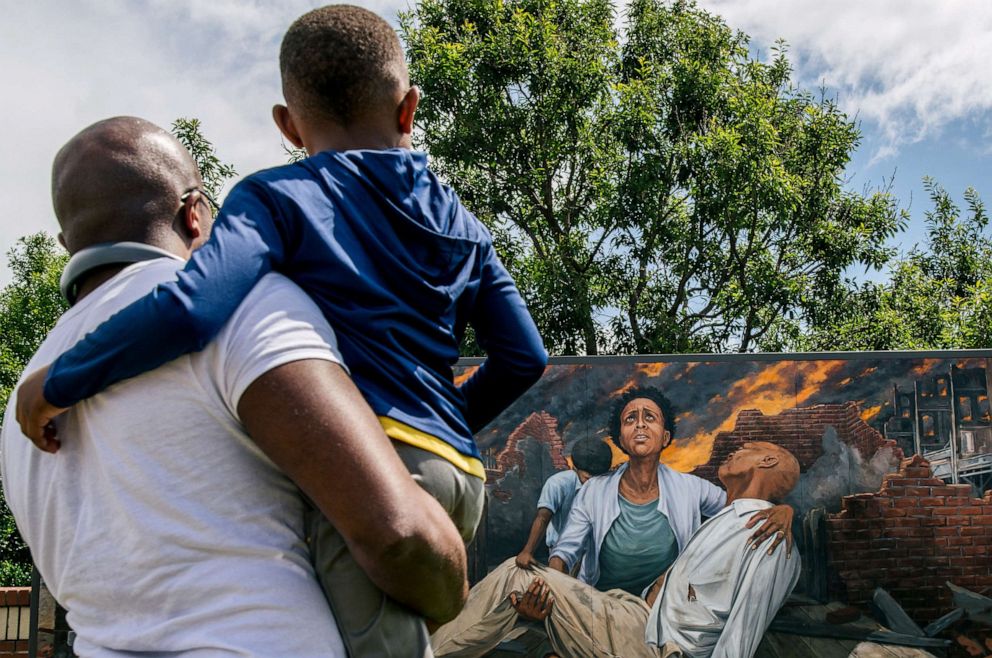 Asked by ABC News White House correspondent Karen Travers about the omission en route to Tulsa on Air Force One, Jean-Pierre pivoted from the question by talking about the president's proposal to invest in historically Black colleges and universities as part of his American Families Plan.
"These institutions are critical to helping underrepresented students move to the top of the income ladder," she said. "President Biden is calling for a historic investment in affordability through subsidized tuition and expanding institutional -- and grants."
Biden has not called for reparations for Black Tulsa massacre descendants but has expressed support for H.R. 40 -- a bill which would form a commission to study and develop reparation proposals for African Americans -- which is awaiting a full House vote.
ABC News' Molly Nagle contributed to this report.