Biden speaks in Poland after surprise trip to Ukraine: 'Kyiv stands strong'
"Ukraine is still independent and free," Biden said in Warsaw.
In a forceful show of resolve, President Joe Biden addressed the world on Tuesday from Warsaw, Poland, just days ahead of the one-year mark of Russia's brutal invasion of Ukraine.
"One year ago, the world was bracing for the fall of Kyiv," Biden said in nighttime remarks in front of the Polish Presidential Palace and a crowd of thousands. "Well, I have just come from a visit to Kyiv, and I can report that Kyiv stands strong. Kyiv stands proud. It stands tall. And most importantly, it stands free."
"When President Putin ordered his tanks to roll in Ukraine he thought we would roll over. He was wrong. The Ukrainian people are too brave. America, Europe, a coalition of nations for the Atlantic to the Pacific, we were too unified. Democracy was too strong," Biden said, blasting the Russian president by name.
"President Putin is confronted with something today that he didn't think was possible a year ago," he continued. "The democracies of the world have grown stronger, not weaker, but the autocrats of the world have grown weaker, and not stronger -- because in the moments of great upheaval and uncertainty, knowing what you stand for is most important, and knowing who stands with you makes all of the difference."
"Appetites of the autocrat cannot be appeased; they must be opposed. Autocrats only understand one word, 'No!'" Biden said. "'No, no, no. You will not take my country. No, you will not take my freedom. No, you will not take my future.'"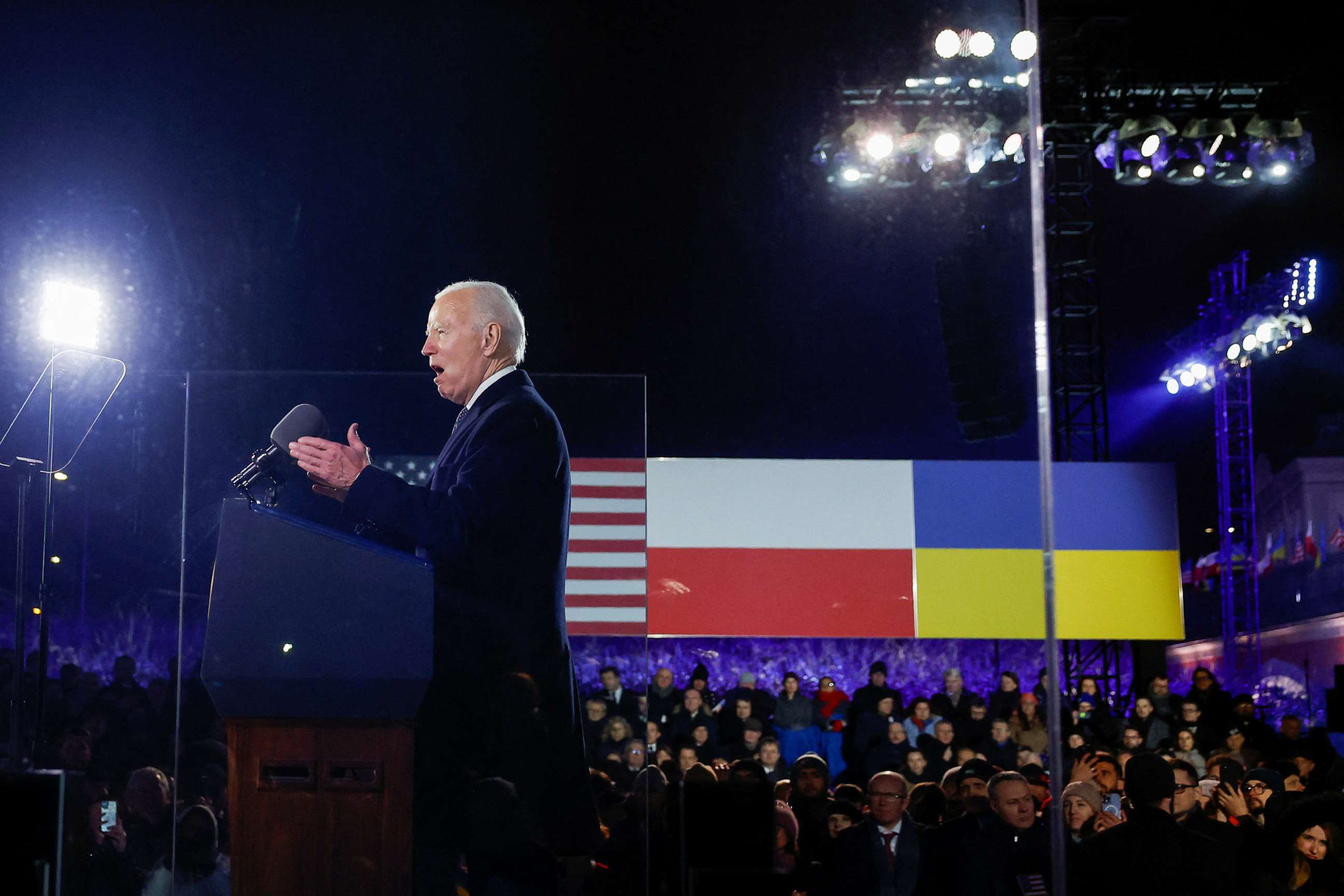 Biden said Putin "no longer doubts the strength of our coalition" but "still doubts our conviction."
"He doubts our staying power. He doubts our continued support for Ukraine. He doubts whether NATO can remain unified. But there should be no doubt our support for Ukraine will not waver," he said. NATO will not be divided, and we will not tire," he added. "President Putin's craven lust for land and power will fail. And the Ukrainian people's love for their country will prevail. Democracies in the world will stand guard over freedom today, tomorrow and forever. For that's what it's -- that's what's at stake here: Freedom."
After about 20 minutes, Biden closed by saying the world was at "an inflection point" and that "the decisions we make over the next five years or so will determine and shape our lives for decades to come."
"And while decisions are ours to make now, the principles and the stakes are eternal. The choice between chaos and stability, between building and destroying between hope and fear, between democracy lifting up the human spirit -- and the brutal hand of the dictator who crushes it," he said.
National security adviser Jake Sullivan, traveling with the president, said to expect "vintage Joe Biden" in the speech.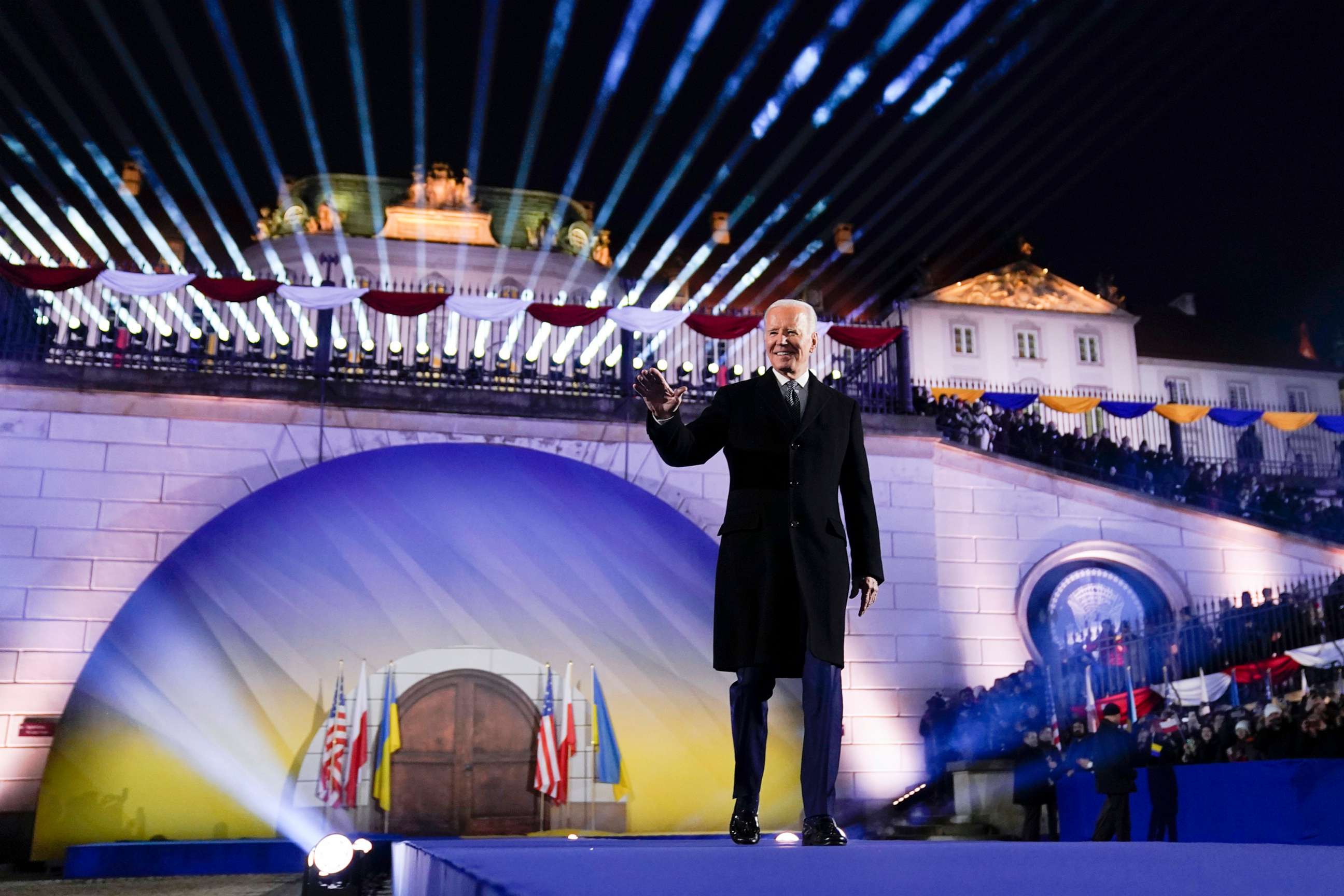 Biden's speech came hours after Russian President Vladimir Putin addressed Russia's parliament, announcing the country would stop participating in the New START nuclear arms treaty with the U.S., the last remaining major arms control agreement between the two countries.
Putin said that Russia is not withdrawing from the treaty for now, but is suspending it, saying the war in Ukraine means it is not possible to allow American inspectors to visit Russian nuclear sites as agreed under the treaty.
Secretary of State Antony Blinken, reacting to the announcement in Greece, told reporters the decision was "really unfortunate and very irresponsible, but we'll be watching closely."
Putin did not mention Biden directly in his remarks, and though Biden repeatedly blasted Putin by name in his, Sullivan stressed earlier that Biden's speech shouldn't be seen as a response to Putin. Sullivan said the date and time were selected to coincide with the one-year anniversary of the war, adding that Biden even moved up his normal State of the Union timeframe for the trip.
"We did not set the speech up as some kind of head to head, this is not a rhetorical contest with anyone else," he said. "This is an affirmative statement of values, a vision for what the world we're both trying to build and defend should look like."
In Warsaw, Biden met earlier with Polish President Andrzej Duda on Tuesday to discuss cooperation between Washington and Warsaw to aid Kyiv, particularly over Poland's role as a key staging ground for military and financial aid flowing to Ukraine. Duda publicly thanked Biden for visiting Ukraine.
Biden made a surprise visit to Kyiv on Monday, marking the first time an American president entered a warzone with no active U.S. military presence, where he saw first-hand some of the devastation caused by Russia's invasion of Ukraine.
There, Biden told Ukraine's President Volodymyr Zelenskyy that the U.S. would support Ukraine for "as long as it takes."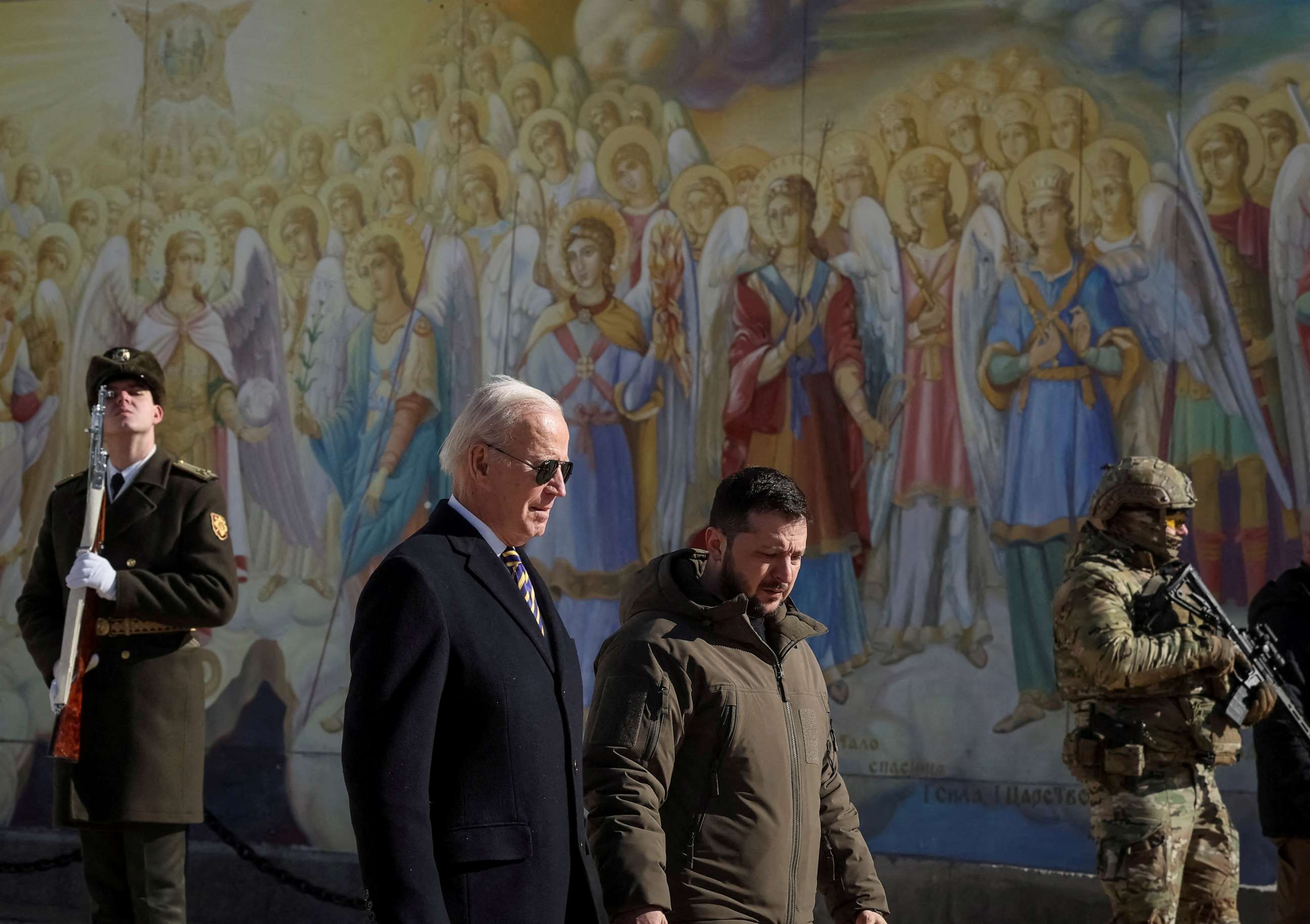 Biden first landed in Poland late Sunday, according to reporters traveling with him, then set off for to Ukraine for his roughly five-hour visit with Zelenskyy.
"One year later, Kyiv stands and Ukraine stands. Democracy stands," Biden said alongside Ukraine's leader on Monday. "The Americans stand with you, and the world stands with you."
The one-year mark of Russia's invasion of Ukraine falls on Friday.
ABC News' Patrick Reevell, Sarah Kolinovsky, Molly Nagle, and Tal Axelrod contributed to this report.