Embracing good reviews of his State of the Union performance Tuesday night, President Joe Biden on Wednesday revisited some of his key themes, making his case to "finish the job" on the road in Wisconsin, a 2024 election battleground state.
While Republican leaders on Wednesday defended their members heckling him Tuesday night, arguing he was lying when he said "some Republicans" want to cut Social Security and Medicare, Biden brought receipts out to prove his point.
"We had a spirited debate last night with my Republican friends," Biden said at a union training center in DeForest. "Our Republican friends, they seemed shocked when I raised the plans of some of the members of their caucus to cut Social Security -- and Marjorie Taylor Greene and others stood up and said, 'Liar, liar.'"
Biden said Tuesday night that he was "politely not naming them," but on Wednesday, he showed the crowd proposals and repeated comments from Republican Sens. Rick Scott, Ron Johnson and Mike Lee -- calling them out by name.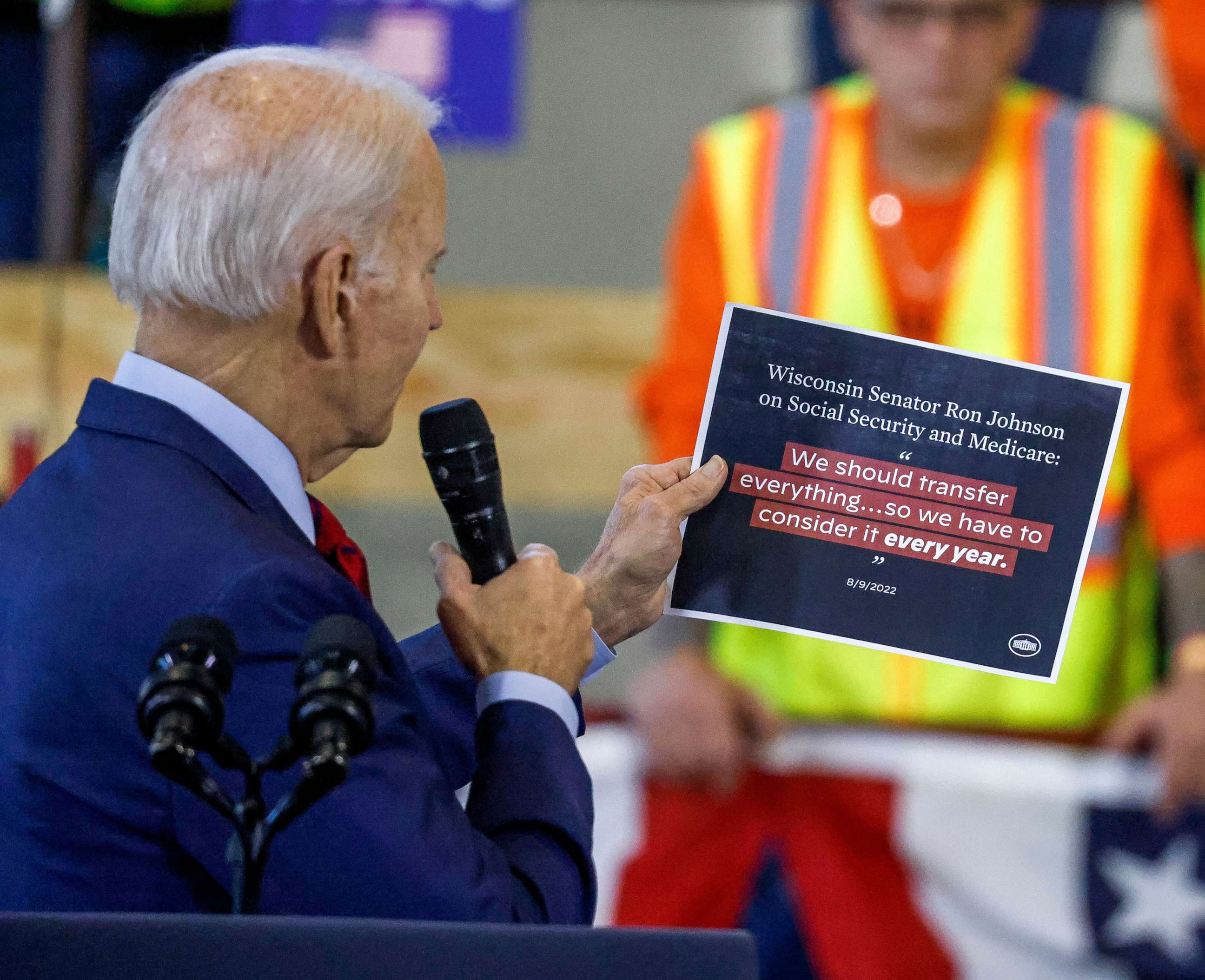 "I remind you that Rick Scott from Florida, the guy who ran the U.S. Senate campaign, has a plan -- I got his brochure right here," Biden said, holding up Scott's brochure. "Here's what he says in his plan ... He says 'All federal legislation sunsets every five years. If a law is worth keeping Congress can pass it again.'"
"And by the way, you have senator named Ron Johnson ... Ron Johnson on Social Security and Medicare, quote, 'We should transfer everything. So, we have to consider everything every year,'" Biden continued. "Come on, man."
Biden also raised a video from 2010, circulating on social media, in which he said Lee floats cuts to the programs. The White House also tweeted a link to a Newsweek article earlier in the day highlighting the video of Lee.
"They played last night, something I didn't even know existed," Biden said. "A video of him saying, 'I'm here right now to tell you one thing you've probably never heard from a politician: It'll be my objective to phase out Social Security. Pull up by its roots. Get rid of it... Then he adds -- I'm quoting this now, 'Medicare and Medicaid are the same sort. They need to be pulled up.'"
"Sounds pretty clear to me. How about you?" Biden told the audience. "But they sure didn't like me calling 'em on it."
"Look, a lot of Republicans, their dream is to cut Social Security and Medicare. Well, let me just say this .... My veto pen [will] make it a nightmare," he told the union crowd.
Biden ultimately spun the contentious moment in the House chamber as "good news."
"I found it interesting that when I called them out on it last night, it sounded like they agreed to take these cuts off the table," Biden said with confidence. "I sure hope that's true. I'll believe it when I see it and their budget's laid down with the cuts they're proposing, but it looks like we negotiated a deal last night on the floor of the House of Representatives."
House Speaker Kevin McCarthy again on Wednesday hotly insisted he's told Biden Social Security and Medicare are "off the table" in negotiating the standoff over raising the debt ceiling, despite the GOP demanding spending cuts. Senate Republican Leader Mitch McConnell has previously said Scott's proposal is not part of the GOP's agenda, calling it a "non-starter."
Scott defended his proposal Wednesday, tweeting Biden was "twisting his words."
Many of the themes of Biden's speech Wednesday, as he appears to lay the groundwork for a reelection campaign, echoed those in his State of the Union address, including saying he wants to keep working across the aisle on bipartisan legislation.
"If we could work together last Congress, there's no reason we can't get things done as well this Congress, and I mean that," Biden said.
ABC News' Justin Gomez contributed to this report.