President Joe Biden and first lady Jill Biden touched down in Mississippi on Friday, nearly a week following a severe string of tornadoes that tore through the South left at least 26 dead.
The first couple toured Rolling Fork, Mississippi, a delta-region city pummeled by a tornado which was later assigned the rare and powerful classification rating of EF-4. Across the state, one long-track twister left a trail of destruction for about 59 miles, according to officials. The president approved disaster relief for the state on Sunday.
"Jill and I are here to show our support," Biden said during remarks in the town on Friday, standing amid the destruction. "I know there's a lot of pain and it's hard to believe in a moment like this, this community's going to be rebuilt, and rebuilt back better than it was before."
Aboard the Air Force One flight en route to Mississippi, Federal Emergency Management Agency Administrator Deanne Criswell said she was "very concerned" about the storms set to hit Friday. The Storm Prediction Center issued a "High Risk" warning in two locations on Friday, marking the first time two distinct areas were cautioned of high risk for severe weather since April 14, 2012. The warning points to a major tornado outbreak across a wide area from the Midwest into the South. Rolling Fork is in on the edge of the risk zone.
Biden also warned of the new weather threat bearing down.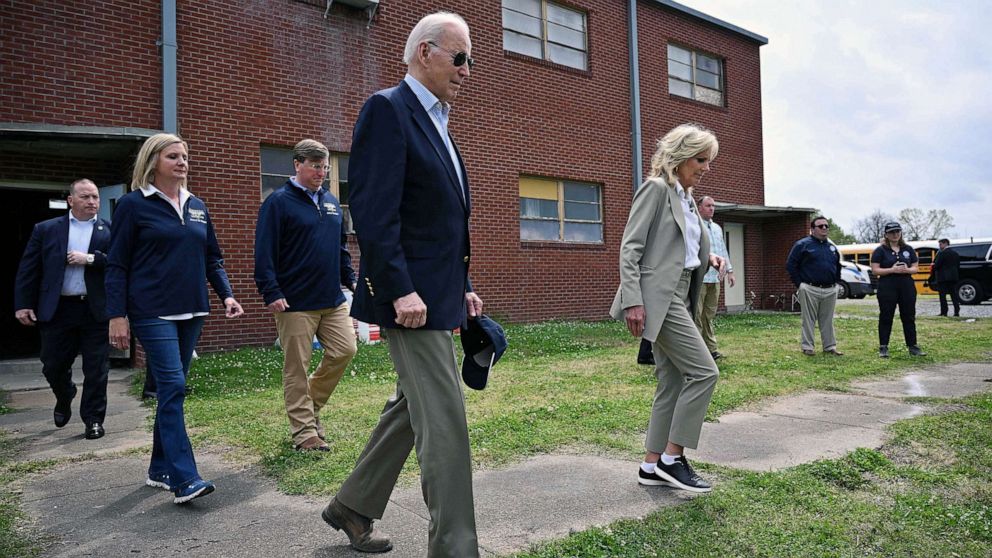 "Some of these communities are again facing the threat of severe weather in just one week later, if you've looked at the weather forecast," he added. "FEMA and other federal personnel are here on the ground, ready to respond and to support state and local officials, if in fact they do amount to major storms. I want to urge everyone here to listen to local officials and be prepared to take shelter."
Jackson Mayor Chokwe Antar Lumumba -- one of Mississippi's few elected Democrats -- greeted the president and first lady after they landed in the city on Friday morning. They then flew north to Yazoo City before driving to Rolling Fork, where they were be briefed by federal, local and state officials on ongoing response and recovery efforts at a local elementary school.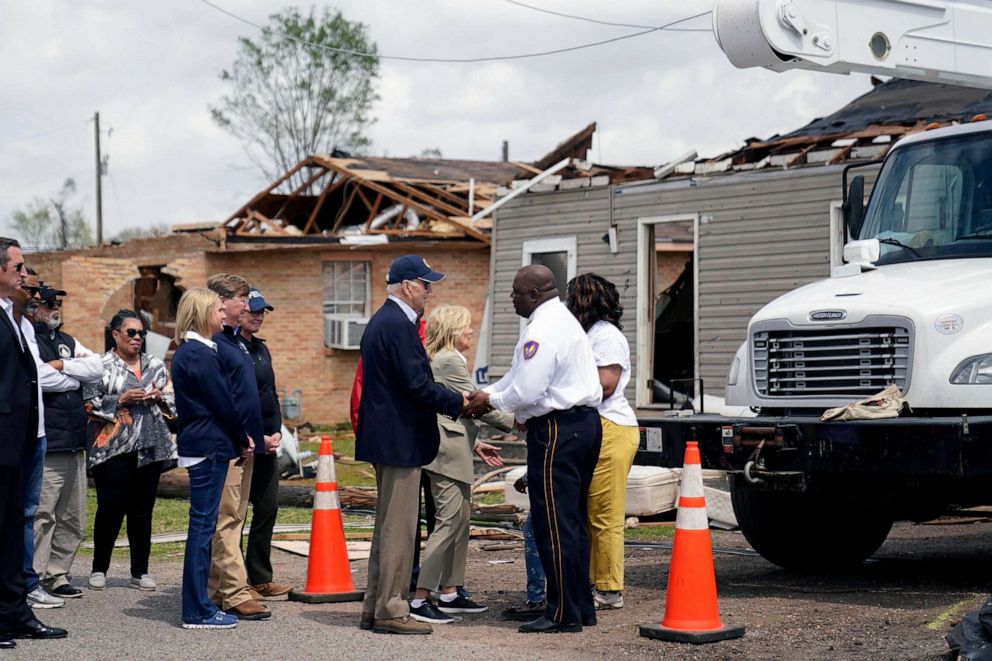 In Rolling Fork, the Bidens surveyed the disaster path and met with families impacted by the storms, including a number of relatives of the 13 people killed by the tornado from the area.
The president described what he had seen while surveying the damage, including teddy bears and other mementos strewn about.
"It's devastating. ... We're not leaving," the president said during his tour of the damage. "The federal government is going to stay as long as it takes. I've given every extension possible. ... But the most important thing is we got to let people know there's reason for them to have hope. Because this is -- especially people who have lost somebody."
"This is tough stuff," he added. "And the thing that really is always amazed me with all the tornadoes I've been to of late, is that you have one house standing and one house from here to the wall, totally destroyed. It's but for the grace of God."
In Rolling Fork, Biden announced the federal government will cover the full cost of the state's emergency measures for the next 30 days. This includes debris removal, running shelters and paying for first responders to work overtime, among other costs. Biden has taken similar actions in other disaster zones, such as in Florida after Hurricane Ian.
He also announced that FEMA will open disaster recovery centers in four Mississippi counties to help victims of the tornadoes.
"Folks, I know there's a lot of pain and that it's hard to believe in a moment like this, this community is going to be rebuilt and rebuilt and built back better than it was before," Biden said. "Resilience in this community has been remarkable. And I just want you to know, as you fight through this, you're not alone. The American people will be with you. They'll help you through it, and so will I."
The Bidens were joined by Reeves, Mississippi first lady Elee Reeves and Sen. Cindy Hyde-Smith, R-Miss.
Rep. Bennie Thompson, D-Miss., Criswell, Housing and Urban Development Secretary Marcia Fudge and Rolling Fork Mayor Eldridge Walker will also be in attendance.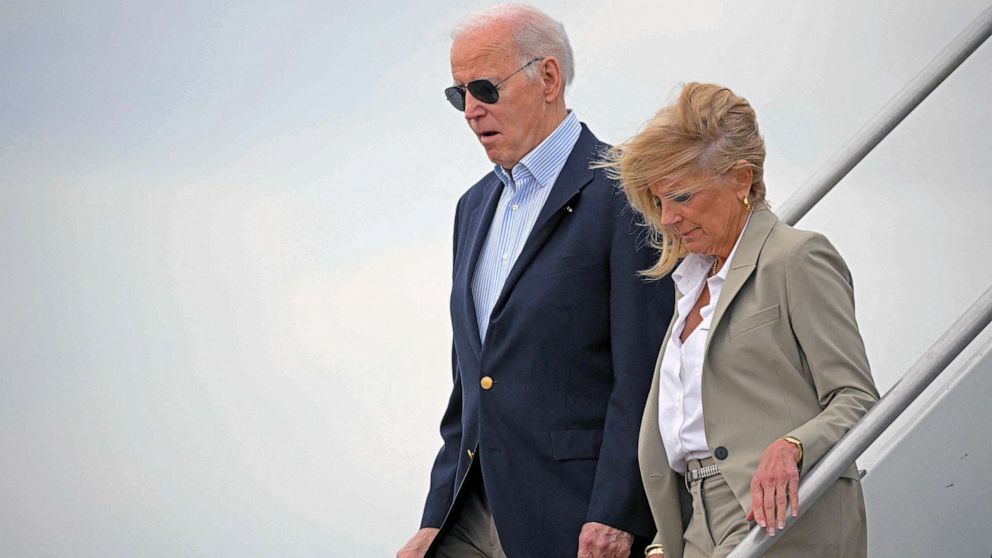 The president's visit comes days after he approved Mississippi's disaster declaration and ordered federal aid to supplement state and local recovery efforts.
Over the weekend, the president spoke with Reeves and other members of the state's delegation and "approved an expedited, major disaster declaration for Mississippi and ordered federal funding be made available to support emergency response efforts," according to Jean-Pierre.
"I just spoke with President Biden about the deadly tornados we faced overnight. He assured us FEMA would be there to support our response. The flood of support from governors, businesses, charities, and federal admin has been tremendous—matches the community here on the ground," Reeves, a longtime Biden critic, said in a Tweet on Saturday.
During his remarks in Rolling Fork on Friday, Biden said he made clear to Reeves that the federal government will do "everything" to be of assistance.
Reeves thanked Biden for his response – especially how he expedited declaring a disaster – and pledging to "stay to the end."
"People from across Mississippi and people from across America, Mr. President, have shown up, and they've shown out," Reeves said. "They've shown up to help people in need."
--ABC News' Sarah Kolinovsky, Daniel Manzo and Daniel Amarante contributed to this report.