Bill Clinton Anticipates 'Some Changes' at the Family's Foundation If Wife Elected President
"If she wins, we will have to think about it, clearly," he told an interviewer.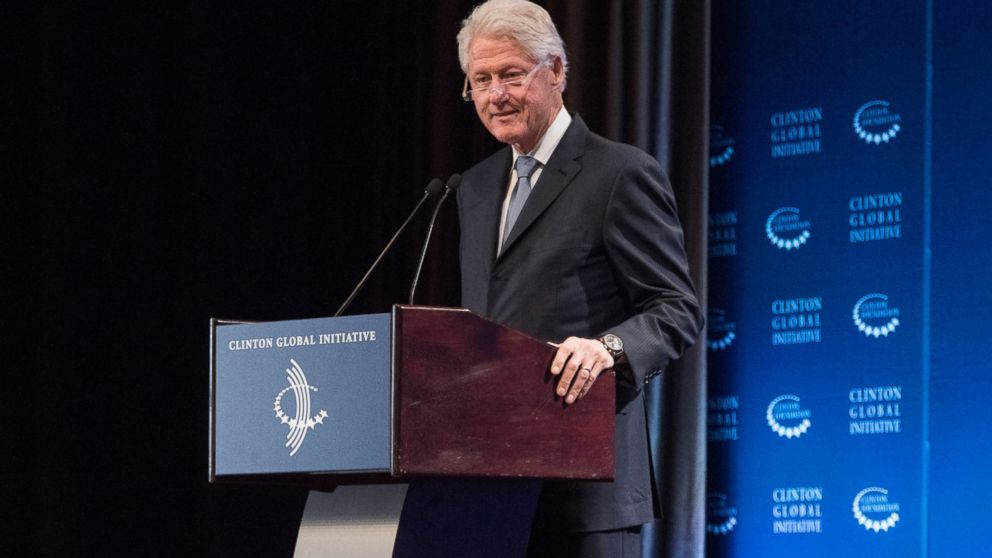 ATLANTA — -- In his first one-on-one interview since he started campaigning as Hillary Clinton's most powerful surrogate in January, former President Bill Clinton today said the Clinton Foundation and his role in it would change if his wife wins the presidency in November.
When asked today at the foundation's annual Clinton Global Initiative America meeting in Atlanta what happens to this humanitarian effort in the event of a second Clinton White House, he cited President Obama as an example of someone who has incorporated the private sector into effective decision-making.
"If she wins, we will have to think about it, clearly. Politics is different from what I do. I just try to get partners together and make something good happen," Clinton told Bloomberg TV's David Westin, somewhat evasively. "You have to be careful to avoid actual potential conflicts."
Pressed a bit on the issue in lieu of Donald Trump's recently expressed concerns about the foundation's taking money from foreign governments, Clinton said, "We'll do the right thing. There will clearly be some changes with what the Clinton Foundation does and how we do it. We will have to cross that bridge when we come to it."
"Established in 2005 by President Bill Clinton, the Clinton Global Initiative (CGI), an initiative of the Clinton Foundation, convenes global leaders to create and implement innovative solutions to the world's most pressing challenges," according to its website.
In a statement, Republican National Committee Reince Priebus blasted former President Bill Clinton's role and the fundraising practices at the Clinton Foundation. "The Clinton Foundation is a $2 billion conflict of interest for Hillary Clinton that continues to grow with each shady foreign donation. We already know the ethical safeguards put in place while Clinton was secretary of state were summarily ignored, leaving the public in the dark as Clinton Foundation contributors routinely benefited from official State Department acts," the statement reads.
It continues: "The American people should not have to wonder whether their president is beholden to foreign interests, particularly governments notorious for failing to prevent the funding of radical Islamic terrorism and oppressing the rights of women and minorities. Voters deserve to know how the Clintons plan to address this unprecedented ethical quagmire before they cast their ballots, not after."
Throughout this election cycle, Bill Clinton's team has repeatedly said they are maintaining a low profile for the former president and have not been granting interviews.
At the same time, Chelsea Clinton is poised to take on a more vital role in the Clinton Foundation, if her mother becomes the next president. She is not at this year's Clinton Global Initiative because she is expecting her second child soon.