A congressional runoff in coastal South Carolina on Tuesday could represent a breakthrough for that rarest of political minorities: African-American Republicans.
A win by Tim Scott over Paul Thurmond would put Scott on track to become the first black Republican to serve in the House since 2003. Scott is a potential icon for the GOP at a time when Census figures show the nation's white population is shrinking.
"If you want people to stop thinking you are an angry white male party," says Princella Smith, a black Republican strategist who lost an Arkansas primary for a congressional seat last month, "having an African American win in a Republican primary would debunk that."
Scott is one of three black candidates vying for GOP nominations as voters make their choices today in runoff and primary elections in South Carolina, North Carolina, Mississippi and Utah. The others are House candidates Bill Randall in North Carolina and Bill Marcy in Mississippi.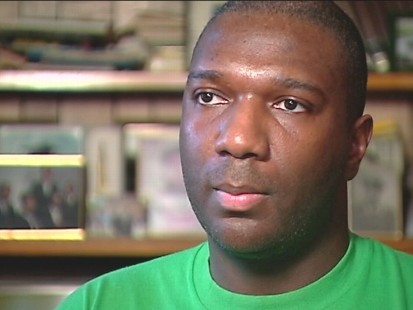 Scott has the best chance of making it into office this fall, says David Bositis, who tracks the success record of black candidates at the Washington-based Joint Center for Political and Economic Studies, a think tank. That's because Scott is a Republican running in a district that hasn't sent a Democrat to Congress since 1978. In 2008, voters there favored Republican John McCain over Barack Obama, 56 percent to 42 percent, for the White House.
The winner of the Scott-Thurmond race would face Democrat Ben Frasier in the fall.
Other viable black GOP congressional candidates this year include Allen West, running against Democratic Rep. Ron Klein in Florida; StarParker, opposing Democratic Rep. Laura Richardson in California; and Bill Hardiman, in a crowded GOP primary in western Michigan. Most of the two dozen black GOP candidates still in the running for House seats this year, however, are "sacrificial lambs," says Bositis, because they are vying against veteran incumbents in heavily Democratic districts.
To earn the party's nomination, Scott must defeat the son of longtime senator Strom Thurmond, who died in 2003. The elder Thurmond ran for president in 1948 as a segregationist — a viewpoint he later repented in the post-civil rights era.
Black Republicans say it's important for the party to elect more of them. "Michael Steele is not enough," says Smith, referring to the GOP's national chairman, who is black.
When Gary Franks of Connecticut entered Congress in 1991, he was the first black Republican to serve in the House in nearly six decades. Four years later, he was joined by J.C. Watts of Oklahoma. But since Watts retired in 2003, there have been no black Republicans in Congress.
Watts says the time for breaking the drought is overdue. "I don't care how conservative we are," he says. "I think it's good for the party to understand what it takes to build a deeper relationship with the African-American community."
Like Obama two years ago, Scott is avoiding discussions of his race. "It's all about winning," he says. Thurmond, whose office did not respond to interview requests, has been endorsed by most of his former GOP primary rivals and two former congressmen from the district, Arthur Ravenel and Thomas Hartnett.
Scott is backed by the anti-tax Club for Growth and 2008 GOP vice presidential nominee Sarah Palin. About his opponent: "He's the establishment guy, and we are backed by the outsiders," Scott says.
Scott Buchanan, a political scientist at The Citadel, says that race is not an important factor for voters in a year that Scott led a field of white contenders, which included Thurmond and Carroll Campbell, namesake son of a former South Carolina governor. "I chalk it up to an anti-incumbency feeling," Buchanan says. "People are fed up with the same old names in state politics."