Georgia Secretary of State Brian Kemp has declared victory in the gubernatorial race and says he is stepping down as the state's top election official Thursday to begin his transition to governor.
ABC News has not yet projected the winner of this race, which remains within 1 percentage point.
Kemp's resignation comes at the tail end of a race in which he's been dogged by critics, including opponent Stacey Abrams and former President Jimmy Carter, who have urged him to resign throughout the course of the race because of potential conflict of interest as secretary of state, a position that encompasses overseeing of elections. Speaking at a press conference Thursday, Kemp said stepping down would "give public confidence to the certification process."
But when asked why he chose to resign now, Kemp denied it was because of the criticism.
"I wasn't really concerned about that but I think in light of where we are now, this will give public confidence to the certification process," Kemp said.
"We've had other Democrat secretaries of state serve in their own election many, many times, including a run for governor," he said. "I don't feel like anyone was better suited than myself. But not only myself, but my great team that we have in the elections division, the great partnership we have created with the county elections officials that actually run the Election Day today."
But Abrams' campaign criticized how the election was handled, including Kemp's declaration of victory before all the votes have been counted, and said Kemp's resignation came only after he oversaw the election.
"He decided to not resign. He decided to oversee his own election. That was not our choice. He owns this, and he owes the people of Georgia an explanation," Abrams' campaign manager Lauren Groh-Wargo said in a press conference Thursday.
ABC News has not yet projected a winner in the Kemp-Abrams race because ABC News does not project races that fall within a margin of 1 percentage point, due to concerns about errors in the vote tabulation or possible outstanding votes still to be counted. In Georgia, a winning candidate needs to clear 50 percent plus one to avoid a runoff.
While Kemp leads Abrams 51 percent to 48 percent, he is not more than 1 percentage point away from breaking 50 percent -- which is required for victory in Georgia.
Kemp said he believes his lead is insurmountable. Republican Gov. Nathan Deal has also recognized him as the winner of the election.
On Thursday afternoon, Deal appointed former Georgia Department of Human Services Commissioner Robyn A. Crittendon to fill Kemp's vacant seat. Crittendon is the first African-American woman to serve as a statewide constitutional officer in Georgia history, according to Deal's office. In the release, Deal referred to Kemp as "Gov.-elect."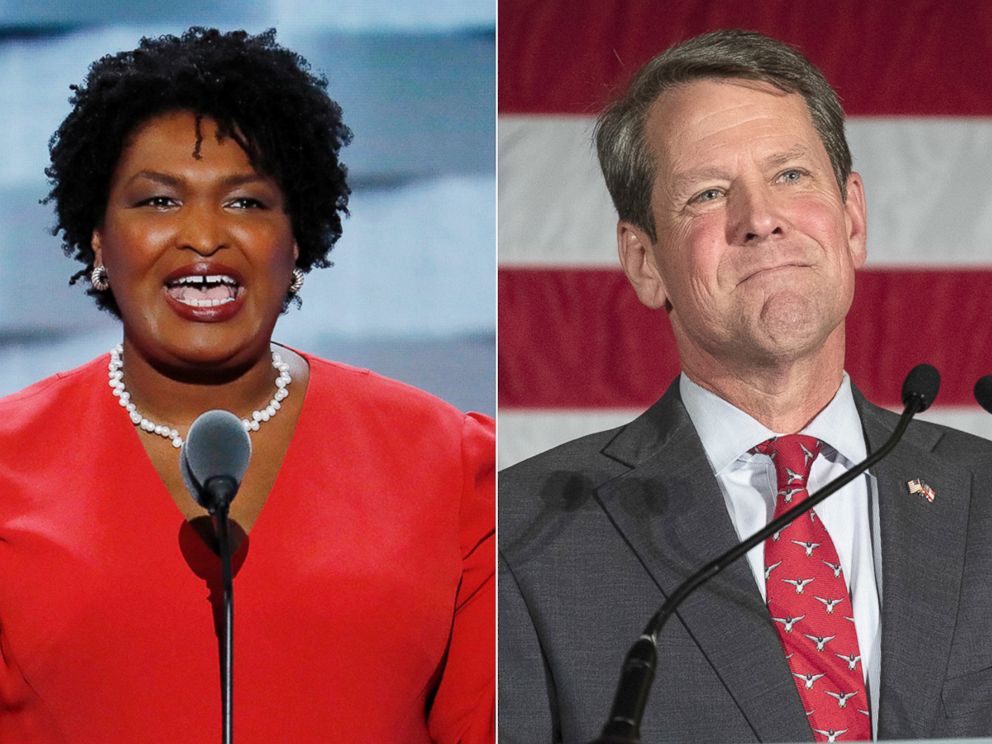 Abrams is not conceding as she awaits a trove of provisional ballots to be counted and prepares legal action for a potential recount. Her campaign believes there are enough votes still outstanding to force a runoff. A runoff election is required under state law if no candidate achieves a clear majority of the vote.
Her campaign's legal team laid out the strategy going forward at Thursday's press conference. The campaign also said they are filing a lawsuit in Dougherty County, which was hit by Hurricane Michael, claiming that voters were denied the opportunity to cast ballots by mail during the general election.
"All the votes haven't been counted. How can anybody claim a victory when there are enough votes that have not been counted that could cause a run-off here?" asked John Chandler, a member of Abrams' legal team.
"We will litigate until we determine that every person's vote has been counted," Chandler said.
The campaign pointed to numerous irregularities and instances where they have been told that all early and provisional ballots have been counted, only to see more vote come in after the fact. They also say they are still receiving complaints and letters from voters and supporters claiming voting issues.
"The Secretary of State Brian Kemp owes voters an explanation. We need to see lists, we need to see counts of every single vote. We need to see all the military provisional numbers. They all need to be counted. We do not believe any of these numbers are credible," said Groh-Wargo.
Allegra Lawrence-Hardy, a member of Abrams' legal team, thanked voters for fighting to get their ballots accepted.
"Stacey Abrams has been fighting for people her whole life and we are going to keep fighting for every voter," Lawrence-Hardy said.
Both members of Abrams' legal team noted a particular push to count all the absentee and provisional ballots in the state. Lawrence-Hardy called for the secretary of state's office to "release all the data, all the numbers, and they need to count every single vote."
Kemp, speaking at his press conference, said about 20,000 provisional ballots remain uncounted in the race -- a number that he said is not enough to put Abrams over the top.
ABC News' Johnny Verhovek and Steve Osunsami contributed to this report.