It wasn't until Donald Trump became president that data scientist Christopher Wylie said he realized the full scope of the work he had been involved with, he told lawmakers in the United Kingdom on Tuesday.
"As a citizen, one has a duty to report unlawful activity," he said, when asked by the U.K. Parliament's Digital, Culture, Media and Sports Committee why he came forward. "I wouldn't say it's just because of Donald Trump, but Donald Trump makes it click in your head that it has a much wider impact."
Wylie appeared before British parliament to discuss his role as a former employee of the data firm Cambridge Analytica. Wylie became a central figure in the scandal involving the data firm last week when he told the U.K.'s Observer newspaper and the New York Times that Cambridge Analytica allegedly used personal information of up to 50 million Facebook users without their knowledge through a third-party quiz app.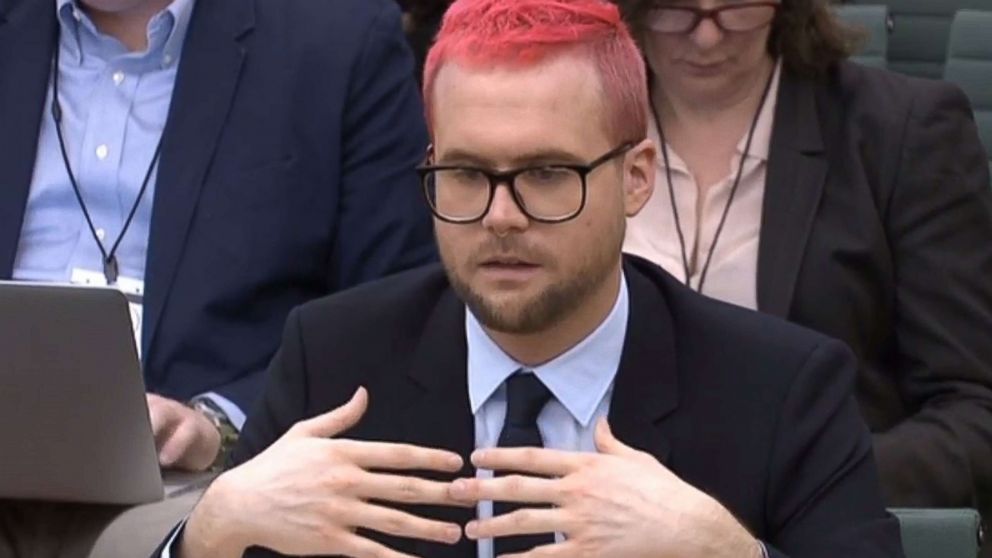 Wylie, who left the company in 2014, said that he was concerned about the data's possible misuse in the 2016 US election and that it might have been used to target specific voters with campaign ads.
"I don't think that military-style information operations is conducive to any democratic process," he told the lawmakers on the House of Commons Digital, Culture, Media and Sports Committee who are investigating the proliferation of fake news on social media.
Cambridge Analytica was retained by the Trump campaign to provide data science work, but both the company and the campaign have said the data harvested from Facebook was not used as part of the data firm's work with the Trump presidential campaign.
Wylie previously told ABC News that he will also speak to politicians in the U.S., already accepting an invitation to appear before the House Permanent Select Committee that is investigating Russian interference in the 2016 election.
"One of the reasons why I'm speaking out is because I think that it's really concerning that no one has really investigated Cambridge Analytica and its role in the 2016 election," Wylie told ABC News.
Cambridge Analytica has repeatedly denied any wrongdoing and in a statement on Tuesday took issue with Wylie's testimony.
"Chris Wylie has misrepresented himself and the company to the committee, and previously to the news media," the statement read. It added "Chris Wylie was a part-time contractor who left Cambridge Analytica in July 2014 and has no direct knowledge of the company's work or practices since that date. He was at the company for less than a year, after which he was made the subject of restraining undertakings to prevent his misuse of the company's intellectual property while attempting to set up his own rival firm. He was not, as he claims, a founder of Cambridge Analytica."
On Sunday, Facebook's CEO Mark Zuckerberg in ads in national newspapers in the U.S. and U.K. called the company's failure to protect user information " a breach of trust" and said it's "now taking steps to make sure this doesn't happen again."
Panels on both sides of Congress are demanding that Facebook CEO Mark Zuckerberg and now-suspended Cambridge Analytica CEO Alexander Nix also appear to answer questions.
Senate Judiciary Committee Chairman Charles Grassley, R-Iowa, on Monday called for Zuckerberg to testify before Congress about Cambridge Analytica's alleged misuse of the Facebook data and the possibility that that data may not have been not destroyed in 2015, as the data firm certified to the social media company.
A Facebook spokesman confirmed to ABC News that the company received the invitation to appear on April 10, moments before it was shared with the media, and said that it was being "reviewed."
On Monday the Federal Trade Commission announced it had opened its own investigation looking into whether or not the tech giant violated a 2011 consent decree it signed promising to protect users' privacy.
"Companies who have settled previous FTC actions must also comply with FTC order provisions imposing privacy and data security requirements," the agency wrote in a press release. "Accordingly, the FTC takes very seriously recent press reports raising substantial concerns about the privacy practices of Facebook. Today, the FTC is confirming that it has an open non-public investigation into these practices."
Facebook Deputy Chief Privacy Officer Rob Sherman said last week of rumors of the FTC action, "We remain strongly committed to protecting people's information. We appreciate the opportunity to answer questions the FTC may have."