Chicago Mayor Lori Lightfoot loses bid for reelection
Crime has been a notable issue in the race.
CHICAGO -- The race for Chicago's next mayor was shaved to just two candidates Tuesday while voters overwhelmingly stopped incumbent Mayor Lori Lightfoot's attempt at a second term, making her the first incumbent mayor in 40 years to not win reelection.
Former Chicago Public Schools CEO Paul Vallas and Cook County Commissioner Brandon Johnson both advanced to the runoff election, to be held on April 4.
None of the candidates in the crowded field of nine managed to lock 50% of the vote for a win, so the top two vote-getters will head to the runoff. According to the Chicago Board of Elections, 507,852 total ballots were cast, representing a total citywide turnout of 32%. Preliminary election data reported by The Associated Press shows Vallas with approximately 35% of the vote while Johnson followed with roughly 20%. Lightfoot trailed in third place.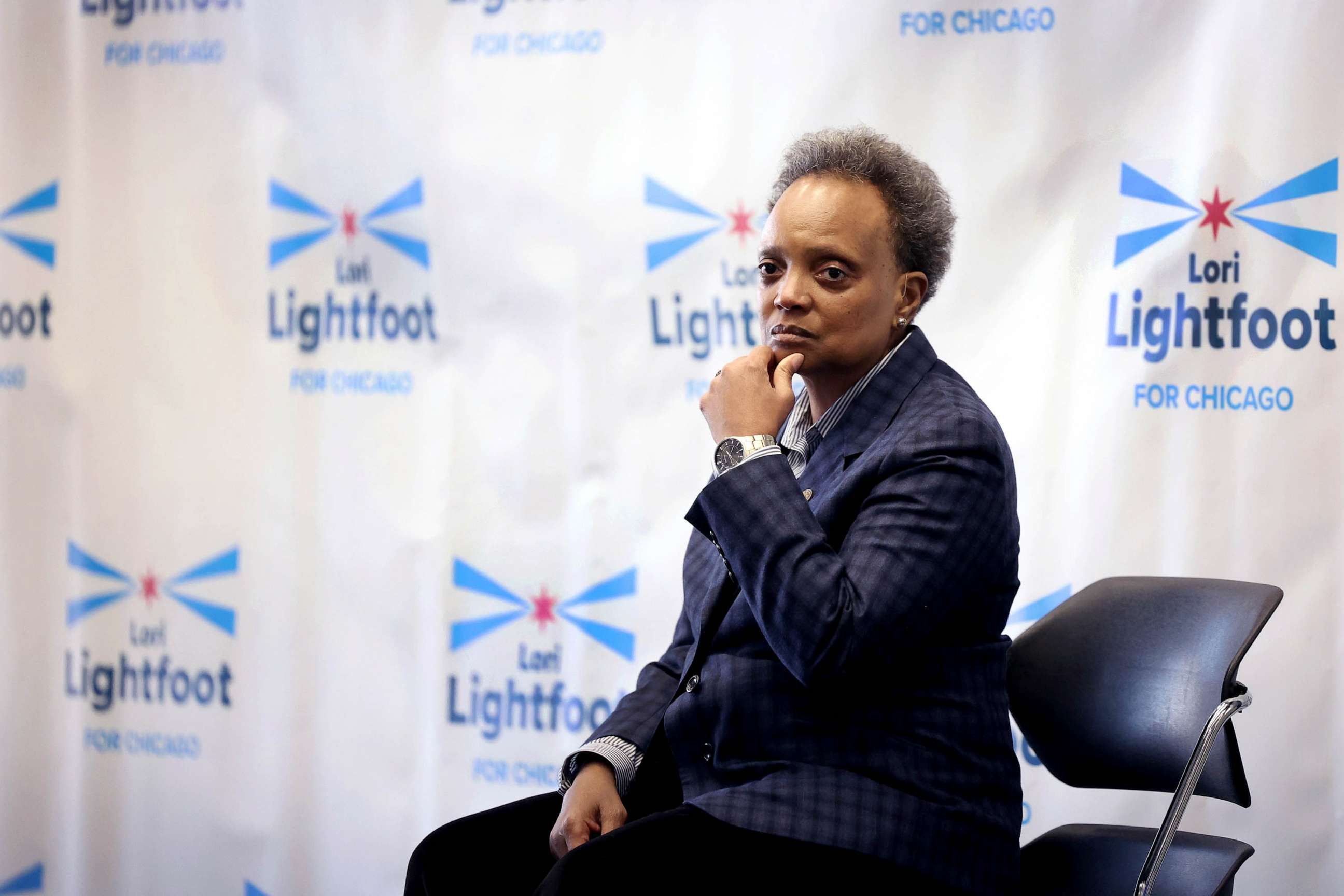 "Our fight isn't over yet and we will be spending the next five weeks talking to the people of our city about the need to elect a leader who is transparent, accountable, collaborative and who puts public safety at the top of our priorities," Vallas said in a statement. "I'm ready to take on that challenge and be a mayor for all Chicagoans."
"They said this would never happen. I am so freaking proud. Because we did this," Johnson told supporters Tuesday. "A few months ago, they said they didn't know who I was. Well, if you didn't know, now you know. We have shifted the political dynamics in this city."
Lightfoot's loss is a reversal from four years earlier when, as a relative unknown who had never held public office, the former prosecutor won every ward in Chicago by campaigning as an outsider who was motivated to reform the city's tribal political culture. She became the city's first Black woman and openly gay person to serve as mayor.
Like all big city mayors across the U.S., she faced significant challenges following the social unrest in 2020 and COVID-19 lockdowns early in her term, but she later could not convince voters she had a solution to the mounting issues of crime and public safety.
At the end of 2022, Chicago had nearly 700 murders, down from 804 in 2021 but still high compared to earlier years, according to the Chicago Police Department's end-of-year report. In addition, the city saw more than 20,000 incidents of theft in 2022, up from 10,590 incidents in 2021. Viral images of lootings, car jacking and weekend street races throughout the summer months contributed to the perception that Lightfoot had lost control of trying to crack down on crime.
"Obviously, we didn't win the election today, but I'm being here with my head held high and a heart full of gratitude. I am grateful to the millions of Chicagoans who came together as we made tough decisions, saw the struggles of our frontline workers and beat back a deadly pandemic" she said Tuesday. "I'll be rooting and praying for our next mayor to deliver for the people of this city for years to come."
Both Vallas, 69, and Johnson, 46, are Democrats who have the backing of the city's most powerful labor unions, respectively -- the Fraternal Order of Police for Vallas and the Chicago Teachers Union for Johnson. The alliances reflect the opportunities and vulnerabilities of both candidates. Vallas is running as a moderate Democrat who wants to invest more in public safety while Johnson is on record saying he advocates for redirecting funds more to social services and intervention programs. He has avoided answering questions on whether he would divest in or reduce the Chicago Police Department budget.
Both mayoral candidates say they would fire Chicago Police Superintendent David Brown.
Lightfoot has said she is working to make Chicago "the safest big city in the country" by working on getting illegal guns off the streets, hiring more officers and investing in communities to address violence. Others, though, have said she needs to do more.
But there still have been improvements overall regarding crime in Chicago. ABC News Chief Justice Correspondent Pierre Thomas spent a day with Chicago Police Superintendent Brown in October for an inside look at the department's efforts to curb gun violence -- incidents affecting many Chicagoans -- throughout the city. At the time, shootings in Chicago were down 20% through the end of summer and homicides had fallen 16%.
Vallas has made combatting crime the central issue for his campaign -- echoing how public safety came to define high-profile races for New York governor, where incumbent Kathy Hochul faced a major rival in Lee Zeldin, and the 2022 recall of San Francisco's top prosecutor.