'Undeniable link to climate change' in California's fire season, expert says
Heat and drought linked to climate change has worsened wildfires.
Wildfires in California have broken records this year after the Mendocino Complex Fire became the largest in the state's recorded history.
The Thomas Fire from last year set records as well, burning more than 280,000 acres before it was declared completely contained in January 2018.
Experts have said that rising temperatures linked to climate change are making the fires larger, more dangerous and more expensive to fight.
After several record-breaking wildfires in California last year, Gov. Jerry Brown said the severe fires were the "new normal" for the state and said that years of drought and rising temperatures from climate change contributed to the worsening fire season.
PHOTOS: Wildfires ravage California
Ed Bledsoe tries to hold back tears as he searches through what remains of his home, Monday, Aug. 13, 2018, in Redding, Calif. Bledsoe's wife, Melody, great-grandson James Roberts and great-granddaughter Emily Roberts were killed at the home in the Carr Fire.
Michael Mann, an atmospheric science professor at Penn State University, believes climate change is contributing to the level of these events.
"We're not saying that climate change is literally causing the events to occur. What we can conclude with a great deal of confidence now is that climate change is making these events more extreme. And its not rocket science, you warm the atmosphere it's going to hold more moisture, you get larger flooding events, you get more rainfall. You warm the planet, you're going to get more frequent and intense heat waves. You warm the soils, you dry them out, you get worse drought," Mann said on PBS NewsHour. "You bring all that together and those are all the ingredients for unprecedented wildfires."
Mann said another part of the problem is that climate change is creating conditions that cause extreme weather to stay over the same area for multiple days, leading to unprecedented heat or rain events.
Before the Carr Fire broke out near Sacramento, the area was facing its hottest July on record -- temperatures had been above average for months, as much as 10 degrees higher than normal.
ABC News Senior Meteorologist Rob Marciano said it was an exceedingly long heatwave and that the high temperatures could create more wind in the afternoon and evening, which is partly why the Carr fire spread so rapidly.
"Even by July standards, this is an unusually long July heat wave with triple-digit heat in areas for three weeks straight. And the night that the fire went off, temperatures were well above 110 degrees. In cases like this, there's an undeniable link to climate change," Marciano said.
While rising temperatures may not spark a wildfire, the heat often make fires more likely and more severe. Droughts dry out trees and vegetation that becomes fuel for fires more likely to spread farther, faster.
Noah Diffenbaugh researches the connection between climate and extreme weather as a professor of Earth System Science at Stanford University. He said the longer fire season in California is related to climate change because global warming caused by greenhouse gas emissions has increased the average temperature by almost 2 degrees Fahrenheit.
"We're getting warmer and warmer conditions around the globe but certainly here in California and in the western United States we're getting earlier melting of snowpack," Diffenbaugh told ABC News' Brad Mielke on the "Start Here" podcast. "That means that when those warm conditions happen in the summer and fall all the vegetation is even more dried out and that means that when lightning strikes when a spark from a from a car or a campfire hits the ground that the vegetation is more dried out there's more fuel available."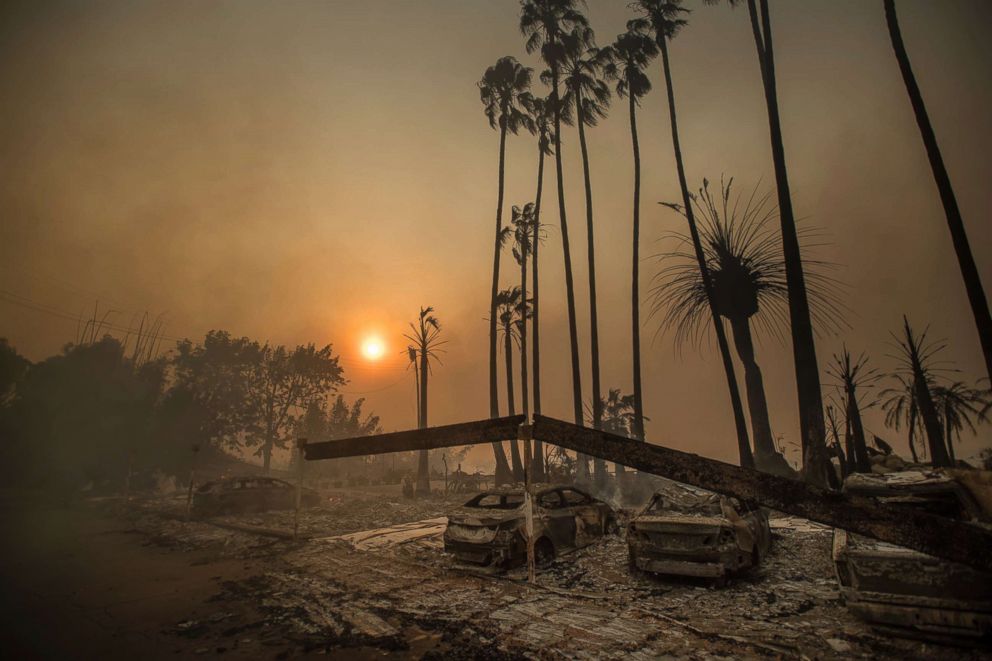 Multiple studies have found a connection between rising temperatures and the severity of wildfires, but other research suggests other factors also are at play. One study published last year said that many studies that connect climate change and wildfires don't account for unique factors in smaller geographic areas.
That study, published by the Proceedings of the National Academy of Science, found that climate change had less of an effect in areas that were more populated because people can both start fires where they wouldn't normally occur or can reduce the risk of wildfires by managing the land.
The researchers found that in some cases the way people manage or develop land in a specific area can counteract increased risks associated with rising temperatures or drought.
"Climate change may indeed be a concern for those areas with strong fire-climate relationships. However, our results suggest that, in some areas, anthropogenic (or human-caused) factors diminish the influence of climate on fire activity," the authors wrote in the study, saying that humans' influence on fires needs to be a larger part of the conversation about the connection between fires and climate change.
The U.S. Forest Service has been warning of the increasing costs related to fighting these wildfires for years, saying that it had to borrow money from programs intended to prevent fires to pay for fire suppression. The U.S. Department of Agriculture, which includes the Forest Service, said that 2017 fire season cost more than $2 billion, making it the most expensive fire season on record.
A record-setting 129 million trees on 8.9 acres were dead at the end of 2017 because of the state's drought, according to the U.S. Forest Service and California fire and forestry agency.