Ever since a news report about a whistleblower complaint concerning President Donald Trump sent shock waves through Washington, it's been a challenge to make sense of the complicated, and still unfolding, story.
Interested in
Donald Trump?
Add Donald Trump as an interest to stay up to date on the latest Donald Trump news, video, and analysis from ABC News.
Early media reports about the whistleblower complaint, which was filed in August, said that president Trump may have urged the president of Ukraine, Voldymyr Zelenskiy, to launch an investigation into Joe Biden's son, Hunter Biden, during a July phone conversation.
Trump has since acknowledged discussing Biden on the call, but denies any wrongdoing.
Much is still unclear about what led to the whistleblower report and there's much that's still unknown, but here's some context and a timeline of important developments that occurred around the complaint and in its aftermath:
June 13, 2019: Trump tells ABC News' Chief Anchor George Stephanopoulos that he would consider accepting damaging information about a political rival from a foreign country without alerting the FBI first
Asked by ABC News Chief Anchor George Stephanopoulos, in an Oval Office interview, whether his campaign would accept damaging information on opponents from foreigners -- such as China or Russia -- or hand it over to the FBI, Trump said, "I think maybe you do both."
"I think you might want to listen, there isn't anything wrong with listening," Trump continued. "If somebody called from a country, Norway, [and said] 'we have information on your opponent' -- oh, I think I'd want to hear it."
June 18, 2019: The Department of Defense announces $250 million in aid for Ukraine
In a press release, the Department of Defense announced plans to provide equipment to support military operations in Ukraine. According to the press release, the funds were being given in part to purchase "sniper rifles, rocket-propelled grenade launchers, and counter-artillery radars" among other things. At some point, the aid is put on hold.
Mid-July, 2019: Trump instructs Acting Chief of Staff, Mick Mulvaney to put a hold on disbursement of aid funds to Ukraine, according to multiple senior administration official.
Officials at the Office of Management and Budget relayed Trump's order to the State Department and the Pentagon during an interagency meeting in mid-July, according to officials who spoke on the condition of anonymity to discuss internal deliberations. The Office of Management and Budget officials explained that the president had "concerns" and wanted to analyze whether the money needed to be spent.
Administration officials were instructed to tell lawmakers that the delays were part of an "interagency process" but to give them no additional information.
July 24, 2019: Former special counsel Robert Mueller testifies on Capitol Hill
Mueller testified before two House committees about his investigation into Russian interference in the 2016 election and potential obstruction of justice by the president.
July 25, 2019: Trump partakes in the now controversial phone call with the new president of the Ukraine, Volodymyr Zelenskiy
Trump took part in what he has referred to as a "routine" phone call with the newly elected Ukranian leader. The substance of what he said in this phone call reportedly prompted the whistleblower complaint.
July 28, 2019: Trump announces that Dan Coats will be leaving his role as director of national intelligence
Three days after the call with Ukraine, Trump tweets that Coats, who had been serving as the director of national intelligence since March 2017, would be stepping down. Trump also tweeted his intent to nominate Rep. John Ratcliffe to fill the role.
Aug. 8, 2019: Trump changes course on DNI nomination, Coats' top deputy resigns
After a failed attempt to rally support for Ratcliffe, Trump announces that he will instead name Joseph Maguire to fill in for Coats. Many lawmakers on both sides of the aisle -- as well as some members of the intelligence community -- had hoped that Trump would name Sue Gordon, Coats' second in command, to fill the role, but Trump announced in a tweet on Aug. 8 that Gordon would also be departing.
Aug. 12, 2019: The whistleblower files a complaint with the intelligence community inspector general
An unidentified member of the intelligence community filed a complaint with Michael Atkinson, the inspector general for the intelligence community. In the complaint, the whistleblower outlined several instances of concern related to the president's communications with a foreign leader. ​The complaint has not been made publicly available, but the inspector general revealed the nature of the complaint in a letter, and sources have told ABC News other details of the complaint.
The whistleblower's filing would not be reported publicly for almost a month.
Aug. 16, 2019: Joseph Maguire assumes role of acting director of national intelligence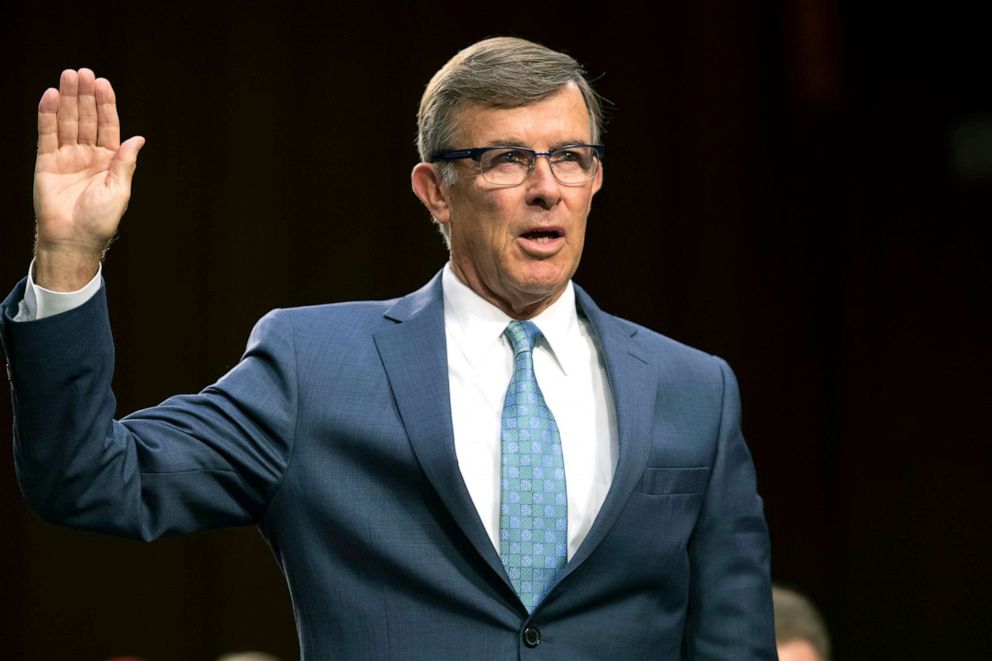 The former director of the National Counterterrorism Center is sworn in to replace Coats on an "acting" basis.
Aug. 26, 2019: Atkinson passes the whistleblower complaint to Maguire
After two weeks of independent investigation, Atkinson determined the whistleblower complaint viable and of "urgent concern." He forwarded the complaint to Maguire.
Sept. 2, 2019: Deadline passes for Maguire to alert Congress to the whistleblower report
Upon receipt of a report from the inspector general, the law gives the director of national intelligence one week to determine whether the concern rises to the level of requiring a report to the House and Senate Intelligence committees. Maguire does not alert Congress to the whistleblower report by this deadline.
Sept. 9, 2019: Atkinson expresses his concerns to House Intelligence Committee Chairman Adam Schiff and ranking member Devin Nunes in a letter
After Maguire did not disclose the information to Congress, Atkinson did. In a letter to the top Democrat and Republican on the House Intelligence committee, Atkinson wrote that he had "received a disclosure form an individual regarding an alleged 'urgent concern.'"
Sept. 10, 2019: Schiff pens a formal request for the full whistleblower complaint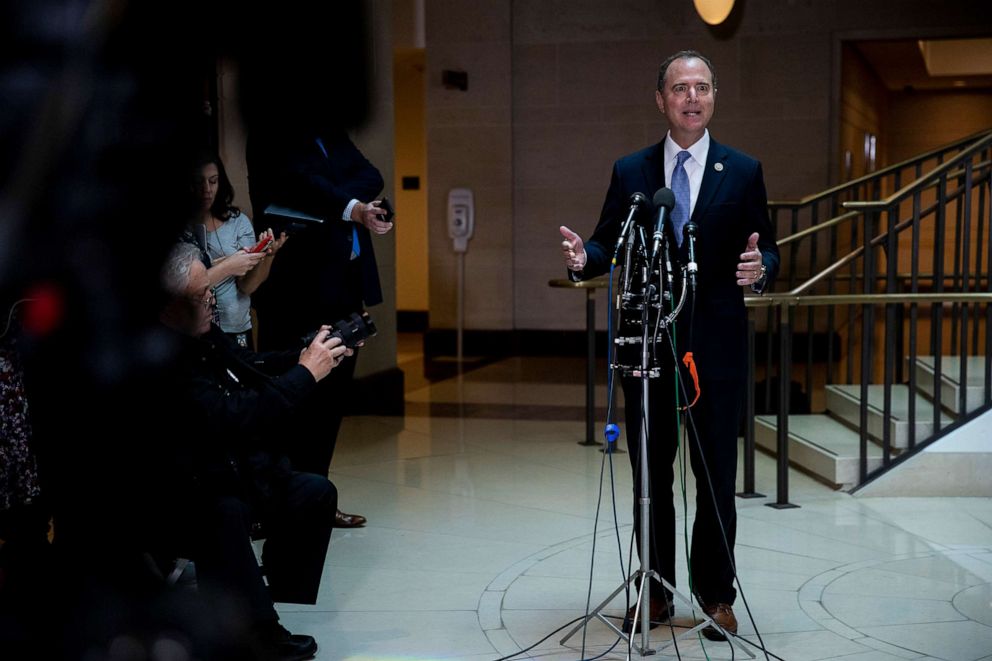 Schiff responded to Atkinson's letter by issuing a request for the full whistleblower complaint, the inspector general's formal determination on the complaint, and any documents related to the director of national intelligence's involvement in the matter.
Sept. 11, 2019: The State Department gives Congress notice it wants to send an additional $141 million in aid to Ukraine
These funds were announced in addition to the $250 million previously allotted.
Sept. 11, 2019: National security adviser John Bolton leaves the Trump administration
Trump announced the departure of his top national security official via Twitter.
"I informed John Bolton last night that his services are no longer needed at the White House. I disagree strongly with many of his suggestions, as did other and the administration, and therefore… I asked John for his resignation, which was given to me this morning," Trump tweeted.
Bolton tweeted back that he had offered to resign the night before.
Sept. 11, 2019: The administration notifies Congress of plans to move forward with disbursing aid money for Ukraine:
The administration agrees to release previously frozen aid money to Ukraine.
Sept. 13, 2019: Maguire denies Schiff's request ​for a copy of the complaint and related documents, Schiff issues a subpoena
Maguire responds to Schiff's letter in a letter of his own, stating his reason for denying Schiff's request for an unredacted copy of the complaint and related documents. According to Maguire, the information in the complaint involves "confidentially and potentially privileged communications by persons outside the Intelligence community."
Schiff responded to the letter by issuing a subpoena for the previously requested documents.
Sept. 18, 2019: News that the whistleblower complaint was about Trump breaks in the Washington Post
The Washington Post reports that Trump has been tied to a whistleblower complaint concerning a phone call with a "foreign leader." Later reports confirm that the complaint was about his July 25 call with Zelenskiy.
Sept. 19, 2019: Atkinson meets with the House Intelligence Committee behind closed doors
Schiff, speaking to reporters after the hearing, said that his committee does not have the complaint and does not know whether reports about it are accurate. He also said he believed there were efforts to keep details of the report out of the hands of Congress.
"I believe that there is an effort to prevent this information getting to Congress, and if the assertion is accurate that the Department of Justice has made and the DNI has affirmed, that this involves a potentially privileged communication, then at one level or another, likely involves either president or people around him," he said.
Sept. 20, 2019: Trump tries to redirect focus to Biden
Trump tells a group of reporters that his communications with foreign officials are "always appropriate." He also pointed questions back to Biden.
"It doesn't matter what I discussed, but I'll tell you this, somebody ought to look into Joe Biden's statement," Trump said.
Sept. 20, 2019: The Wall Street Journal reports that Trump urged Zelenskiy to work on an investigation into Biden's son about eight different times.
The report suggests that during his phone call with Zelenskiy, Trump urged the Ukraine president to work with his personal attorney, Rudy Giuliani, on a probe into Biden's son.
Sept. 21, 2019: Ukraine foreign minister says that Trump did not put pressure on Zelenskiy during the July call
Ukraine foreign minister Vadym Prystaiko told a Ukrainian media outlet that Trump did not put pressure on the Ukraine president during the phone call.
"I know what the conversation was about and I think there was no pressure," Prystaiko said. "This conversation was long, friendly and it touched on many questions, sometimes requiring serious answers."
Sept. 22, 2019: Trump acknowledges discussing Biden with Ukraine's president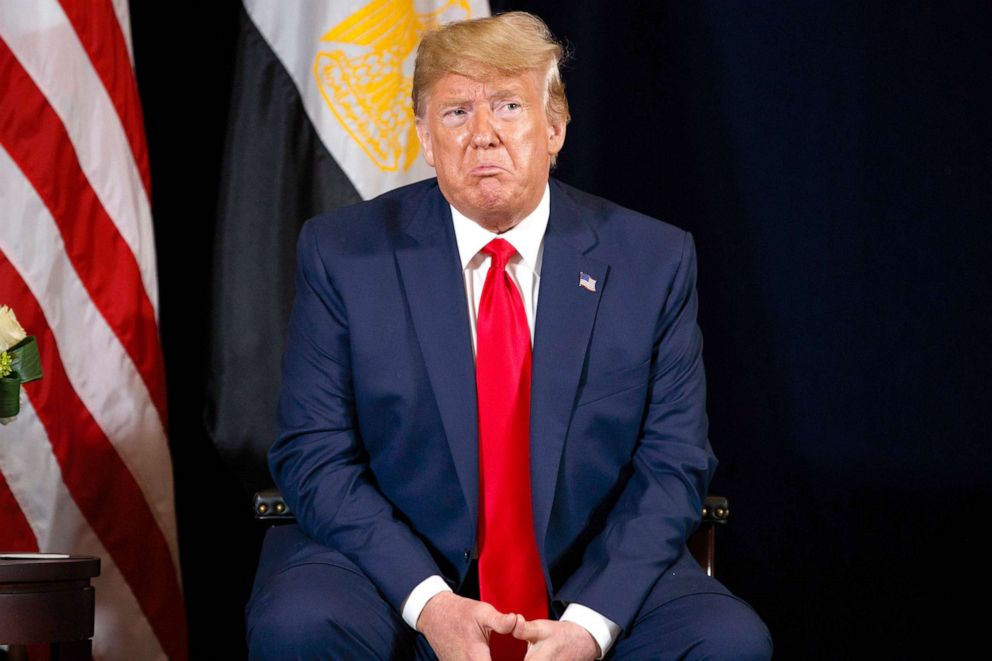 Trump defended his July 25 phone call with Zelenskiy while speaking with reporters before departing for a trip.
"The conversation I had was largely congratulatory, with largely corruption, all of the corruption taking place and largely the fact that we don't want our people like Vice President Biden and his son creating to the corruption already in the Ukraine," Trump said.
Sept. 22, 2019: Schiff suggests that the contents of the report could move the needle closer to impeachment.
Schiff appeared on CNN saying impeachment might be the "only remedy" if reports of Trump withholding military aid were true.
"This seems different in kind and we may very well have crossed the Rubicon here," Schiff said.
Sept. 22, 2019: House Speaker Nancy Pelosi releases a letter calling for the administration to allow Congress access to the whistleblower complaint
In her letter, Pelosi wrote that the blocking of the complaint marked a "grave new chapter of lawlessness which will take us into a whole new stage of investigation."
Sept. 24, 2019: Pelosi announces that the House will move forward with a formal impeachment inquiry
"The actions of the Trump presidency revealed the dishonorable fact of the president's betrayal of his oath of office, betrayal of our national security, and betrayal of the integrity of our elections," Pelosi said in her public remarks. ""Therefore, today I'm announcing the House of Representatives is moving forward with an official impeachment inquiry."
Sept. 25, 2019: The White House releases a rough transcript of Trump's phone call with Zelenskiy
The record reveals that Trump repeatedly encouraged Zelenskiy to work with Giuliani and Attorney General Bill Barr to investigate Biden and his son.
"Rudy very much knows what's happening and he is a very capable guy," the transcript shows Trump saying. "If you could speak to him that would be great."
The White House cautioned that the transcript was not verbatim.
Sept. 25, 2019: The Department of Justice's Office of Legal counsel declassifies and makes public a previously written legal opinion finding that Maguire acted properly in not forwarding the whistleblower complaint to Congress.
The opinion determined that the whistleblower complaint was outside of the scope of the intelligence community and that Maguire acted properly by not reporting the complaint to Congress.
The opinion also confirmed that the information in the complaint was "received secondhand" by the whistleblower.
Sept. 26, 2019: Declassified copies of the whistle blower complaint and the inspector general's report to Maguire are made public.
The whistleblower's complaint recounted what led up to the phone call, during which Trump repeatedly pressured Zelenskiy to work with Giuliani and Attorney General William Barr to investigate Biden.
The complaint states, among other things, that Trump instructed Vice President Mike Pence to cancel his trip to Ukraine and made clear that he did not want to meet Zelenskiy "until he saw how Zelenskiy 'chose to act' in office".
Sept. 26, 2019: Maguire appears on capitol hill for public testimony before the House Intelligence committee and for closed door testimony with the Senate intelligence committee.
During the open door meeting, Maguire said he believed the matter was "totally unprecedented."
He also said he believed the whistle blower acted in good faith.
"I think the whistleblower did the right thing," Maguire said.
Sept. 27, 2019: House Democrats issue subpoenas for Secretary of State Mike Pompeo and five other state department officials
The subpoenas are for documents related to the State Department's role in facilitating meetings between Giuliani and Zelensky, including communications with Giuliani and records around Trump's phone call with Ukrainian President Zelenskiy in July.
Sept. 27, 2019: Kurt Volker resigns as special envoy to Ukraine
News of Volker's resignation was first reported by The State Press, the student newspaper at Arizona State University.
Sept. 27, 2019: It is first reported that the Trump administration used a separate system to store the record of his call with Zelenskiy
When the rough transcripts of two phone calls President Donald Trump had with foreign leaders leaked in the early days of his presidency, the procedure to store those logs changed, multiple sources familiar with the process told ABC News. Many calls between the president and world leaders started being stored in a secure server to avoid leaks. The sources who talked to ABC News did caution that it's unclear if the call records being stored were done so for national security or for political concerns.
Sept. 30, 2019: Democratic chairmen subpoena Giuliani for documents related to their impeachment probe
‪"I have received a Committee subpoena from 3 Commitees of the House. It raises substantial constitutional and legal issues as well as attorney-client and other privileges. These and other issues must all be considered before a proper decision can be made," Giuliani said in a statement the day the subpoena was issued.
Oct. 1, 2019: Pompeo sends a letter to the leaders of three House committees, stating his intention to block State Department witnesses from appearing for testimony. Democrats respond to the letter threatening to fine Pompeo or withhold his salary.
In the fierce letter, released on Twitter and addressed to House Foreign Affairs Committee chairman Eliot Engel, Pompeo blasted the depositions in the impeachment probe as rushed and potentially in violation of executive privilege, accused committee staff of not following protocol, and appeared to say the officials will not show up.
"Based on the profound procedural and legal deficiencies noted above, the Committee's request dates for depositions are not feasible," Pompeo concluded his letter.
In their response letter, Chairmen Schiff, Engel and Elijah Cummings write, "Secretary Pompeo now appears to have an obvious conflict of interest... He should not be making any decisions regarding witness testimony or document production in order to protect himself or the President." They threaten to fine Pompeo or withhold his salary if he does not comply.
Oct. 2, 2019: State Department Inspector General Steve Linick meets with House and Senate committee staffers for an "urgent" briefing
Democratic Rep. Jamie Raskin said at the conclusion of the meeting that the documents provided by Linick appeared to be full of "conspiracy theories"
A separate Democratic source told ABC News based on the information they were presented, the documents appeared to be sent from the White House and to Pompeo and the State Department, and that they contained a bunch of Trump hotel folders with notes from interviews that took place at the offices of President Donald Trump's personal lawyer, Rudy Giuliani, with various Ukrainians.
Oct. 3, 2019: Volker appears on Capitol Hill for closed-door deposition
As part of his deposition, Volker disclosed text messages he exchanged with other American diplomats.
In the disclosed messages, Volker is communicating with Gordon Sondland, the U.S. ambassador to the European Union, and Bill Taylor, the top U.S. diplomat to Ukriane.
During their exchanges, Taylor wrote, "I think it's crazy to withhold security assistance for help with a political campaign."
Sondland responds to Taylor, saying that charge is "incorrect."
"Bill, I believe you are incorrect about President Trump's intentions. The President has been crystal clear: no quid pro quo's of any kind. The President is trying to evaluate whether Ukraine is truly going to adopt the transparency and reforms that President Zelenskiy promised during his campaign," Sondland says.
Oct. 6, 2019: An attorney representing the original whistleblower tells ABC News that he is now representing a second whistlebower with first-hand knowledge of some of the information in the whistleblower complaint. The attorney said the second whistleblower has spoken to the inspector general.
The existence of a second whistleblower -- particularly one who can speak directly about events involving the president related to conversations involving Ukraine -- could undercut Trump's repeated insistence that the original complaint, released on Sept. 26, was "totally inaccurate."