In newly disclosed text messages shared with Congress, the top U.S. diplomat in Ukraine writes to a group of other American diplomats that "I think it's crazy to withhold security assistance for help with a political campaign."
The exchange, provided by another American diplomat, former U.S Special Envoy to Ukraine Kurt Volker, as part of his closed-door deposition before multiple House committees Thursday, shows what appears to be encrypted text messages he exchanged with two other American diplomats in September regarding aid money President Donald Trump ordered to be held back from Ukraine.
In the Sept. 9 exchange, obtained by ABC News, the concerns are expressed by Bill Taylor, the top U.S. diplomat to Ukraine. Gordon Sondland, the United States Ambassador to the European Union, responds to Taylor, saying that charge is "incorrect."
"Bill, I believe you are incorrect about President Trump's intentions. The President has been crystal clear: no quid pro quo's of any kind. The President is trying to evaluate whether Ukraine is truly going to adopt the transparency and reforms that President Zelenskiy promised during his campaign," Sondland says.
Sondland then suggests to the group take the conversations off line, typing, "I suggest we stop the back and forth by text." It's unclear whether the material obtained by ABC News included the full exchange.
Sondland, a hotelier and Republican megadonor, contributed over $1 million to the president's inaugural committee before eventually being nominated and confirmed to be the United States representative to the European Union, serving since July 2018. He has assisted the effort by Trump's personal lawyer, Rudy Giuliani, to contact Ukrainian officials about an investigation, according to Giuliani, who says he briefed Sondland and Volker after his meetings.
In a July 25 call with Ukraine's President Volodymyr Zelenskiy, President Trump asked the new president to work with Giuliani and Attorney General William Barr to investigate Democratic presidential candidate and former Vice President Joe Biden and his son Hunter, prompting an impeachment inquiry in the House.
Volker resigned last Friday as the special envoy for Ukraine. The State Department has previously confirmed that Volker put Giuliani in touch with Zelenskiy's aides at their request, but did not respond to requests for comment Thursday.
The texts came just days before the White House released the military assistance to Ukraine -- almost $400 million from the State Department and Pentagon meant to boost the U.S. partner against Russian aggression. That aid was ordered withheld by the White House a week before the call, according to a senior administration official.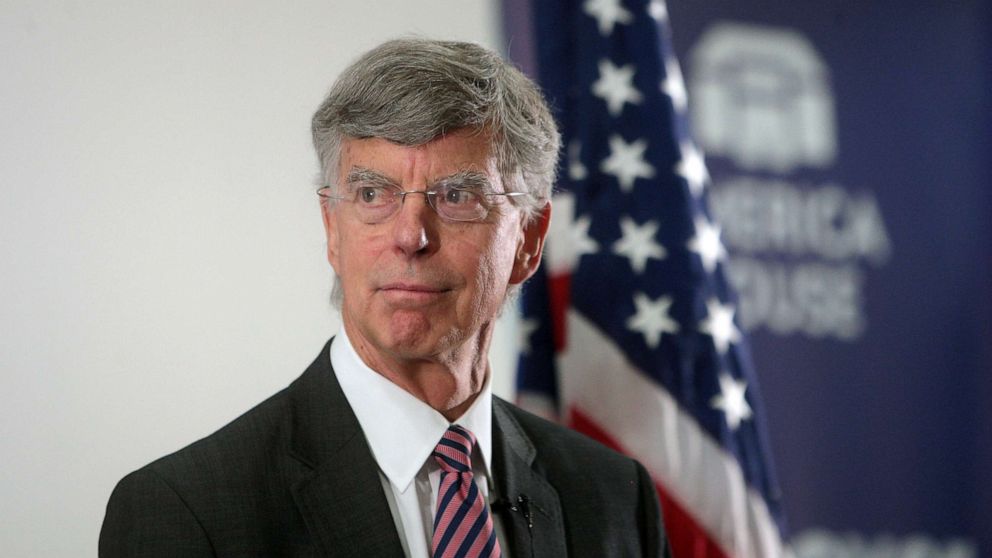 In a separate thread between Sondland and Volker directly, the two diplomats discussed contacts with Ukrainian officials and requests for them to open an investigation. On Aug. 13, they appear to be drafting language for Ukrainian officials to announce an investigation into "the problem of interference in the political processes of the United States, especially with the alleged involvement of some Ukrainian politicians."
"I want to declare that this is unacceptable. We intend to initiate and complete a transparent and unbiased investigation of all available facts and episodes, including those involving Burisma and the 2016 U.S. elections, which in turn will prevent the recurrence of this problem in the future," Volker writes, with Sondland responding, "Perfect. Lets send to Andrey after our call."
"Andrey" is an apparent reference to Zelenskiy's aide Andrey Yermak, with whom Volker had put Giuliani in contact.
"Want to know our status on asking them to investigate," Volker said on Aug. 15 of contacting Yermak. Two days later, Sondland asks Volker for an update, and Volkers responds, "I've got nothing. Bill [Taylor] had no info on requesting an investigation -- calling a friend at DOJ (Bruce Schwartz)."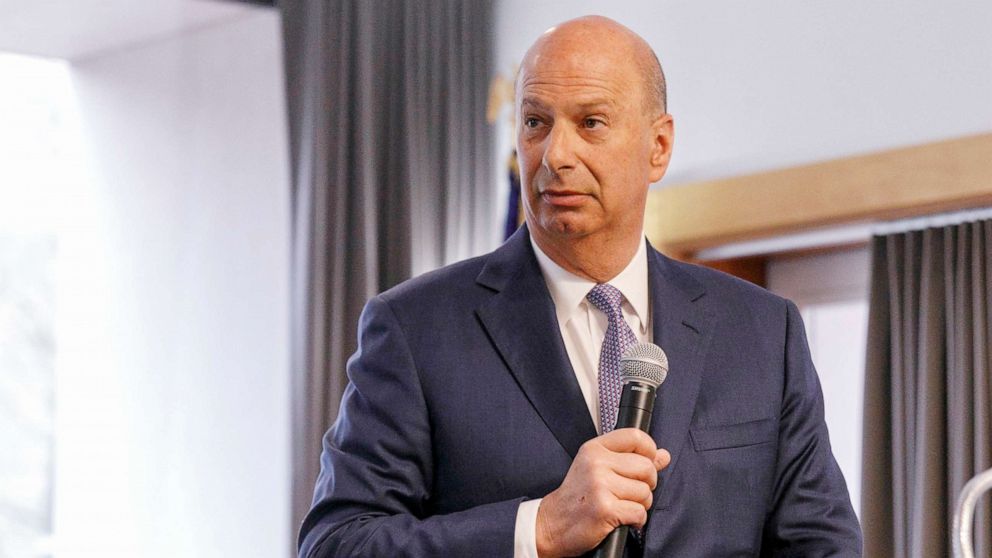 Swartz is the deputy assistant attorney general for the Department of Justice. It's unclear what role he had, if any.
Sondland asks, "Do we still want Ze to give us an unequivocal draft with 2016 and Boresma" -- which could be a reference to the Ukrainian energy company Burisma, where Biden's son Hunter was a board member.
"That's the clear message so far..." Volker responds. "I'm hoping we can put something out there that causes him to respond with that."
Two days after that, Sondland says he has spoken to Yermak and "drove the 'larger issue' home with [him]. Not about just a meeting but the relationship per se." There have been questions about whether Trump was withholding a meeting with Zelenskiy in exchange for an investigation of the Biden's.
The two presidents met the next month during the United Nations General Assembly in New York. During a photo op before the meeting, Zelenskiy told reporters, "Nobody pushed me." Trump jumped in to add, "In other words, no pressure."
Taylor is the latest State Department official to be caught up in this controversy. A career civil service officer who previously served as ambassador to Ukraine, Taylor has served as the top diplomat in Kyiv since May, when Ambassador Marie Yovanovitch was recalled by the administration. Yovanovitch had been smeared by President Trump's personal attorney Rudolph Giuliani for months as blocking Ukrainian investigations into corruption -- an allegation the State Department at the time called an "outright fabrication" that "does not correspond to reality."
But Trump referred to Yovanovitch as "bad news" during the controversial July 25 call.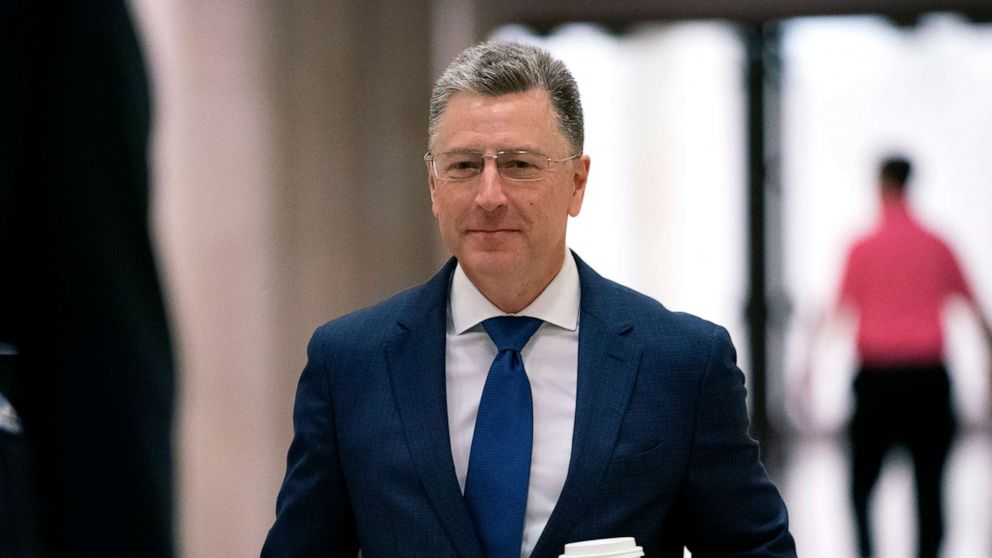 Republicans claimed that the messages were taken out of context and that Volker testified that Taylor only brought up withholding security assistance based off a Politico report. However, Volker nor his attorney have confirmed that account. Republicans are demanding Schiff release the transcript of the more than nine hour long deposition.
"What we do know us that there was definitely no quid pro quo, it came out over and over. It was asked probably 20 different times," Rep. Mark Meadows, R-N.C., told reporters following the deposition.
Asked about this text exchange, Rep. Lee Zeldin, R-N.Y., repeatedly pointed to Sondland's reference of no quid pro quo, when asked about Taylor's concerns.
"There are text messages that make it absolutely crystal clear without any shadow of a doubt that there was no quid pro quo whatsoever and it was known as a policy of the United States government," Zeldin said.