Corker reconsidering retirement sets up possible GOP battle with Blackburn
Corker could challenge Blackburn in Tennessee GOP primary race.
February 23, 2018, 6:17 AM
— -- When Tennessee Sen. Bob Corker announced in September that he would retire at the end of his term, fellow Republican hopefuls hopped into the fray eager for a rare shot at an open seat in the deeply-red state.
Just a few months later, Corker's having second thoughts about retirement amid a behind the scenes push to protect a seat in what could be a potentially tough midterm year for Republicans.
Corker has "been encouraged to reconsider his decision and is listening closely," his spokesman, Micah Johnson, told ABC News.
If Corker were to run, it could turn the race into a long, hard-fought battle with potential primary opponent, Tennessee GOP Rep. Marsha Blackburn, poised to offer a tough challenge.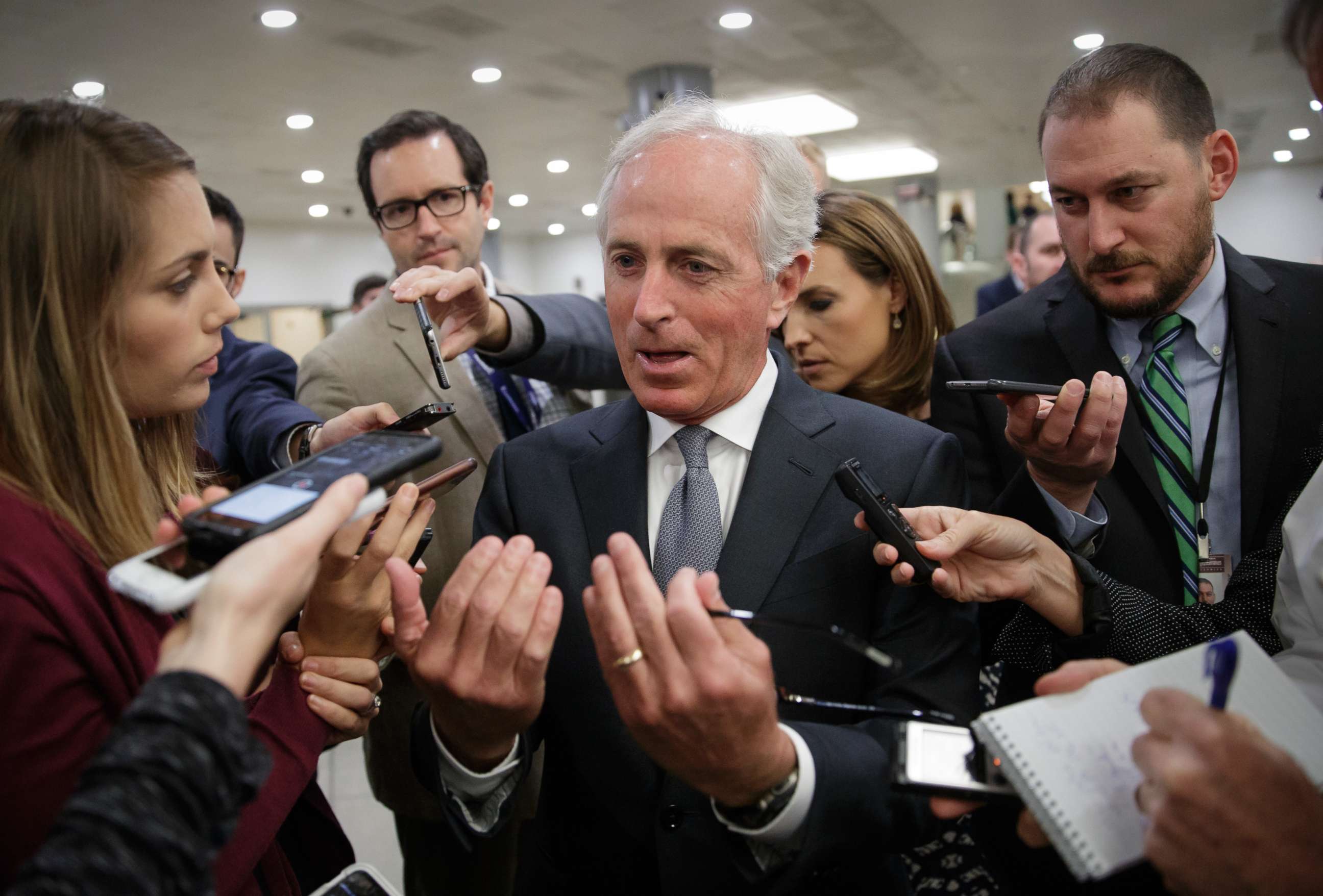 Corker "will change the entire dynamic of the race. It'll be a tough campaign because Blackburn doesn't pull punches. It'll be a tough battle," said John Geer, a political science professor and Vanderbilt University's vice provost of academic and strategic affairs.
"Tennessee has been having a battle in the Republican Party. There are the extreme Republicans and the moderate Republicans."
Blackburn declared her candidacy early on to replace the retiring senator.
She is seen as an anti-establishment candidate and vocal supporter of President Donald Trump. She gained early support and was viewed as the candidate to likely win the Republican nomination.
In the last three months of 2017, Blackburn was able to raise $2 million. As of her most recent filing with the Federal Election Commission, her campaign has over $4.6 million on hand.
Though her campaign coffers might be well-filled, the long-serving congresswoman is concerned about Corker's potential entry in the race. He is seen as an establishment candidate with foreign policy bona fides and the chutzpah to stand up to Trump on such issues as the strained relationship with North Korea.
The following back-and-forth is just one example of the tension.
Earlier this month, a senior adviser to Sen. Corker told ABC News "It is true that Senator Corker has been encouraged by people across Tennessee and in the Senate to reconsider his decision, but at this point nothing has changed."
Blackburn's campaign responded that the information was news to them.
"Senator Corker hasn't conveyed that to Rep. Blackburn. Our campaign is running full speed ahead, we are running to win and Marsha is the only true conservative in the race that can beat Phil Bredesen," said Andrea Bozek, a spokeswoman for Blackburn.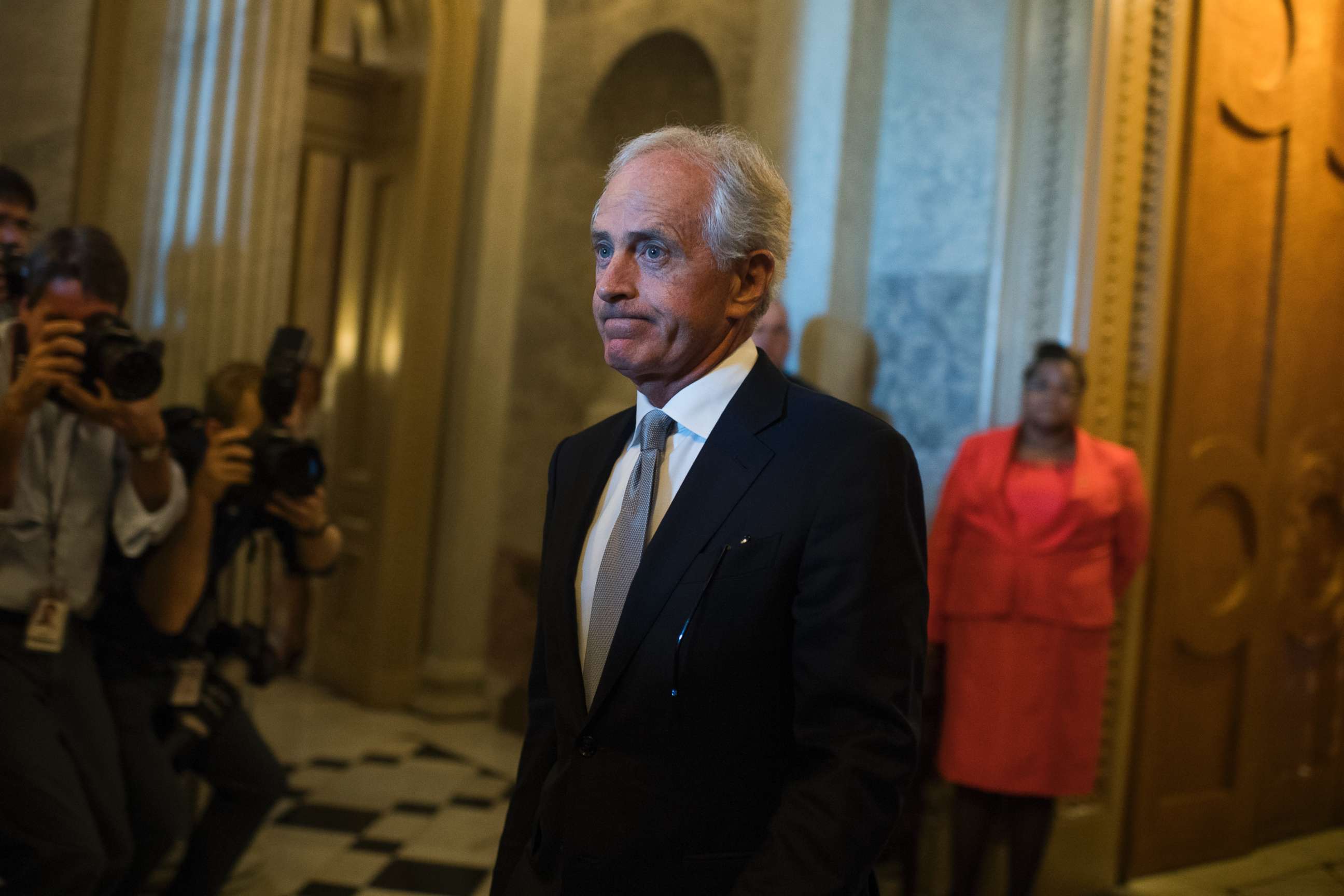 The next day, the Blackburn campaign released a statement saying "It's well past time for the good old boys' club in Washington, D.C., to quit thinking they know who the best candidate and conservative leader is for Tennessee families."
Shortly thereafter when asked by the media if she could defeat Democratic candidate and former Gov. Phil Bredesen, the Blackburn campaign went one step further, with spokeswoman Bozek telling The Washington Post: "Anyone who thinks Marsha Blackburn can't win a general election is just a plain sexist pig. She's the best fundraiser in the country and is beating [Democratic candidate] Phil Bredesen in several polls. We aren't worried about these ego-driven, tired old men. Marsha has spent her whole life fighting people who told her she wasn't good enough, and she will do it again."
If Corker were to campaign, it could change the entire dynamic of the race because "the bloody battle will make it harder for Republicans than if he stayed out," said Club For Growth president David McIntosh.
Blackburn and Corker would have to campaign against each other until the Aug. 2 primary, potentially causing divisions within their political party, while the Democrats ride it out with Bredesen, who is running unopposed.
Corker's potential entry in the race could also serve as a symbol of insider versus outsider tensions within the party.
"If Bob Corker gets back in the race, it'll be the biggest establishment versus anti-establishment race in the country," said Ken Cuccinelli, president of the Senate Conservative Fund.
The group has raised over $100,000 for Blackburn — over $25,000 this week alone — money it says poured in after the news of Corker potentially joining the race.
Blackburn would need to use that type of outpouring to mount a well-funded bid against both Corker and other contenders in the Aug. 2 primary. One of her most notable challenges could come from former Rep. Stephen Fincher.
Fincher dropped out of the race last week and encouraged Corker to jump in.
Conservative groups say they'll remain steadfast at Blackburn's side. Blackburn has received endorsements from several organizations such as Club for Growth, Great America Alliance and Citizens United.
McIntosh also vowed that if Corker gets in the race, Club for Growth will continue to raise money for Blackburn.
The Club for Growth "strongly supports Marsha [Blackburn]" and that if Corker gets in the race "he'll lose," McIntosh said.
"It would be sad to see someone end his career with that defeat," he said.
This is part of "18 for '18" -- ABC News' powerhouse political coverage of the 2018 midterm elections.