As he ramps up his push to reopen the country, President Donald Trump announced a former pharmaceutical executive and Army general to lead his administration's effort to develop a coronavirus vaccine for a project he called "Operation Warp Speed."
The announcement on Friday came one day after ousted vaccine chief Rick Bright said there are no plans to distribute a vaccine on an equitable scale, and called the timeline of 12 to 18 months being presented "an aggressive schedule."
"A lot of optimism is swirling around a 12-to-18-month time frame if everything goes perfectly. We've never seen everything go perfectly," Bright said Thursday before House lawmakers. "I think it's going to take longer than that to do so."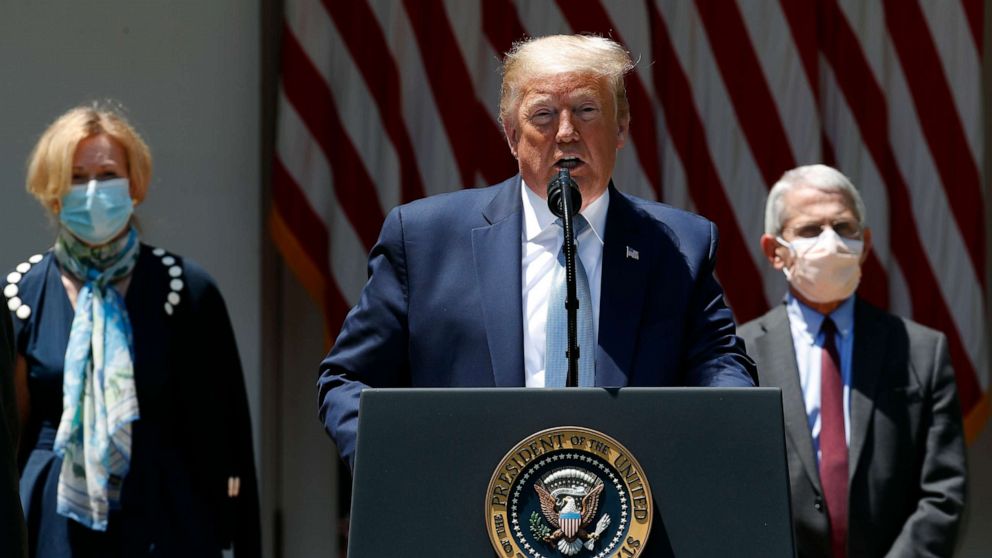 On the House floor Friday, members are practicing social distancing and some wearing masks to vote on a historic proxy voting measure and $3 trillion coronavirus relief package -- the largest relief bill in U.S. history -- which includes another round of direct payments to Americans.
Tune into ABC at 1 p.m. ET and ABC News Live at 4 p.m. ET every weekday for special coverage of the novel coronavirus with the full ABC News team, including the latest news, context and analysis.
Here are Friday's most significant developments in Washington:
Trump spoke on vaccine development and at a presidential recognition ceremony, before traveling to Camp David for the weekend
House lawmakers are voting on a proxy voting measure and a $3 trillion relief bill including direct payments to Americans
Trump: 'With or without a vaccine, we are back,' sets goal for vaccine by January 2021
After delay, CDC releases new guidance on how states can safely reopen
Rick Bright warns U.S. faces 'darkest winter in modern history' without a more coordinated response
Trump departs the White House for Camp David
Before he boarded Marine One bound for Camp David late this afternoon, President Trump briefly spoke to reporters and was asked whether the COVID-19 vaccine should be available for free.
"We're looking at that, actually. But we're making a lot of progress on vaccines," Trump said. "But we'll be speaking to you very soon, and I think we're going to have a very good couple of meetings at Camp David."
He said he would have "some military" discussions and "some other than military" talks over the weekend.
When the president visited Camp David for another getaway weekend two weeks ago, it was the first time he had left the White House since March 28. Since then, he's also visited the battleground states of Arizona and Pennsylvania.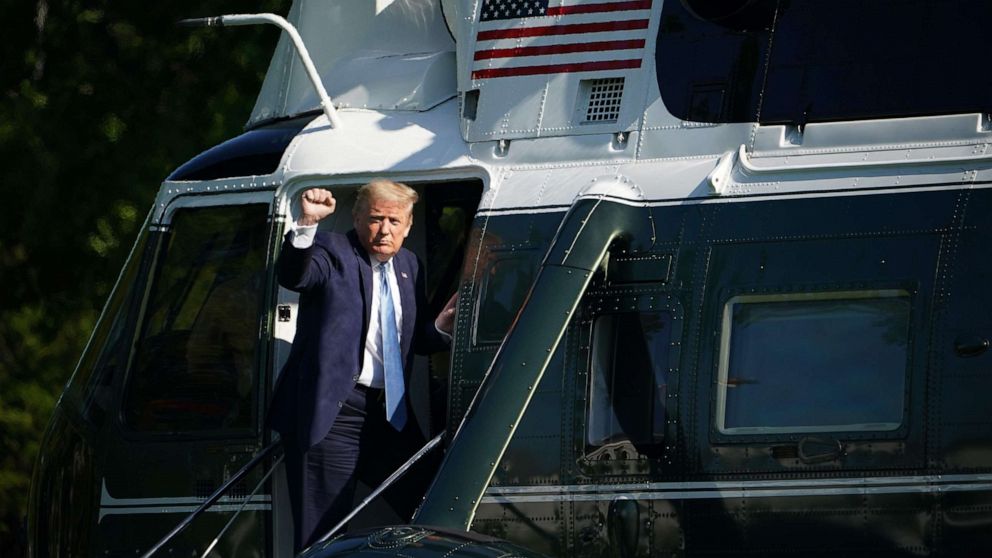 Trump says truckers blaring horns outside White House during event honoring people connected to COVID-19 'are on our side'
As they did earlier, truckers protesting near the White House blared their horns during a second event in the Rose Garden this afternoon meant to honor people connected to COVID-19.
"Those are friendly truckers, they are on our side," Trump told the audience. "It is almost a celebration, in a way."
The horns were very loud and could be heard at all times while Trump and the honorees spoke.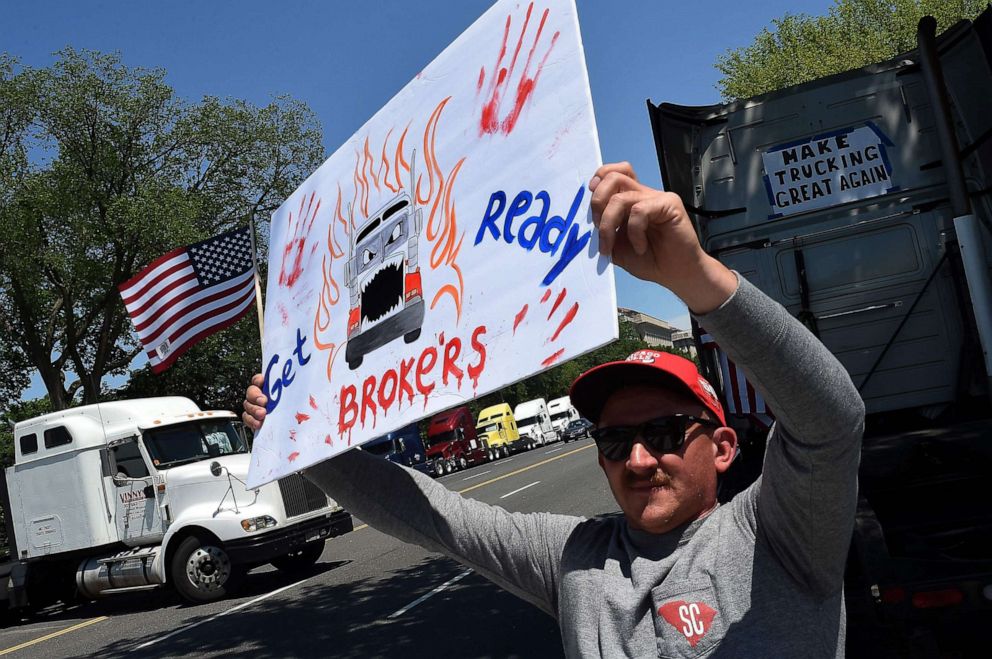 The truckers have protested in Washington for nearly two weeks over fair pay and low freight rates during the pandemic -- not in favor of, or against, the president.
The afternoon event's honorees included a nurse from West Virginia who volunteered in New York, a property owner from Arkansas who waived rent for his tenants and a Girl Scout troop from Maryland that donated cookies to first responders.
One of the scouts kept her mask on when she took the podium to speak. Three in the troop stepped forward to accept certificates from an unmasked President Trump.
The White House said the event, similar to one held two weeks ago, was meant to highlight the "hard work, heroism and hope that Americans from all walks of life have exemplified during the COVID-19 pandemic."
ABC News' Ben Gittleson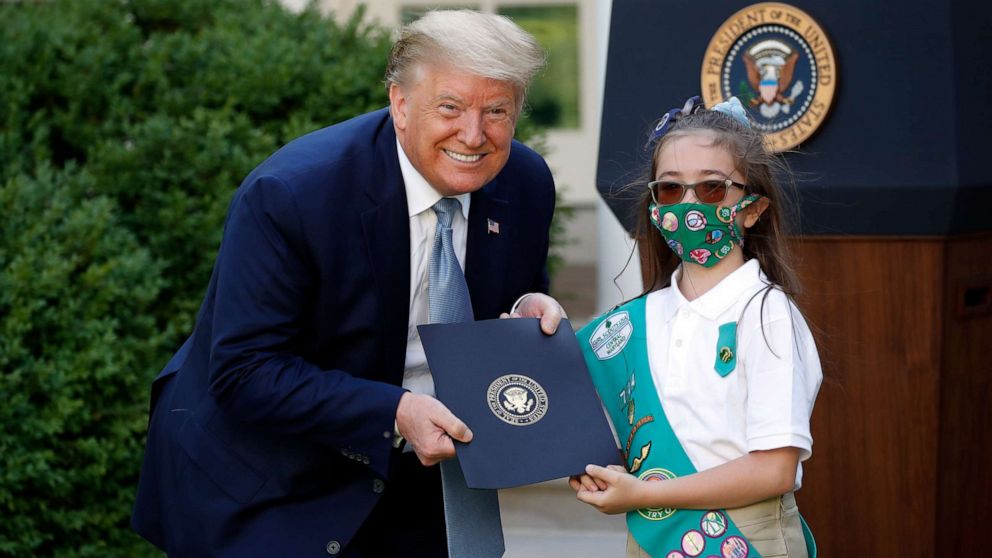 New White House coronavirus task force members announced
Vice President Mike Pence's office announced the addition of five people to the White House coronavirus task force on Friday, as the group shifts its messaging to focus on safely reopening the country, even though the country's infection rate has yet to significantly drop.
The new members include: Secretary of Agriculture Sonny Perdue, Secretary of Labor Gene Scalia, Director of the National Institutes of Health Dr. Francis Collins, FDA Director of the Center for Biologics Evaluation and Research Dr. Peter Marks and Administrator of the Health Resources and Services Administration Thomas Engels.
In a written statement, Pence said these new members "will add expertise in the fields of vaccines and therapeutics as well as worker safety as the Task Force renews its focus on getting Americans back to work."
The president and vice president are currently maintaining distance from each other after two White House staffers tested posted for coronavirus last week. Trump said Thursday of Pence: "I miss him."
ABC News' Ben Gittleson and Elizabeth Thomas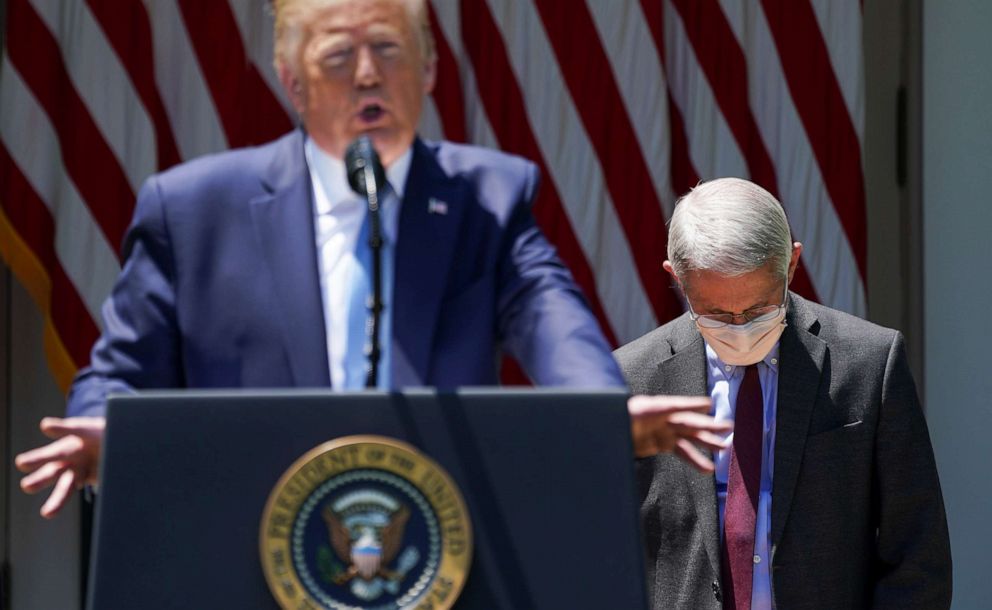 Trump names leaders of 'Operation Warp Speed,' says vaccine could come before the end of the year
President Donald Trump delivered remarks on vaccine development Friday afternoon, proclaiming that "Operation Warp Speed," his administration's initiative to fast-track a vaccine, is the country's biggest undertaking since the Manhattan Project.
"Nobody has seen anything like we are doing now within our country since the Second World War. It's objective is to finish developing and then to manufacture and distribute a proven coronavirus vaccine as fast as possible. Again, we'd love to see if we can do it prior to the end of the year," Trump said, adding that the military is "totally involved."
Touting his message of reopening, the ever-optimistic president also said "vaccine or no vaccine" the country is already coming back.
"I just want to make something clear. It's very important. Vaccine or no vaccine, we're back, and we're starting the process. And in many cases, they don't have vaccines, and a virus or a flu comes, and you fight through it," Trump said.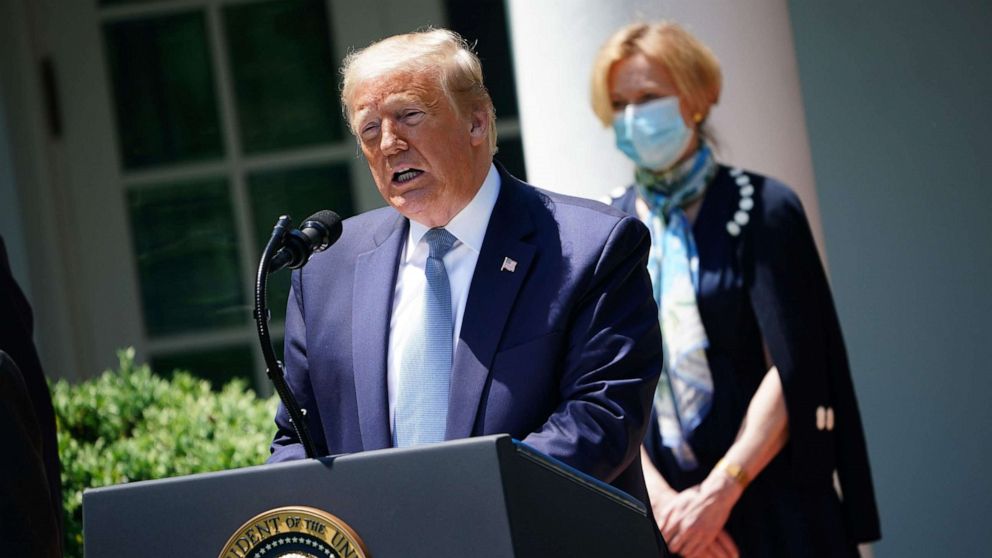 "As of this morning, almost every state has taken steps to begin reopening, and the American people are doing an extraordinary job of continuing to take precautions while at the same time wanting to start, and they will be starting to resume their American way of life," he added.
Trump said in the afternoon remarks from the Rose Garden that the development of treatments, in addition to vaccines, will be fast-tracked and made available "quickly," and "maybe before" the end of the year.
He also formally announced that former pharmaceutical executive Moncef Slaoui will lead the country's vaccine development with Army Gen. Gustave Perna, the commander of United States Army Materiel Command, working alongside him.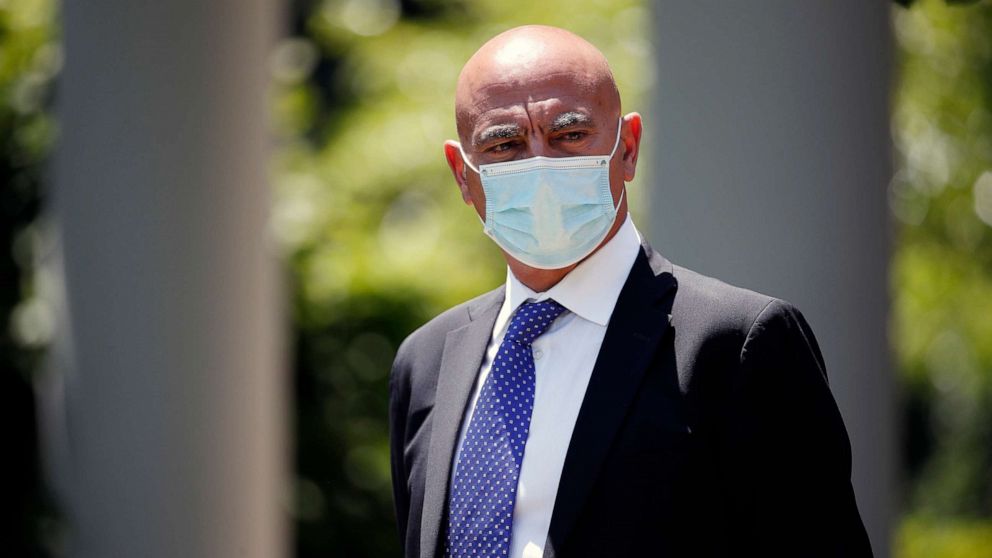 Trump said vaccines will be made "right here in the U.S.A." but that he will help other countries in every way possible.
"We have no ego when it comes to this, no ego whatsoever," the president said.
His call to also "ramp up production of supplies needed for distribution, such as cold chain storage, glass vials, needles, syringes, and more," came one day after ousted vaccine chief Rick Bright told lawmakers the federal government has faced depletions of N95 masks, swabs and other essential equipment since January.
Since Bright said his concerns were ignored by officials including Health and Human Services Secretary Alex Azar, Azar has stayed by the president's side, and even joined him Thursday to criticize his former employee.
"Our vision for Operation Warp Speed -- setting a goal of a vaccine by January 2021 -- will be one of the great scientific and humanitarian accomplishments in human history," Azar said Friday, standing next to the president.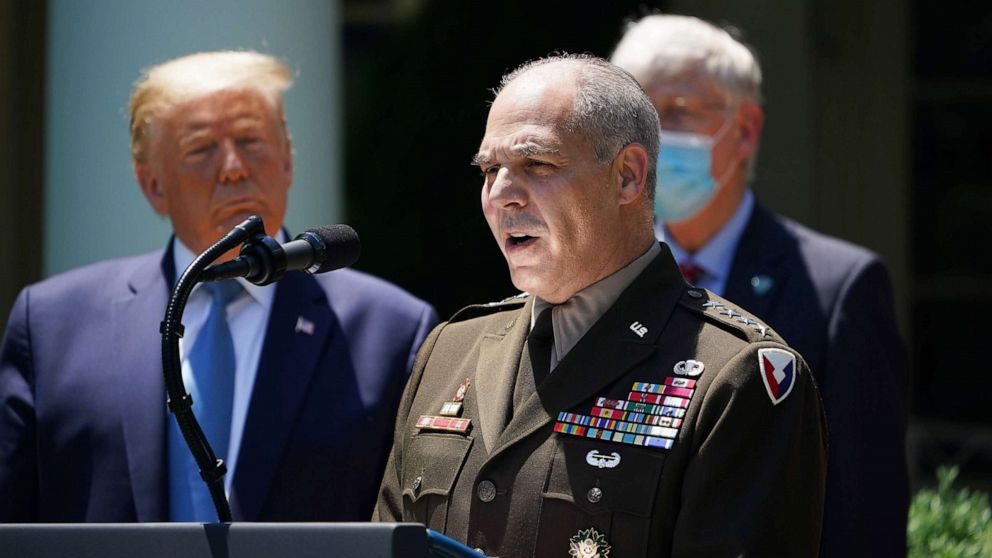 "Dr. Slaoui is arguably the world's most experienced and successful vaccine developer, responsible for some of the major recent breakthroughs in vaccines. General Perna oversees one of the world's largest logistics and supply chain operations, the one that keeps the army running," he continued.
Trump was later asked to follow up on what he meant when he said the country is back, "vaccine on no vaccine."
"We think we're going to have a vaccine in the pretty near future, and if we do, we're gonna really be a big step ahead. And if we don't, we're gonna be like so many other cases where you had a problem come in, it'll go away at some point," Trump said. "But if it does flare up, we're gonna put out the fire and will put it out quickly and efficiently."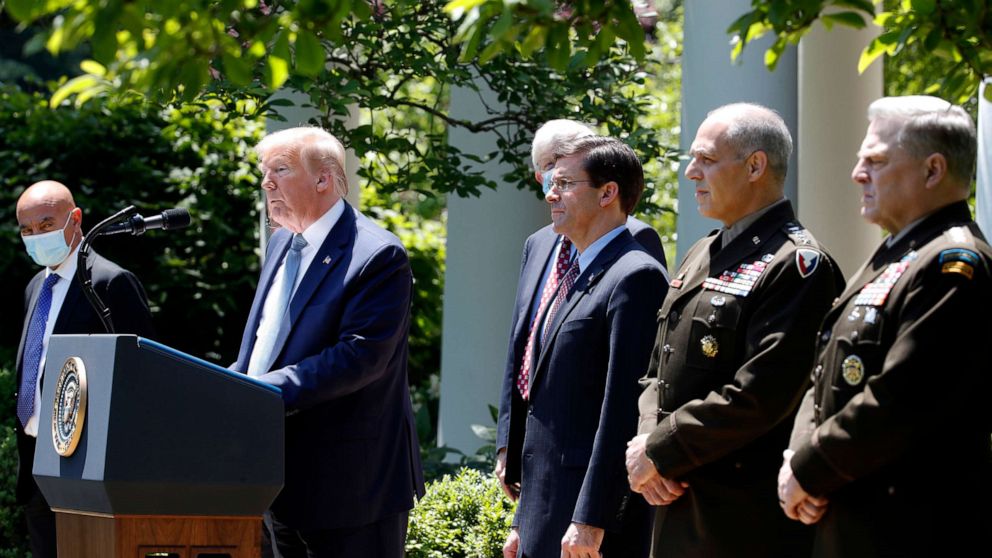 In an interview with Fox Business aired Thursday, President Trump said he plans to mobilize the U.S. military to distribute the vaccine when it becomes available, focusing first on older Americans who are among the most at risk.
"I just literally left a meeting. We're are mobilizing our military -- and other forces, but we are mobilizing our military on the basis that we do have a vaccine," he said. "Our military is now being mobilized so at the end of the year, we're going to be able to give it to a lot of people very, very rapidly."
ABC News' Jonathan Karl, Katherine Faulders and Ben Gittleson