SIMI VALLEY, Calif -- Amid some speculation about whether Defense Secretary James Mattis will become the latest Trump administration official to exit what seems to be an ever-revolving door, the former four-star Marine Corps general is showing no public signs that he will step down anytime soon.
Asked at the Reagan National Defense Forum on Saturday if he had any plans to leave office, the secretary instead spoke about his love for U.S. troops and revealed once again a deep-seated duty to serve the country.
"When the President of the United States asks you to do something in America, you just do it. To quote Nike, 'Just Do It,'" Mattis told an audience at the Reagan Presidential Library in Simi Valley, California.
Reports have circulated for months that Mattis could be the next official to leave office, especially as he has been seen as curbing the president's more impulsive military and personnel choices.
In an interview with "60 Minutes" in October, Trump revealed that he thought Mattis was "sort of a Democrat."
"But General Mattis is a good guy," the president continued. "We get along very well. He may leave. I mean, at some point, everybody leaves. Everybody. People leave. That's Washington."
When the President of the United States asks you to do something in America, you just do it. To quote Nike, 'Just Do It.'
Mattis said on Saturday that he ultimately took the job as Trump's defense secretary because he has an affinity for troops and the U.S. Constitution.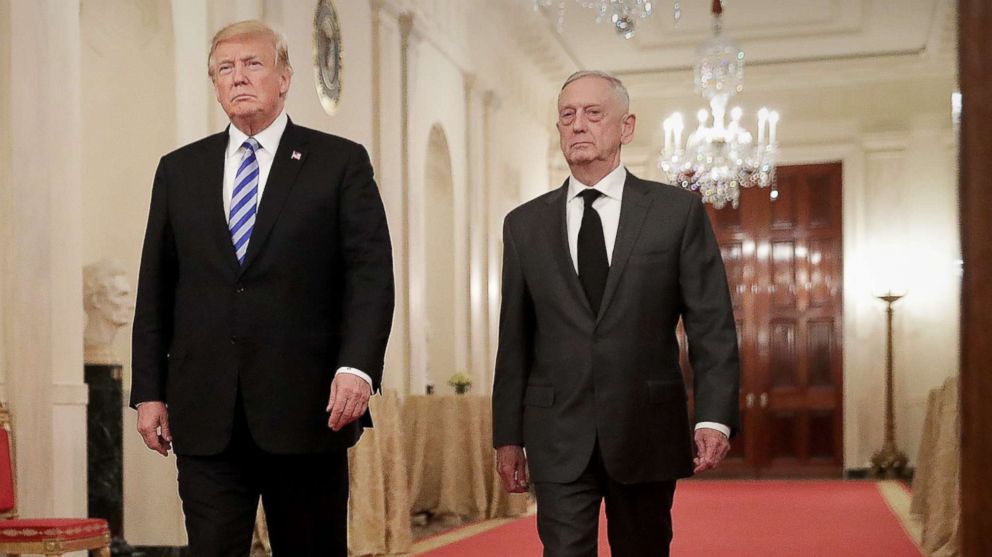 "To tell you the truth, the only reason I'm back in this low-paying outfit is because I love the troops because I learned to hate minefields at age 21, but I love guys so valiant they would go through looking for something they didn't want to find," Mattis said.
"And the other reason is I got a love affair with the United States Constitution," he added.
In speaking engagements around the world, Mattis frequently mentions how much he enjoys leaving the nation's capital, recently joking he was "so happy to be out of Washington, DC right now I could cry."
This January will mark Mattis' second full year in office. The past three defense secretaries – Leon Panetta, Chuck Hagel, and Ash Carter – all served roughly two-year terms under the Obama administration. The last defense secretary to serve a longer term was Robert Gates from Dec. 2006 to June 2011.
Mattis: Russia "tried again to muck around in our elections"
Earlier in his remarks on Saturday, Mattis highlighted Russia's recent aggression in the Kerch Strait with the seizure and detention of Ukrainian sailors. He acknowledged that "there is no doubt" the U.S.-Russia relationship has worsened and revealed that the Kremlin attempted to interfere in the U.S. midterm elections last month.
"He [Putin] tried again to muck around in our elections this last month, and we are seeing a continued effort along those lines," Mattis said.
U.S. officials and expert observers said on election night they did not see coordinated cyber activity targeting the midterms, unlike the hack-and-leak attacks and infrastructure probing Russia is suspected to have conducted ahead of and during the 2016 presidential election. But researchers and social media firms said Russia has indeed continued its online influence campaigns to sow distrust in American democratic institutions.
The U.S. intelligence community is reviewing the midterm elections for evidence of foreign interference with a report due to the administration later this month.
ABC News' Lee Ferran contributed to this report.