— -- Less than 24 hours after making his first appearance as Hillary Clinton's running mate, Virginia Sen. Tim Kaine walked through the doors of the Richmond church he's been part of for more than 30 years to applause so loud it could be heard from outside.
It was his first time at church since Clinton announced that he was her vice presidential pick.
"You saw what a special community that is," said Kaine as he left mass today with his wife, Virginia Secretary of Education Anne Holton. "Anne found it in the summer of 1984 and we were married here in November of 1984. And this and our neighborhood are really the center of our lives here. We needed some prayers today and we got some prayers and we got support and it really feels good."
Parishioners of the diverse St. Elizabeth Catholic Church hugged Kaine and his wife. Sitting in the 10th row of pews, Kaine and his wife sang and clapped along to the choir. During communion, Kaine joined the choir and took the lead singing a solo. He sang the solo parts of a song called "Taste and See."
The choir director admitted to the parish that she'd asked Kaine to sing only hours before he'd arrived at the church. Kaine has been part of the men's chorus for years, though his time serving as a senator in Washington makes it tough to make practice.
"You can sing with us any time you want," she told Kaine.
The big news in Kaine's life, that he may end up the next vice president of the United States, was never mentioned directly, though a prayer subtly referencing the news was offered by the church goers.
"For all our public servants, especially we pray for Tim Kaine and Anne Holton. Let us pray to the Lord," said a parishioner during the prayers of the faithful.
The mostly African American church is where Kaine has baptized all his children. When it was time to shake hands and say "Peace Be With You" after the recitation of the "Our Father" prayer, Kaine worked his way through the entire church hugging and shaking people's hands. Holton stood at the end of mass and thanked the parish, saying they had been a part of every chapter of their lives and said, "We will really need your prayers."
She described what's happened as "quite an adventure" especially for their kids. She again asked for prayers for their Marine son, Nat, who will deploy to Europe this week.
"Tim and I found our way to this parish almost by accident," Holton said. "But the fact that this parish has meant so much to us the last 33 years is no accident."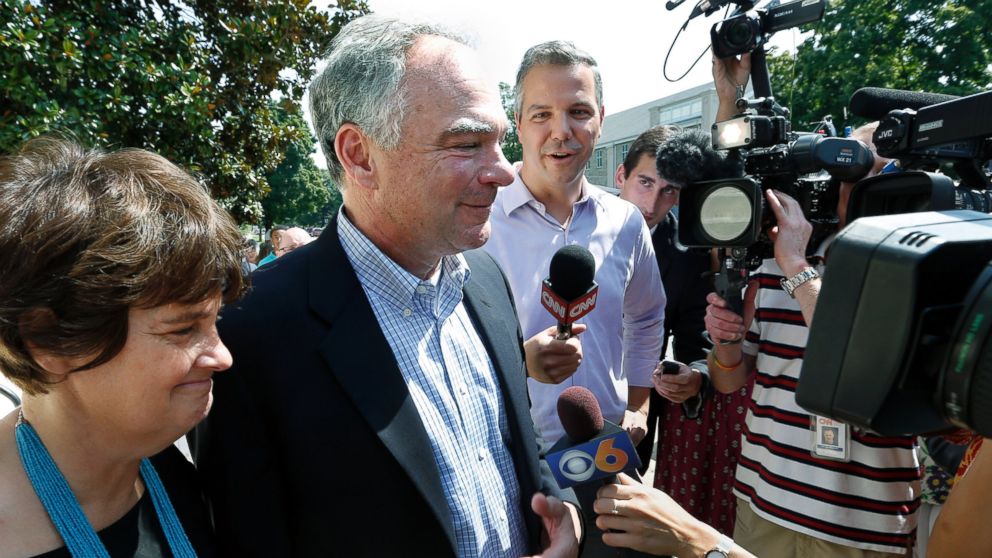 She said that they would carry St. Elizabeth with them wherever they went so that the world would "benefit a little from the light of St. Elizabeth."
"We will all have a big party at the end, no matter what happens," Holton said, hinting at the campaign that is ahead of them.
While Kaine prayed among those he has known for decades, there were new faces at the church, too. At least five people stood up to say they were inspired to come to the church after seeing Kaine speak Saturday at a Miami rally where he appeared with Clinton for the first time as her vice presidential pick. One of them was a woman whose son was deploying to Iraq in August. Another was a family originally from Zimbabwe.
As members of the church filed out after the mass wrapped, parishioner Alvin Strother came out wearing a Clinton-Kaine button. He said that his wife had made the buttons Saturday night to bring to mass. He'd personally given them to the senator and his wife. Strother has known Kaine since he began attending St. Elizabeth in the 1980s and described him as both a friend and mentor.
"Tim is a public person but he's a personable person," Strother said. "I think that anybody that's lived in Richmond, whether he was mayor or senator, he's been the same person all the way through."