Rep. Robert Garcia, D-Calif., introduced a resolution on the House floor Tuesday afternoon to expel GOP Rep. George Santos.
"I rise to give notice of my intent to raise a question of the privileges of the House. ... Rep. George Santos be, and hereby is, expelled from the House of Representatives," he said.
House Republicans can schedule this vote within two legislative days, needing a two-thirds majority to pass; however, House Speaker Kevin McCarthy said he would refer the resolution to the House Ethics Committee instead.
"I think we can look at this very quickly and come to a conclusion on what George Santos did and did not do through Ethics, a safe bipartisan committee, equal number of Republicans and Democrats, and I think that's when you bring it back to Congress if it rises to the ability," McCarthy said Tuesday at a press conference following his meeting with President Joe Biden at the White House.
McCarthy urged the Ethics Committee to move quickly and argued the committee could come to a resolution on Santos faster than it would take to wait for Santos' court proceedings to play out.
"I think the George Santos indictment is very serious. I also know in America you're innocent until proven guilty, but I don't want to sit around and wait. So what I would like to do is move this to Ethics," McCarthy said. "I don't want to wait around for the courts to act. What I would like to do is have the House take action and have a process here."
Santos told ABC News while leaving the House floor, "Whatever happens innocent until proven guilty." He added that he hadn't seen the resolution yet and hasn't had conversations with leadership.
Santos, R-N.Y., was indicted May 10 on 13 criminal counts, including seven counts of wire fraud, three counts of money laundering, one count of theft of public funds and two counts of making materially false statements to the House of Representatives, federal prosecutors in the Eastern District of New York said.
He pleaded not guilty to all charges.
"I have my right to fight to prove my innocence," Santos told a mass of reporters who gathered outside the courthouse on Long Island.
House Republican leadership has stopped short of calling for Santos to resign, but at least 12 House Republicans have said Santos should resign or be expelled from Congress, including many Republican lawmakers from New York.
House Speaker Kevin McCarthy said last week he would not support Santos's bid for reelection and said that if the House Ethics committee recommended he resign then McCarthy would agree with that recommendation.
Garcia said his resolution to expel Santos is about putting Republicans on the record.
"There hasn't been action and so now's the appropriate time to make sure that Republicans are on record if they're going to actually stand by someone that is a serial liar and a fraud. And they're gonna have to record a vote, and the American people will be watching their votes," said Garcia.
Garcia already introduced a resolution to expel Santos at the start of this congressional session, but after inaction on the legislation, he is now offering a privileged motion in hopes to speed up the timeline on a vote.
"My hope has always been that he would resign and so I think that the initial expulsion resolution was building to, ideally, the speaker taking this up in the Ethics Committee, which is what should have happened, but there's been no action in ethics to take up the resolution," Garcia said. "Speaker McCarthy obviously has empowered George Santos on a variety of votes."
Garcia deferred questions about the timeline and likelihood of it passing to McCarthy and other members of Republican leadership.
"I think we'll see what the House leadership is going to decide, what the votes will actually be," he said. "I think it's still up to them. There's a couple of different options that they have but we want to see an expulsion vote and we want to see him expelled."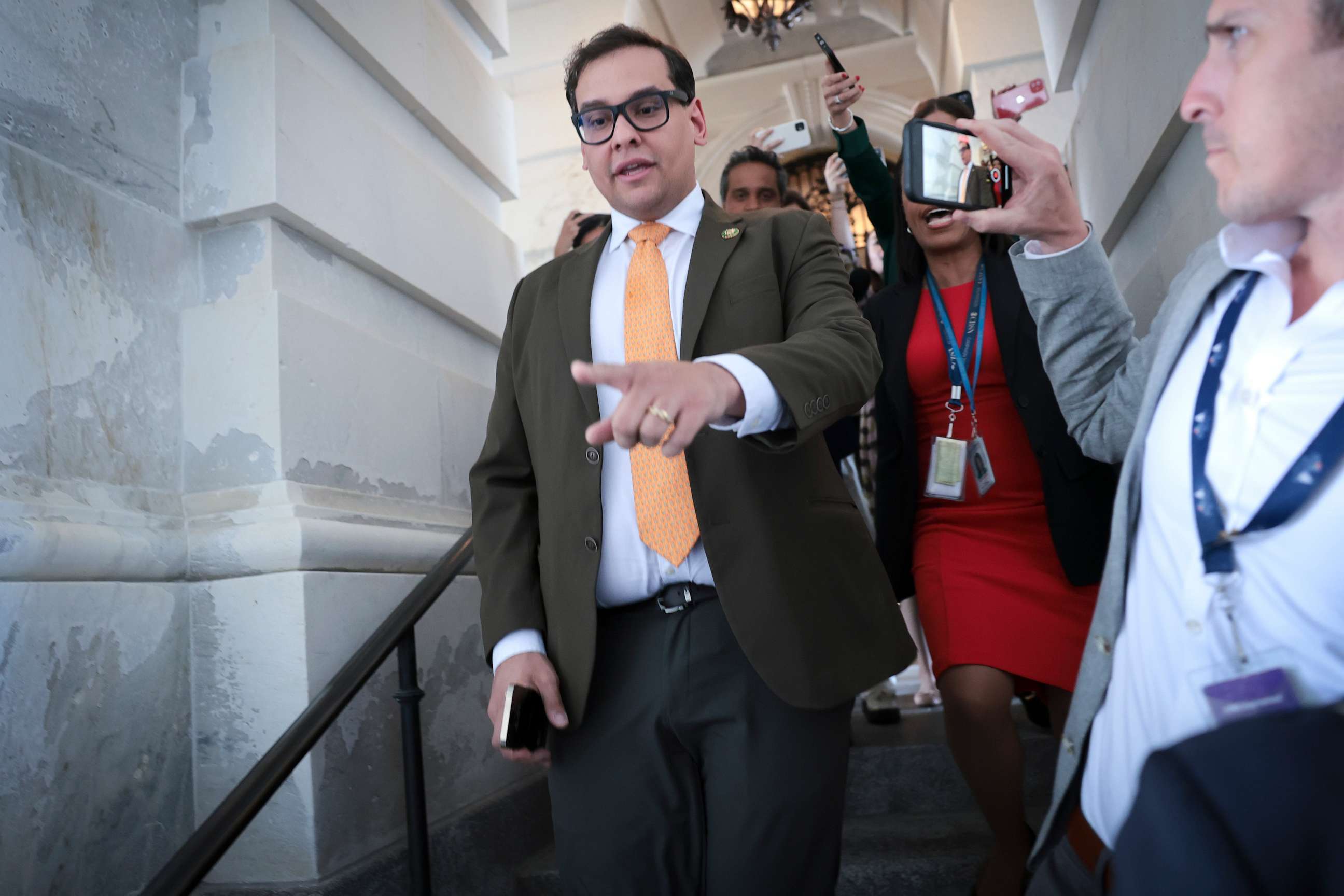 Rep. Nancy Mace, R-S.C., who has called on Rep. Santos to resign, told ABC News she wants to look at precedent before deciding how she'll vote.
"I want to look at precedent and history and how it's been done in the past and for what reasons," she said. "I just want to have that information before I make that decision. I also want to make sure that an individual that's getting expelled has due process."
ABC News' Will Steakin contributed to this report.