Shortly before the 2022 midterms, Florida Gov. Ron DeSantis' campaign released an ad touting him as a fighter chosen by God. The clip invoked God's name 10 times in 96 seconds and cast DeSantis as the chosen "fighter" five times.
The Florida Republican's efforts to cast himself as a fighter -- against everything from "woke elites" to Disney (ABC News' parent company) -- appeared to work, defeating his Democratic opponent by almost 20 points in November.
Now, DeSantis' brand faces a new challenge as he gears up for a presidential run against one of the most aggressive bare-knuckle brawlers in all of politics: former President Donald Trump.
DeSantis continues to lambast his Democratic foes and steamrolled the state legislature into churning out laws he can tout on the campaign trail. But when it comes to Trump, he's declined to respond with little more than a glancing blow to an avalanche of attacks over everything from his policy on entitlements to his eating habits, leaning on outside groups to throw haymakers in response.
DeSantis threw his most direct punch to date Tuesday, saying at a press conference that Trump in a recent interview did not answer whether he'd sign a six-week abortion ban that Florida recently enacted.
Overall, though, the above-the-fray playbook has sparked plaudits that he won't get down in the mud with Trump -- but also fueled worries from allies that Trump is defining him in voters' minds.
"He can't get into this and ignore Trump. That's just not going to work," said Dan Eberhart, a prominent GOP donor backing DeSantis.
"Trump is throwing unanswered punches. And so, people are saying, 'Hey, look, is DeSantis weak? Why isn't he responding? When is he gonna respond?' DeSantis can't be in this to win and not punch back," Eberhart told ABC News.
Trump, who formally launched his campaign in November, has sought to make DeSantis Public Enemy No. 1 for his hardcore base.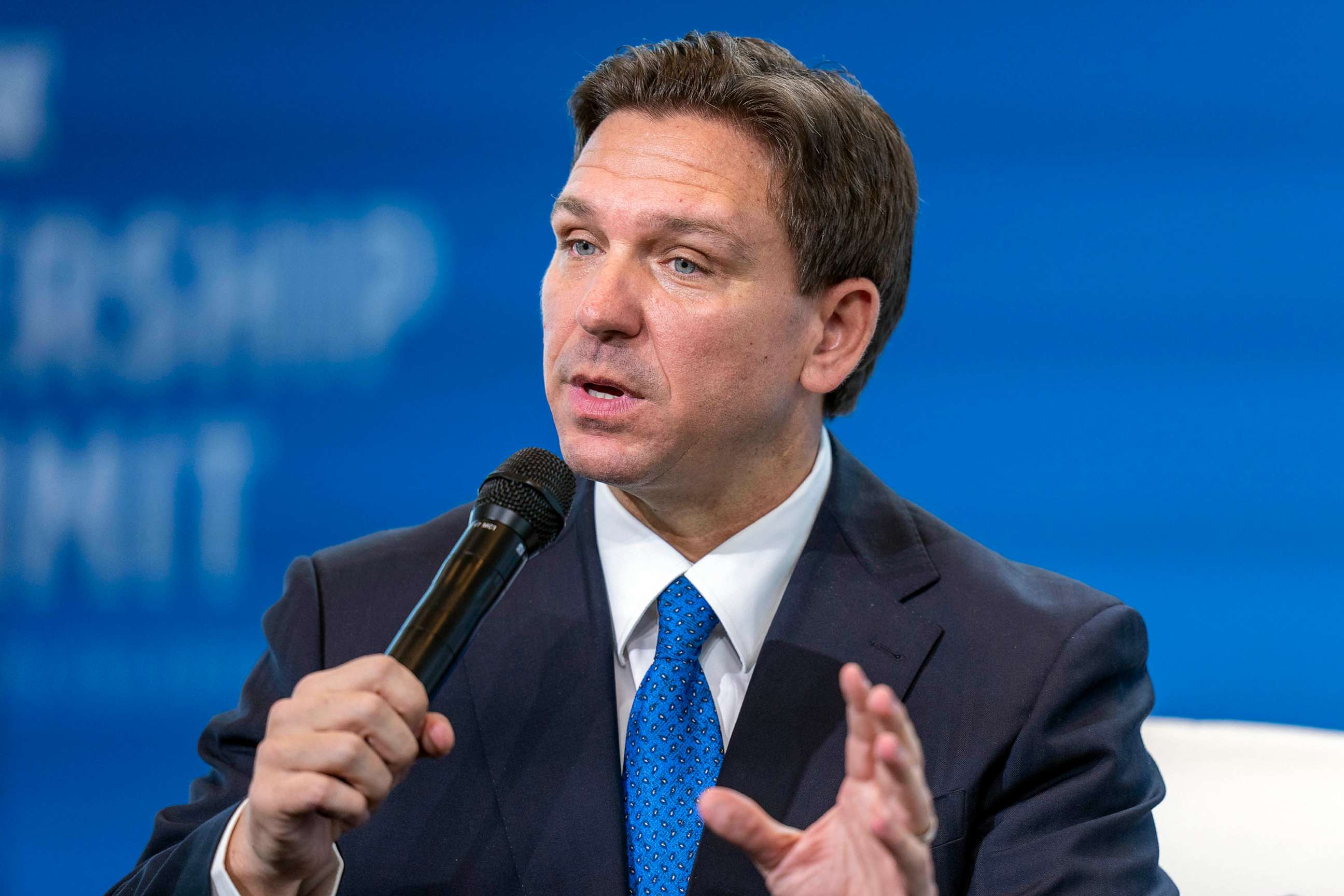 Trump has dubbed him "Ron DeSanctimonious" and "Ron DeSanctus" and was reportedly weighing calling him "Meatball Ron."
Trump has also upbraided DeSantis for support for legislation when he was in Congress to alter Social Security and Medicare, a third-rail political issue on which Trump has transformed Republicans' position (once for entitlement reforms, Republicans are now largely opposed to changes).
When DeSantis described the war in Ukraine as a "territorial dispute," Trump seized on those comments voicing skepticism on aid to the country, accusing him of merely copying his policies.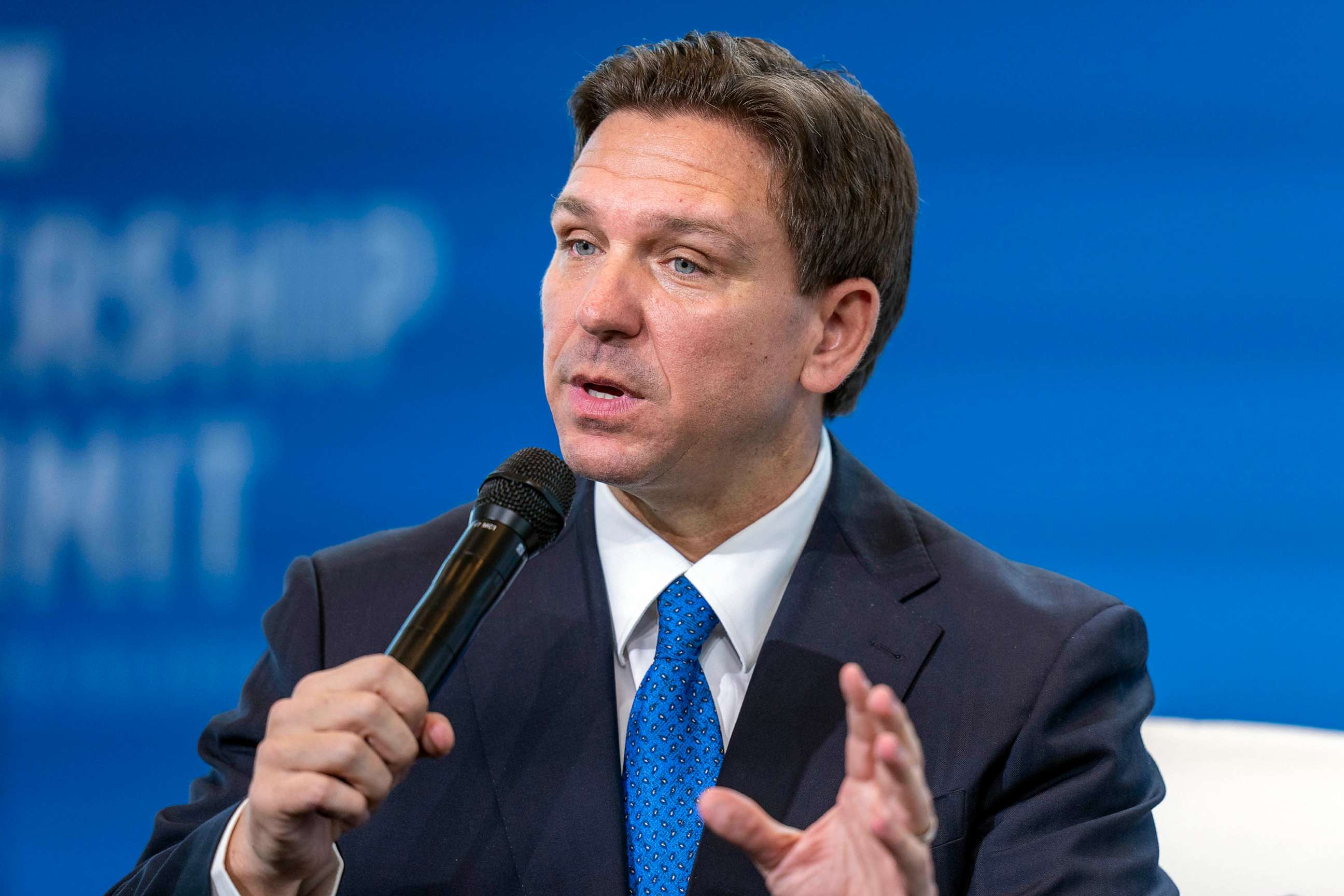 And Trump has accused DeSantis of losing a growing fight with Disney that Disney alleges began over its criticism of a law prohibiting classroom discussion of sexual orientation and gender identity in Florida schools.
The barbs, which have been a feature of Trump's speeches and ad campaign, have dovetailed with aggressive outreach by the former president that have won him endorsements from several members of Florida's congressional delegation.
All the while, DeSantis is largely staying mum over the attacks, saying he has thick enough skin to withstand attacks and pointing to his overwhelming 19-point reelection margin in 2022.
"Call me whatever you want, just as long as you also call me a winner because that's what we've been able to do in Florida," he told Piers Morgan when asked about Trump's attacks in a March interview.
It's a familiar dilemma for DeSantis. Recordings obtained by ABC News of DeSantis' debate prep during his first gubernatorial run in 2018 reveal strategy discussions then over how to explain positions he took while in Congress against the Trump administration "in a way that's not going to piss off all his voters."
The closest DeSantis recently got to knocking Trump is after the former president was indicted in a case centered around hush money payments to porn actress Stormy Daniels, when he accused the prosecutor of harboring political bias while also telling reporters "I don't know what goes into paying hush money to a porn star to secure silence over some type of alleged affair, I can't speak to that."
DeSantis threw another indirect jab at Trump during a visit to a barbecue joint in Des Moines, Iowa, last weekend -- the city where Trump postponed a rally there due to weather concerns, followed up Monday by lamenting a recent GOP "culture of losing," an apparent reference to Republicans' electoral struggles since Trump won the White House in 2016.
But while DeSantis has frequently declined to go toe-to-toe with the former president, Trump's polling lead has swelled since earlier this year, leading even allies wondering if the protracted waiting game over the Florida governor's future ambitions are hurting his chances before he even formally gets off the ground.
"[A]t a certain point, your opponents and the media and the whole process start to get away from you. And the narrative begins to take shape and you need to be the one shaping it and making your dent in the universe of the campaign, not the other way around," said John Thomas, the chief political strategist at the pro-DeSantis Ron To The Rescue super PAC.
Taking on Trump could be a high-wire act considering that DeSantis would need to win over at least a slice of his diehard base. A prominent Florida GOP strategist who previously advised DeSantis said they were not sure how hard the governor will ever go after Trump but that some people in Tallahassee are privately advocating for him to go more on the attack.
But, the person added, "there's a part of him that needs to be positive for a while and avoid it," saying DeSantis' team has been wrestling with the question of "do you hurt your brand if you get down and wrestle with [Trump]?"
Allies have defended DeSantis, arguing it was appropriate to wait until the end of Florida's legislative session for him to announce a 2024 campaign and that many of Trump's coarser attacks don't merit responses.
"It shows great discipline on the part of the governor," said Ken Cuccinelli, the founder of Never Back Down, the main pro-DeSantis super PAC. "He doesn't get into and hasn't gotten into the pettiness that the president just seems incapable of restraining himself from."
Cuccinelli added he expects DeSantis to throw elbows "a little bit more" should he formally enter the primary field, "but part of that is a function of being a candidate."
In the meantime, Never Back Down has stepped into the void, pumping millions into ads casting DeSantis as a winner and Trump as unelectable.
"We have not avoided, to the degree the governor has, exchanging blows in the form of Trump's own policies. So, we're doing contrast, primarily, and we do it aggressively," Cuccinelli said.
Still, other allies are feeling a sense of urgency, warning the governor's team to take Trump's threat more seriously.
"DeSantis has never faced a fighter like Trump before," Eberhart said. "And I think that MAGA world is laying in the weeds waiting for the ambush. I'm a DeSantis guy. I'm worried his team is overconfident."
DeSantis' team rebuffed such criticism.
"Folks in the legacy media know full well that Ron DeSantis always does what is right and never backs down from a fight," said Dave Abrams, a spokesman for DeSantis' political team.
Trump's allies, meanwhile, boast that DeSantis' non-response strategy proves he doesn't have as strong of a brand as a fighter as he's sought to cultivate and that he's stuck in a lose-lose conundrum as he gets ready to run against the former president.
"The reality is, while DeSantis has high name ID and high favorables, our voters do not have deeply held views about him like they do Trump. That's why Trump can take a sledgehammer to him daily without any blowback from our voters," one longtime Trump aide said.
"Meanwhile, DeSantis is in an awful position of either not responding and looking weak or attacking Trump and facing the blowback from voters, who have been trained for 6 years to think that any Republican attacking Trump must be an establishment RINO."
Regardless, DeSantis may not have a choice if Trump keeps wailing on him, said one Florida lawmaker who's in touch with DeSantis and his team.
"This is Trump. The gloves are gonna have to come way off," the person said. "You can't dip your toe in the water."