Florida GOP Gov. Ron DeSantis on Monday broke his silence on possible indictment of former President Donald Trump in remarks that first criticized the Manhattan district attorney who would issue the indictment but then swiped at the former president.
"We are not involved in this. Won't be involved in this. I have no interest in getting involved in some type of manufactured circus..." DeSantis said at a news conference in Panama City, Florida.
DeSantis was asked by a reporter from the Florida Standard what his thoughts were "on the rumored Trump indictment," if he had "any role in it" and if charges were brought against Trump, would DeSantis "have any role in extradition to New York," since Trump is now a Florida resident.
"Look, I don't know what goes into paying hush money to a porn star to secure silence over some type of alleged affair. I just can't speak to that," DeSantis said, without mentioning Trump directly by name.
"But what I can speak to is that if you have a prosecutor who is ignoring crimes happening every single day in his jurisdiction, and he chooses to go back many many years ago to try to use something about porn star hush money payments, you know, that's an example of pursuing a political agenda, and weaponizing the office," he continued.
A spokeswoman for Manhattan District Attorney Alvin Bragg's office, in response to DeSantis' comment Bragg is "ignoring" crimes, said, "We will not be intimidated by attempts to undermine the justice process, nor will we let baseless accusations deter us from fairly applying the law."
On his social media platform Saturday morning, Trump claimed that he would be arrested Tuesday in connection to the Manhattan district attorney's investigation into hush money payments made to Stormy Daniels ahead of the 2016 presidential election -- he also called for his supporters to protest.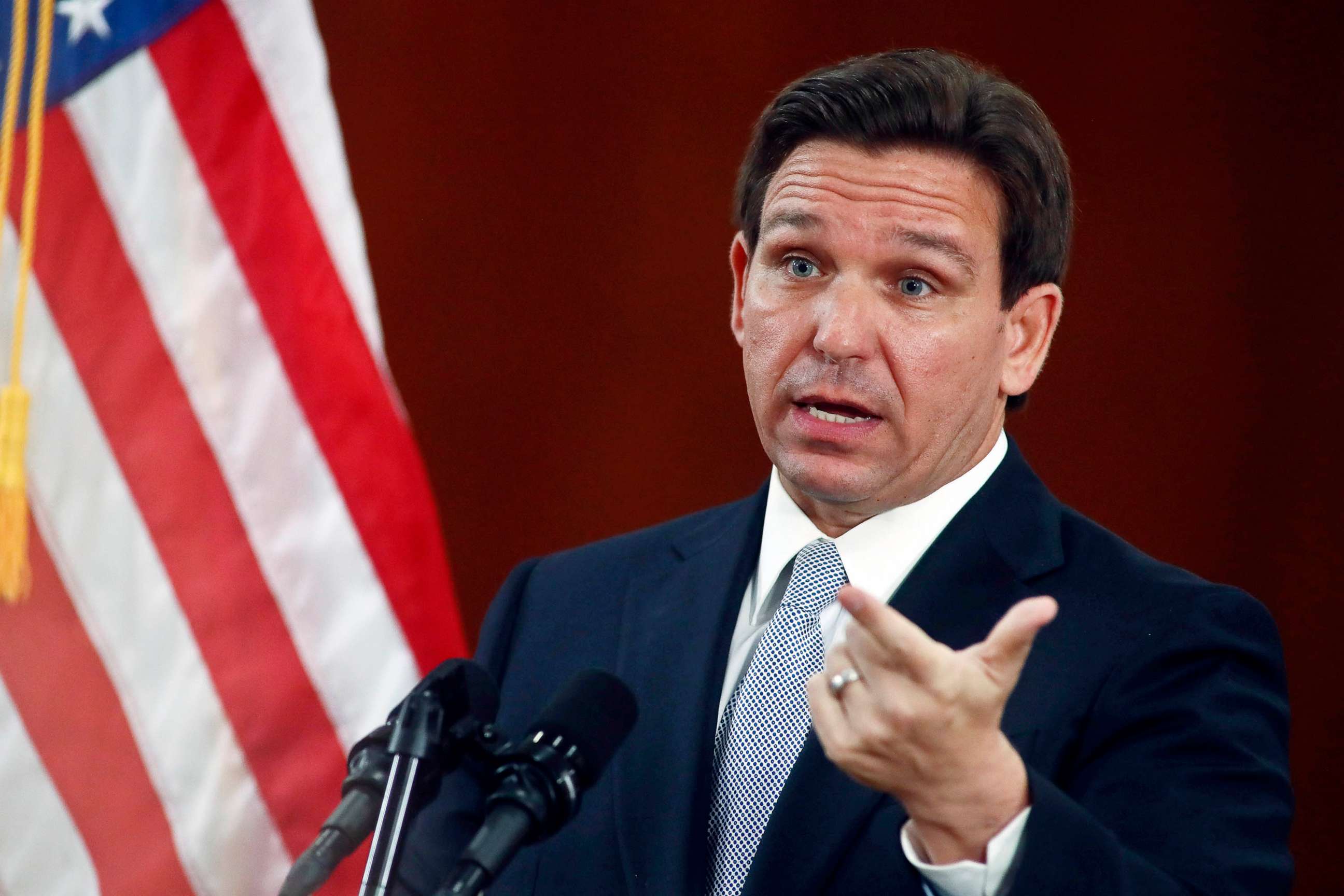 Trump's allies and supporters have been publicly urging DeSantis to weigh in on Trump's proclamation of his possible indictment since the former president posted the news on Saturday. They've also pressured DeSantis to possibly block Trump's extradition from Florida to New York.
DeSantis is widely considered to be Trump's strongest competitor for the 2024 GOP presidential nomination. The Florida governor has privately indicated to allies that he expects to jump in the race around May or June, sources familiar with the matter told ABC News.
Former Trump senior adviser Jason Miller thanked some other confirmed or possible 2024 GOP contenders for their comments slamming the potential indictment while condemning DeSantis and hopeful Nikki Haley for not responding to the news.
"Thank you, Vice President Mike Pence and Vivek Ramaswamy, for pointing out how Radical Left Democrats are trying to divide our Country in the name of Partisan Politics," Miller said in a tweet on Saturday.
"Radio silence from Gov. Ron DeSantis and Amb. Nikki Haley," he said.
On Saturday, former Vice President Mike Pence said that the possible indictment of Trump would be "a politically charged prosecution," during an interview with ABC News "This Week" co-anchor Jonathan Karl, on Saturday.
Ramaswamy tweeted on Saturday that a "Trump indictment would be a national disaster."
"It is un-American for the ruling party to use police power to arrest its political rivals," Ramaswamy wrote.
"This will mark a dark moment in American history and will undermine public trust in our electoral system itself. I call on the Manhattan District Attorney to reconsider this action and to put aside partisan politics in service of preserving our Constitutional republic," he said.
ABC News' Aaron Katersky, Jay O'Brien and Brittany Shepherd contributed to this report.