DeSantis says Trump could've 'come out more forcefully' during Jan. 6
But the Florida governor also claimed investigations of Trump are politicized.
Florida GOP Gov. Ron DeSantis on Tuesday tried to walk a fine line when asked about former President Donald Trump's actions on Jan. 6 -- in light of the news that Trump has been told he is the target of the federal investigation into the insurrection and his efforts to overturn the 2020 election.
At a news conference in South Carolina, where DeSantis is campaigning, ABC News Senior Congressional Correspondent Rachel Scott asked if the governor believes Trump bears any responsibility for what happened two years ago.
"Criminal charges [are] not just because you may have done something wrong. It's -- did you behave criminally? And I think what we've seen in this country is an attempt to criminalize politics and to try to criminalize differences. So I don't know what was all about that," said DeSantis, who is Trump's biggest Republican primary rival.
Repeating a familiar part of his pitch to GOP voters, DeSantis also insisted that as president he would "end" what he claimed was the "weaponization of these [government] agencies."
"I will get that job done. We will make it happen."
DeSantis later doubled down in an interview with CNN.
Noting that special counsel Jack Smith, who is heading the Department of Justice's Trump investigations, has looked at Democrats in the past, CNN anchor Jake Tapper asked DeSantis: "Are you saying that he finds evidence of criminality, he should not charge Donald Trump anyway?"
"When you're going after somebody on the other side of the political spectrum, if you're stretching statutes to try to criminalize political disagreements, that is wrong. Now, look, this is all speculation. But I think we've gone down the road in this country of trying to criminalize differences in politics, rather than saying, 'OK, you don't like somebody? Then defeat them in the election rather than trying to use the justice system,'" DeSantis said.
Both Attorney General Merrick Garland and Smith, an independent prosecutor within the DOJ, have defended their work.
"Mr. Smith is a veteran career prosecutor. He has assembled a group of experienced and talented prosecutors and agents who share his commitment to integrity," Garland said last month. "Any questions about this matter will have to be answered by their filings in court."
Trump has denied all wrongdoing. He faces two indictments already -- one in New York state court, related to hush money he paid to an adult film actress during the 2016 election; and one in federal court in Florida related to his alleged mishandling of government secrets while out of office.
He has pleaded not guilty in both cases.
Polling shows his support among Republican voters has not dimmed since charges were brought against him, though voter surveys show the public believes both cases are at least somewhat serious.
On Tuesday, when pressed again on whether he thought Trump's actions related to Jan. 6 were wrong, DeSantis said that there was more the former president could've done more from the White House as the Capitol was overrun.
"Look, there's a difference between being brought up on criminal charges and doing things like, for example, I think it was shown how he was in the White House and didn't do anything while things were going on," DeSantis said Tuesday. "He should have come out more forcefully, of course. ... But to try to criminalize that, that's a different issue entirely."
A previous committee convened in the House that investigated Jan. 6 found, according to its work, that Trump "chose not to act" for approximately three hours after initially giving a speech near the White House encouraging supporters to march to the Capitol -- before later telling rioters to leave the complex.
During a House Jan. 6 committee hearing last year, former White House officials painted a picture of Trump sitting in a private dining room off the Oval Office watching the events of Jan. 6 unravel on TV.
Before the attack on the Capitol, Trump had encouraged his supporters to march to where Congress was convening to certify his defeat by Joe Biden. Trump later told the rioters to leave and spoke out against the violence but also tweeted, "These are the things and events that happen" and said to the rioters directly, in a video recorded from the White House, "Go home, we love you."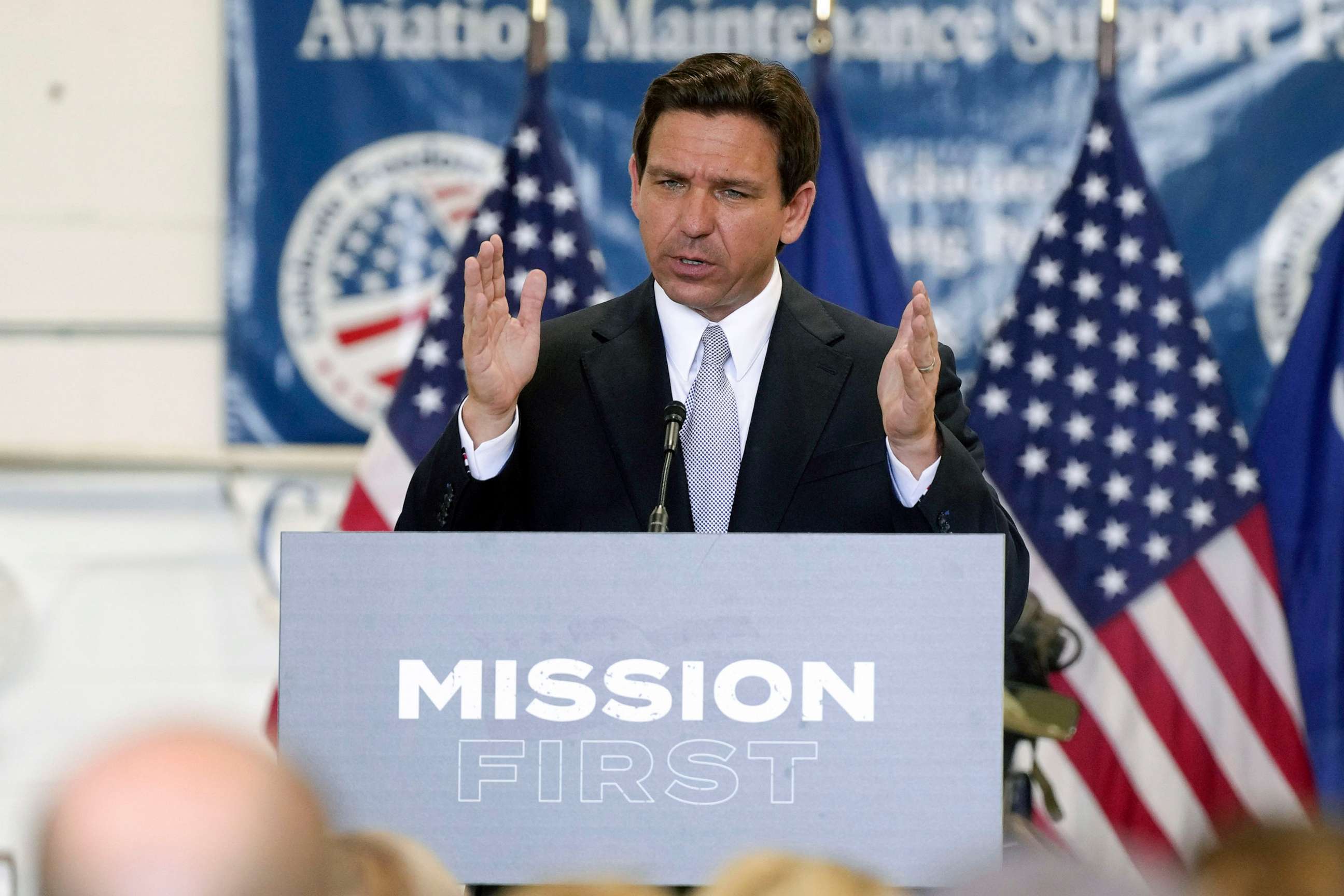 DeSantis also talks campaign spending
While the governor remains the No. 2 most popular candidate in the GOP primary, according to early polls analyzed by FiveThirtyEight, he has persistently trailed Trump by double digits.
Last week, ABC News reported that according to sources, DeSantis' campaign had cut about a dozen staffers with more shakeups expected soon.
Sources said the campaign decided to cut costs -- as the DeSantis camp had assessed that it burned through cash too quickly and hired too many people early in the campaign.
DeSantis' campaign reported a second-quarter fundraising haul of roughly $20 million but burned through nearly $8 million in the first six weeks of his White House bid, according to his official filing.
ABC News' Rachel Scott asked DeSantis on Tuesday if his campaign grew too big, too fast.
"No," he said.
"When you start, there are certain investments that you make. We really believe having an important apparatus on the ground is important in caucus states and then early states, also making investment and really growing the ability to attract more supporters, financially and all that. And so that's just kind of what you need to do," he said.
"You hear some of these narratives. It's like, good lord, how do you spend in the second quarter? ... Trump spent more than we did," he continued.
"So I think that we've done very, very well," DeSantis maintained. "We're continuing to do very well. ... But at the end of the day, it's what are you doing on the ground and in places like Iowa and New Hampshire that really, really important."
He told Rachel Scott that he believes his campaign will continue to build "momentum."
"I think most of you saw we were in Iowa last weekend. There's a lot of great stuff going on the ground for us there. ... And so we're just going to continue building that momentum there."
"It's a state-by-state process," he said, "and doing well in those states makes a huge difference."
DeSantis brushed off a question by another reporter on whether his campaign can make it to the South Carolina primary later into the calendar next year.
"I don't think we will have very many candidates by then," he said, "but we will certainly be one of them."
DeSantis' staffing changes come amid a reported change in media strategy for the campaign, which had believed DeSantis could continue shunning mainstream media outlets and sticking to more friendly platforms like Fox News and conservative news media -- but as ABC News reported last week, sources said the governor's team has begun leaning toward having DeSantis begin doing mainstream network interviews and possibly town halls.
ABC News' Tal Axelrod, Alexandra Hutzler and Will Steakin contributed to this report.