Special counsel informs Trump he is target in probe of efforts to overturn 2020 election
The development indicates another indictment of Trump could be imminent.
Special counsel Jack Smith has informed former President Donald Trump by letter that he is a target in his investigation into efforts to overturn the 2020 election, sources familiar with the matter tell ABC News.
Trump also confirmed the development in a post on his Truth Social platform.
The letter, which sources said was transmitted to Trump's attorneys in recent days, indicates that yet another indictment of the former president could be imminent.
The target letter mentions three federal statutes: conspiracy to commit offense or to defraud the United States, deprivation of rights under a civil rights statute, and tampering with a witness, victim or an informant, sources familiar with the matter told ABC News.
There are no additional details in the letter and it does not say how the special counsel's office claims Trump may have violated the statutes listed, sources said.
Trump, appearing Tuesday night at a town hall in Cedar Rapids, Iowa, told Fox News' Sean Hannity that he received the letter on Sunday.
"It bothers me," said the former president. "I got the letter on Sunday night. Think of it, I don't think they've ever sent a letter on Sunday night. And they're in a rush because they want to interfere, it's election interference, never been done like this in the history of our country and it's a disgrace what's happening to our country."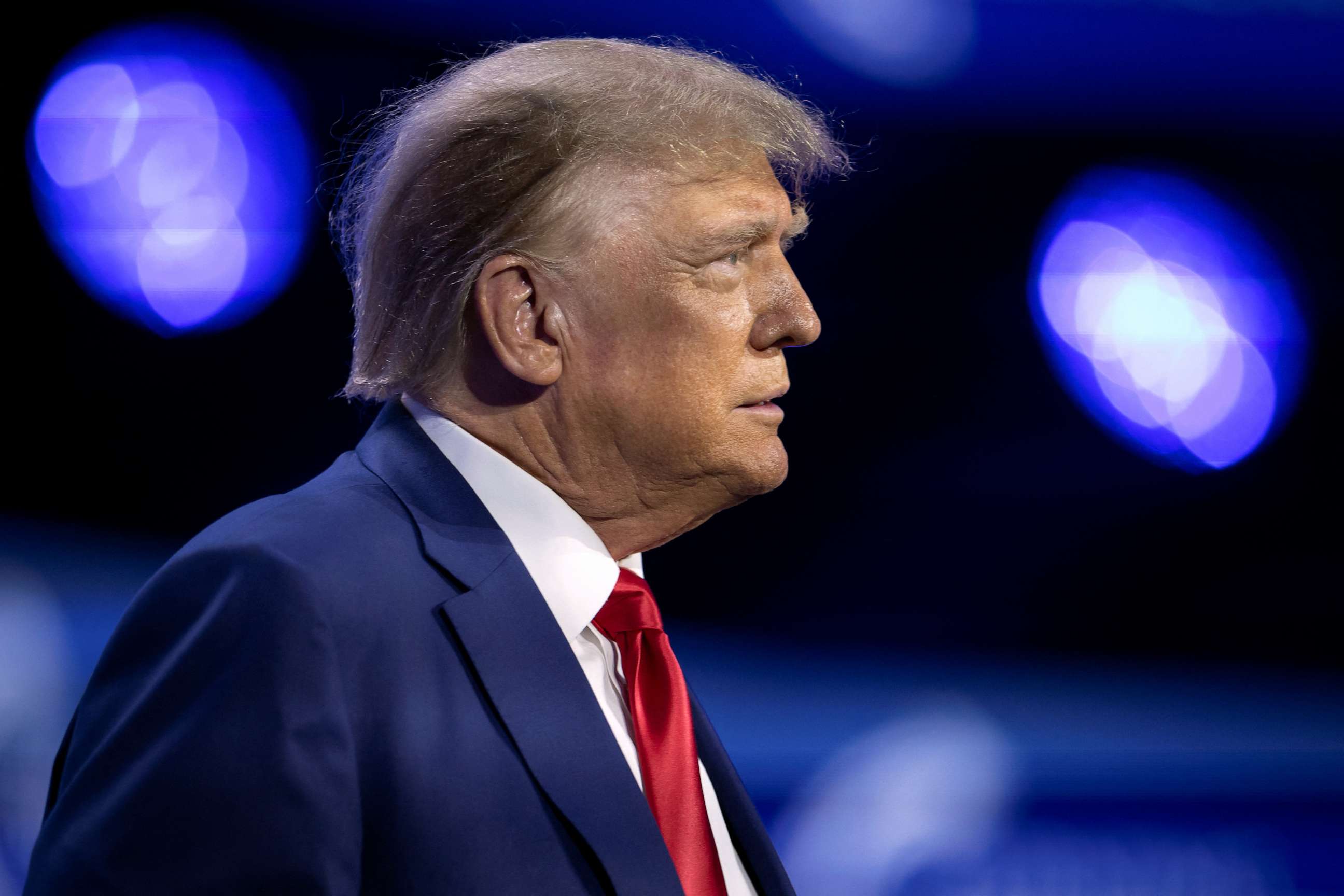 Target letters are typically given to subjects in a criminal investigation to put them on notice that they are facing the prospect of indictment.
Multiple sources tell ABC News that allies, aides and attorneys for the former president have been working to determine if anyone else received a target letter from the special counsel regarding the election probe.
"We can't find anyone," a source said Tuesday afternoon.
A lawyer for Trump's former personal attorney, Rudy Giuliani, told ABC News that the former New York City mayor had not received a letter as of Tuesday afternoon.
"Any speculation that Mayor Rudy Giuliani 'flipped' against President Donald Trump is as false as previous lies that America's Mayor was somehow a Russian Agent," Giuliani adviser Ted Goodman said in a statement. "In order to 'flip' on President Trump -- as so many in the anti-Trump media are fantasizing over -- Mayor Giuliani would've had to commit perjury because all the information he has regarding this case points to President Trump's innocence."
Trump previously received a target letter from Smith before he was indicted by a grand jury in Florida for his alleged mishandling of classified documents after leaving the White House and his alleged efforts to obstruct the government's investigation.
Smith took control of the sprawling Justice Department investigation into the failed efforts by Trump and his allies to thwart his election loss upon his appointment as special counsel in November of last year, and in recent months dozens of witnesses have appeared to testify before a federal grand jury in Washington, D.C.
According to sources, prosecutors have questioned witnesses specifically about the efforts to put forward slates of so-called "false electors" that were to have cast electoral college votes during the certification for Trump in key swing states that he lost to Joe Biden.
Investigators have also sought information on Trump's actions and his state of mind in the days leading up to and on Jan. 6, 2021, when thousands of Trump supporters attacked the U.S. Capitol, temporarily disrupting the certification and causing lawmakers and former Vice President Pence to flee the building.
Trump was indicted last month on 37 criminal counts related to his handling of classified materials, after Smith's prosecutors said he repeatedly refused to return hundreds of documents containing classified information ranging from U.S. nuclear secrets to the nation's defense capabilities. He has pleaded not guilty to all charges.
The former president has also pleaded not guilty to a 34-count indictment from the Manhattan district attorney charging him with falsifying business records in connection with a hush money payment made to adult film actress Stormy Daniels days before the 2016 presidential election.
ABC News' Lalee Ibssa and Soo Rin Kim contributed to this report.
Editor's Note: A previous version of this story stated the special counsel's target letter to former President Trump flagged a potential charge under a section of the civil rights code that mentions "color of law." In further reporting, sources clarified to ABC News that the section mentioned is 18 USC 241 and does not include that phrase.