The designer behind Michelle Obama's official portrait dress
The dress Michelle Obama chose is from a line she frequently wears.
February 13, 2018, 1:15 PM
— -- She's the designer behind the dress.
Michelle Smith, with the American brand MILLY, designed the eye-catching dress former first lady Michelle Obama is wearing in her official portrait unveiled Monday at the National Portrait Gallery.
"This is the biggest honor as a designer - as an American!" exclaimed Smith when ABC News contacted her as she walked the aisles of a Paris trade show.
The MILLY collection epitomizes bold, advanced contemporary fashion with a feminine edge - and it's a brand Michelle Obama frequently wears.
About a year ago, Smith said, Meredith Koop, Obama's stylist, contacted her asking if she would be interested in making a custom dress for the portrait. Smith remembers saying, "Are you kidding me? Of course!" and sent some solid color designs. But Koop said she and Obama preferred a geometric print from Smith's spring 2017 collection.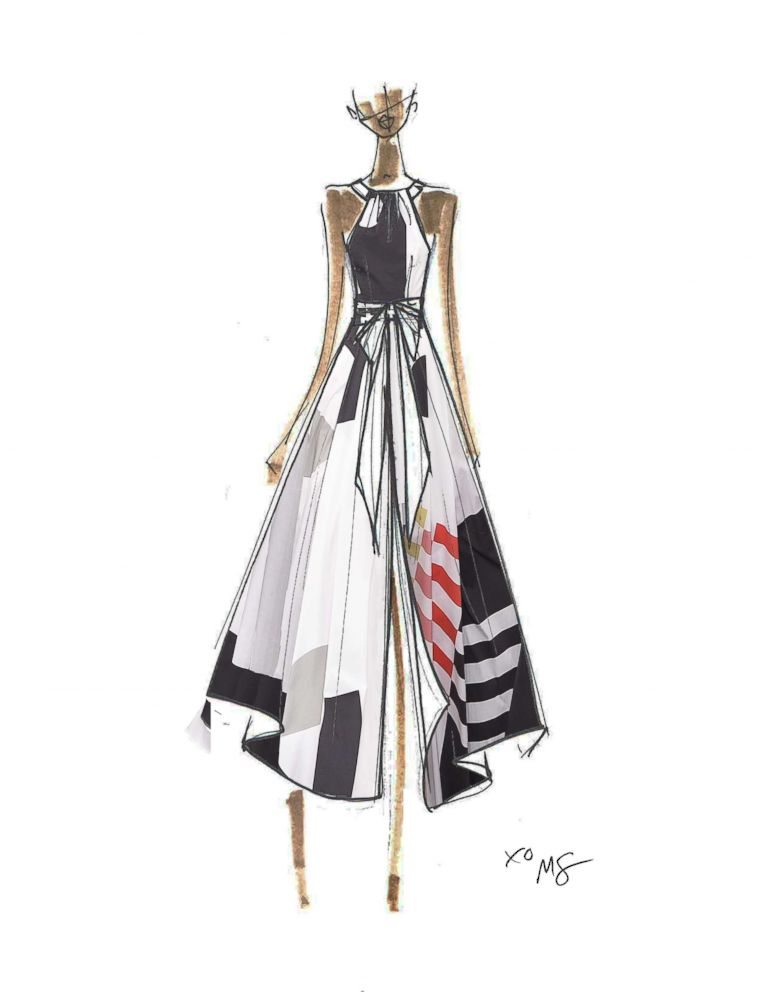 Luckily, Smith said, she already had Michelle Obama's measurements and modified the dress at long distance - primarily by closing the back. Smith then sent the dress and hoped it would be selected.
Six months later, Smith said, she received quiet confirmation that her dress had been chosen, but then got carried away in the hustle and bustle of finalizing the debut last week of her fall 2018 line and forgot the portrait was being revealed Monday.
Smith described the dress as simple, including its halter neck. "I was surprised at her choice for a formal portrait, but it exemplifies Michelle Obama's confidence to show her arms and shoulders. It is forward thinking and she is comfortable. The dress speaks to her in that she is modern, clean, and forward thinking."
She countered any perception the dress was high-fashion. "It is a people's fabric. The dress has pockets. It is easy and comfortable," Smith said. The dress speaks to the confidence, warmth and realness of Michelle Obama. The fabric is a simple cut, cotton poplin, utilitarian, spartan fabric."
And what does she hope young girls will think when they see the dress in the portrait? "I hope that they see a confident, real, intelligent, beautiful woman. Beautiful inside and out. I hope it inspires them to look at Michelle Obama and see all that she achieved. I hope it instills them to know that they can do this too," Smith said.
"I hope it demystifies that they can be president," she said.
Smith is no stranger to the political scene. Her fall 2018 collection that debuted last week was inspired, she said, by "love, inclusiveness and the desire for equality." Last year, her fall 2017 collection, appearing just after the 2016 election, emphasized rebuilding from a "fractured place."
"I just want everyone to know what an incredible honor this is, " she said of designing Michelle Obama's now famous dress.
"To imagine, I get to take my children to see the National Portrait Gallery and say 'Mommy made that dress'."
"It is a legacy," Smith said. "A beautiful legacy."