Democratic Senate candidate Rev. Raphael Warnock appeared on ABC's "The View" on Thursday and talked about the high stakes in the Georgia Senate runoff races.
"It's difficult to overstate how much is at stake here," Warnock said, calling the Jan. 5 election "a defining moment in America."
The two runoff races in Georgia between Warnock and Republican Sen. Kelly Loeffler, as well as, Republican Sen. David Perdue and Democratic candidate Jon Ossoff, have become a political centerfold as the future of the Senate rests on who will win in Georgia.
Democrats need to win both seats to control the Senate. If Warnock and Ossoff win, each party will have 50 seats, and Vice President-elect Kamala Harris will be the tiebreaker.
When "The View" co-host Joy Behar asked Warnock about Loeffler supporting Trump's unproven claims of voter fraud and efforts to overturn election results in Georgia, Warnock called Loeffler's action "undemocratic" and "disappointing" to the people in his state.
On Wednesday, Loeffler declined to rule out the possibility of joining a Republican effort to overturn Biden's win when Congress meets to formally certify the Electoral College vote on Jan. 6.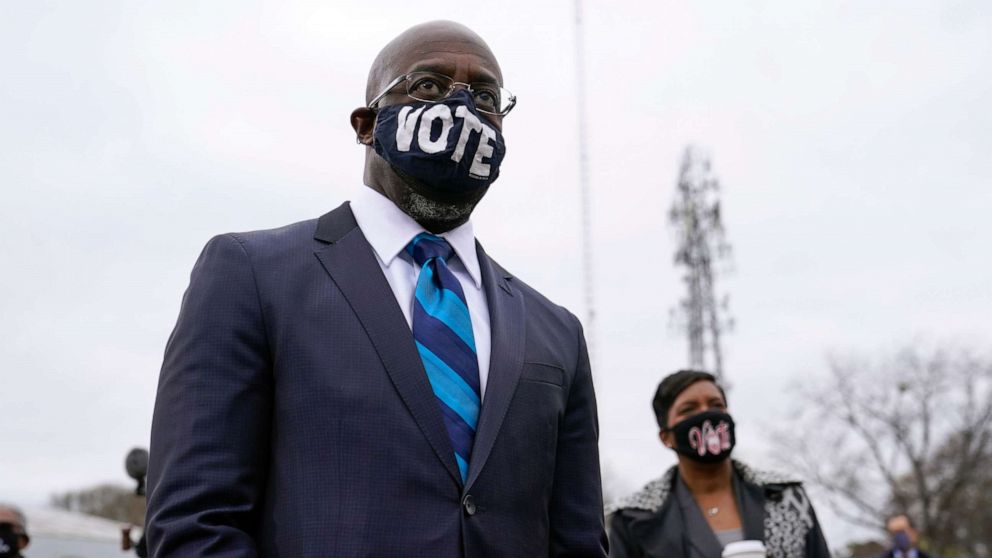 "Kelly Loeffler is consistent. She's always focused on what's good for her, and she's demonstrated now that she's willing to wage war against the voices of the very people she's supposed to be representing," Warnock said.
"Joe Biden and Kamala Harris are clearly the president-elect and vice president-elect of the United States," Warnock continued, noting that the Georgia presidential election results were audited and then recounted after the election.
"We've had three counts of the vote. The vote has been certified twice and the Electoral College confirmed that a couple of days ago. And now she's leaving open the option that she would perhaps challenge it in Congress. I think it's undemocratic. It's un-American, and it's unfortunate."
In a one-minute ad jointly produced by the Ossoff and Warnock campaigns, President-elect Joe Biden urged Georgia voters to turn out for Democrats on Jan. 5 and made clear that the success of his White House agenda will be determined by the future of the Senate.
"Let me be clear: I need Raphael Warnock and Jon Ossoff in the United States Senate to get this done," Biden warned. "There are folks in Congress threatening to do everything in their power to block our efforts," Biden said in the ad, which debuted Thursday Morning.
The ad comes after Biden campaigned in person for Warnock and Ossoff on Tuesday.
"I need two senators from this state if I want to get something done, not two senators who are going to get in the way, because, look, getting nothing just hurts Georgia," Biden said during the rally.
President Donald Trump, Vice President Mike Pence and other high-profile Republicans have stumped in Georgia during Loeffler and Perdue's joint campaign effort.
At her events, Loeffler has repeatedly called Warnock a "radical liberal," telling her supporters he will support a socialist agenda and empower the influence of progressive Democrats like Senate Minority Leader Chuck Schumer.
When asked about Loeffler's attacks, Warnock told "The View" co-host Sunny Hostin that he can't be distracted by his opponent's attacks.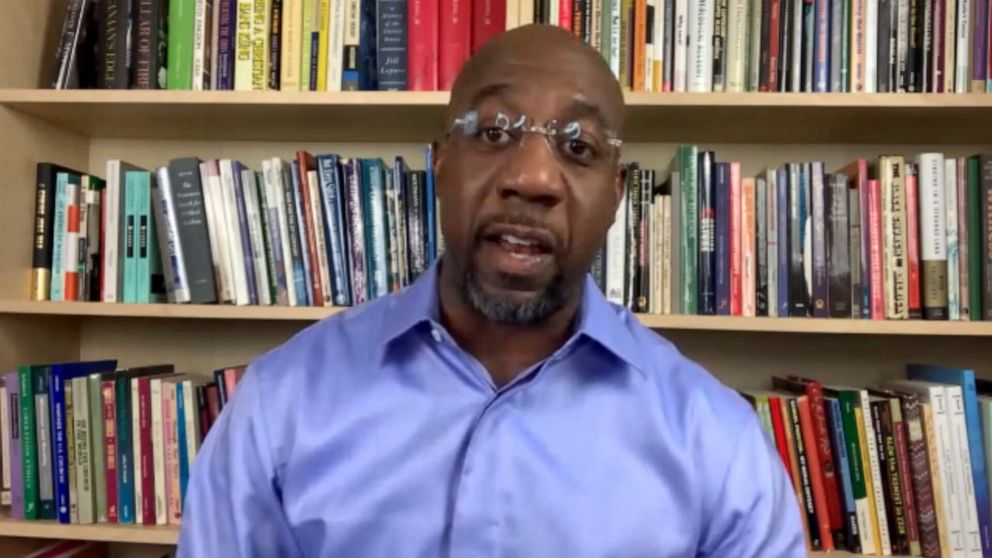 "Kelly is trying to change the subject. She cannot justify why she still has that seat," Warnock said, accusing Loeffler of enriching herself as her Georgia constituents struggled during the coronavirus pandemic.
Over the summer, the Department of Justice and the Senate Ethics Committee dropped its respective investigations into stock trades made by Loeffler, James Inhofe, R-Okla., and Diane Feinstein, D-Calif., shortly before markets plummeted amid the coronavirus.
Warnock contrasted himself as a candidate who would prioritize the interests of Georgians and attempted to set the record straight on the issues he supports.
"I know who I am. I'm someone who believes in our democratic system. I believe in the nonviolent transfer of power and actually honoring the voices of people. ... And I believe in a free enterprise system," Warnock said.