State of the Union 2019: President Donald Trump calls for unity, renews pledge to build wall
"I will get it built," President Trump vowed during his address.
President Donald Trump on Tuesday night gave his second State of the Union address, one week after he originally was invited to deliver it but didn't because of the longest-ever government shutdown.
During the speech, the president stopped short of declaring a national emergency to obtain funds to build a wall on the U.S.-Mexico border without congressional approval.
"In the past, most of the people in this room voted for a wall, but the proper wall never got built. I will get it built," he said prompting applause from Republicans.
However, he did not directly threaten another government shutdown, though he called on both Republicans and Democrats to "join forces" and pass a bill in the next 10 days.
It was the first State of the Union address Trump delivered before a divided Congress. Last year, the Senate and House were controlled by the president's own Republican party. This year, Democrats re-took the House.
Trump also delivered his nearly 90-minute address to a House chamber filled with more women and people of color than ever before. During the speech, there was a brief moment of unity propelled by congresswomen in white and their allies show solidarity with the women's suffrage movement.
The speech came at a particularly tense period for Trump and Congress as it's been just a week since the government reopened after a 35-day shutdown and there are only 10 days until the government will shut down yet again if the president and Congress don't come to an agreement on border security.
The Democratic response, which follows the speech, will come from Stacey Abrams, a rising star in the Party who ran for governor of Georgia in 2018.
Abrams will be the first African-American woman to give the speech responding to the presidential address, according to all archival research on the speech from both the House and Senate historian offices.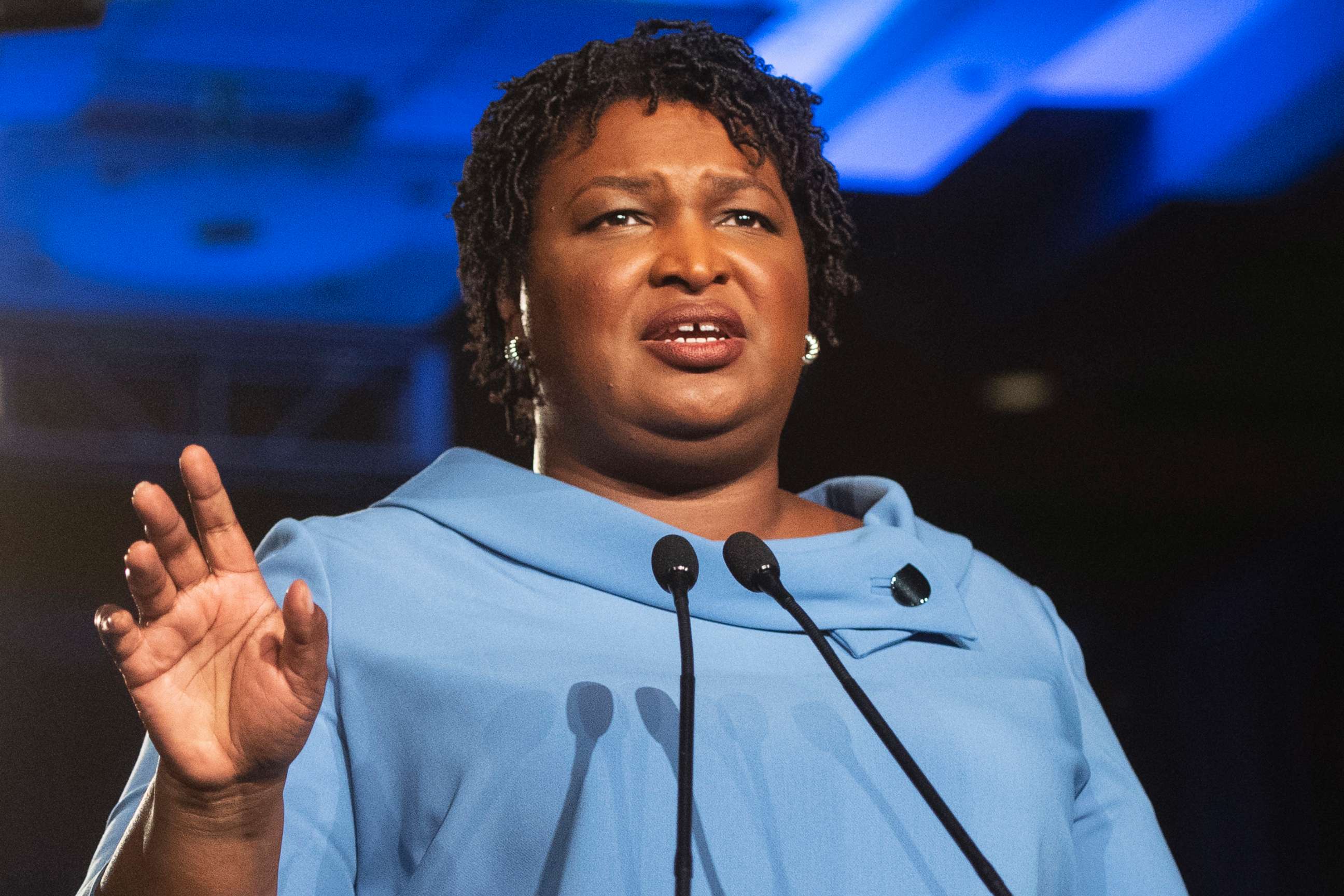 Follow along for live updates below.
10:29 p.m.: Trump finishes speech with echoes of 'Make America Great Again' slogan
"This is our future – our fate – and our choice to make. I am asking you to choose greatness. No matter the trials we face, no matter the challenges to come, we must go forward together," the president said.
"Thank you. God Bless You, God Bless America, and Goodnight," he ended, about an hour-and-a-half after he began.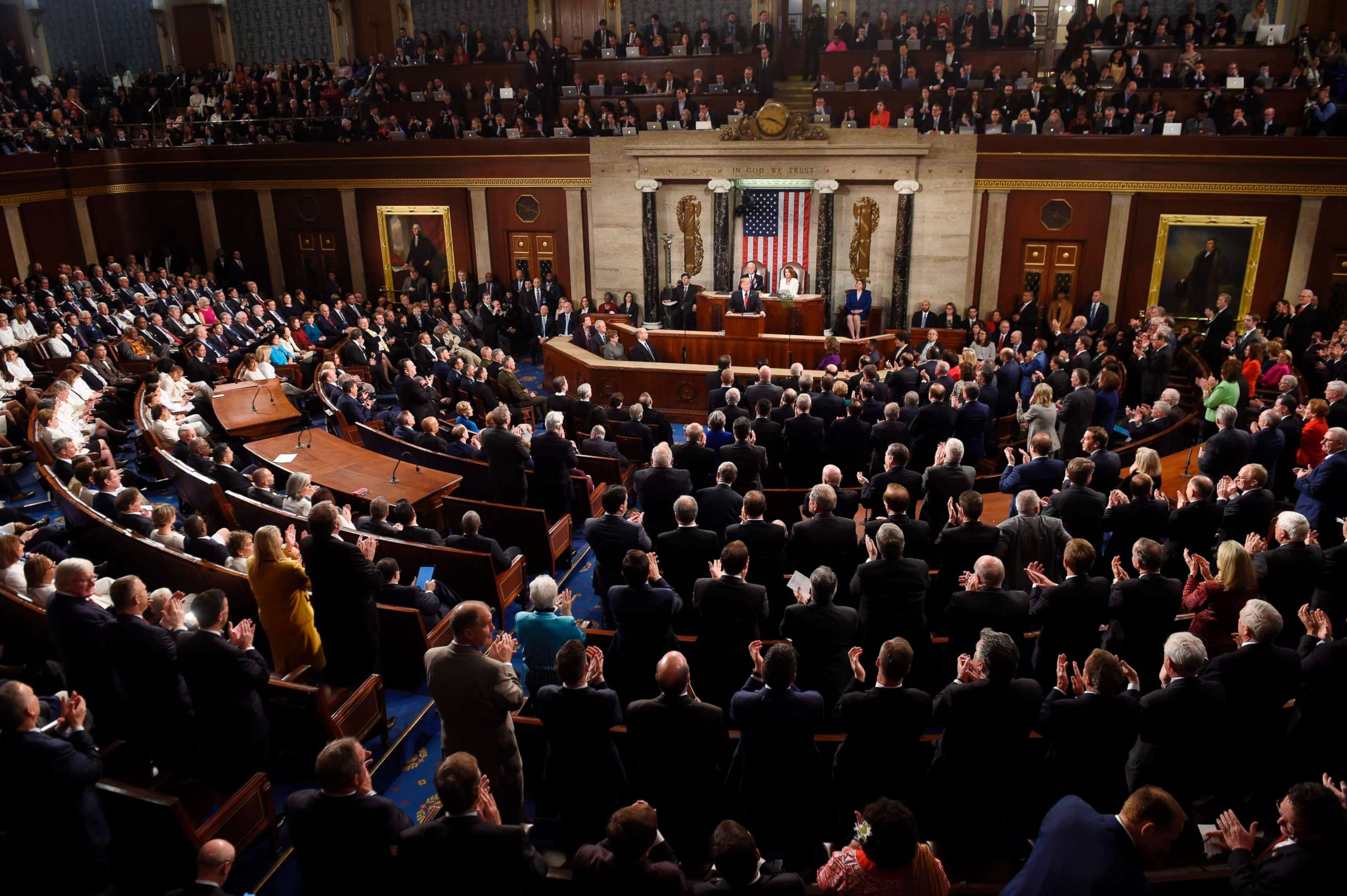 10:20 p.m.: Chamber sings 'Happy Birthday' to Holocaust survivor from Pittsburgh Tree of Life synagogue
Judah Samet, who turns 81 Tuesday, stood smiling as Congress abruptly broke into "Happy Birthday."
Samet, who survived 10 months in a concentration camp during WWII, also survived a shooting at the Pittsburgh synagogue where 11 people were killed by a gunman in October.
10:19 p.m.: ABC News partner FiveThirtyEight analyzes the president's foreign policy
The journalists over at ABC News partner FiveThirtyEight are analyzing the president's foreign policy following the North Korea summit announcement.
10:13 p.m.: Trump says administration is making progress in talks with Taliban
Trump, who announced in recent months that he would be pulling troops out of Afghanistan and Syria, said talks with "a number of Afghan groups, including the Taliban," are going well.
"As we make progress in these negotiations, we will be able to reduce our troop presence and focus on counter-terrorism," Trump said.
"We do not know whether we will achieve an agreement -- but we do know that after two decades of war, the hour has come to at least try for peace. And the other side would also like to see peace," Trump said.
On Monday, the Senate voted against withdrawing troops from Syria and Afghanistan, breaking with plans abruptly tweeted by the president in December. The Senate warned a withdrawal would be "precipitous."
10:09 p.m.: Trump announces dates for second North Korea summit
Trump announced a date for the next peace summit between North Korea and the United States during his State of the Union speech — February 27 and 28 in Vietnam.
"If I had not been elected President of the United States, we would right now, in my opinion, be in a major war with North Korea. Much work remains to be done, but my relationship with Kim Jong Un is a good one," Trump said. "Chairman Kim and I will meet again on February 27 and 28 in Vietnam."
The last summit, held in June in Singapore, promised "complete denuclearization" — but recent U.N. reports found North Korea's nuclear and ballistic missile programs are still intact.
10:00 p.m.: Young cancer survivor Grace brings those in the chamber to their feet
The president introduced Grace, a young girl who has been raising money for cancer on her birthday every year since she was four. She didn't know one day she would be a recipient of the treatments she'd worked to support, the president said, but was diagnosed with brain cancer last year.
"When Grace completed treatment last fall, her doctors and nurses cheered -- they loved her, they still love her -- with tears in their eyes as she hung up a poster that read, 'Last day of Chemo,'" Trump said. "Thank you very much Grace -- you are a great inspiration to us all."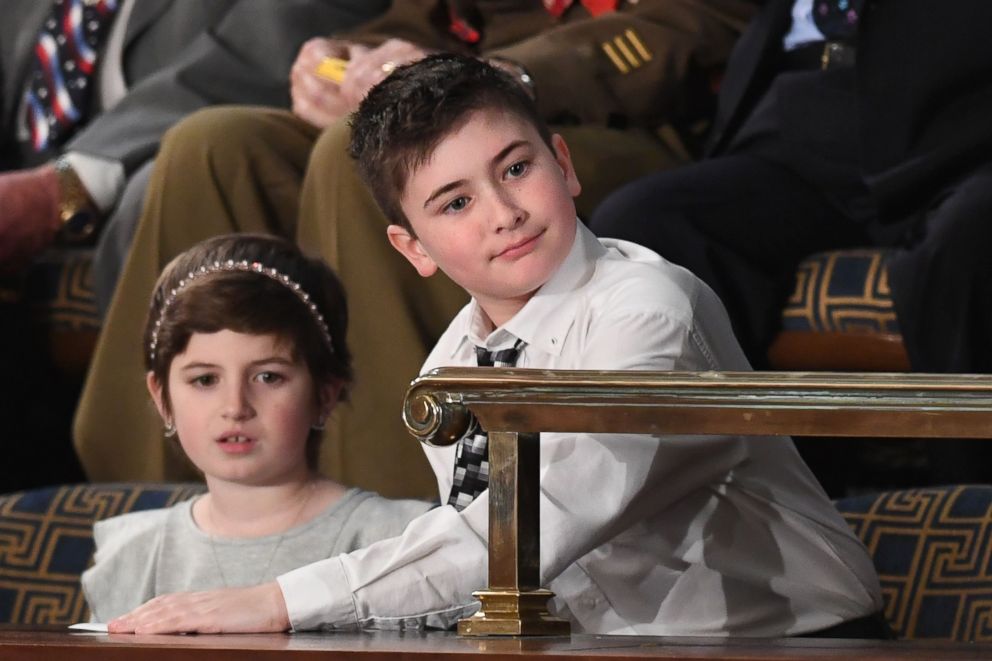 Trump announced he would ask Congress for $500 million dollars over the next 10 years to fund research into childhood cancers that have not seen new therapies in decades, the president said.
9:55 p.m.: Trump calls for Congress to pass USMCA, replacement of NAFTA
"For years, politicians promised [Americans] they would renegotiate for a better deal. But no one ever tried -- until now. Our new U.S.-Mexico-Canada Agreement – USMCA – will replace NAFTA and deliver for American workers like they haven't had delivered to for a long time," Trump said.
The United States-Mexico-Canada Agreement, or USMCA, is a deal between the three countries signed at the G20 Summit in November.
"I hope you can pass the USMCA into law so that we can bring back our manufacturing jobs in even greater numbers, expanding American agriculture, protect intellectual property,and ensure that more cars are proudly stamped with our four beautiful words: Made in the USA," Trump said.
Trump, Canadian Prime Minister Justin Trudeau and Mexican President Enrique Peña Nieto have all signed the new deal, but it still needs to be approved by each country's government.
9:49 p.m.: A moment of unity propelled by women in white
Many of the Democratic women lawmakers in white stood for the first time when the president spoke about progress made by women. They gave a loud standing ovation, bringing a smile to Pelosi's face.
"No one has benefited more from our thriving economy than women, who have filled 58 percent of the new jobs created in the last year," Trump said, triggering the applause.
"You weren't supposed to do that," Trump said to the group. "Don't sit yet — you're going to like this."
"Exactly one century after Congress passed the Constitutional Amendment giving women the right to vote, we also have more women serving in Congress than ever before," Trump said to loud cheers and bipartisan chants of "U.S.A."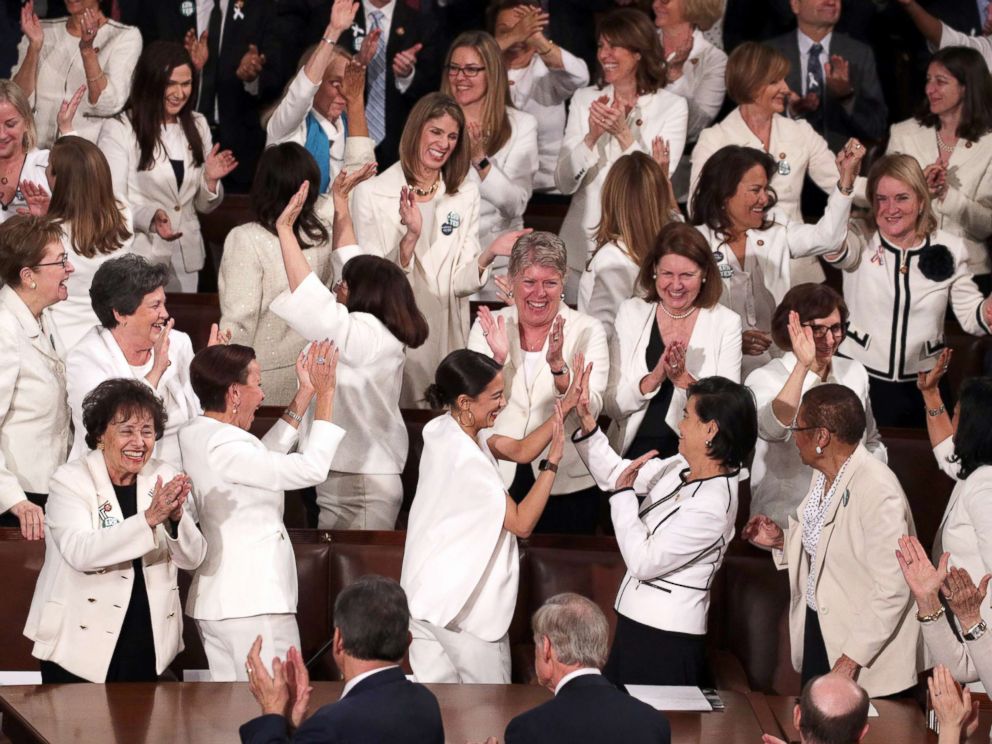 9:35 p.m.: Trump emphasizes benefits of legal immigration
Trump emphasized the benefits of legal immigration to the country, saying "Legal immigrants enrich our nation and strengthen our society in countless ways."
"I want people to come into our country, in the largest numbers ever. But they have to come in legally," Trump added.
The president's claims come as his administration has limited refugee admissions into the U.S. and restricted immigration from seven countries, five of which have Muslim majority populations.
9:33 p.m.: State of the Union fact check: What President Donald Trump is claiming
Our team of journalists from ABC News is fact-checking some of President Donald Trump's statements, looking for additional context, detail and information. Here is ABC News' fact check of the address.
9:27 p.m.: Trump speaks of Alice Johnson, the woman released from jail after pleas from Kim Kardashian
Trump said he heard through "friends" — namely, reality television star Kim Kardashian West — about the story of Alice Johnson, a woman who was in prison for almost 22 years for non-violent drug charges.
Trump commuted her sentence in June and Johnson is in attendance at the speech tonight.
"Alice's story underscores the disparities and unfairness that can exist in criminal sentencing -- and the need to remedy this injustice," Trump said. "When I saw Alice's beautiful family greet her at the prison gates, hugging and kissing and crying and laughing, I knew I did the right thing.
Trump's bipartisan criminal justice reform act, the First Step Act, was recently signed into law.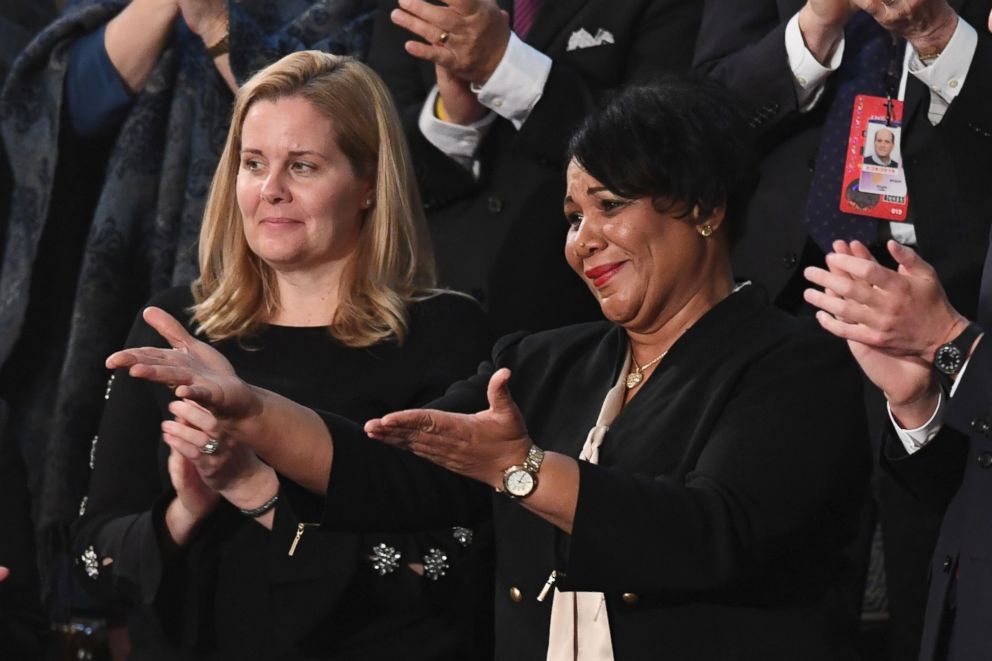 9:23 p.m.: Chants of 'USA' from Republicans
"That sounds so good," Trump said, veering off script in reaction to the standing ovation and chants, largely from Republicans, of "U.S.A."
The applause came after Trump's comments about the strength of the country: "After 24 months of rapid progress, our economy is the envy of the world, our military is the most powerful on earth, and America is winning each and every day. Members of Congress: the State of our Union is strong. Our country is vibrant and our economy is thriving like never before."
9:12 p.m.: Trump introduces Buzz Aldrin, says Americans will go back to space
"Half a century later, we are joined by one of the Apollo 11 astronauts who planted that flag: Buzz Aldrin," the president said as he introduced the astronaut. Aldrin sits near First Lady Melania Trump.
"This year American astronauts will go back to space on American rockets," Trump said.
The president also introduced WWII veterans Private First Class Joseph Reilly, Staff Sergeant Irving Locker, and Sergeant Herman Zeitchik.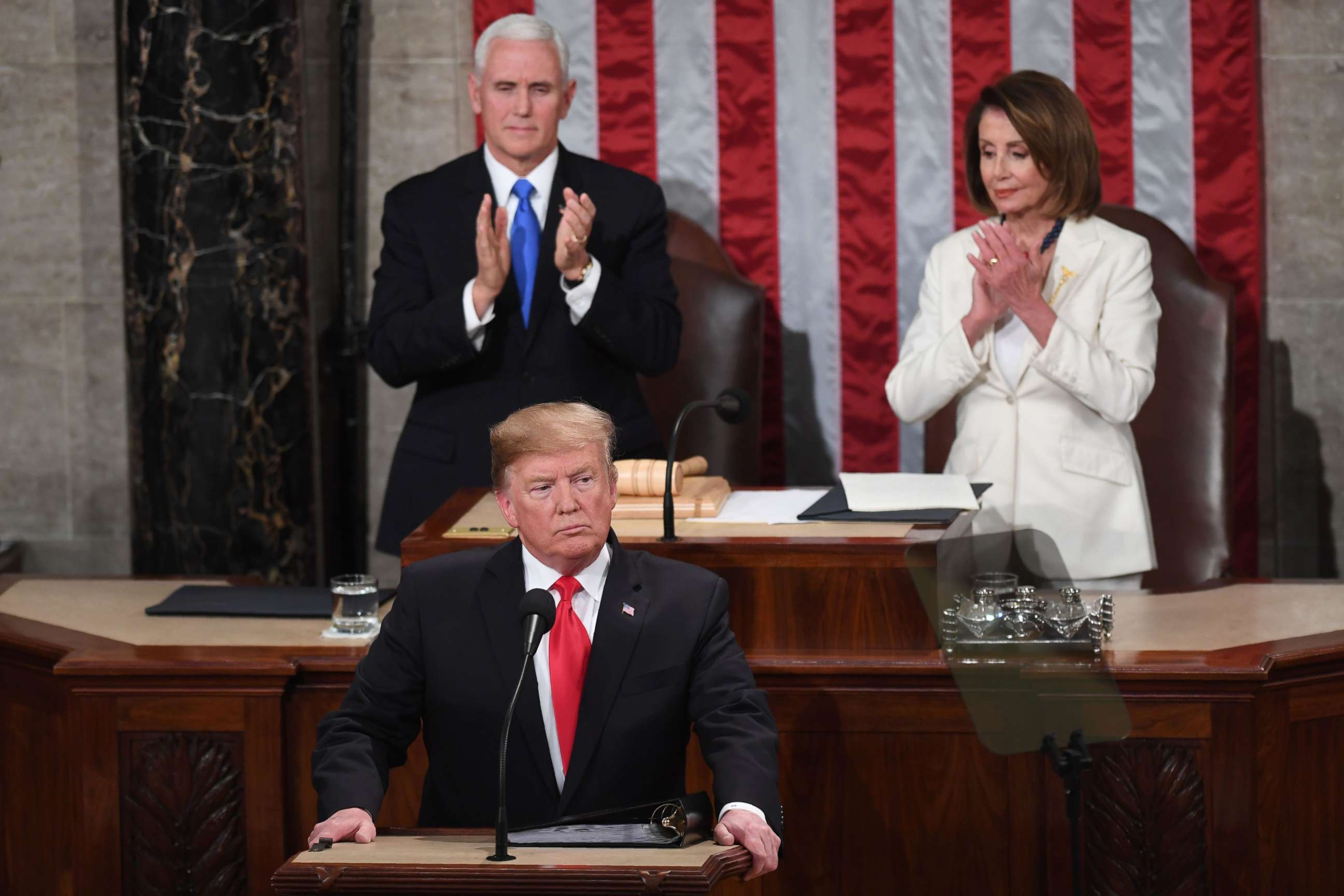 9:10 p.m.: The president's first major applause line
"Victory is not winning for our party victory is winning for our country," the president said at the beginning of his speech. He received a standing ovation from members of Congress and Vice President Mike Pence, sitting behind him beside House Speaker Nancy Pelosi.
9:07 p.m.: The speech begins
The State of the Union address has begun. It's expected to be over an hour long and followed by a response from Democrat Stacey Abrams.
8:56 p.m.: Energy Secretary Rick Perry is the designated survivor
Perry is in an undisclosed location in case of an attack or disaster that would leave top government officials gathered at the Capitol incapacitated.
The pool of choices for the "designated survivor" is smaller this year because of the many vacancies in the administration. Read more here.
8:50 p.m.: Trump arrives
The president has arrived at the Capitol to give his second State of the Union speech.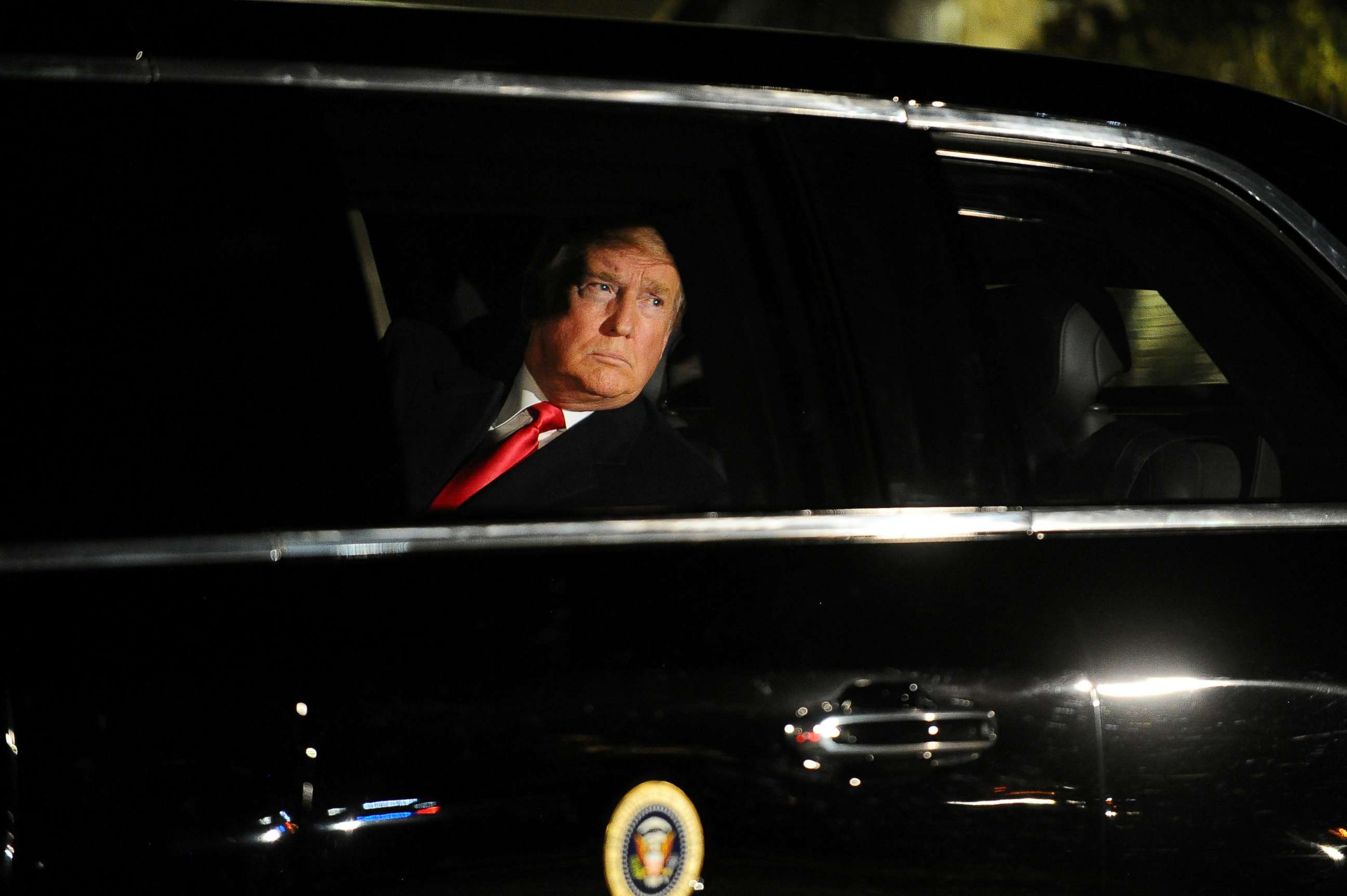 The Trump family is already seated. Notably, Don Trump Jr.'s girlfriend Kimberly Guilfoyle and Tiffany Trump are both wearing white dresses -- the same dress code chosen by many lawmakers in a nod to the women's suffrage movement.
8:39 p.m.: The night in photos
Lawmakers, guests, Supreme Court Justices – all are arriving on Capitol Hill now.
8:30 p.m.: ABC News' partner FiveThirtyEight begins their live blog of the speech.
Follow their live analysis of Trump's speech here.
8:30 p.m.: Read excerpts from the president's speech
The White House has released excerpts from the president's speech. The excerpts show themes of unity, though Democrats have questioned if that'll show through in the speech.
Read them below:
"Together, we can break decades of political stalemate. We can bridge old divisions, heal old wounds, build new coalitions, forge new solutions, and unlock the extraordinary promise of America's future. The decision is ours to make."
"We have unleashed a revolution in American Energy – the United States is now the number one producer of oil and natural gas in the world."
"After 24 months of rapid progress, our economy is the envy of the world, our military is the most powerful on earth, and America is winning each and every day."
"No issue better illustrates the divide between America's WORKING CLASS and America's POLITICAL CLASS than illegal immigration. Wealthy politicians and donors push for open borders while living their lives behind walls and gates and guards."
8:01 p.m.: The speech starts at 9 p.m. Here are some of the stories ABC News is watching.
Stacey Abrams is set to make history as the first African American woman to give a response to the State of the Union address, per available research from the House and Senate historian offices. More here.
The pool of choices for the "designated survivor" — the Cabinet member who doesn't attend the State of the Union in case an attack or disaster leaves top government officials gathered there incapacitated — is smaller this year because of the many vacancies in the administration. Read more here.
Who's in the audience tonight? Read more about the guests who are attending to make a political statement here.
Speaker of the House Nancy Pelosi will sit behind Trump for the whole speech — one of the first times the public will see them together in a while. Here's more on what that might look like, and other moments to watch for.
Here's a look at how the day unfolded in the lead-up to the speech:
Supreme Court Justices John Roberts, Elena Kagan, Neil Gorsuch and Brett Kavanaugh to attend speech
The four justices will attend the speech Tuesday night, a court official told ABC News.
Justices are not required to attend the presidential address but, by tradition, several do participate each year to represent the third, co-equal branch of government.
This will be the first State of the Union for Kavanaugh, Trump's newest appointment to the court, and the first time both Kavanaugh and Gorsuch will be together in the chamber before Trump. Trump nominated Gorsuch to the court in 2016.
Justice Ruth Bader Ginsburg, who made her first public appearance Monday night after cancer surgery in December, will not attend the address. She did not attend either of Trump's two previous speeches before a joint session of Congress.
Justice Clarence Thomas has not attended a State of the Union since 2009, while Justice Stephen Breyer, who has a reputation as a regular, appears to be taking the year off.
ABC News' Devin Dwyer reports.
Trump not expected to declare state of emergency in State of the Union speech
With a day full of speech prep ahead of him, the president sent his first tweet of the morning Tuesday indicating his focus is set squarely on his demand that Congress fund a wall along the U.S.-Mexico border.
According to White House officials, the president as of Tuesday morning was not expected to make any official national emergency declaration, as he has threatened, in a move to obtain funds to build his border wall without congressional approval. And while the president won't explicitly rule out another shutdown, one senior official told ABC News that his address is "more of a unifying speech, saying he actually wants to get things done."
White House counselor Kellyanne Conway told reporters at the White House Tuesday that the president will express to lawmakers that he prefers they appropriate the funds he is demanding for securing the border, rather than forcing his hand to take unilateral action.
"The president has said that he can do it," Conway said. "But he's never wanted to do that. He wants Congress to finish its work. He wants them to put a deal on his desk that he can sign."
ABC News' Alexander Mallin reports.
What is Trump expected to cover?
Beyond the topics conveyed to reporters on what the president is expected to discuss — immigration, middle-class American workers, improving infrastructure, lowering the cost of health care and prescription drugs, and national security — Conway also said Tuesday that Trump will be using his address to outline a strategy for ending HIV transmissions in the U.S. by 2030.
"I look at that as a nonpartisan issue and the president does also, so he will be asking for bipartisan support to make that happen," Conway said in response to a question from ABC News.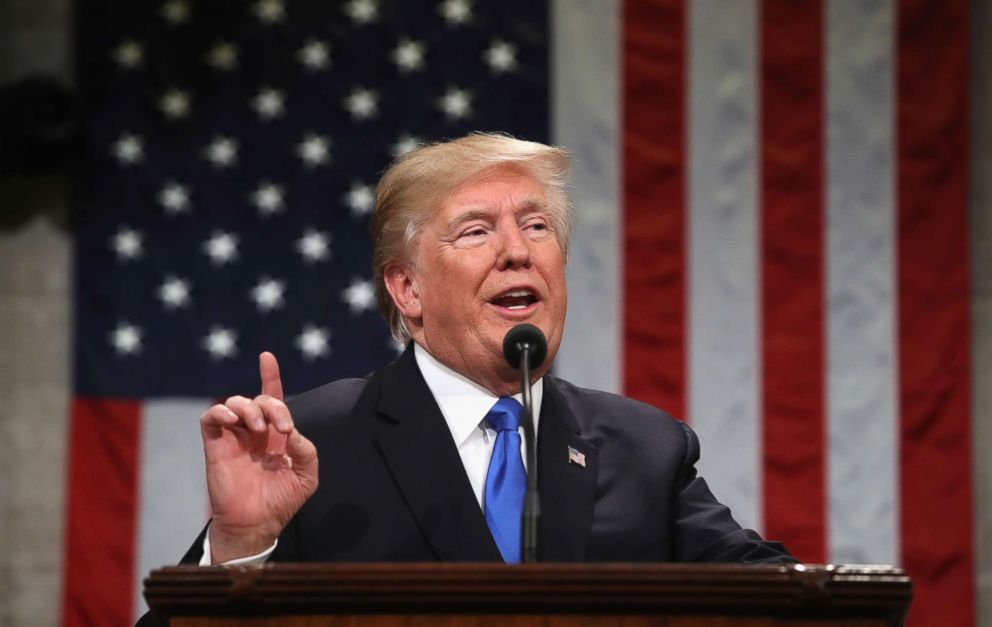 On the economic woes of working-class Americans -- a major campaign platform of 2016 and also a focus of last year's speech -- Trump will narrow in on trade deals, like the one his administration is working out with China after trading tariffs over the last few months, and he'll urge Congress to approve the United States–Mexico–Canada Agreement, according to a senior administration official.
On infrastructure, the president is expected to call for a dollar amount. Last year, he asked Congress to generate $1.5 trillion, per a senior White House official. On national security, the president will specifically address the political standoff between Venezuela's opposition leader Juan Guaido and President Nicolas Maduro.
The White House classified this year's speech as "visionary" -- looking toward the future and presenting a "common-sense path forward" with a "very American and can-do optimistic approach." It's also going to be long, according to a White House official, following in the footsteps of last year's 80-minute speech.
ABC News' Alexander Mallin and Stephanie Ebbs contributed to this report.
What Trump will see in the audience
Many lawmakers will be wearing white, a nod to the women's suffrage movement.
House Democratic Majority Leader Steny Hoyer handed out white lapel ribbons for his male colleagues to wear in solidarity with the women wearing white.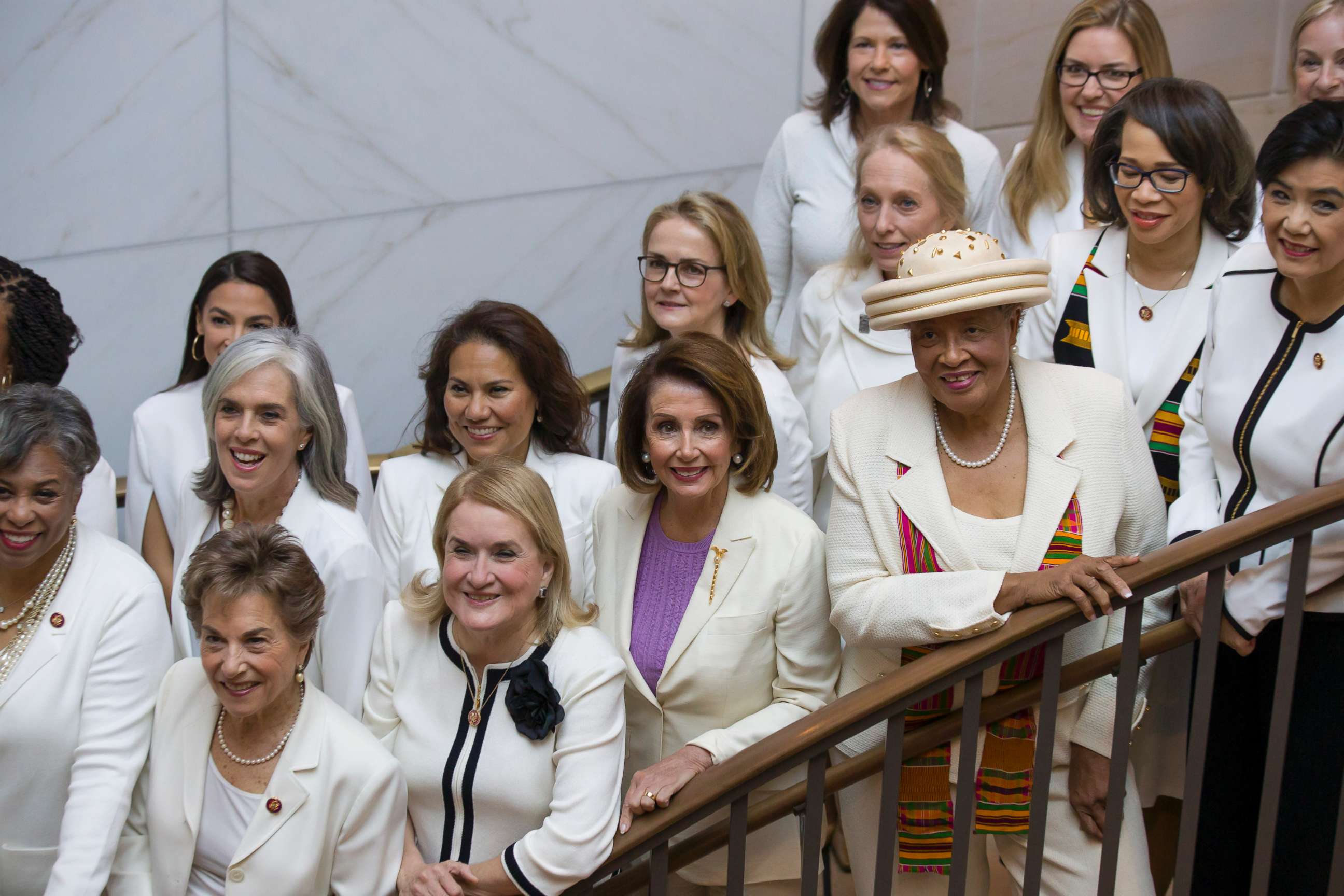 The effort, Hoyer said, "sends a respectful message that House Democrats stand with women across the country and will continue to defend their rights."
At least one lawmaker, Rep. Bobby Rush, D-Ill., plans on joining his female colleagues in wearing all white.
Who's who — and what message their attendance sends
Many of the diverse freshmen House Democrats are using their attendance to make political statements. New York Rep. Alexandria Ocasio-Cortez is bringing Ana Maria Archila, the woman who confronted then-Sen. Jeff Flake, a Republican from Arizona, about sexual assault on an elevator on Capitol Hill during Supreme Court Justice Brett Kavanaugh's Senate confirmation hearings.
Two other groups expected to be represented among State of the Union guests are transgender service members and environmental activists.
At least four lawmakers have announced their guests are either active-duty or veteran transgender service members. Trump's plan to restrict service by transgender men and women is currently held up in the courts.
And several Democrats have announced that their State of the Union guests are activists from communities impacted by environmental contamination from a type of chemical used in Teflon and firefighting foam. Lawmakers from both sides of the aisle have expressed concern about whether the Environmental Protection Agency will limit the amount of those chemicals allowed in drinking water ahead of the expected release of a national plan to deal with them.
Is anyone boycotting?
Last year, 14 Democrats boycotted the address. So far this year, only five Democrats have publicly announced their decision not to attend, including Georgia Reps. John Lewis and Hank Johnson, as well as Oregon Rep. Earl Blumenauer.
"Just like in past years, I plan to skip a speech that will be filled with lies, deception and divisiveness," Blumenauer said in a statement.
One thing that's not new?
Former presidential candidate Sen. Bernie Sanders also will deliver a response to Trump's State of the Union address Tuesday night, something he's done three years in a row, through a live stream on social media. He'll speak after Abrams.
ABC News' Alexander Mallin, Devin Dwyer, Sarah Kolinovsky and Stephanie Ebbs contributed to this report.