Nearly a dozen Russian and Chinese ships now moving away from Alaska, officials say
Four U.S. Navy ships and an aircraft had been monitoring the patrol.
The nearly dozen Russian and Chinese ships that sailed near Alaska's Aleutian Islands last week as part of a joint exercise -- leading the U.S. to deploy warships and aircraft to monitor the formation -- are now moving away from the region, according to two American officials.
In response to the ships' movements near the island chain, four U.S. Navy destroyers operating in the Pacific Ocean had monitored the ships' movements from various distances, one of the U.S. officials said.
Both officials stressed that the 11 Russian and Chinese ships remained in international waters and did not sail into U.S. territorial waters, which stretch out 12 miles from the Alaskan coastline.
The U.S. officials declined to provide details on how close the Russian and Chinese ships got to American territory.
The patrol marked an apparent show of military unity and strength between the two countries.
One of the officials told ABC News that the Russian and Chinese vessels operated in different locations and were not always in the same formation.
Video posted by Russia's Defense Ministry on Saturday showed what appeared to be at least nine vessels sailing in formation and the firing of weapons into the ocean, presumably as part of what it described as an anti-submarine exercise.
The Russian Defense Ministry said that the joint patrol had already covered 2,300 nautical miles in a transit that had taken the Russian and Chinese Navy ships to "the southwestern part of the Bering Sea," where they had practiced "joint tactical maneuvering, conducted communications training and carried out helicopter landings and take-offs from the decks of each other's ships."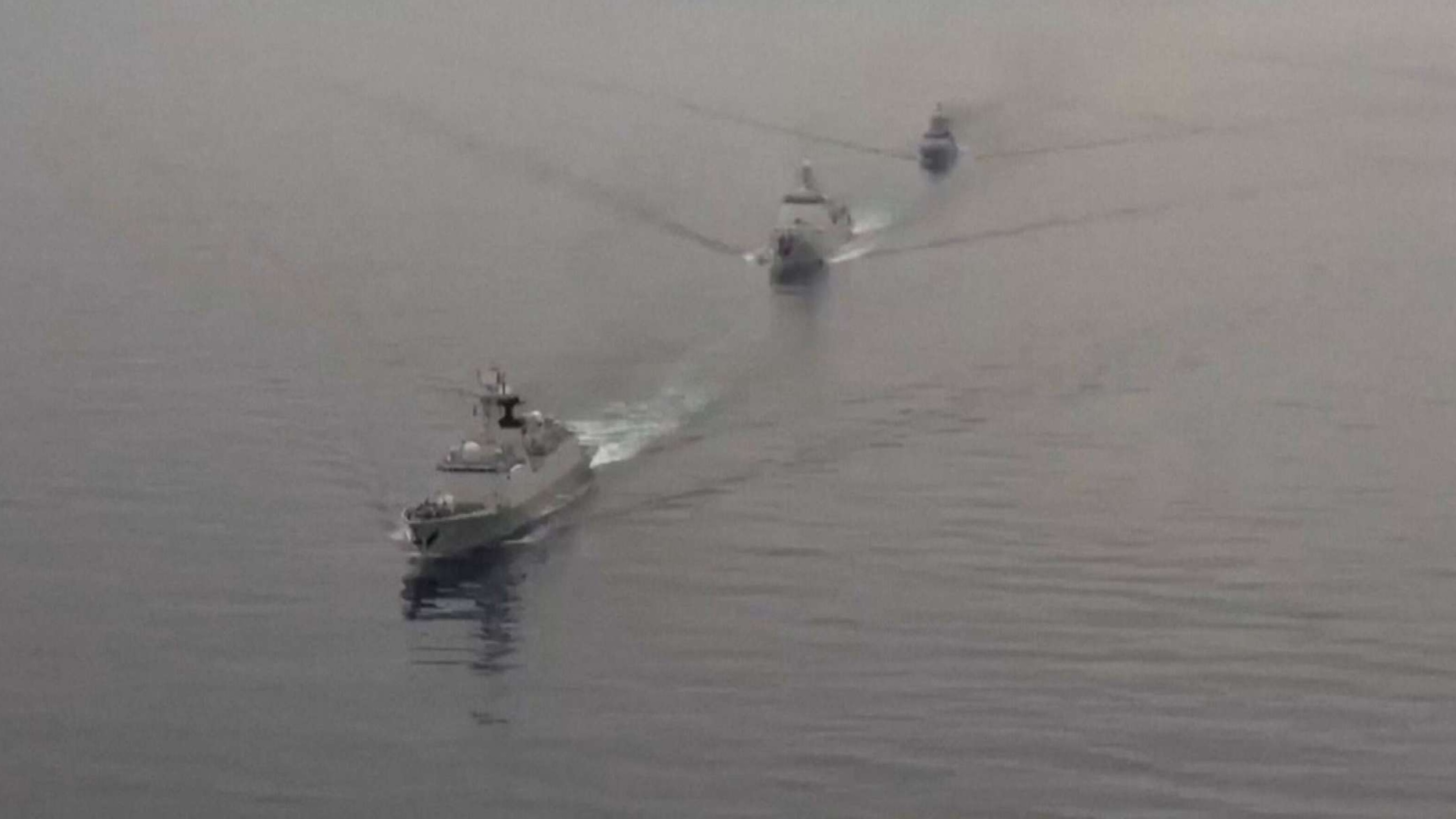 A U.S. official had told ABC News that the Pentagon was tracking and expecting this patrol for several weeks, since well before the exercise began
In addition to the four U.S. destroyers, a U.S. Navy P-8 maritime surveillance aircraft was also used to monitor the joint Russian-Chinese patrol, according to officials.
"I'll let the Chinese and the Russians characterize their activities," Pentagon press secretary Brig. Gen. Pat Ryder told reporters on Monday. "What I would say is that NORAD and NORTHCOM monitored their presence. They were in international waters."
"At no point in time were they deemed to pose a threat. And so like any country, they are free to conduct exercises in international airspace, international waters," Ryder said. "We will continue to monitor but I think that it's no surprise to anyone that China and Russia continue to look at ways to cooperate. And we'll continue to monitor the situation and follow up on that."
On Sunday U.S. Northern Command said in a statement that the Russian and Chinese naval formation patrolled "near Alaska" last week but "was not considered a threat."
"Air and maritime assets under our commands conducted operations to assure the defense of the United States and Canada," the NORTHCOM statement to ABC News said, adding that "the patrol remained in international waters and was not considered a threat."
A spokesman for the Chinese Embassy in Washington told The Wall Street Journal in a statement over the weekend: "According to the annual cooperation plan between the Chinese and Russian militaries, naval vessels of the two countries have recently conducted joint maritime patrols in relevant waters in the western and northern Pacific Ocean."
"This action is not targeted at any third party and has nothing to do with the current international and regional situation," the spokesman said.
Alaska's senators, Lisa Murkowski and Dan Sullivan, both Republicans, spoke out against the exercise in statements while reiterating their call for more military funding for their state.
"This is a stark reminder of Alaska's proximity to both China and Russia, as well as the essential role our state plays in our national defense and territorial sovereignty," Murkowski said, in part.
"We have entered a new era of authoritarian aggression led by the dictators in Beijing and Moscow," Sullivan said. "In recognition of this reality and our state's unrivaled strategic location, for years, I've been pressing the Navy and each successive administration to commit to a greater Naval, Coast Guard, and Marine Corps presence in Alaska, more Arctic-capable vessels, and more infrastructure."
ABC News' Benjamin Siu contributed to this report.