By the end of Monday there will be 5,200 active duty service members serving along the border in what is officially a support mission to Customs and Border Protection (CBP), but on the eve of the mid-term election President Trump continues to play the deployment as a campaign issue.
"I noticed all that beautiful barbed wire going up today," Trump said at a Montana campaign rally on Sunday. "Barbed wire used properly can be a beautiful sight."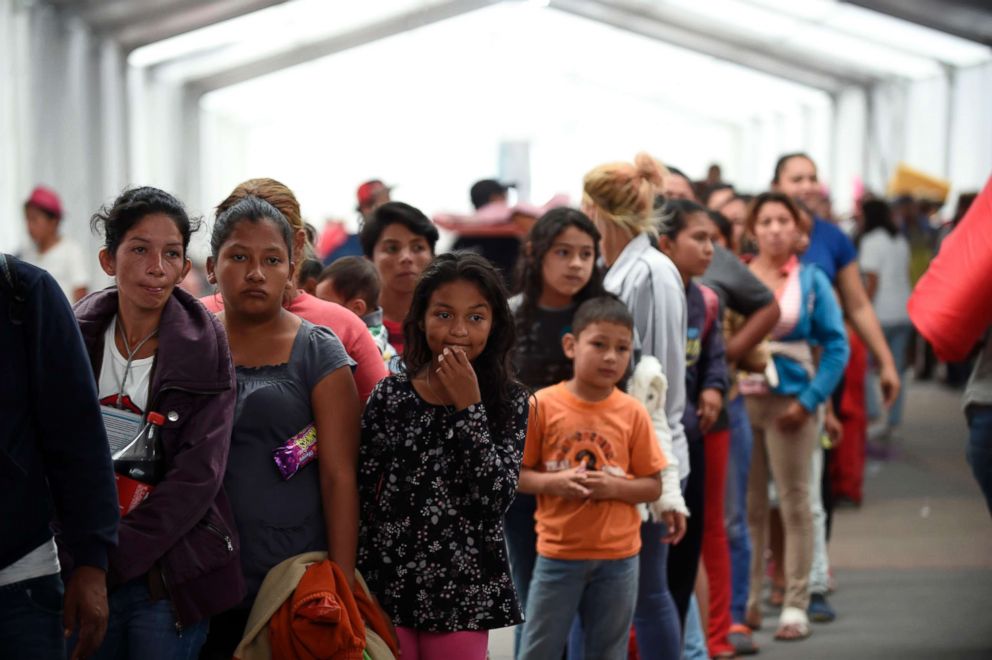 The president was referring to active duty soldiers placing concertina wire near a Texas border crossing over the weekend. The move was in line with the support mission to Customs and Border Protection being provided by U.S. Northern Command.
But on Monday Trump made it sound as if the active-duty troops assigned to Operation Faithful Patriot would play a more visible role.
"Barbed wire looks like it's going to be very effective, too, with soldiers standing in front of it," Trump told a campaign rally in Cleveland.
But Operation Faithful Patriot is intended to be a mission where the active duty troops are only to provide support for CBP since they are forbidden by federal law to carry out law enforcement duties.
Gen. Joseph Dunford restated the mission's intent in remarks at Duke University on Monday evening.
"There is no plan for U.S. military forces to be involved in the actual mission of denying people entry to the United States," said Dunford. "There is no plan for the soldiers to come in contact with immigrants or to reinforce the Department of Homeland Security as they are conducting their mission. We are providing enabling capability."
To that end, engineering and construction units will build vehicle barriers and fencing along the points of entry along the border, as well as build temporary housing for CBP personnel being sent to the border, Helicopter units are also being deployed to transport CBP personnel to hard to reach border areas, officials said.
A Pentagon spokesman said Monday that the laying of concertina wire was in line with the mission to help CBP "plug gaps" at ports of entry along the border.
"They tell us what points are vulnerable," said Col. Rob Manning.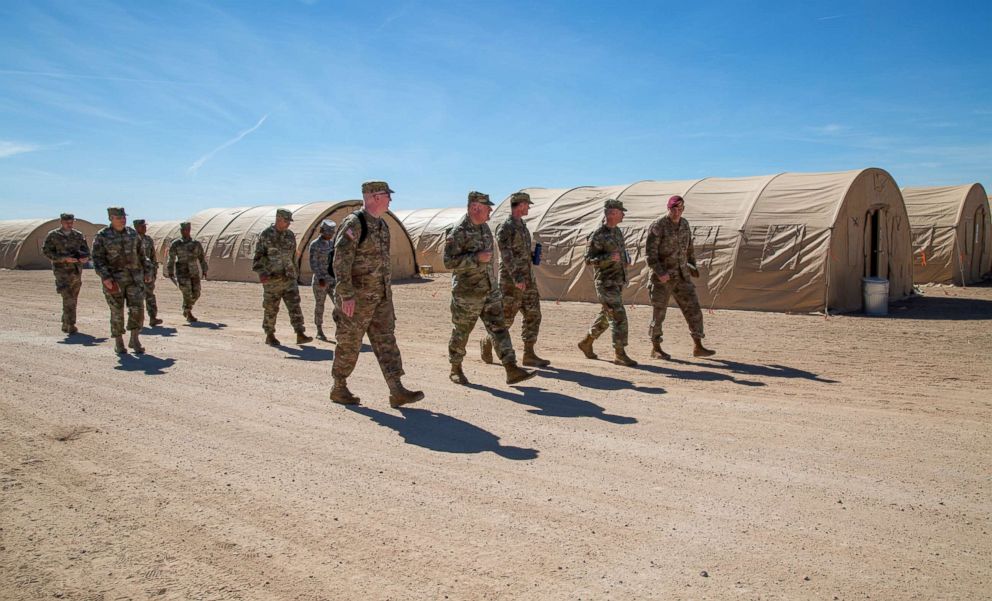 President Trump last week also backtracked on comments that raised questions about when military forces might be authorized to shoot their weapons.
"They want to throw rocks at our military, our military is going to fight back … we will consider that a firearm" he had said on Thursday.
Trump changed his stance the following day.
"They do that with us, they're going to be arrested, there's going to be problems. I didn't say shoot. I didn't say shoot. But they do that with us, they're going to be arrested for a long time. We will arrest them," he told reporters who had asked for clarification.
The Pentagon acknowledges that military service members have the right of self-defense, but does not make public the standards for the use of force other than to say they are proportional.
Col. Manning declined to discuss a hypothetical situation with reporters on Monday. However, he clarified that only military policemen would be armed along the border as they provide force protection to other military units.
The Pentagon estimates that by the end of Monday there will be 5,200 active duty forces in Arizona, California and Texas with that number rising to more than 7,000 in coming days.
The majority of the forces are currently in Texas where 2,600 service members have arrived over the last week, there are 1,100 service members in Arizona and California respectively.
Those numbers will rise to more than 7,000 over coming days.
Construction units have begun building temporary tent housing for military units at some of the large bases serving as staging areas.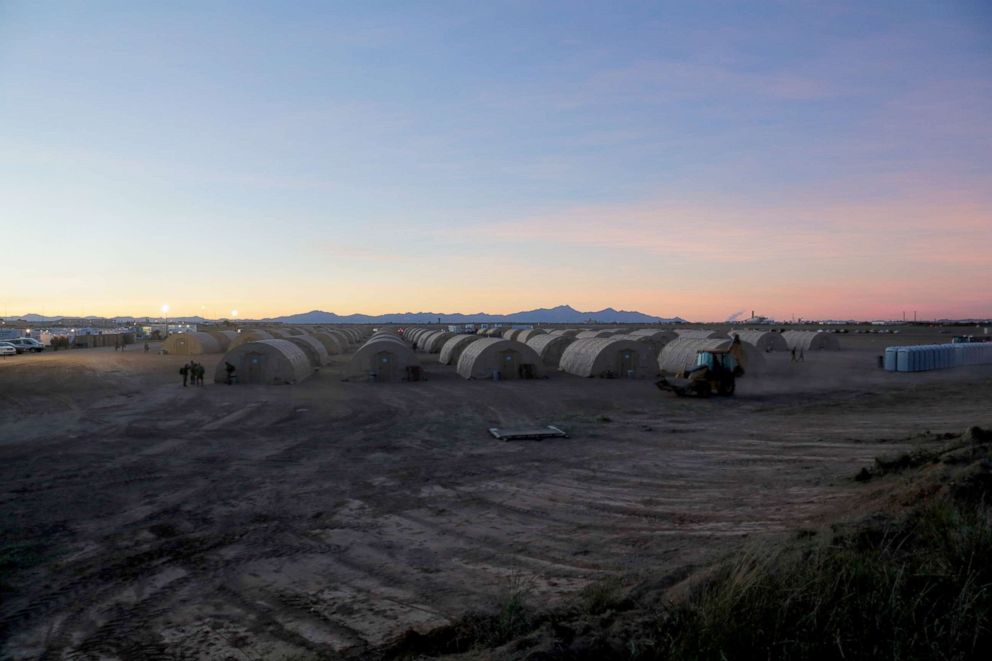 Last week, President Trump described "massive cities of tents" being built by the military that he said would house migrants seeking asylum. But military officials emphasized that the temporary tents were only to house additional CBP personnel being sent to the border.
However, ABC News has learned that the Department of Homeland Security (DHS) had made an initial request to the Pentagon "to hold" migrants seized along the border in tent structures, according to a U.S. official.
The initial DHS request was not accepted early on by the Pentagon and was not forwarded up the chain of command for approval.
The official noted that the request was different than a previously approved DHS request from earlier this year to house migrant families further along in the immigration process, on military bases.
Reuters was first to report that the Pentagon had balked at the initial request from the Department of Homeland Security.
Asked about the Reuters report Manning declined to comment on internal deliberations between the Department of Defense "and our interagency partners". Captain Bill Speaks, another Pentagon spokesman added, "we have not received a request from DHS to build facilities to house migrant families."
Trump said last week he plans to build tents to house migrants, who would be held in those facilities while the U.S. government weighs their asylum request.
Manning also clarified that Military Police (MP's) will be the only active duty forces to be armed during the operation. MP units have been assigned to the border mission to provide force protection to the units that will be providing logistical support to CBP.
There is still no official cost estimate made public for the 45-day mission, but Manning said the Defense Department will "absorb" the costs of the operation.
"The costs are being determined by our Comptroller and when we are in a position to provide them, we will do that," said Manning.