Voters in Arizona and Michigan on Tuesday were finalizing two key matchups in November that could determine the balance of power in the Senate.
A contentious GOP Senate primary in Kansas could possibly elevate the state to be another potential pickup opportunity for Democrats on the expanding battlefield for the upper chamber.
An endangered member of the "squad" -- Michigan Rep. Rashida Tlaib -- and her formal rival, Detroit City Council President Brenda Jones, were closing out a highly competitive primary in Detroit and its surrounding suburbs.
And in the midst of the coronavirus pandemic, chief executives on the frontlines of the response were meeting their general election opponents.
Here's how election night unfolded. Please refresh for updates.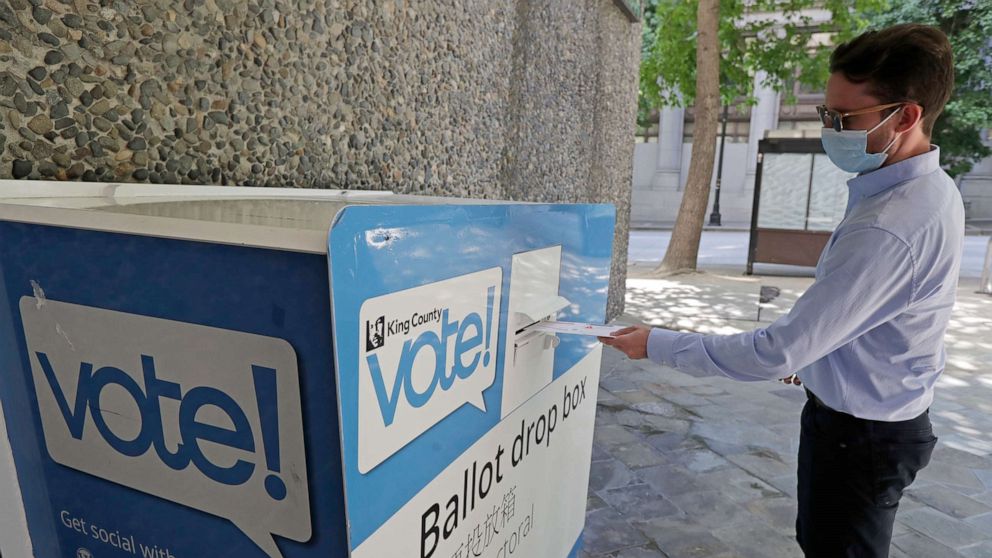 12:48 a.m.: Missourians nominate progressive Cori Bush to oust incumbent establishment Lacy Clay, vote to expand Medicaid
Progressives have reason to celebrate tonight as St. Louis area voters have opted to vote out incumbent Rep. William Lacy Clay, who has held the seat since 2001, and replace him with progressive Cori Bush 48.6% to 45.5%, the Associated Press has projected.
Bush unsuccessfully ran against Lacy Clay in 2018 and in the deep-blue district, home to Ferguson, is almost guaranteed a spot in the next Congress. She will be the first Black woman to represent Missouri in Congress in a remarkable win, which unseated a powerful player in Missouri politics.
Lacy Clay was the second incumbent to fall tonight, after Rep. Steve Watkins lost his primary in Kansas' 2nd district.
Bush was endorsed by Sen. Bernie Sanders and Justice Democrats and thanked supporters tonight, saying, "Tonight, Missouri's 1st has decided that an incremental approach isn't going to work any longer."
With 100% of the vote reporting, Bush brought in nearly 73,000 votes Tuesday night.
Voters also cast their ballots in favor of expanding Medicaid in the state, which has been ravaged by rural hospital closures, passing the measure by six points, 53% to 47%.
The move could bring Medicaid eligibility to as many as 217,000 low-income Missourians under the Affordable Care Act. Missouri now becomes the 38th state plus D.C. to expand Medicaid.
12:05 a.m.: Hiral Tipirneni wins Democratic primary in AZ-06, will face Rep. Dave Schweikert, who was just slapped with ethics violations
Hiral Tipirneni has won the Democratic primary for Arizona's 6th Congressional District, the Associated Press has projected. She will face Republican Rep. David Schweikert in November.
Tipirneni, a member of the DCCC's "Red to Blue" program, nabbed a win in a four-person primary. She's a former emergency room physician and has put the issue of health care at the center of her campaign.
The congressional district went for President Donald Trump by a 10-point margin in 2016, but Democrats view the district, which covers the suburbs of Phoenix -- a voting bloc the president is increasingly losing, according to recent polling -- as one they could win this cycle.
In addition to earning the backing of House Democrats' campaign arm, Tipirneni was also endorsed by EMILY's List, and Arizona Reps. Ann Kirkpatrick and Tom O'Halleran.
The primary comes after the sitting congressman was dealt an unwelcome blow with just three months until voters will decide his electoral fate. On Friday, the House unanimously voted to reprimand Schweikert after he admitted guilt in 11 ethics violations related to campaign finance violations, improper spending and other rule violations. The congressman has agreed to pay a $50,000 fine.
The ethics investigation into Schweikert unanimously determined that the Arizona Republican violated House rules, the Code of Ethics for Government Service, federal laws and other applicable standards.
11:55 p.m.: Candidates vying to fill retiring Rep. Justin Amash's seat will be Republican Peter Meijer and Democrat Hillary Scholten
Peter Meijer has won the crowded Republican primary for Michigan's 3rd Congressional District, the Associated Press has projected. Meijer will face Democrat Hillary Scholten, who ran unopposed and out-fundraised every Republican candidate.
Five candidates sought the Republican nomination. Meijer is an Army veteran who served in Iraq as between 2010 and 2011, working in an intelligence unit.
Scholten, the Democrat, worked in the Obama administration's Justice Department as an attorney.
Ahead of the primary, Meijer nabbed endorsements from several prominent Republican lawmakers, including Minority Leader Kevin McCarthy, Minority Whip Steve Scalise and Sen. Tom Cotton. Republican John James, who is facing Sen. Gary Peters in the state's Senate race this November, also endorsed him. Meijer is a "contender" in the House Republicans' campaign arm's "Young Guns" program.
The seat is currently held by Rep. Justin Amash. Amash, who declared he was leaving the Republican Party on the Fourth of July last year, weighed running for the Libertarian Party's presidential nomination, but ultimately decided not to, and chose to retire from Congress after finishing his current term.
The race is rated as "Lean Republican" by Cook Political Report, Inside Elections and Sabato's Crystal Ball.
11:45 p.m.: Match-up between Republican Rep. Jaime Herrera Beutler and Democrat Carolyn Long set for WA-03
The Associated Press has projected the two candidates who will be advancing to the November election for Washington's 3rd Congressional District: Republican incumbent Jaime Herrera Beutler will face off against Democrat Carolyn Long.
In Washington, a state that predominantly votes-by-mail, all candidates compete on the same ballot, regardless of party affiliation. With 31% of the expected vote in, Herrera Beutler was leading with 54.8% of the vote and Long had 41.2% of the vote.
Herrera Beutler, one of the few women of color in the House Republican caucus, has served in Congress since 2007. She faced Long in the 2018 midterms and won reelection by about 16,500 votes.
The district in Washington, a reliably blue state statewide, went for President Donald Trump over Democratic nominee Hillary Clinton by a more than seven-point margin in 2016. But Democrats are hoping to win the seat this cycle, and add to their House majority. Long is part of the House Democrats' campaign arm's "Red to Blue" program, meaning the party views her as a "top-tier candidate" who could flip a red district.
11:15 p.m.: Democrat Mark Kelly officially facing Republican Sen. Martha McSally in Arizona special Senate election
Fundraising powerhouse Mark Kelly, who ran unopposed, is officially facing Republican Sen. Martha McSally in November's special Senate election in Arizona, according to projections from the Associated Press.
Kelly, a retired Navy combat pilot, engineer, NASA astronaut and the husband of gun control advocate and former Rep. Gabrielle Giffords, launched his Senate campaign in February 2019, and earned the backing of the DSCC -- Senate Democrats' campaign arm, in April of last year. Since that launch through July 15, he's raised a whopping $45 million and boasts a $21.2 million war chest as the campaign heads into its final three months.
McSally, who narrowly lost her race against Democrat Kyrsten Sinema in 2018, was appointed to fill the late Sen. John McCain's seat, after the man Republican Gov. Doug Ducey initially appointed, former Sen. Jon Kyl, resigned at the end of 2018.
The freshman senator who has tethered herself to President Donald Trump faces a tough reelection battle. In a July 26 CNN/SSRS poll, Kelly was backed by 50% of Arizona registered voters while McSally was supported by 43%. Since the start of the campaign through July 15, McSally has raised $28.7 million, and has nearly $11 million cash-on-hand.
Arizona has trended purple in recent years, and Democrats are eyeing the Kelly-McSally matchup as one of their best pick up opportunities as they try to flip control of Congress's upper chamber. Sabato's Crystal Ball and Cook Political Report rate the race as "lean Democratic."
10:35 p.m.: Rep. Steve Watkins defeated by Kansas State Treasurer Jake LaTurner, KS GOP chair nabs nomination
Rep. Steve Watkins, who in July was convicted of three felonies and one misdemeanor related to voter fraud, has been defeated by Kansas State Treasurer Jacob LaTurner, the youngest statewide elected official in the country in the race to represent the state's 2nd district.
LaTurner is seen as a rising star in the Republican party in Kansas. He is endorsed by neighboring Rep. Ron Estes, who also endorsed Watkins early on but rescinded his endorsement following Watkins' charges.
Watkins denied the charges in late July, but was stripped of his committee assignments, per House rules, due to the felony charges.
LaTurner will face Topeka Mayor and Democrat Michelle de la Isla.
This district is home to Lawrence, a liberal college town, and Topeka, de la Isla's home city.
The race is rated as Lean Republican by Cook Political.
In the 3rd district, KS GOP chair Amanda Adkins won a crowded primary to take on freshman Rep. Sharice Davids in the Kansas City suburbs. Adkins was a prolific fundraiser on the GOP side, but Davids significantly outpaced her across the aisle.
Republicans are looking to flip the seat back into their territory after Davids flipped it in 2018.
10:20 p.m.: Rep. Roger Marshall defeats former Kansas Secretary of State Kris Kobach
Rep. Roger Marshall, who currently represents Kansas' 1st Congressional District, has defeated former Kansas Secretary of State Kris Kobach in the Republican Senate primary. Marshall will face Democratic state Sen. Barbara Bollier in November.
The president did not offer an endorsement before the primary, but Tuesday night called Marshall and congratulated him on his win, despite the fact that he endorsed Kobach's failed gubernatorial bid in 2018.
"Well, I want to congratulate everybody and Roger on an incredible race," Trump said while on a speakerphone at Marshall's victory party. "We have to win the one on Nov. 3. You have my total support, you know it."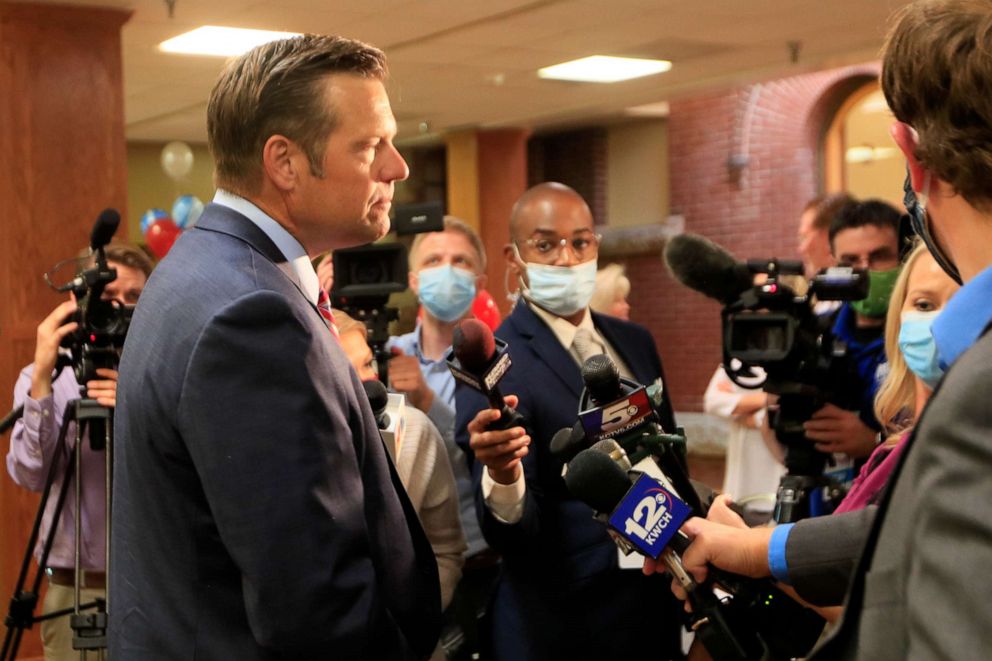 9:04 p.m.: Sen. Gary Peters officially facing Republican John James in Michigan Senate race
Democratic Sen. Gary Peters will be facing Republican John James as he tries to win a second term. The AP projected the results of both races when all polls closed, but both candidates ran unopposed. James was the 2018 Republican nominee who faced Democratic Sen. Debbie Stabenow. Stabenow got 52.3% of the vote, and James got 45.8%.
As the race stands now, it's in Peters' favor. All three major race raters -- Cook Political Report, Inside Elections and Sabato's Crystal Ball -- have the race in the "lean Democratic" column. In a CNN/SSRS poll (airworthy) published on July 26, Peters had 54% and James had 38% among registered voters.