There is standing up to President Trump, and then there is just playing his game.
On only a few occasions during this administration have Democrats successfully done either, and those hoping to take Trump on in 2020 will have carefully consider and navigate both.
Sen. Elizabeth Warren's supporters say her the political video she released this week along with the results of a DNA test suggesting she has Native American ancestry show she is capable and willing to confront the president's personal insults -- calling her "Pocahontas" for years in reference to controversy over her heritage.
"Senator Warren is showing Democrats how to fight back against Donald Trump, beat him at his own game, and get past silly distractions so we can focus on issues that impact working people's lives every day," Adam Green, the co-founder of The Progressive Change Campaign Committee, said in a statement to ABC News this week.
But some Democrats worry the senator only created a huge distraction from the issues and the midterm election, which is just three weeks away.
"Now we are talking about Warren's DNA, instead of health care," one senior Democratic adviser told ABC News. He worried about sounding too confrontational about a senator he likes and may still back in the 2020 primary.
Other top Democratic advisers working with senators on Capitol Hill and in campaigns around the country who did not want to be named dismissed the issue too and sounded exasperated, saying they are squarely focused on the election this November where Democrats are hoping to win majority in either chamber of Congress.
Green, who has worked closely in the past with Warren, defended the timing, saying Warren has "zero desire to be talking about her DNA."
"She knows the sooner that silly distractions are dispensed with, the more we can all focus on the real issues that impact working people every day. That helps Democrats and hurts Trump," he added.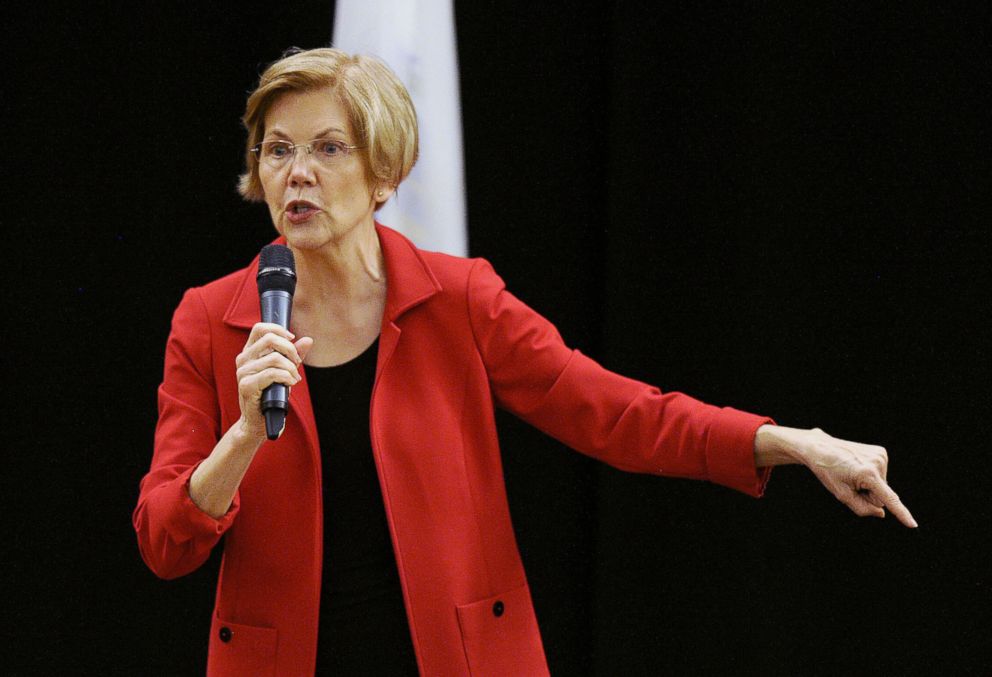 Warren called the president's bluff by taking the DNA test, but at what cost? The results suggested "strong evidence" of Native ancestry 6-10 generations back, but that only seemed to give Trump fodder. He has attacked her relentlessly as a "total fraud," among other insults and more racial slurs.
Did addressing the issue at this crucial time and prolonging the fight help other Democrats, the party or just her? And actually, did it really help her at all?
Others piled on to Trump's criticisms, generating a raft of unfavorable headlines. And while she did receive support from some Native leaders -- such as New Mexico congressional candidate Deb Haaland, who will likely be the first female Native American in Congress ever who tweeted her support -- others in the Native American community opposed her move.
Cherokee Nation Secretary of State Chuck Hoskin Jr. wrote Monday that "a DNA test is useless to determine tribal citizenship. Current DNA tests do not even distinguish whether a person's ancestors were indigenous to North or South America…. Using a DNA test to lay claim to any connection to the Cherokee Nation or any tribal nation, even vaguely, is inappropriate and wrong."
Warren specifically said in her video that she is not making any claim to tribal membership, but the optics weren't great.
There's also a certain level of discomfort for Democrats with how her story relates to the larger debate about affirmative action and identity. Democrats have touted the importance of diverse backgrounds in classrooms and boardrooms and argued that standardized tests unfairly favored white applicants.
While there has been no evidence that Warren received preferential hiring treatment due to claims about her ethnicity (law schools later listed in her biography her partial Native heritage) the drama could be too off-putting for Democratic voters with many options in 2020.
The 5-minute, highly-produced, campaign-style video the senator released with her DNA results, which included conversations with her family and former colleagues, appeared to be the latest in a list of calculated moves leading up to a formal announcement of a presidential run.
That's on top of releasing 10 years of her tax returns online, rapidly hiring staff, adding policy papers and networking across the country.
Maybe taking the early fight to the president will look strong and intriguing to early primary voters, but the coy non-announcement announcement could easily have rubbed some people the wrong way.