Helsinki, Finland -- "Weak," a "poodle," and a "stooge:" these were some of the ways European newspapers described President Donald Trump following his summit with Russian President Vladimir Putin this week.
On Tuesday, headlines and op-eds in major papers across Europe slammed Trump's decision to side with Putin over his own intelligence agencies on whether Russia meddled in the 2016 U.S. presidential election. Many outlets said the summit had made Trump appear craven and outmaneuvered by a more experienced Russian leader whom he was all too eager to befriend.
Spanish newspaper El Mundo ran with the headline "Trump surrenders to Putin after humiliating Europe."
British paper The Mirror branded Trump "Putin's Poodle."
France's paper-of-record, Le Monde, opened its editorial on the summit with a single word: "Weak."
The overwhelmingly negative coverage in part reflected a sense in Europe that Trump had spent his week-long trip insulting America's traditional allies before embracing Russia's authoritarian leader, who is accused even now of running a hostile campaign to undermine stability in European countries and the U.S. Coupled with concerns that the U.S. was turning away from Europe was a certain schadenfreude that a man who has touted himself as a strongman had found himself pandering to Putin in the eyes of many Europeans.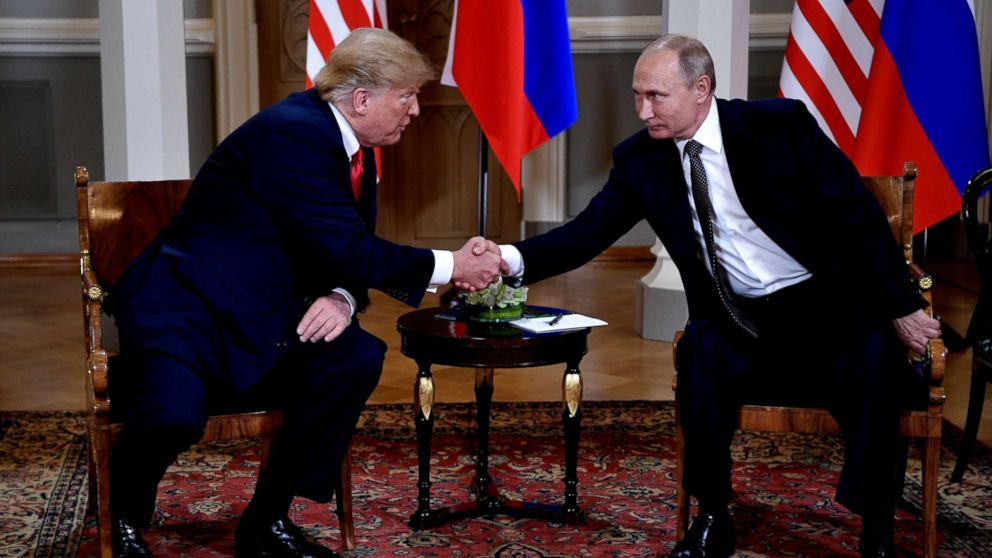 "In this bad reality TV sequence, Donald Trump has been reduced to the role of a stooge," the Le Monde editorial read.
The reaction among European officials and mainstream media echoed much of that in the U.S., where both Republican and Democrat lawmakers have described Trump's behavior at the press conference with Putin as "disgraceful" and even treasonous.
More than betrayal, though, the prevailing sentiment in Europe appeared to be a sense that under Trump, it is a mistake for Europe to rely on the U.S.
"It's not really shock anymore, because Trump has sort of proven this capacity many times," said Jeremy Shapiro, a former State Department official who is now the research director at the European Council on Foreign Relations.
"I think what it demonstrates to particularly the Eastern Europeans is that Trump really can't be counted on to defend them against Russia," Shapiro said. "That this is a guy who really can't be counted on, who for reasons that no one seems to understand seems to do whatever Vladimir Putin wants him to do."
In particular, Trump's decision to embrace Putin without confronting him over past or even present hostile actions revived worries in Eastern Europe that America's commitment to defending NATO members was less than rock solid. Those alleged hostile actions include Russia's covert war in Ukraine, the poisoning of a former Russian agent and his daughter with a nerve agent in the U.K., and Russia's ongoing cyber attacks against the U.S.
Radek Sikorski, an outspoken former Polish foreign minister wrote on Twitter: "And now, as a U.S. ally, we are supposed to believe that if President Putin launches a hybrid war, or even a nuclear strike against Poland, President @realDonaldTrump will threaten to nuke him back."
Other Eastern European officials currently in power, however, played down such fears and said the significance of the summit was being overblown.
"As #NATO ally we hope to receive US debrief on US-Russia #HelsinkiSummit2018, prior to that I would not rush into any judgment, dialogue that is based on principles is welcome but also details matter a lot," Latvia's foreign minister, Edgars Rinkevics, wrote on Twitter.
An ambassador to a Baltic country told ABC News that it had been a "very strange summit in several respects" but that they were relieved there had been no sign of change in the U.S.'s stance on Russia's occupation of Crimea or on American and NATO troop rotations in the region, which are meant to deter Russia.
"I think the concern is there that the president might change his mind and do things that might be ill-conceived," the ambassador, who requested to speak anonymously because of the sensitivity of the subject.
There was also an expression of support for Trump from Italy's populist government that was recently elected on a Trump-style platform based around attacks on the European Union and hardline anti-migrant rhetoric.
Matteo Salvini, Italy's interior minister, leader of the far-right League party and a vocal Putin supporter, was in Moscow on the day of the summit, meeting with Russian officials. In a Twitter post, Salvini wrote he wanted to host Putin and Trump next.
"I would like the next summit to take place in Italy, to talk with strength and courage about security, peace, work and economic growth. Good job Presidents!" Salvini wrote in Italian.
For their part, Russian officials and Russian state media praised Putin as having opened a possible new chapter in U.S.-Russia relations. Russia's foreign minister Sergey Lavrov described the summit to state news agency Ria Novosti as "better than super."
But notably, Russian media were more subdued in their support of the summit, instead praising it for going smoothly and without upset even if it lacked much substance. It was a far cry from the intensity of sentiment in the U.S., where media organizations have covered the uproar unleashed by Trump's comments.
Many Russian commentators also expressed skepticism that Trump would now be able to follow through with his pledges for greater cooperation with Russia, given the hostility he faces at home.
ABC News' Tara Palmeri and Kaelyn Forde contributed to this report.