It was a short trip for a new mom, but a big advance for the women of the Senate.
Sen. Tammy Duckworth, D-Ill., an Iraq veteran and double leg amputee, made Senate history as she was wheeled onto the Senate floor Thursday and cast a vote while cradling her tiny infant daughter Maile.
Just the night before, the United States Senate — a body steeped in tradition that rarely changes its ways — passed a rule change proposed by Duckworth that will allow her, and any woman of the Senate, to bring babies onto the floor and breastfeed them as needed.
Duckworth was met on the floor by a round of applause from her colleagues, who crowded around to congratulate her and greet her daughter.
The resolution, passed by unanimous consent, will allow all senators, men and women, to bring children under the age of one onto the floor.
In a statement released Wednesday, Duckworth thanked her Democratic and Republican colleagues for "helping bring the Senate into the 21st Century by recognizing that sometimes new parents also have responsibilities at work."
Last week, Duckworth, an Illinois Democrat, became the first sitting senator to give birth while in office — and with that, she's experiencing for the first time in history how a new mother might try to balance the needs of a newborn with her duties in the Senate. Before the rule change, no children were allowed on the Senate floor, which could pose a host of problems for a senator with a newborn to take care of and feed, an aide to Duckworth said.
"By ensuring that no Senator will be prevented from performing their constitutional responsibilities simply because they have a young child, the Senate is leading by example and sending the important message that working parents everywhere deserve family-friendly workplace policies," Duckworth said after the resolution passed.
Sen. Amy Klobuchar, a Minnesota Democrat, is the ranking member on the Senate Rules Committee, which passed the rule change Tuesday night.
"The Senate doesn't change a lot of things but I think it's time to join the real world with family-friendly policies," Klobuchar said in an interview with ABC News before the resolution passed. "We have to be an example for the rest of the country and that's why we're doing this, in addition to — we'd like more women in the Senate," she said.
"Tammy is the ultimate working mom. She served our country in the military, she lost her legs, she had a baby at age 50 — it's kind of hard to say no to her," Klobuchar said of Duckworth, who lost her legs in 2004 when the Black Hawk helicopter she was piloting in Iraq was hit by a rocket-propelled grenade.
With the rule change, Duckworth will be able to remain on the Senate floor if she needs to breastfeed her baby during a series of votes, which can take hours, or bring her daughter if she's called in for a late-night, last-minute vote, an aide to Duckworth said.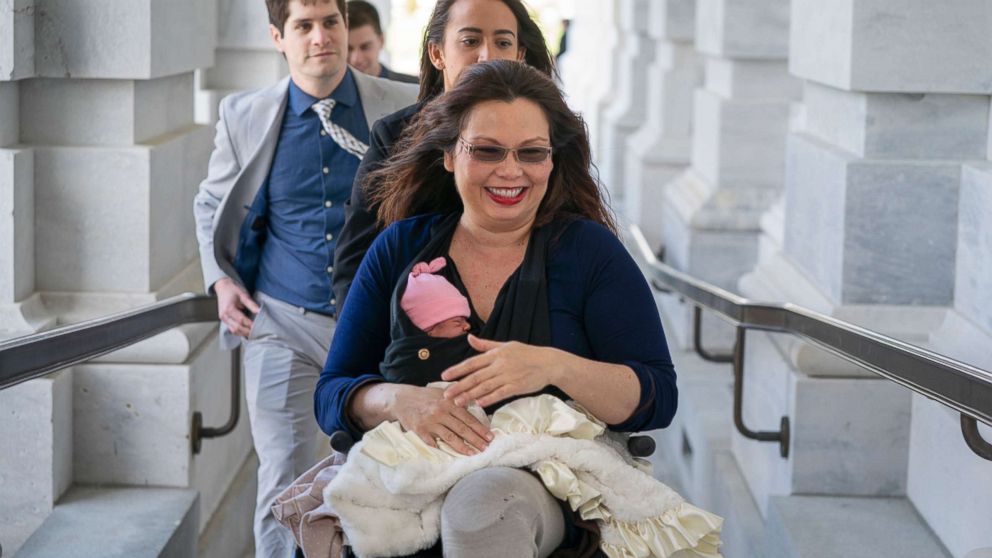 And, Klobuchar joked, the Rules committee has made a "unilateral decision" that there will be no dress code for the baby. "The various rules that apply to senators like not wearing tennis shoes or flip-flops will not apply to the baby," Klobuchar said. The baby will also not have to wear an official United States Senate lapel pin, and onesies will be allowed, she said.
Duckworth began negotiating the resolution over the course of her pregnancy with senators on both sides of the aisle. Her office was cautiously optimistic, bolstered by bipartisan support from the chairman of the Senate Rules Committee, Roy Blunt, a Missouri Republican and Klobuchar, a Duckworth aide said.
"These policies aren't just a women's issue, they are a common-sense economic issue," Duckworth said in her statement after the resolution passed.
A few months ago, Duckworth predicted that her pregnancy would force some family-friendly policy changes in the Senate.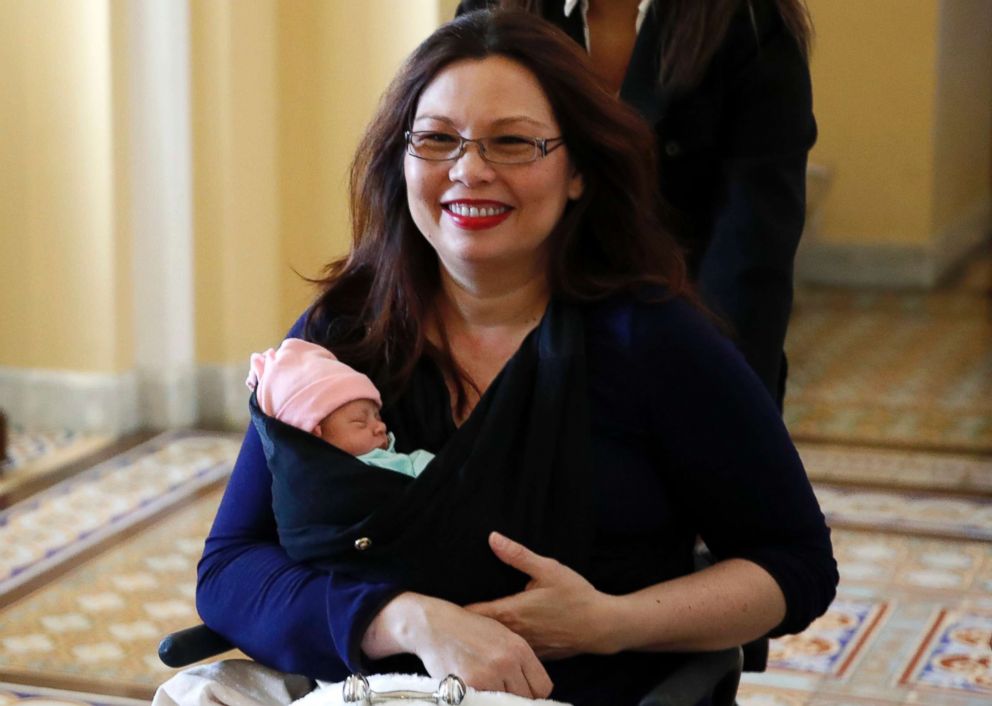 "Number one, it's going to change some Senate rules because I'm going to make sure it changes some Senate rules. The more women we get into office the more family-friendly legislation we're going to have," Duckworth said in February in an interview with Politico.
While Duckworth welcomed her second daughter, Maile Pearl Bowlsbey, on April 9, she isn't technically taking maternity leave, which would bar her from sponsoring legislation or voting for as long as she was out.
Instead, Duckworth will stay in Washington on an unofficial leave rather than heading home to Illinois. "She's taking much of the next 12 weeks to bond with her new daughter and with family but she is available to come in for close votes as needed," Duckworth's press secretary Sean Savett said.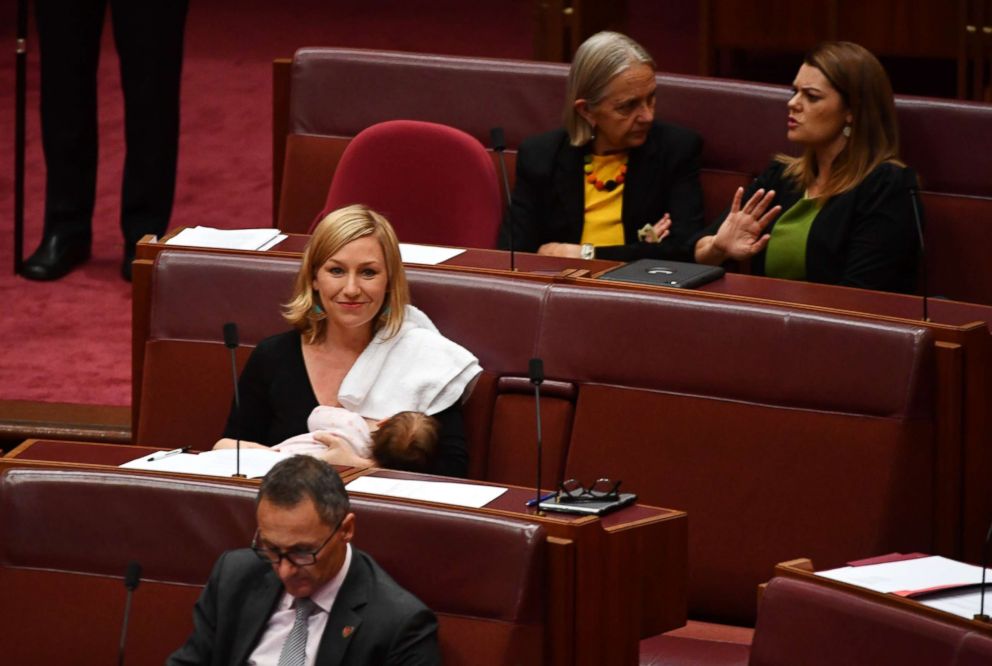 The current resolution doesn't tackle parental leave for senators, which doesn't exist because of the complexities of working that into a representative body, but it alleviates one problem parents might run into. Other fixes could be subsidized daycare, or not scheduling votes around specific time reserved for family, said Kelly Dittmar, a scholar at the Center for American Women in Politics and assistant professor of political science at Rutgers University in New Jersey.
"Those are all different ways to better accommodate the multifaceted lives of members without necessarily trying to find a way to take an extended leave, not because they aren't entitled to it, but because of complications that would raise in terms of our representative system," Dittmar told ABC News.
Rachel Pike-Norton, a constituent who voted for Duckworth in Chicago, had a baby just 12 weeks before the senator. With the non-profit organization PL+US, or Paid Leave for the United States, she started a petition asking that Duckworth be able to bring her baby onto the Senate floor. The petition now has over 20,000 signatures.
"As her constituent, it's great to see her in this position, really dedicated to her job and to being a mom, but hard to see the rules keeping her back at the same time," she said in an interview before the resolution passed.
Though she's dealing with her own challenges as a working mother with a newborn, Pike-Norton said she wanted to start the petition for Duckworth, and future senators, because it encompasses what it means to be a working mom.
"I do think some of these policy changes will make that a little easier," she said. "We're not asking for special treatment — it's just that we also have this other huge title, being a mom," Pike-Norton said. "At its core what the conflict is is that you need to be accessible to the baby," she said.
And it's a conflict that will come up more and more often as more women are elected to the Senate, said Pike-Norton, who used to work as a Senate staffer.
"It's the ultimate conflict as a working mom. You feel a sense of duty to your work and to your family and you feel conflicted all the time. Am I doing a good job being a mom? Am I doing a good job being an employee? I feel that way today," she said in a phone interview from her home in Illinois, where she was home with her 13-week-old son.
"I think it's time for this change, it's an easy change, it makes sense, she's a working mom — we should allow her to be a working mom and make things a little bit easier for her," Pike-Norton said.
The Senate changed its rules in 1977 to allow service dogs, wheelchairs and interpreters on the floor. While Duckworth was just nine years old at the time, it is a change that now affects her life greatly given her disability.
Klobuchar said it's well past time for the Senate to change its rules once again.
"The truth is, too many American moms aren't in positions of power to change the rules, which is why it's so important for those of us who are in positions of power to be champions of change, not just here in the Senate but in workplaces across the country," Klobuchar said on the Senate floor Tuesday night.
ABC News' Ali Rogin contributed to this report.