— -- This year's elections are expected to be the costliest midterm elections ever due in large part to the massive increase in unfettered spending, much of it called "dark money," made possible by a 2010 Supreme Court ruling.
The bottom line for this year's races is going to come down to $3.67 billion, which the Center for Responsive Politics reports is the most expensive midterm campaign ever.
That total nudges past the last midterms in 2010, which CRP reports cost $3.63 billion, but experts believe it's the way in which the costs were increased that is more important than the total number.
"To me, what's most troubling about all this is not just that there's been an increase, but that we don't know who is behind the spending," Lawrence Norden, a deputy director for New York University's Brennan Center for Justice, told ABC News.
"It's directly traceable to that Citizens United decision," he said of the 2010 Supreme Court case that allowed corporations to make unrestricted donations to campaigns.
The court ruling has created two massive streams of political cash. One is the Super Pacs which can spend millions on an election without being affiliated with or supervised by a candidate or a political party. The second stream is made up of dark money groups that are classified as non-profit organizations, but their donor lists do not have to be submitted to the Federal Election Commission.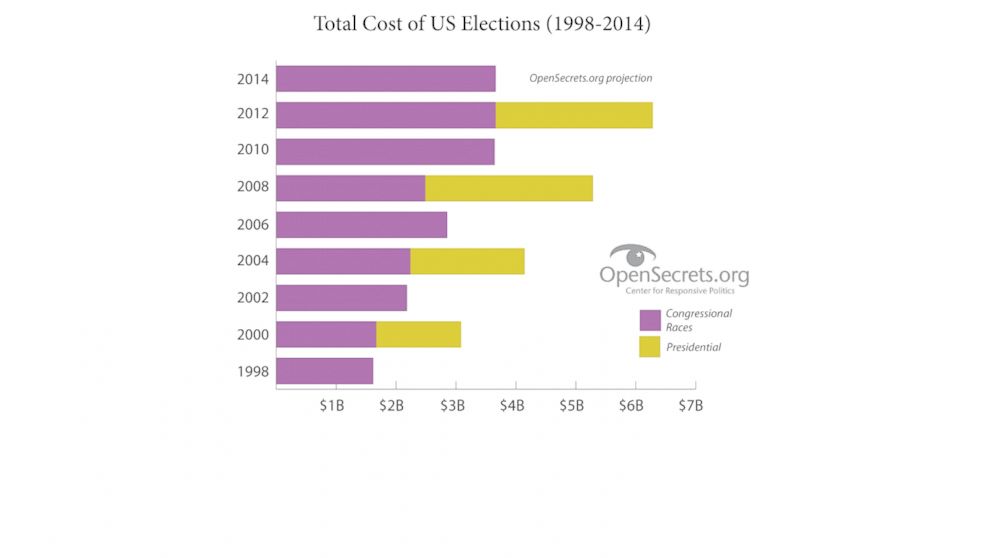 Because the names of the dark money donors are not made public, deep-pocketed donors can effectively double their efforts influence particular races. For instance, former Bush adviser Karl Rove runs American Crossroads, a Super PAC, while also being the head of Crossroads GPS, a dark money group.
This election cycle has been a particularly big one for such dark money groups, Norden said. Dark money groups will have spent nearly $200 million in the 11 most competitive Senate races this year, which is more than double the $97 million they spent in 33 competitive Senate races in 2012.
"From what we've seen from the past few elections is that these trends keep getting more and more extreme," Norden said. "That there's more and more outside money and more and more of it keeps coming from unknown sources.
That is certainly the case in the tight Senate race in North Carolina, where Sen. Kay Hagan is trying to keep her seat for the Democrats while facing tough competition from Republican Thom Tillis. The estimated combined cost for that race ranges with The Sunlight Foundation guessing it will be more than $100,000,000 to Norden who puts that number closer to $130,000,000.
CRP says that outside groups-- meaning all non-candidate, non-party groups like Super PACs and dark money groups-- spent $58.1 million on the race as of Oct. 29. On top of being the most expensive race in Senate history, it earns another title by being the race to have attracted the most spending by outside groups. That record was previously held by the 2012 Virginia Senate race that Democrat Tim Kaine won, where $52.4 million was spent by outside groups.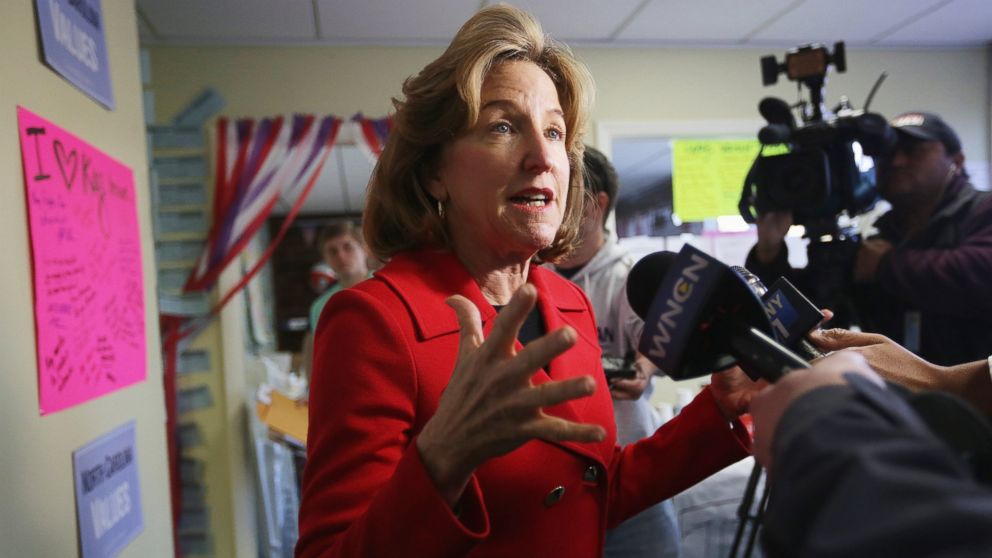 "The Supreme Court would have you believe that more speech is better and by having these kinds of outside groups you have a more robust debate in America, but I think that that being said anybody who is in one of the states with a competitive senate race will tell you that they're seeing the same messages over and over and over again," Bill Allison, the editorial director of the non-profit, non-partisan Sunlight Foundation, told ABC News. "It's all sort of the same political professionals running with the same kinds of ads."
For Brian Baker, the president of conservative Super PAC Ending Spending Action Fund, the Supreme Court ruling made spending a part of the constitutional right to free speech, and should be protected as such.
"I'm a huge huge fan -- a big believer -- in the Constitution," Baker told ABC News.
"There are groups in the political space that are exercising their First Amendment rights and there are other groups and, in the process of exercising their First Amendment rights, they're trying to take away mine," he said.
Get real-time results pushed to your phone on Election Night. Click here to sign up for the races that matter most to you.