There's a vivid term mental health experts use to describe the destruction of the love of life in another human being, especially in a child: It's called "soul murder." It can happen as a result of physical abuse, they say, but just as easily, as a result of psychological violence, including when children are separated from their parents.
"Two of the most damaging childhood adversities are loss of the attachment bond with the parents and childhood physical and sexual abuse," University of Texas psychiatry professor Luis Zayas told ABC News. "If you want to damage someone permanently, expose him or her to one or both of these traumas."
Speaking to the National Sheriffs' Association Monday, Homeland Security Secretary Kirstjen Nielsen said that "it is important to note that these minors are very well taken care of — don't believe the press. They are very well taken care of."
Maybe so, but for children and adolescents forced separation is still psychological damaging, whatever the physical circumstances of the facility where they are housed.
"No amount of colorful rooms with lots of great toys, regular meals, and health and education services takes away the psychological impact of losing your parents," said Zayas, the dean of UT Austin's School of Social Work. "The damage that will be done will last a lifetime."
After visiting a shelter in Texas, the president of the American Academy of Pediatrics, Dr. Colleen Kraft, in a television interview, likened what she saw to abuse.
"It is a form of child abuse," Kraft told CBS News. "This type of trauma can be long-lasting, and it's difficult to recover from this. We know very young children go on to not develop their speech, not develop their language, not develop their gross and fine motor skills and wind up with developmental delays."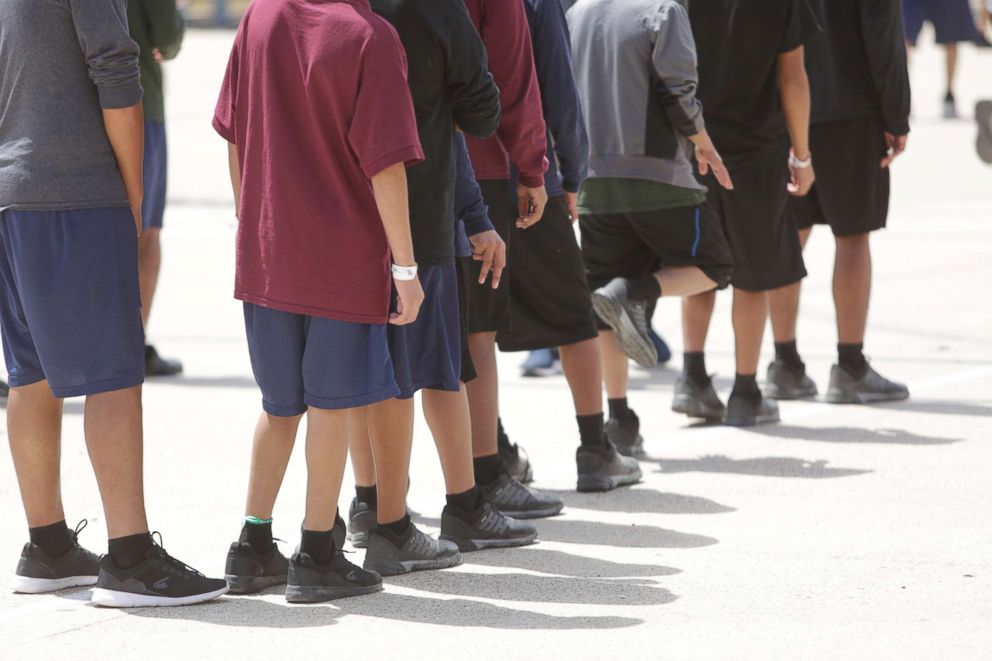 The Trump administration claims that the repurposed box stores and makeshift facilities now holding the migrant children separated from their parents are air-conditioned, with lessons and sports to divert the mind and body, safe beds to sleep in, and regular meals. Even if that's true, experts say, to the children confined inside, it can feel like prison.
"Detention of any kind—especially when separated from primary caretakers—will exacerbate symptoms, increasing the severity of trauma-related symptoms, depression, and anxiety," says Jodi Berger Cardoso of the University of Houston. "Children become hopeless and shut down from the stress. During this time, they need their primary caretaker to help reassure them that they are safe and loved. This cannot be done by strangers, no matter the quality of the facility."
There's a reason social workers are loathed to take children away from their parents unless it really is a matter of life and death: Study after study has found that children who are removed do no better than those who are left at home, even in terrible circumstances. One explanation is that any positive benefits of removal are outweighed by the serious trauma caused by separation.
"We do not want to separate children from their parents," said Attorney General Jeff Sessions Monday at the same event where Nielsen spoke. "But we do have a policy of prosecuting adults who flout our laws to come here illegally."
But the fact that there is a legitimate political debate over the rule of law and the morality of breaking up families doesn't negate the poisonous legacy of policies that pull families apart – policies like slavery, the forced assimilation of Native American and Australian aboriginal children, and the separation of parent and child on the southern border – different in scale, but not in effect on individual children.
"Even a week in detention, under circumstances like the ones we're seeing in immigration enforcement, can be devastating," says Zayas. "Young children's incapacity to understand time makes 50 days equal to 50 months, they simply cannot grasp it. Just look at how children view a school day of six hours or even a visit to some boring relatives' home, as an eternity."
The feeling of loss is so profound that it can trigger serious mental illnesses like schizophrenia, or cause what psychologists call dissociation – the sense of being an observer over your own body - a dangerous mental rupture that can lead to serious problems including multiple personality disorders.
"Daily life for children becomes very difficult. Getting up, going to school, taking care of themselves, feels like impossible tasks," says the University of Houston's Berger Cardozo, who has done extensive research on detained migrant children. "Like anyone who is in a heightened state of fear and isolation, it triggers fight or flight responses in our body. Children may try to fight through their emotions but eventually, their bodies and minds will be overwhelmed with the stress and they will begin to shut down."
"Whether its drug abuse or crime or deviations and perversities or mental health problems or inability to function in society or suicide, the damage will take its course," says Zayas. "Long-term psychological problems emerge and chronic illnesses appear in early adulthood that plague the person for the rest of their lives. Their lives are shortened."
Even if they do understand that the parent is alive and that they will likely be reunited after the process works itself out, it can still feel to a child like a parent had gone forever, Zayas worries that the worst fears of the children may come true.
In May, the Department of Health and Human Services, which is responsible for the children's wellbeing and reunification, told Congress that it had lost track of 1,475 children who had crossed the U.S.-Mexico border alone and were then placed with U.S. sponsors in 2017.
"These children will live in hope of reuniting but mostly they will be forgotten," says Zayas. "Considering the vast numbers of children in over 14 states, the government and contract agencies will surely lose records, fail to keep track of parents' whereabouts, and fail to reunite children with their parents."