Federal workers on Friday said they were looking forward to getting paid after President Donald Trump announced a potential deal to reopen the government for three weeks, but are still concerned about what happens once that deadline is up.
The deal, which expires on February 15, allows the federal government to resume its operations while Republican and Democratic leaders discuss terms on border security funding, the issue Trump pegged the partial shutdown on.
"I'm looking forward to getting another paycheck, but my long-term concern is whether I'll continue to make paycheck on a regular basis," Monique Bortey, a contractor at the Commerce Department said on ABC News Live.
But Bortey also said she was unsure if she'd receive back pay because of her status as a contractor.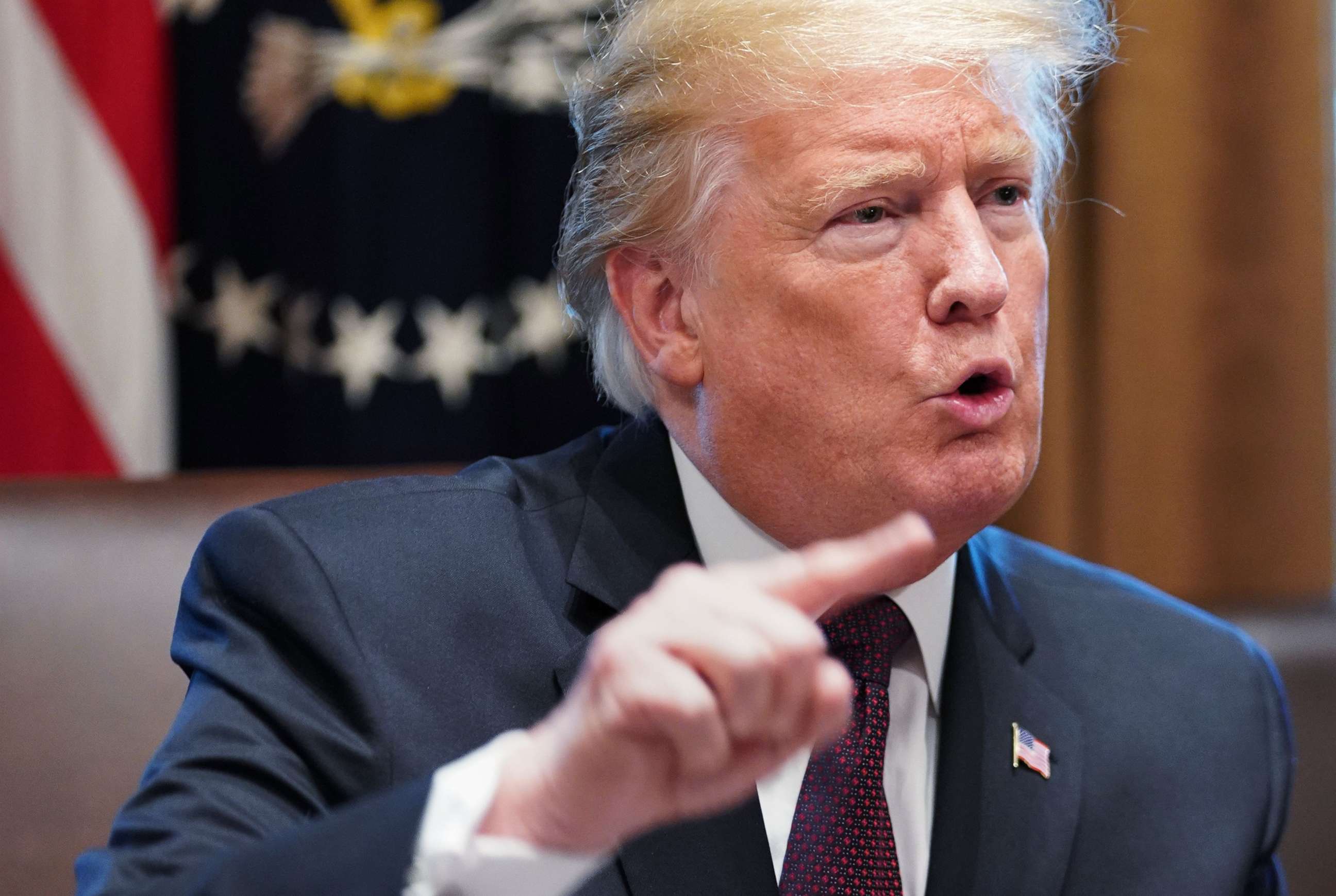 "It's like we're starting from scratch," she said.
A senior official at the Office of Management and Budget told ABC News that "payroll issues vary by agency" and that "employees can find more information about paycheck details by reaching out to their agency."
Pay aside, other federal workers said the three-week detente throws into limbo some of their projects with protracted timelines.
Carsen Mata, an Environmental Protection Agency official based in New Jersey, said "it's a challenge to plan" some of her long-term cleanup projects not knowing if she'll be working after mid-February.
"Are we going to have to go through this mess again?" Mata said.
The partial government shutdown, over at Day 35, caused hardships for tens of thousands of federal workers who missed a second paycheck Friday – and led to major disruptions for air travelers.
Air traffic controller staffing shortages caused slowdowns in New York and Florida airports Friday morning, including a full ground stop at LaGuardia Airport that was later lifted.
The staffing shortages mainly stemmed from Washington and Jacksonville, Florida, airports, an FAA spokesperson said and had ripple effects that slowed the New York airspace. Newark International Airport, Philadelphia International Airport and Tampa International Airport also experienced delays.
An FAA spokesman said the staffing shortage came from an increase in sick leave, which has also been reported by TSA and the IRS as workers struggle to report to work without being paid.
At the IRS, more than half of the employees who had recently been recalled to work during the shutdown hadn't shown up, according to a congressional aide, driving concerns that tax season, which starts Monday, will be slow or chaotic. The IRS briefed Congress behind closed doors Thursday, telling staffers that 14,000 of the 26,000 workers recalled to work without pay at IRS processing and call centers across the country were absent – and while about 9,000 of the workers weren't reachable, 5,000 claimed financial hardship, a House Democratic staffer told ABC News.
As many as 800,000 federal workers are set to miss their second paycheck over the next few days. Speaking in the Rose Garden at the White House Friday, Trump said he hoped workers would get back pay for the missed paychecks either "very quickly or as soon as possible."
Lamar Cobb, who has been a TSA officer for 11 years at Baltimore/Washington International Thurgood Marshall Airport, was one of the thousands of federal officers who missed a paycheck Friday.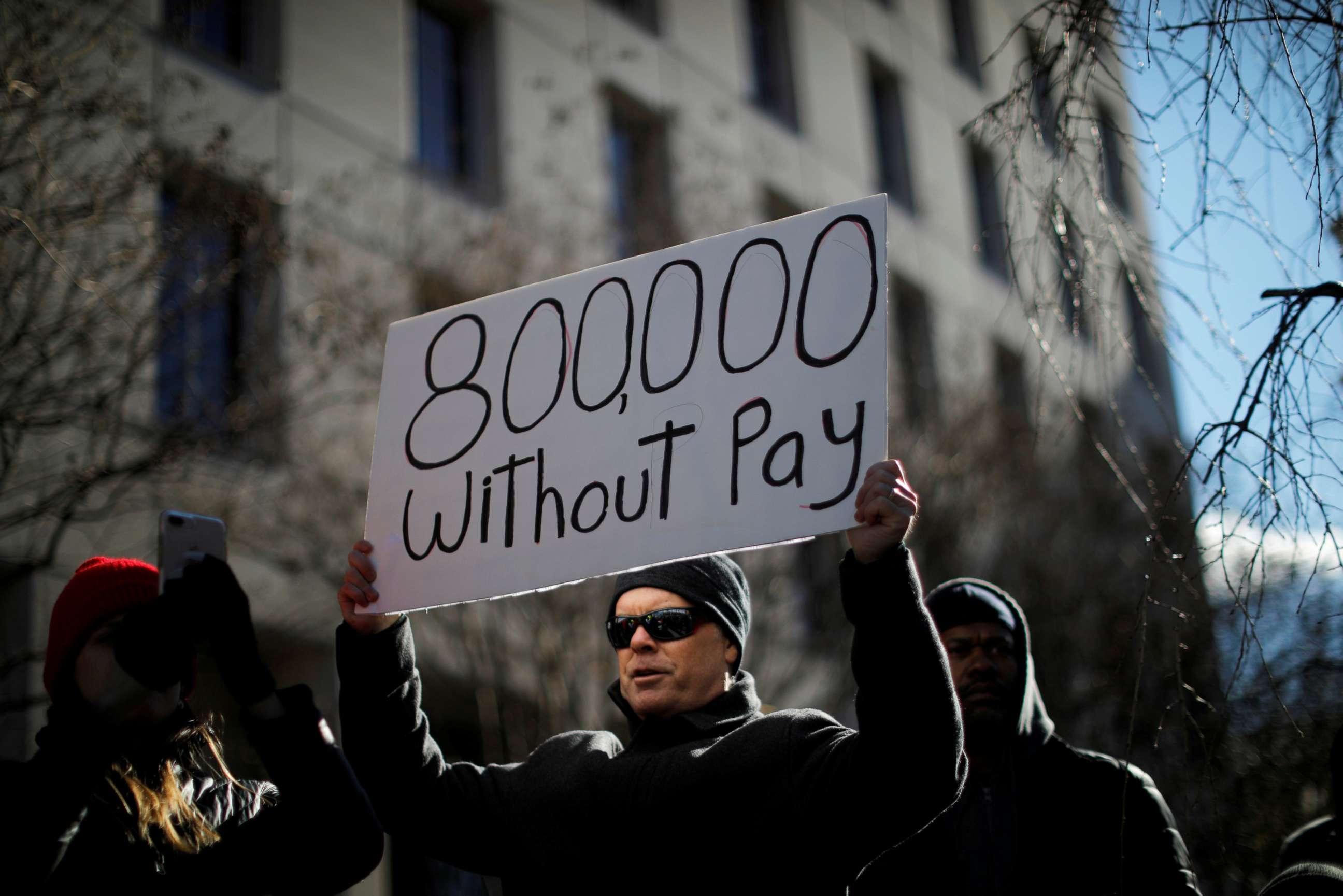 The impact took its toll on him and his family, he said, including on his 10-year-old daughter. He had a particularly hard time trying to explain why he had to pull her out of her cheerleading program: he hadn't been paid in 35 days and still doesn't know when his next paycheck will come.
"I'm still a great dad regardless of whatever but its hard for me to explain this to her," said Cobb in an interview with ABC News on Thursday.
"Nobody is saying hold on. Nobody is saying hold on. Everybody thinks it's going to last until March, April – and they're weighing their options," said Cobb.
Paychecks will continue to be missed for federal employees across a host of different agencies in a ripple effect, including the Department of Interior and the Department of Treasury in the days after, according to the pay calendar kept by the Navy Federal Credit Union, one bank that services federal workers.
Members of the Coast Guard were scheduled for their next paycheck to be delivered on Wednesday, Jan. 30.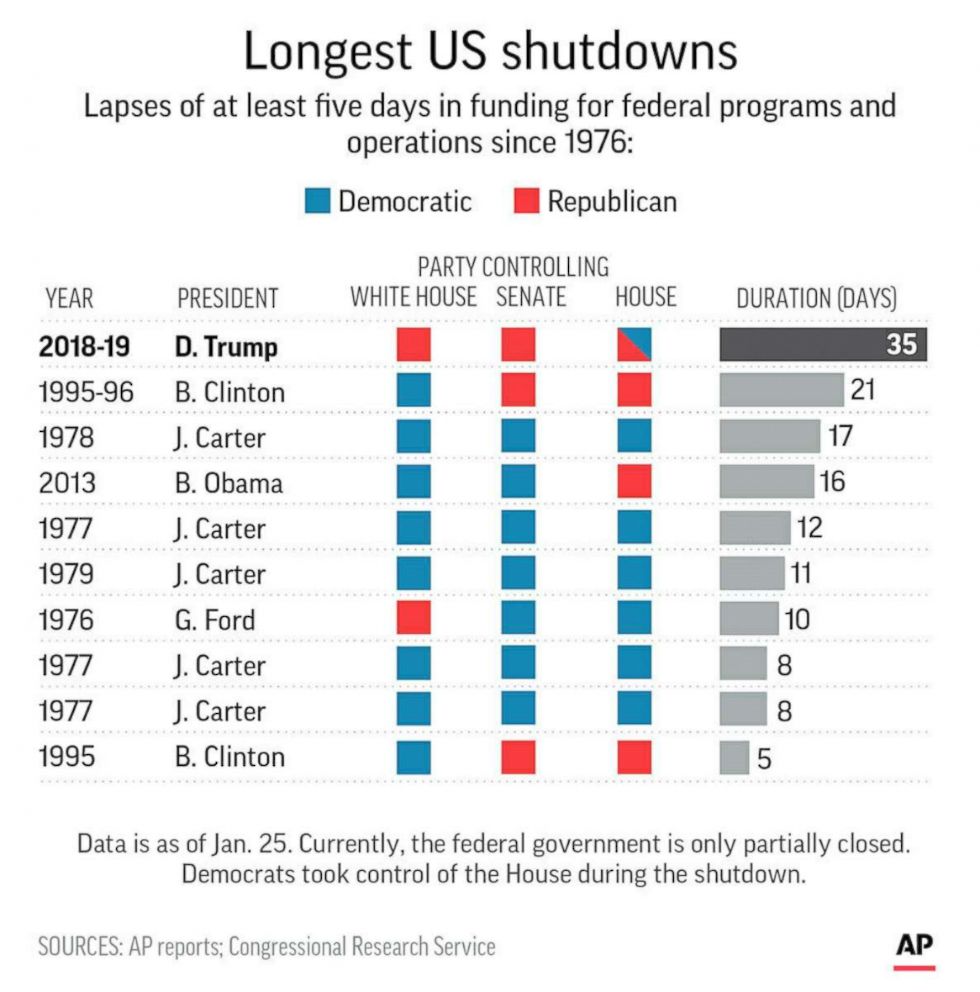 Early Thursday, Commerce Secretary Wilbur Ross came under fire for making comments that downplayed the hardship federal employees were facing. Later in the day, Ross acknowledged some of those difficulties.
"You're talking about 800,000 workers," the secretary initially said. "And while I feel sorry for the individuals that have hardship cases, 800,000 workers if they never got their pay -- which is not the case, they will eventually get it, but if they never got it, you're talking about a third of a percent on our GDP [Gross Domestic Product] so it's not like it's a gigantic number overall."
Cobb, who said he works with many employees who are single mothers, are fresh out of school and have debt, or are currently putting themselves through school, explained why he doesn't find comfort in just knowing a paycheck will eventually come.
"People feel like, 'I have no idea when it's going to end,'" he said. "We are family the officers so when things like this happen we all feel helpless, people coming in crying because they don't know how to pay -- it's just so tragic.
"If this goes on for months you have people that will be homeless," Cobb added.
A 2018 study from Northwestern Mutual found that 21 percent of adults have nothing saved for retirement, and another 10 percent have less than $5,000 saved.
Car payments, childcare, mortgage payments – they all can drain savings quickly when there's no replenishment, he said.
"It's hard for people. It's hard for people to come to work – the morale goes down, the work ethic goes down because you're stressed out," he said.