Pennsylvania Sen. John Fetterman is "well on his way to recovery" a little more than two weeks after he first checked himself into a Washington hospital "to receive treatment for clinical depression," his chief of staff said on Monday.
Adam Jentleson shared the health update in a tweet along with photos of Fetterman, a Democrat, reviewing proposed rail safety legislation.
"[He] wanted me to say how grateful he is for all the well wishes. He's laser focused on [Pennsylvania] & will be back soon," Jentleson wrote.
Fetterman's spokesman, Joe Calvello, had said in a statement on Feb. 27 that he was "doing well, working with the wonderful doctors, and remains on a path to recovery." Calvello stressed then that Fetterman's staff remained busy, including by opening satellite offices in Pennsylvania and "keeping [Fetterman] updated on Senate business and news."
The senator sought treatment on Feb. 15, Jentleson announced in a statement at the time: "While John has experienced depression off and on throughout his life, it only became severe in recent weeks."
Jentleson said then that Fetterman was evaluated on Feb. 13 by Congress' attending physician, Dr. Brian P. Monahan, who "recommended inpatient care" at Walter Reed hospital. "John agreed, and he is receiving treatment on a voluntary basis."
"After examining John, the doctors at Walter Reed told us that John is getting the care he needs, and will soon be back to himself," Jentleson said.
Fetterman won his seat in the November midterms. He suffered a stroke during the campaign, which his doctors said was the result of irregular heart rhythm that led to a clot.
He recovered before the election and returned to the trail, albeit with limited appearances. After the stroke, he worked with a speech therapist and also has had auditory processing issues that require the use of closed-captioning devices.
"He has no work restrictions and can work full duty in public office," his doctor said, via his campaign, in October.
Earlier in February, Fetterman was hospitalized for several days of observation after feeling lightheaded, though his aides said testing had ruled out seizures or another stroke.
A source close to Fetterman, who spoke on the condition of anonymity, told ABC News in February that his current hospitalization had no direct connection to the stroke he survived.
He hadn't been eating regularly and "he's been doing his job, but he just seems off," the source said last month.
"This is an ailment -- it's a different ailment," the source said. After the stroke, Fetterman "was still himself. The last couple of weeks, he hasn't been himself."
Fetterman's family has no timeline for inpatient or outpatient care but believe it's "weeks, not months -- and not days" that he will likely be away from the Senate.
"Depression is very treatable. A lot of people don't seek treatment because of the stigma. ... What John Fetterman is doing right now is exactly what people should do when experiencing mental health challenges," the source said.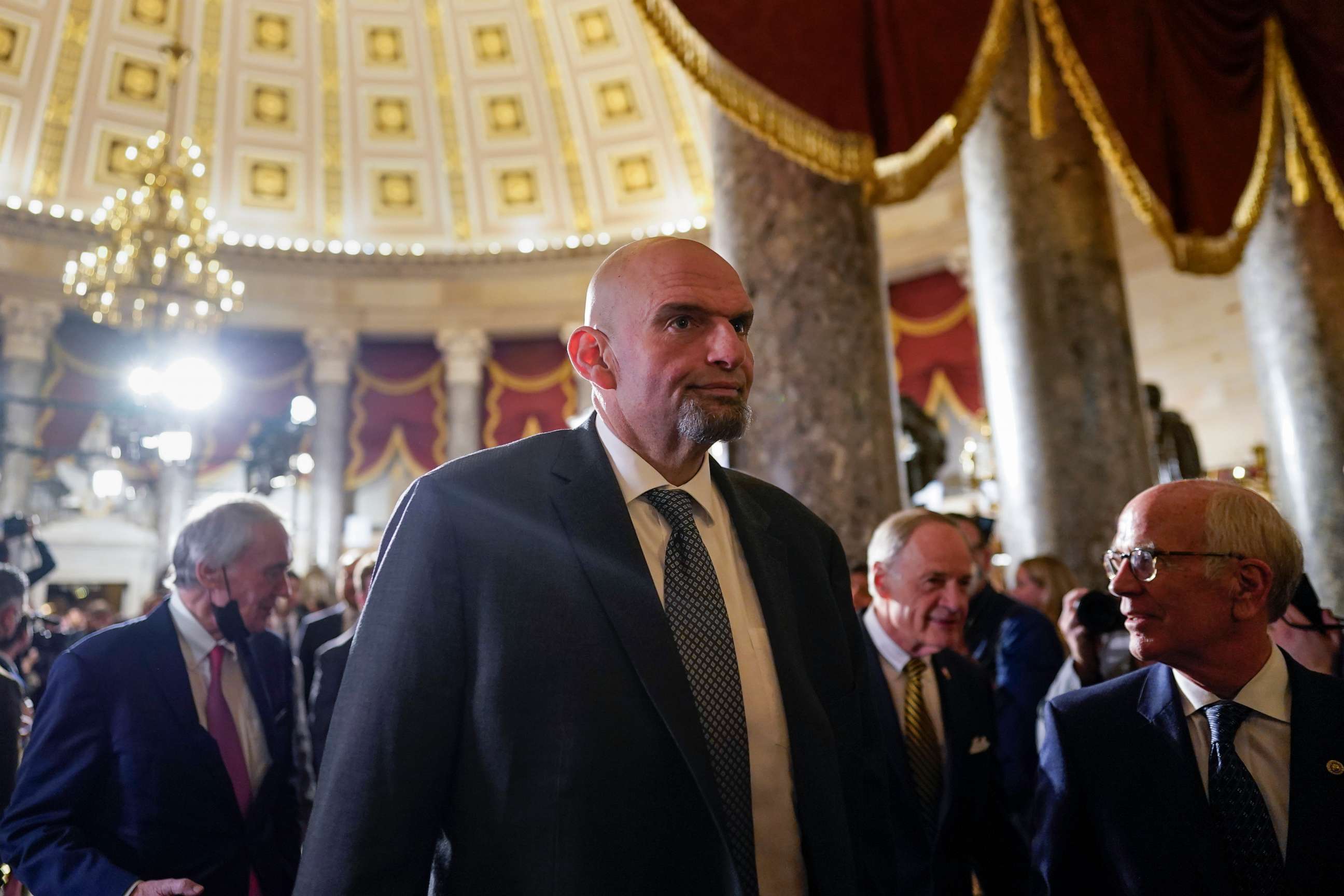 Senate Majority Leader Chuck Schumer tweeted in support of Fetterman soon after he announced he was getting treatment, writing, "Happy to hear [he] is getting the help he needs and deserves. Millions of Americans, like John, struggle with depression each day. I am looking forward to seeing him return to the Senate soon. Sending love and support to John, Gisele, and their family."
Some Republicans echoed that. Texas Sen. Ted Cruz tweeted that he and his wife were "lifting John up in prayer. Mental illness is real & serious, and I hope that he gets the care he needs. Regardless of which side of the political aisle you're on, please respect his family's request for privacy."
Fetterman's wife, Gisele Barreto Fetterman, wrote on Twitter that "this is a difficult time for our family, so please respect our privacy. For us, the kids come first." She and the senator share three children.
"Take care of yourselves. Hold your loved ones close, you are not alone," she wrote, while praising her husband for "asking for help and getting the care he needs."
"After what he's been through in the past year, there's probably no one who wanted to talk about his own health less than John," she wrote. "I'm so proud of him."
ABC News' Will McDuffie, Allison Pecorin, Lauren Peller, Trish Turner and Alisa Wiersema contributed to this report.