—NEW YORK -- As Donald Trump arrived in Manchester, New Hampshire, for a rally a week ago, he stepped out of his motorcade and was greeted by a familiar face: Corey Lewandowski's.
Lewandowski was fired as Trump's first campaign manager on June 20. Faced with internal fighting, Trump's losing ground in the polls and the candidate's and his family's alleged lack of confidence in Lewandowski, the campaign cut him loose.
He was escorted that day from Trump Tower in New York by the very security detail that had helped him check for hidden listening devices in the campaign office weeks earlier.
Now, a few weeks and a lucrative cable network contract later, he is back in the fold, according to multiple campaign sources. They describe his relationship with the candidate as stronger than ever.
Each day, Trump wakes up, usually in his Fifth Avenue penthouse, and has a routine round of phone calls, sources say, including calls with his campaign leadership (which has changed in recent weeks), his children, some close allies and, quite frequently, Lewandowski.
"They talk almost every day," one senior level campaign staffer said, requesting anonymity.
The billionaire's children fired Lewandowski — an effort spearheaded by Donald Trump Jr., along with his sister Ivanka Trump and her husband, real estate mogul Jared Kushner, according to sources.
The former campaign chief has not been in Trump Tower since the day security walked him out. His Secret Service pin, gone.
But his clearance has apparently been restored for any Trump rally he attends. "It's a direct order. If Corey is at a rally, you give him an S pin," one staffer said, referring to the pins distributed by the Secret Service recognizing a person who is cleared to enter restricted areas.
Lewandowski, 42, declined to comment for this article because of his contractual obligations to his new employer, CNN. In an email, the network said he has an exclusive contract with CNN and would not be available to comment. The Trump campaign did not respond to a request for comment.
At the Radisson Hotel in Manchester, New Hampshire, on Thursday last week before a Trump rally there, Luciano Pavarotti was blasting, and the lighting was tweaked to make the right mix of red and blue to create a purple hue. CNN anchor Anderson Cooper, a colleague of Lewandowski's, was waiting for an interview with the Republican nominee.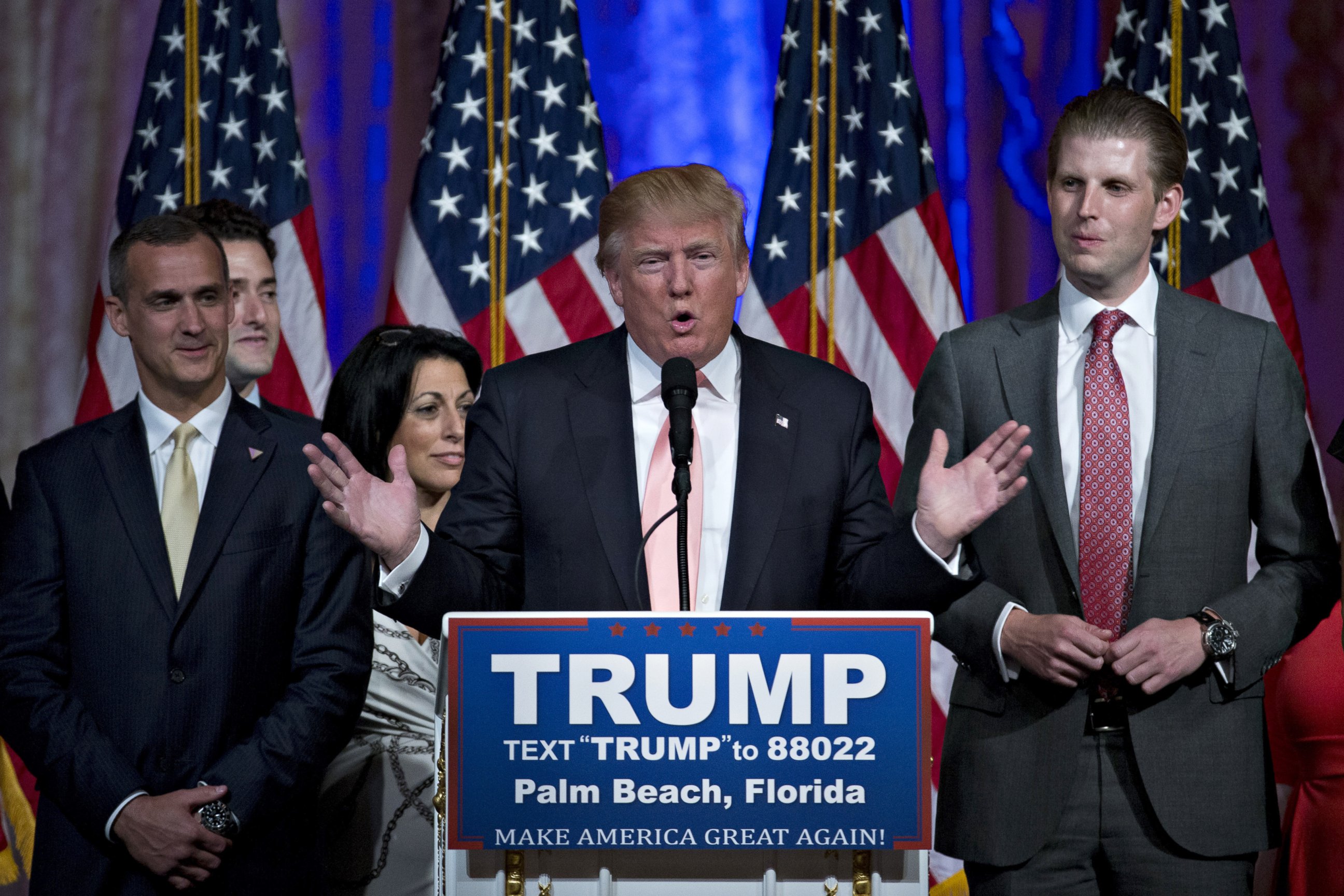 It all appeared normal. Lewandowski escorted Trump to meet with a group of VIPs, and the candidate then met with his leadership team in New Hampshire. And as the Republican Party nominee spoke, Lewandowski was right there, just off the stage.
Seven months ago, it would have been a typical day in the Trump campaign. Now, despite his ouster, Lewandowski was still running the show in the Granite State. With an S pin affixed to his green shirt as he barked at staff with commands, he was back to, as one staffer put it, his "glory days."
New Hampshire holds a special place in the Republican nominee's heart because it was his first win in the primaries.
"Corey and Mr. Trump are very good friends," a campaign adviser with the state operation said.
Lewandowski, who lives in the state, was on the ground for the entire week leading up to the New Hampshire primary in February. Now, with just over two months left in the race, a source said, he is spotted at rallies and relied upon by aides on the ground because "one phone call to Corey and it's done."
"He's not directly involved, but he's tight with this man [Trump]. They went through hell together to get to this spot," the adviser said. "Now that he's out of the campaign, when Mr. Trump gets elected, we will see Corey Lewandowski in some way shape or form once again."
On the floor of the Republican convention earlier this summer, Lewandowski nominated his former boss on behalf of the New Hampshire delegation. "I represent the people of the great state of New Hampshire," Lewandowski said during his brief floor remarks. "A state that was the first to recognize Donald J. Trump and deliver the first victory on his behalf on a path to 38 victories that he achieved."
In closing remarks, Lewandowski read through all the votes for other candidates, ending with those for Trump, saying, "And 11 votes for my friend and the next president of the United States, Donald J. Trump."
One senior level campaign official said, "He's more involved than anyone realizes."
Another senior-level aide said, "The days that Corey's influence were widely seen were the days that Trump wanted to go back to — the old days, how he ran it in the primaries," the person said, adding that Lewandowski "keeps telling him [Trump] to do what he wants, and for that, they'll go down together."
Former Trump political adviser Roger Stone said of Lewandowski, "He's a great advance man. On strategy, not so much."
Stone still speaks with Trump and has made his distaste for Lewandowski known. "He came close to losing the nomination for Trump," Stone said.
As Trump was growing frustrated with the direction of his campaign, The New York Times reported on Aug. 15 that his campaign chairman, Paul Manafort, allegedly pocketed $12.7 million in cash for business dealings he had with the Ukrainian government. Manafort has denied it. He declined to be interviewed for this article.
The Times tweeted its story in the normal course of getting the news to readers. What was odd is who quickly retweeted the damaging story: Lewandowski.
Days later, when Manafort resigned from the campaign, Lewandowski retweeted a post that read, "Lewandowski is winning so much even he may get tired of winning."
Lewandowski said later that morning during an interview with his employer, CNN, "I didn't win, but I thought it was funny because, you know, what it is people think I won. I had nothing to do with this."
He continued, "This was about Donald Trump. He's running for president. This is about what is best for Donald Trump, what is best for the American people and what is best to lay out his case that Hillary Clinton is not prepared to be the president of the United States."
Lewandowski was paid $20,000 by the Trump campaign in early July via Lewandowski's consulting firm, Green Monster Consulting, according to Federal Election Commission reports.
The Trump campaign has described the payment as severance to close out its contract with Lewandowski. Yet in his role now as an on-air analyst for CNN, he has said he is a Trump supporter but is impartial.
Appearing last week on "The Late Show With Stephen Colbert," the host asked Cooper about the payment. "So he works for you guys," Colbert said, referring to CNN. "Does he still get any money from the Trump people at the same time?"
Cooper said, "I believe – I read he gets a continuing severance payment from the Trump campaign."
"So y'all are paying him, and Trump is paying him, but he's on your show doing analysis for a man he still gets cash from?" Colbert said.
"Pretty much," Cooper said. "Yeah, I guess that's one way to look at it."
At the Manchester event last week, as he departed, Trump was escorted all the way to his vehicle by Lewandowski. Trump told Lewandowski to hop in for the ride to the airport, according to several sources. Lewandowski declined, waving goodbye.
They'd talk again, apparently soon enough.
ABC News' Candace Smith contributed to this report.