Attorneys for California professor Christine Blasey Ford, who has accused Supreme Court Justice nominee Brett Kavanaugh of sexual assault when they were in high school, say they are demanding to speak with the FBI agent in charge of the background investigation.
"It has been five days since the United States Senate Committee on the Judiciary and the White House announced that the FBI had been directed to conduct a supplemental investigation of Judge Brett Kavanaugh to investigate credible allegations of sexual assault made by our client, Dr. Christine Blasey Ford," the letter to FBI Director Chris Wray and FBI General Counsel Dana Boente read before criticizing what her attorneys say is a lack of outreach.
"It is inconceivable that the FBI could conduct a thorough investigation of Dr. Ford's allegations without interviewing her, Judge Kavanaugh, or the witnesses we have identified in our letters to you," the letter continued.
The FBI declined to comment.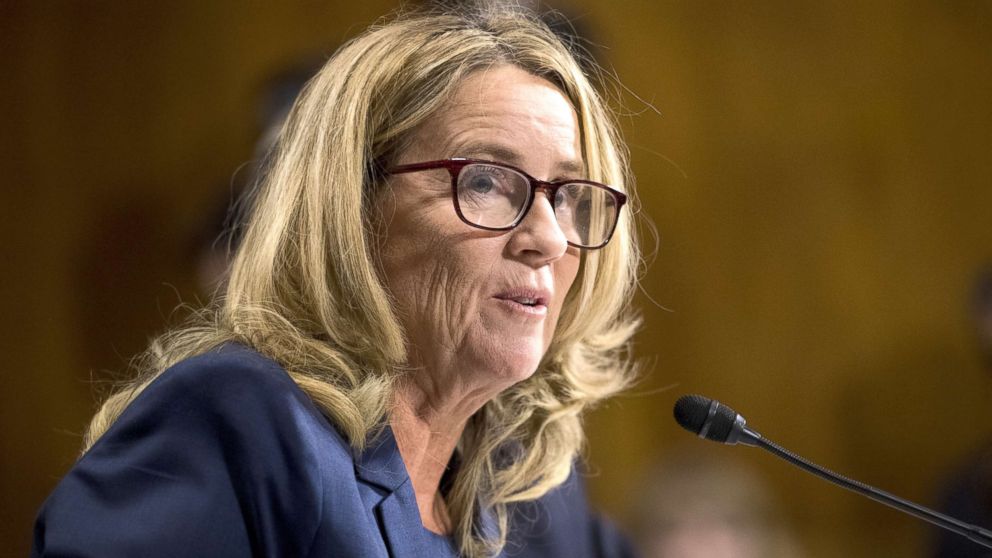 Earlier in the day, President Donald Trump said his embattled Supreme Court nominee's confirmation depends on what comes back from the FBI investigation.
"I think that Judge Kavanaugh is doing pretty well it seems to me over the last 24 hours," he said from the White House South Lawn just before departing on Marine One. "A lot is going to depend on what comes back from the FBI in terms of their additional, number seven, investigation."
Trump also said he was worried about the nation's young men.
"I say that it's a very scary time for young men in America when you can be guilty of something that you may not be guilty of," Trump said. "This is a very difficult time. What's happening here has much more to do than even the appointment of a Supreme Court Justice."
Kavanaugh's confirmation process took a turn after the Senate Judiciary Committee weighed testimony from both Kavanaugh and Ford during a marathon, and at times, explosive hearing last Thursday.
Kavanaugh has fiercely denied the allegation and all others that have surfaced.
In the past 24 hours, in response to pressure from Democratic and moderate Republican senators, the White House has eased limitations on the FBI background investigation into Kavanaugh that Trump set into motion Friday. The White House, at the urging of the Senate Judiciary Committee, an effort led in part by Senators Jeff Flake and Chris Coons, directed the FBI to look into what the committee deemed as "credible" allegations of sexual misconduct.
Trump continued his staunch defense of his Supreme Court pick on Tuesday saying he will be "totally impartial" as a Supreme Court justice.
"I think he's a great judge, he's known as a great judge."
On Monday, Trump called for a "comprehensive" but "quick" FBI investigation into the allegations of sexual misconduct as the agency works to meet a looming deadline.
After Ford came forward, another allegation emerged from Deborah Ramirez, who knew Kavanaugh in college at Yale University, and who accused him of sexual misconduct in a separate incident during their freshman year.
The White House specifically requested FBI interviews with Ramirez, among three others. The FBI has been authorized to interview anyone it wants, with a focus on two allegations of sexual misconduct against Kavanaugh raised separately by Ford and Ramirez, sources close to the process say.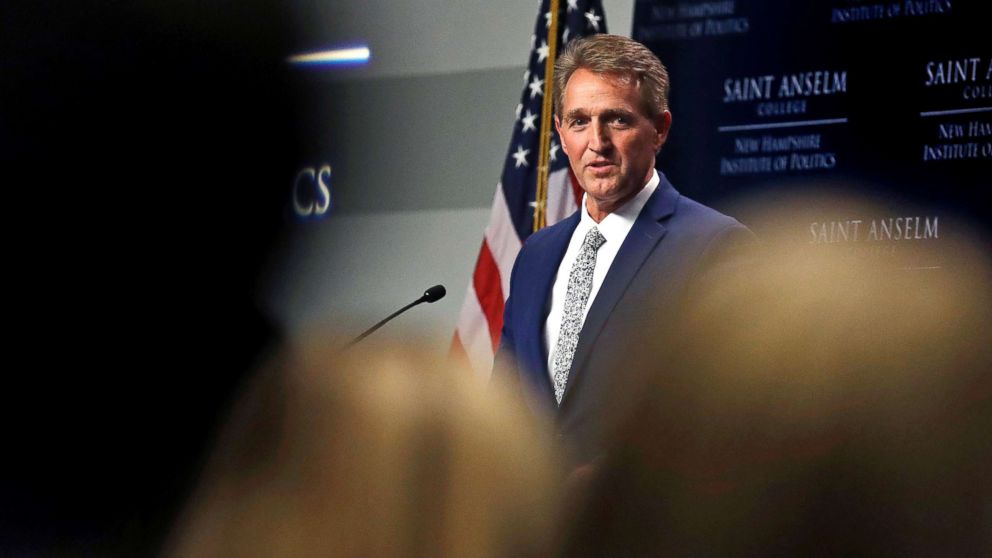 Flake, a pivotal player in the confirmation of Judge Brett Kavanaugh to the Supreme Court, both for his vote and for his show of bipartisanship when he asked for a one-week delay in a full Senate vote to allow for an FBI investigation, underscored his reservations about the partisanship President Donald Trump's nominee displayed amid acrimony over his stymied confirmation.
"I was very troubled by the tone of the remarks — the initial defense that Judge Kavanaugh gave was something like I told my wife that I hope that I would sound that indignant if I felt that I was unjustly maligned, but then it went on," Flake said Tuesday during The Atlantic Festival in Washington, D.C. "And the interaction with the members was sharp and partisan and that concerns me."
"We can't have this on the court," he added. "We simply can't."
Flake's apprehension towards Kavanaugh's nomination comes after a rare moment in American politics: Flake and Coons, who shared the stage at Tuesday's event, presented a united bipartisan front during Friday's Senate Judiciary Committee vote on the nomination and led to a delay in the bitter fight over Kavanaugh.
In an anteroom, just outside the Senate Judiciary Committee's dais, a huddle between Flake, an Arizona Republican, and Coons, a Delaware Democrat, led to a spirited compromise: Flake would support Kavanaugh's confirmation and move it out of the committee, but on the condition that an FBI investigation would be reopened for a week to dig into the allegations.
It was a moment that showed the country that amid deeply divided times, senators of both parties are "willing to take a week to hear each other," Coons said.
"It may not change the outcome whatsoever but it's a really significant statement," he continued.
"What Flake did that was exceptional and praiseworthy is to say, 'we have to come closer in terms of our understanding of facts'," Coons further contended. "If the nomination was forced forward, with no more further investigation, it would have a lasting impact on the credibility of the court."
Coons, indicating that the current state of affairs is unduly partisan, views this moment as one that shows "there is a hunger in the country for this to not be exceptional but ordinary."
Flake raised concerns over the "vitriol" in the hearing room Friday, calling it a "food fight" between the two parties.
"That's when I sat there and came to Chris," he recounted. "Chris gave a very sober, rational speech about how we could move forward and I thought that's what we've got to do."
"The Supreme Court is the last bastion — the last institution — that most Americans have faith in," he added. "If that faith is gone then heaven help us."
At stake with this nomination is the legitimacy of the court, according to Coons.
"Why this moment is so powerful and so fraught is that we have asked the Supreme Court to be the arbiter, the deciding point for some of our most personal, passionate and powerful issues," he said.
But the Court's "legitimacy is intensely fragile," he asserted. "Their force is in their credibility as independent arbiters of the constitution. It is gravely at risk."
Coons seemed to argue that the hostility from both sides is at fault for delegitimizing the nation's institutions, and reiterated Flake's sentiments on partisanship.
"The ways in which Judge Kavanaugh's character and credibility have been challenged and put on trial, and the ways in which he spoke to us as a committee that I thought were overly partisan, all of this is a steamy jambalaya that goes right at the credibility of the Court," he said.
"The Court cannot become as divided as the Congress," he urged. "It is inevitable there will deep bitterness and anger and frustration at the outcome of this nomination. No matter how it ends."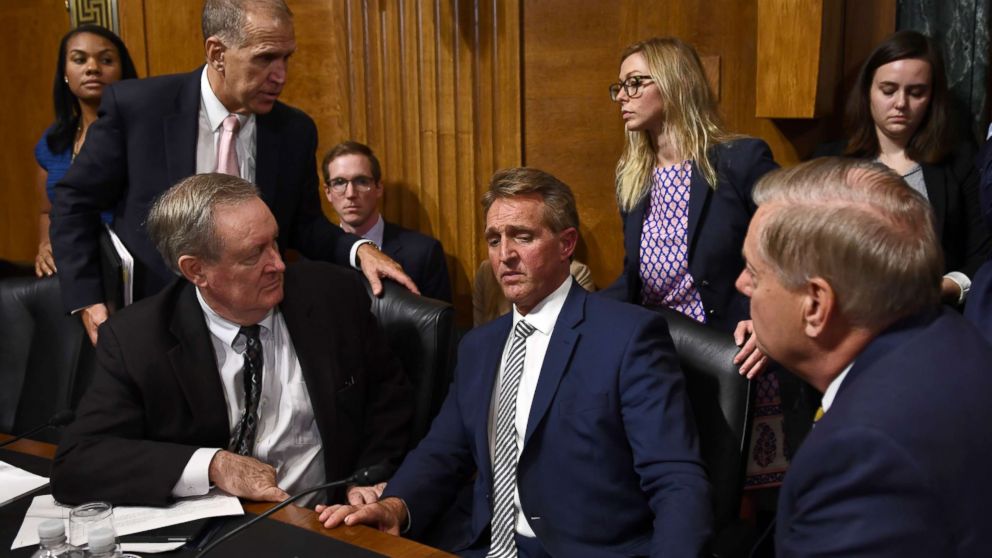 Coons also stressed that he is "gravely concerned" about how the rest of the world sees the United States on the global stage.
"We are an exceptional experiment," he began before warning, "We are an exceptional nation and we are at risk of losing it all through a populist mob mentality where no one can win because everyone must lose."
"It is up to you folks. I just have eternal gratitude to my friend Jeff for making us take one week and look at each other, hear each other, and respect each other."
When Congress' next term begins, Coons is facing a Senate without several key Republicans who often are willing to work with the other side — among them is Flake.
"I am enormously frustrated about how little progress we are making tackling the huge issues right in front of us that affect average Americans," he said. "I am facing a Senate without Sen. Flake, without Jeff, without Sen. McCain and without Bob Corker."
"These are three folks I have worked very hard to build good relationships with," he continued. "If the Senate doesn't work, our constitution, our republic, our nation doesn't work."
But he added, "I cannot abandon this post."
Addressing his impending exit from the Senate, Flake look towards the future, suggesting he will aim to continue to protect the Senate's role as the "bulwark," while dodging any speculation about a possible 2020 presidential run.
"I'm not leaving the Senate because I'm tired of this institution," he said. "We have got to find a way to get together. I simply couldn't run the kind of campaign that I wanted to run in this environment and succeed."
"Whatever role I can play outside of this body, I'll play because it's vital, it's important the Senate as an institution needs to return to its former glory," he said.
ABC News' Mike Levine contributed to this report.