New York Rep. George Santos, who continues to claim his mother was in downtown Manhattan on 9/11 despite immigration documents indicating she wasn't even in the United States, has invited a former ground zero volunteer firefighter to President Joe Biden's State of the Union address on Tuesday.
According to a Monday news release from Santos' office, his guest, Michael Weinstock, joined first responders in New York City on the morning of Sept. 11, 2001, and was later diagnosed with neuropathy, a nerve disorder.
"[Weinstock's] condition is a direct result of the dust and toxins released from the World Trade Center, and the condition is not covered under the World Trade Center Health Program," the news release states, referring to the federal coverage for people sickened in the attacks and their aftermath.
In a statement quoted in the news release, Weinstock, a former Democratic congressional candidate, said: "I have travelled to Washington to bring attention to firefighters with neuropathy. This is an issue that transcends politics and speaks to my heart."
In a phone interview with ABC News on Tuesday, Weinstock said that after he received a call from Santos inviting him to the State of the Union address, he accepted the invitation after talking it over with friends and family -- despite the controversy surrounding Santos -- because he "decided the subject of rescue workers is so important."
"I didn't vote for George Santos," Weinstock said from Washington, D.C. "I'm not going to vote for [him] if he ever runs for office again, but having the opportunity to talk about the firefighters who weren't receiving medical care is important stuff."
"That's why I'm here," said Weinstock.
When asked about Santos' numerous misrepresentations, Weinstock said his "goal is to help firefighters" and that he does not plan on asking Santos about his falsehoods.
"My goal is to help firefighters get the medical care that they deserve," Weinstock said, "and I'm going to stay focused on that goal."
Weinstock said that he and Santos struck up a friendship in 2019 when Weinstock was running for Congress as a Democrat. They stayed in touch periodically, Weinstock said, and Santos visited him when he was in the hospital for his condition.
"As I told George, I'm not going to jump on the George Santos pile-on," Weinstock told ABC News. "You visited me when I couldn't walk, and I'm appreciative of that."
Santos took to the House floor on Monday to advocate for expanded health coverage for people who suffer from 9/11-related illnesses. He also displayed a photo of what he said was Weinstock on Sept. 11.
"Since the World Trade Center Health Program does not cover neuropathy, people like Michael must pay out of pocket for treatment, medications and other medical needs. I ask my colleagues that we work together and find a solution and have conditions such as neuropathy be covered under the World Trade Center Program Act," Santos said.
9/11 has become a point of controversy for Santos as one of several key parts of his biography that have been shown to be false, exaggerated or disputed by other information.
He maintained in an interview with One America News last week that "the toxic dust that permeated throughout Manhattan and my mother being present [in] downtown Manhattan" led to her death in 2016.
Santos' campaign website also currently states that his mother "was in her office in the South Tower on September 11, 2001, when the horrific events of that day unfolded."
However, ABC News previously obtained documents showing Santos' mother was not in New York during the Sept. 11 attacks.
According to the documents from the Department of Homeland Security's U.S Citizenship and Immigration Services, Santos' mom, Fatima Devolder, applied in February 2003 for an immigrant visa from the American consulate in Brazil. The form states that she had not been in the United States since June 1999.
During his interview with OAN, Santos said he didn't understand the immigration documents showing his mom wasn't in the U.S. on 9/11.
"That, to me remains a mystery because I was here and I was 13 years old. So I want to understand where they're coming from with this," he said.
He added that while his family believes his mother died from a 9/11-related illness, "We've never been able to prove that through claims and we've never been able to qualify for claims as a family and we just let it go."
Weinstock has previously been the subject of questions surrounding his own involvement with 9/11. There are a number of pictures that clearly show his presence at ground zero that day, but the president of his former firehouse publicly said in 2019, when Weinstock was running for Congress, that "according to our records, Weinstock neither volunteered to assist with those efforts nor participated in those efforts as a member of" the firehouse.
Philip Katz, the president of the Vigilant Engine & Hook & Ladder Company, Inc., told ABC News on Tuesday that though Weinstock was a member of that volunteer fire company that day, "he was not particularly active that year." Weinstock was also removed from a firefighters benevolent association in "bad standing" over the same issue, Katz said.
"I think he fits very well with George Santos," Katz told ABC News. "He's a kindred spirit."
Weinstock says he was in Brooklyn on 9/11 when he saw the attacks, and jumped into action. Other firefighters have also defended his record.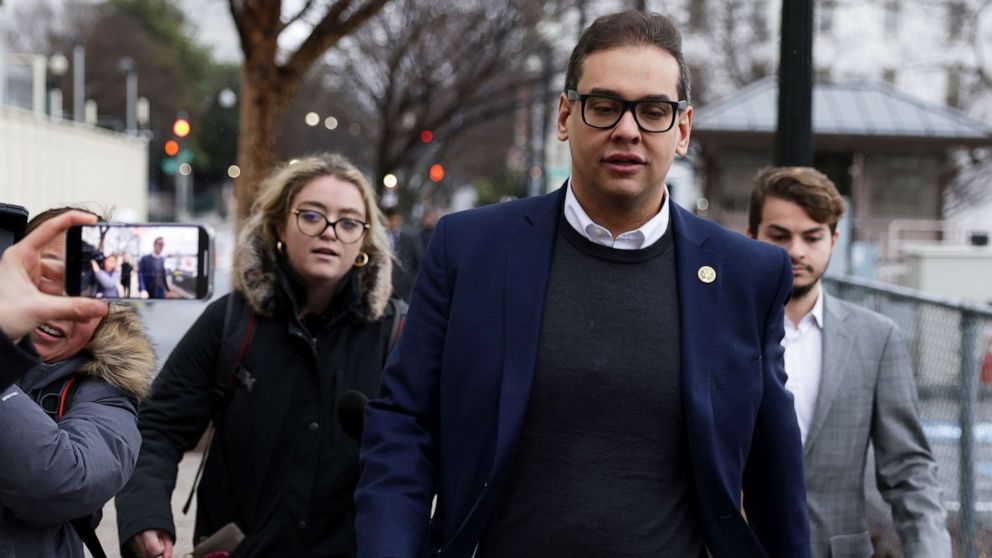 "I immediately grabbed my trauma bag, fire department T-shirt, and waved down the first rig I saw, which happened to have been an ambulance," Weinstock said. "We arrived and both towers were still standing."
Weinstock told ABC News that questions over his service "stung," and alleged they were aimed at him with the goal of supporting his congressional opponent.
Santos, a first-term Republican representing New York's 3rd Congressional District, has been dealing with controversy and investigations since before he took office last month. On Tuesday, Speaker of the House Kevin McCarthy said that Santos was under investigation by the House Ethics Committee, but later walked back those comments and indicated that the investigative process has started and that Santos is expected to face a House Ethics Committee investigation.
County, state and federal authorities are looking into a number of issues raised about Santos, including related to his campaign's finances, while Brazilian prosecutors have said they are seeking to revive check fraud charges against Santos from when he was a teenager and New York Democrats Reps. Dan Goldman and Ritchie Torres have filed a complaint with the House Ethics Committee.
Santos said in December that "I am not a criminal."
"This [controversy] will not deter me from having good legislative success. I will be effective. I will be good," he told The New York Post.
Last week, Santos told House Republicans he would temporarily recuse himself from his two assigned committees, on small business and on science, space and technology.
A spokesperson for Santos told ABC News at the time that "the congressman is reserving his seats on his assigned committees until he has been properly cleared of both campaign and personal financial investigations."
Speaker Kevin McCarthy indicated that if he were to fill Santos' committee seats, it would be on a temporary basis.
McCarthy insisted to reporters last week that he did not pressure Santos to recuse himself but said he has "some new questions" about the embattled congressman.
"I think going through ethics will answer some others. I think until he goes through that, it would be better that he doesn't serve on committees," McCarthy said on Wednesday.