Rep. George Santos on Thursday disputed a Navy veteran's claim that he allegedly ran a fundraiser for the veteran's ill dog in 2016 -- and then never shared the thousands raised.
Santos, R-N.Y., has faced mounting criticism and calls to resign, including from some in his party, over a string of lies and exaggerations about his background. He has admitted to "embellishing" some details, but has said he will not step down, suggesting he'll defer to his constituents to either reelect him or vote him out in the next election.
Navy veteran Richard Osthoff added to the string of accusations against Santos when he told Patch, in a story published Tuesday night, that Santos strung him along rather than provide the money for his dog's care that was raised via an online fundraiser.
Osthoff is disabled and was discharged from the Navy in 2002, according to Patch. He said that he was living out of a tent and his service dog, Sapphire, was sick with a tumor in 2016 when he was referred to Friends of Pets United, which he believed was a pet charity that Santos was running at the time, when Santos was going by the name Anthony Devolder.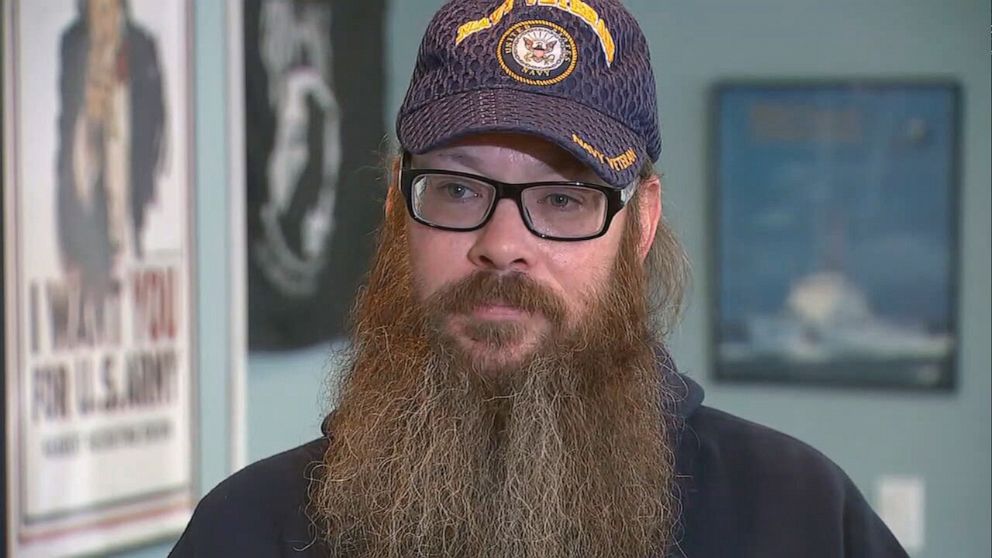 The IRS' online records do not currently list a charity under that name.
Santos opened a fundraiser for Sapphire on GoFundMe and raised $3,000 but later became uncooperative and unresponsive and didn't provide the money to treat Sapphire, Osthoff alleged to Patch.
Osthoff never managed to get Sapphire the proper treatment, he said, and she died in January 2017.
According to Patch, a screenshot of a November 2016 post from Osthoff's Facebook page shows him writing that "we were scammed by Anthony Devolder ... and Friends of Pets United."
Patch reported that it was given texts and Facebook screenshots corroborating Osthoff's account but could not find an archived version of the since-deleted GoFundMe page that he described.
The online news outlet Semafor found an April 2016 tweet from another user apparently referencing a fundraiser for Sapphire by an "Anthony Devolder."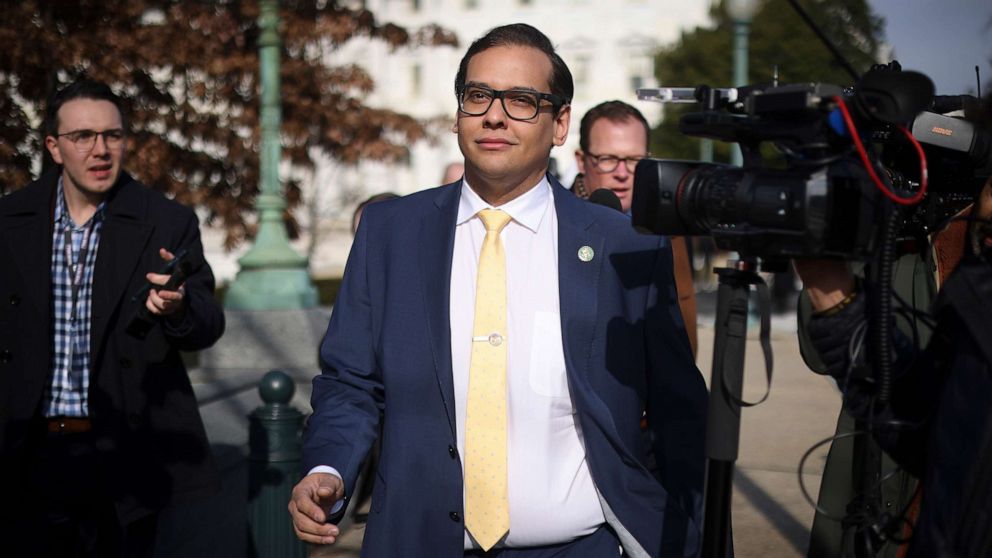 Osthoff told Patch that Santos told him he "didn't do things my way" and Santos redirected the money "for other dogs."
Santos appeared to deny Osthoff's allegations to Semafor, texting a reporter there that it was "fake" and he has "no clue who this is," in reference to Osthoff.
He took to Twitter Thursday morning to dispute the allegation, writing: "The reports that I would let a dog die is shocking & insane. My work in animal advocacy was the labor of love & hard work. Over the past 24hr I have received pictures of dogs I helped rescue throughout the years along with supportive messages. These distractions won't stop me!"
(Santos posted an updated tweet, changing the original wording "reduce" to "rescue.")
Texts that Osthoff provided to Patch from "Anthony Devolder" show he was told by Devolder in November 2016: "Sapphire is not a candidate for this surgery [and] the funds are moved to the next animal in need."
"We will make sure we use of resources [sic] to keep her comfortable!" Osthoff was texted by Devolder, according to what Osthoff shared with Patch.
ABC News has reached out to Santos for comment and has not received a response.
In a statement to ABC News, GoFundMe spokesperson Jalen Drummond said the platform received a "report of an issue with this fundraiser in late 2016."
"Our trust and safety team sought proof of the delivery of funds from the organizer. The organizer failed to respond, which led to the fundraiser being removed and the email associated with that account prohibited from further use on our platform," Drummond said. "GoFundMe has a zero tolerance policy for misuse of our platform and cooperates with law enforcement investigations of those accused of wrongdoing."
A source confirms it was Santos running the GoFundMe in 2016.
In an interview on Wednesday with ABC's WABC in New York and other local news, Osthoff recalled the end of Sapphire's life. "I grabbed her by the paws. I put my mouth up to her nose and I inhaled her last breath because I wanted her soul inside of my body," he said.
Osthoff said "of course" he's still angry over what happened. "More, just, I'm at a loss. This is the strangest thing that's ever happened to me," he said. "I can't believe that I was so vulnerable that I allowed myself to be used like that. I'm more ashamed, I think, that I let that happen than I am angry."
When he reached out to Santos after being referred to the charity, he told WABC, "I took his help. I needed it. I needed that dog to survive. And I didn't have any inkling of idea that it was a scam at first; had no clue."
Osthoff said Sapphire was a major support for him: "She knew when my moods were changing. She knew when I was depressed … She pressed herself up against me; she would climb on me; she knew something was happening. So I would put all my concentration on her, and whatever was triggering me went to the back of my mind."
Osthoff said his only interactions with Santos were through phone calls and texts. He said he did not know who Santos really was until he saw him on television a few weeks ago outside the Capitol being chased by reporters.
"I got a sick feeling in my stomach when I saw his face," Osthoff told WABC.
New Jersey Veterans Network President Michael Boll, a veteran and retired police sergeant, said he tried to help Osthoff and intervene in the situation.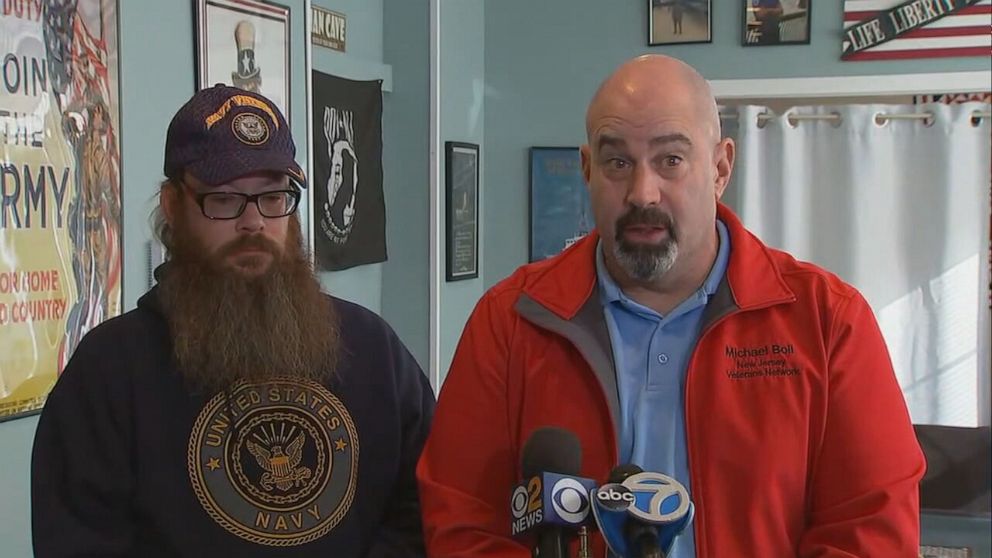 "It really just hurts us so much to know that people are out there taking advantage of veterans that are in need," Boll told WABC on Wednesday. Boll also confirmed Osthoff's service with the Navy, telling WABC he had served on the USS Nimitz.
Maj. Gen. Paul Eaton, a senior adviser to advocacy group and PAC VoteVets, said in a statement: "There is not much that's lower in this world than stealing from a disabled veteran with a terminally ill dog ... Santos must be referred to the [House] Ethics Committee and must face an eventual expulsion vote, if he will not step down."
Santos has previously apologized for some of his fabrications but cast them as more routine resume embellishments. He told The New York Post last month, "I am not a criminal."
Documents contradict Santos' claim mom survived 9/11
ABC News on Wednesday also obtained documents showing Santos' mother was not in New York during the Sept. 11 attacks, as he claims. 
The records were first reported by The Forward, a Jewish news outlet, and The Washington Post. They were obtained by genealogist Alex Calzareth, who requested them under the Freedom of Information Act and subsequently provided them to ABC News and other news outlets. 
According to the documents from the Department of Homeland Security's U.S Citizenship and Immigration Services, Santos' mom, Fatima Devolder, applied in February 2003 for an immigrant visa from the American consulate in Brazil. The form states that she had not been in the United States since June 1999.
However, Santos wrote in a tweet in 2021 that "9/11 claimed my mother's life…"
His campaign website currently states that his mother "was in her office in the South Tower on September 11, 2001, when the horrific events of that day unfolded. She survived the tragic events on September 11th, but she passed away a few years later when she lost her battle to cancer."
An online obituary for his mother, reviewed by ABC News, states that she died on Dec. 23, 2016.
Santos' team did not respond to a further request for comment about the discrepancies over his mother and 9/11.