About 45 constituents of Republican Rep. George Santos traveled from New York's 3rd Congressional District to Capitol Hill Tuesday to demand Congress vote to expel him.
"We are here because Speaker McCarthy apparently cannot hear us when we speak from Long Island," said Jody Kass. Kass is the coordinator of Concerned Citizens of NY-03, a nonpartisan group who want to see Santos ousted from office.
"Speaker McCarthy, if the GOP is so concerned about election integrity, how about doing something about the con man who lied his way into the House and perpetrated the greatest fraud on the electorate in American history?" she said.
The constituents were also joined by Reps. Daniel Goldman and Ritchie Torres, the New York Democrats who recently filed a complaint with the House Ethics Committee where the investigative process has started.
McCarthy told reporters Tuesday the committee is "moving through" the complaint and suggested the House would take action if the committee found wrongdoing.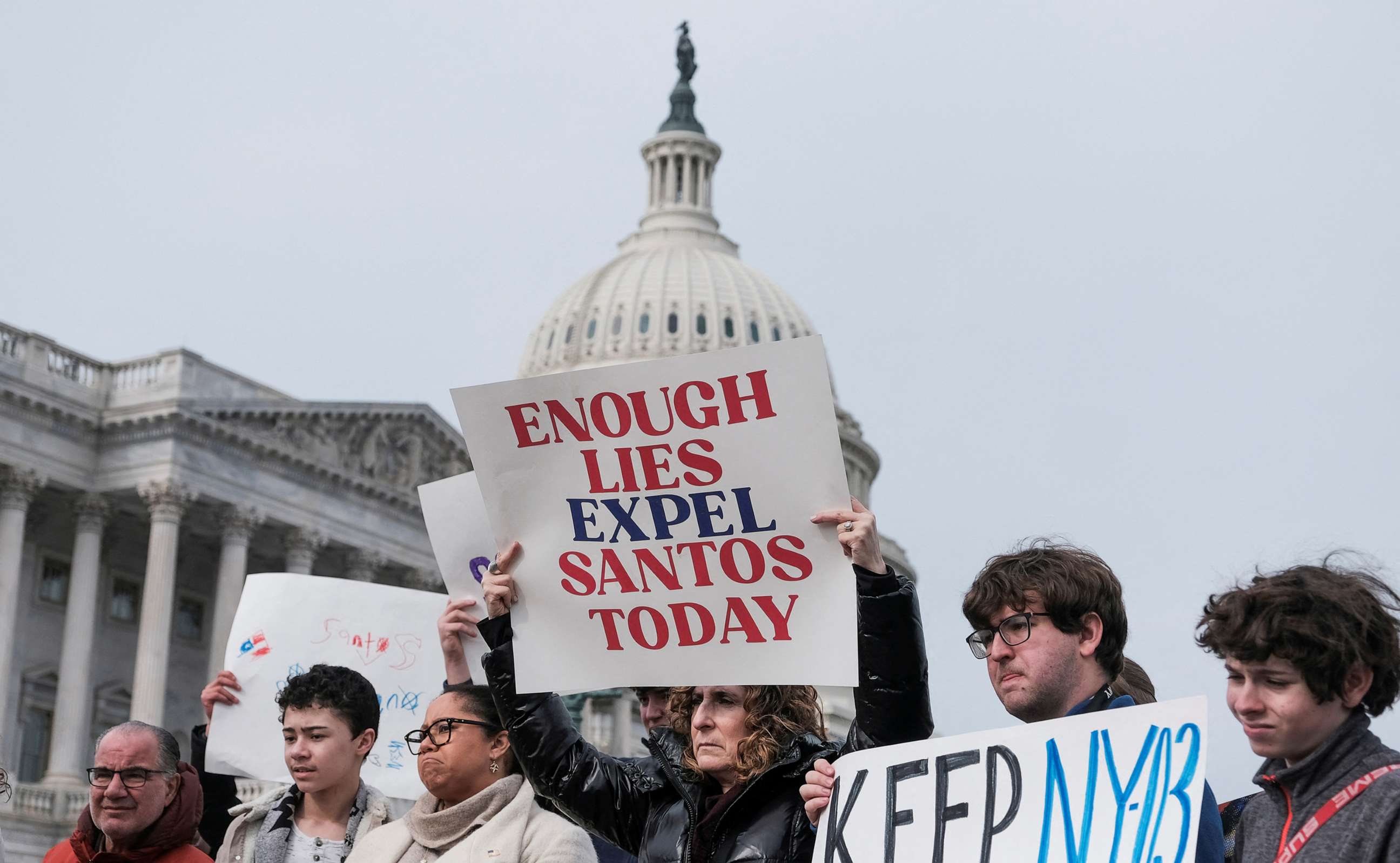 "George Santos, I give him credit, he's the greatest fiction writer in the history of Congress," Torres said.
"But the time has come to end the tragedy and the comedy that is George Santos. You should no longer be deprived of the representation that you deserve," he continued to cheers from the crowd.
"Congressman Torres and I filed a complaint with the House Ethics Committee a couple of weeks ago as one of the first things that we did as part of this Congress because we saw the unbelievable and unprecedented amounts of fraud, deception, and lies that a single person has brought to what should be the hallowed halls of the Capitol," Goldman said.
Taiba Ahmad, a teacher from Santos' district and an Afghan refugee, said she works to help other refugees. While she previously worked with the constituent service team for former Rep. Tom Suozzi, Santos' predecessor, she cast doubt on the work Santos will be able to do.
"Constituents depend on their member of Congress daily to assist them with issues, some as unusual as mine, but even for everyday things like filing our taxes or applying for government services," Ahmad said.
"This is not a Republican or Democrat issue," she said. "It comes down to whether the residents of New York-03 deserve to have a real representation in Congress. Right now, we do not have a legitimate representation that we can depend on."
Santos tweeted in late January that he was "getting the job I signed up for done."
The Long Island constituents then dropped off petitions calling for Santos' resignation to the offices of Rep. Michael Guest, chair of the House Ethics Committee, Speaker McCarthy and Santos.
When the group arrived at Santos' office, a staffer came out to accept the petition, but the embattled congressman was nowhere to be found, prompting chants of "Where's George?"
"Today, we found out that he is a chicken because he is afraid of his constituents," Kass told reporters after leaving Santos' office.
ABC News' Katherine Faulders contributed to this report.