— -- Fending off a serious Democratic challenger in a race widely viewed as a barometer of public opinion on President Donald Trump's presidency, Republican Karen Handel won the special election Tuesday to succeed Secretary of Health and Human Services Tom Price in Georgia's sixth congressional district.
The Associated Press called the race for Handel at 10:12 p.m. And at 11:31 p.m., the office of the Georgia Secretary of State confirmed, that with 100 percent of all precincts reporting, Handel had won by a 52.13 percent-47.87 percent margin. That translated to 132,459 votes for Handel, and 121,635 votes for Ossoff.
President Trump was quick to react to Handel's win, tweeting, "Things are looking great for Karen H!"
And House Speaker Paul Ryan, R-Wisc., said in a statement, "Congratulations to Karen Handel on a hard-earned and well-deserved victory. Democrats from coast to coast threw everything they had at this race, and Karen would not be defeated. The people of Georgia's 6th Congressional District are the big winners tonight because they have elected a representative who is going to tirelessly fight for them and their interests."
Ryan continued, "Karen is all business. I've campaigned with her and I know how eager she is to get to work. I'm excited to have her as a partner in the House of Representatives, and I look forward to working with her as we tackle our country's most pressing problems."
Meanwhile, Rep. Seth Moulton, D-Mass., a rising star in the Democratic party who supported Nancy Pelosi's challenger in the race to lead House Democrats after the election, says the result of Tuesday's special election is a sign that "business as usual isn't working ... Time to stop rehashing 2016 and talk about the future."
At her victory celebration, Handel thanked her supporters and President Trump.
"A special thanks to the president of the United States of America," she said as her supporters chanted, "Trump! Trump! Trump!"
Handel also assured Ossoff's supporters that she will represent them. She preached a message of unity, saying, "we are part of one community, the community of the sixth district."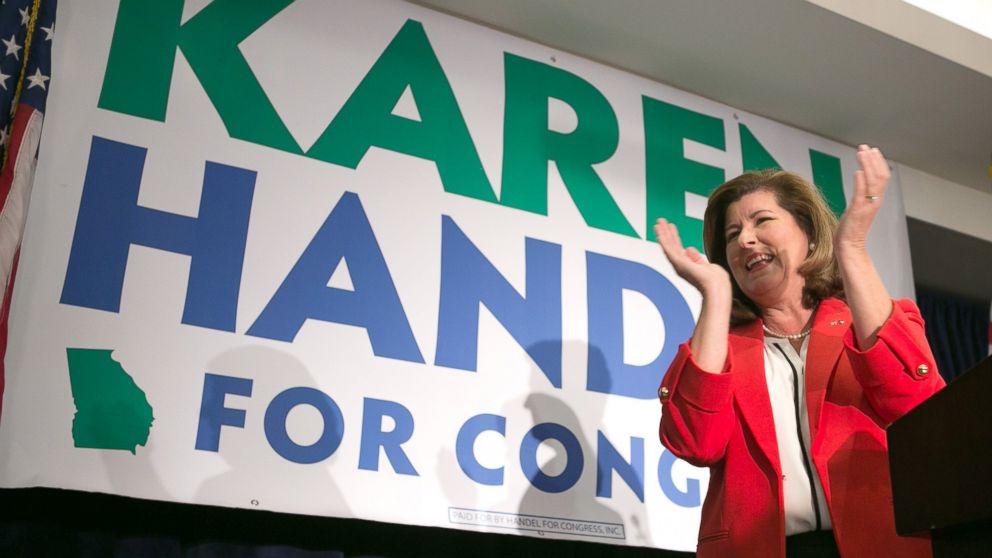 She also referenced her perseverance in the business and political worlds. "It's that fighting spirit, that perseverance and tenacity that I will take to Washington," she said Tuesday night.
And in a nod to last week's shooting in Alexandria, Handel said politics has become too embittered. "My pledge is to be part of the solution, to focus on governing," she said.
Handel told her crowd of supporters that she plans to work on tax reform with lower corporate rates, "but also lower individual rates so that our middle class can participate and our small businesses can participate."
Ossoff expressed a hopeful sentiment in the moments following his loss, while speaking to his supporters, whom he described as a "beacon of hope."
He also thanked supporters for a "hard fought" race, saying that while the outcome was not the one "many of us were hoping for," the race was is "the beginning of something much bigger than us ... the fight goes on." He closed by thanking his fiance and saying that "Hope is still alive."
Handel's defense of the district, occupying the affluent suburbs north of Atlanta, comes as a blow to challenger Jon Ossoff who raised over $20 million for the race after finishing less than two percentage points shy of achieving a majority and winning the seat outright during the first round of voting April.
Democrats nationwide viewed the special election as an opportunity to mobilize anti-Trump sentiment early in the president's tenure. Though two previous opportunities to flip house seats in special elections in Kansas and Montana fell short this year, Georgia's sixth was thought to be within reach after Hillary Clinton nearly turned the district blue in November.
Clinton fell short of Trump by less than two percentage points in the presidential election, four years after Republican Mitt Romney triumphed over President Barack Obama by a 61-38 percent margin in 2012. No Democrat has represented the district in Congress since 1979.
Donors from across the country showed an outpouring of support for the photogenic 30-year-old Ossoff in his first political race, banking on an influx of younger voters and the changing demographics of the region to carry the documentary film producer to Washington.
The widespread external interest in the candidate -- who lives beyond the borders of the sixth himself -- became a point of contention for Republicans, who decried that over 95 percent of his donations came from outside Georgia. The race ultimately became the most expensive congressional election in U.S. history.
Handel, 55, a former Georgia secretary of state, won the election after falling short in Republican primaries for governor and U.S. senator in 2010 and 2014, respectively. After receiving nearly 20 percent of the vote to finish a distant second to Ossoff in April's jungle primary -- the top finisher in a field of 11 Republicans -- Handel received the backing of the White House, with Trump attending an Atlanta fundraiser in late April and tweeting his support in recent days.
Fundraising for the Republican paled in comparison to the Democrat's total, but Handel was boosted heavily by outside groups. Super PACs and the National Republican Congressional Committee contributed a combined $18.2 million to defend the seat once occupied by former Speaker of the House Newt Gingrich and Georgia Sen. Johnny Isakson.