At least one governor has pulled his state's National Guard resources from the southern border over the controversial Trump administration practice of separating families who cross the border illegally, and more are saying they will refuse to send any troops if the policy continues.
Maryland Gov. Larry Hogan, a Republican, tweeted on Tuesday that he has directed a four-person National Guard crew from his state to come back from New Mexico where they are stationed.
Several other governors, including one Republican, say they won't send National Guard units to the U.S.-Mexico border as bipartisan outrage over the family separations at the border mounts.
President Donald Trump signed a proclamation in April authorizing the National Guard to help Customs and Border Protection secure the border. Defense Secretary James Mattis worked with state governors to send up to 4,000 troops to assist with operations at the border, including in administrative and surveillance work that would free up Customs and Border Protection personnel. Previous administrations have also authorized the Department of Defense to support the Department of Homeland Security when it comes to immigration.
A Department of Homeland Security official said it is disappointing that governors who are seeing an increase in the dangerous MS-13 gang in their state are choosing not to help protect the country from gangs.
"We are fortunate to have the support of many governors who care about national security, preventing entry of gang members, illegal drugs, and protecting the American worker," the official said in an emailed statement.
The official did not immediately respond when asked for numbers to support the claim about increased MS-13 activity in particular states.
Rhode Island Gov. Gina Raimondo, a Democrat, said Tuesday that she has not been asked to send National Guard units from her state to the southern border but that she will not deploy them to support a policy that separates families.
"The President alone can end family separation. I'm standing with all good-hearted people in our nation and calling on President Trump to end this inhumane policy," Raimondo tweeted on Tuesday.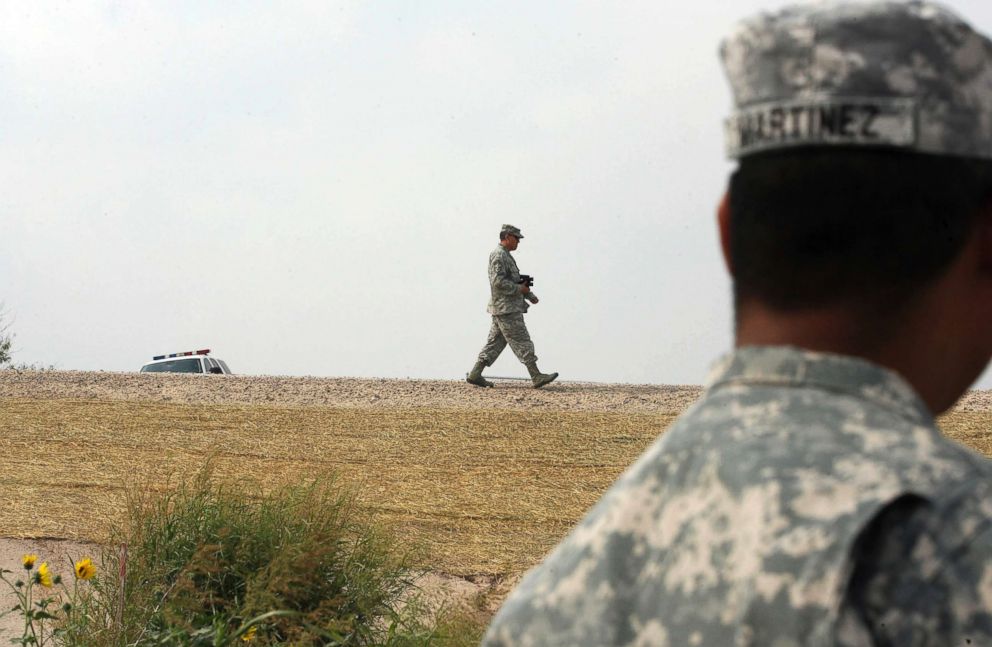 New York Gov. Andrew Cuomo, a Democrat, said that his state "will not be party to this inhumane treatment of immigrant families," in a statement on Monday.
"Day after day, I am increasingly disturbed by the reports of disgraceful tactics used by ICE both in our own state and along our nation's border," Cuomo said in the statement.
Massachusetts' Republican Gov. Charlie Baker said Monday that separating families was inhumane and that the state's National Guard will not send any troops to the border as planned.
"Governor Baker directed the National Guard not to send any assets or personnel to the Southwest border today because the federal government's current actions are resulting in the inhumane treatment of children," said Baker communications director Lizzy Guyton in a statement sent to WGBH News.
The administration continues to say that they are simply enforcing the law, and Homeland Security Secretary Kristjen Nielsen condemned reports from news organizations and advocacy groups about families separated at the border.
When asked about Baker's comments White House press secretary Sarah Sanders said he should call his congressional delegation and ask them to change the law.
"I have not seen the comments specifically but I would tell him that he should call every member of Congress particularly those in his own state and ask them to fix the law. There's only one body here that gets to create legislation and that's Congress, it's our job to enforce it. We want Congress to fix this and that is what the president has called on them to do that," Sanders said.
California Gov. Jerry Brown, a Democrat, previously declared in April after Trump's order that California's National Guard will not be used to enforce federal immigration laws.
Another Democrat, Colorado Gov. John Hickenlooper, signed an executive order that says no state resources will be used for the purpose of separating children from their families for violating federal immigration law.
"The U.S. Department of Homeland Security's policy and practice of separating children from their parents when arriving at the southern border is offensive to our core values as Coloradans and as a country," Hickenlooper says in the executive order. "The administration announced a 'zero tolerance' policy in the spring of 2018 resulting in family separations. The administration has recently stated that the purpose of the policy is to intimidate immigrants and deter crossings."
Several other governors weighed in against the practice of separating families, with some strongly criticizing the administration.
A spokeswoman for Nevada's Republican Gov. Brian Sandoval said Sandoval does not support the practice of separating families and wants the administration and Congress to reform immigration policies.
"Regarding any use of the Nevada National Guard at the border, their mission directly states they will not be used for any civilian law enforcement activities," the spokeswoman said in a statement.
On Monday, Hogan, the Maryland governor, said on Twitter that the administration should focus on criminals instead of families. Department of Homeland Security Secretary Kristjen Nielsen said Monday that there has been an increase in migrants pretending to be family units when they enter the U.S.
North Carolina Gov. Roy Cooper, a Democrat, also tweeted calling on Trump to end the policy.
ABC News' John Verhovek contributed to this report.