For the second year in a row as president, Donald Trump addressed the National Rifle Association in Dallas, Texas at its annual convention, but this year's remarks come in the wake of some of the deadliest mass shootings in U.S. history, including at a high school in Parkland, Fla.
"The people in this hall have never taken our freedom for granted, you've never stopped fighting for our beloved Constitution," Trump said.
"Your Second Amendment rights are under siege, but they will never be under siege as long as I am your president" Trump said.
After briefly hailing the Second Amendment, Trump pivoted to a campaign-rally style off-prompter speech in which he talked about Kanye West, North Korea, a CNN chyron about the Mueller investigation, immigration, judicial appointments and the midterm elections.
Trump read from a Wall Street Journal article citing a federal judge questioning the motivations of special counsel Robert Mueller's authority and motivations.
Trump praised the judge as "really something very special...he's a respected person."
"I tell you what folks, we're all fighting battles but I love fighting battles," Trump said after throwing the WSJ printed article to the ground.
He then turned to Kanye West and African American approval ratings.
"By the way, Kanye West must have some power because you probably saw I doubled my African American poll numbers," Trump said in reference to a poll. "Thank you, Kanye."
Next, he talked about North Korea, saying things are "doing really well."
"The last administration had a rule – don't talk!" Trump said flailing his arms as his criticized President Obama.
Finally, he pivoted, "Let's talk about guns, shall we?" Trump said to cheers in the audience.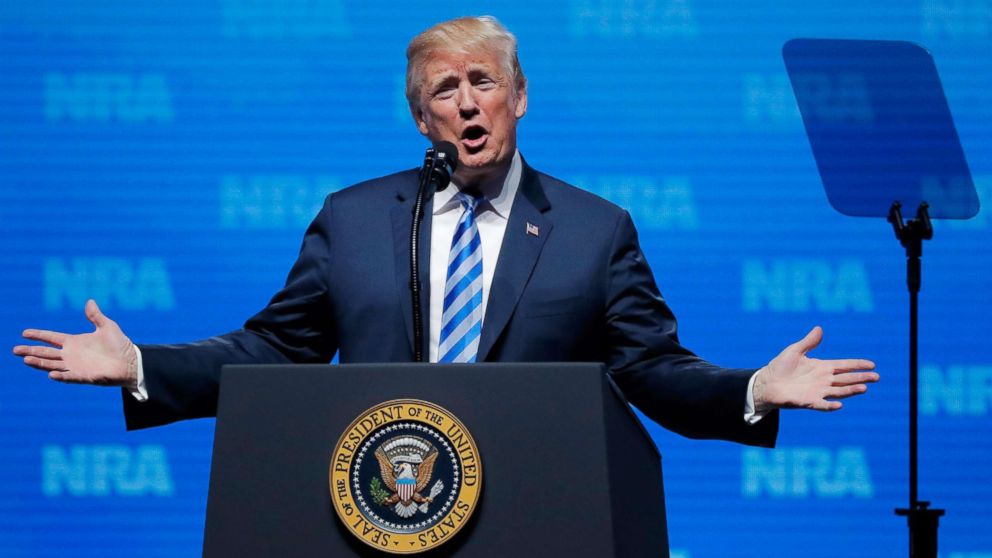 He endorsed arming teachers in schools and "red flag" laws and spoke extensively about the 2015 terrorist attack at the Bataclan in Paris.
"They were killed by a small group of terrorists that had guns. They took their time, and gunned them down one by one. Boom, come over here, boom. Come over here, boom," Trump said dramatically.
"If one employee or patron had a gun or one person in this room had been there with a gun aimed at the opposite direction, the terrorist would have fled or been shot and it would have been a whole different story, right?"
Trump talked about the many "red flags" raised with the shooter in Parkland and wanting to "harden" schools with additional security. "We strongly believe in highly trained teachers to be able to carry concealed weapons, and we want finely trained security guards," Trump said.
Following the Parkland shooting, Trump strayed from the NRA's positions on gun control and even said he would be willing to stand up to the powerful gun lobby.
But during an impromptu press gaggle aboard Air Force One on the way to the convention, President Trump called the NRA "a truly great organization that loves this country."
After Parkland, Trump seemed open to some gun control measures. Trump hosted the students who survived the mass shooting at Marjory Stoneman Douglas High School in Parkland, as well as parents of school shooting victims, at the White House in the weeks following the shooting.
After the listening sessions, Trump advocated for arming teachers – something supported by the NRA – but also raising the age limit for purchasing long guns to 21, something the NRA has strongly opposed.
But then, during a meeting with lawmakers at the White House, Trump accused some of the politicians of being "afraid" of the NRA gun lobby.
"Some of you people are petrified of the NRA. You can't be petrified. They want to do what's right, and they're going to do what's right," Trump said.