As Supreme Court nominee Judge Brett Kavanaugh took his seat Tuesday before senators ready to scrutinize his stance on abortion, a group of women stood in silent protest outside the judge's confirmation hearing room, dressed in floor-length red gowns and white bonnets to reflect the Dystopian threat of "The Handmaid's Tale."
About 15 women lined the balconies overlooking the entrance to Senate office building. Their costumes, coupled with their silence, were meant to carry an ominous message from Margaret Atwood's novel-turned Hulu miniseries about a world devoid of basic human rights for women. The protest was organized by the liberal advocacy group Demand Justice, which strongly opposes Kavanaugh's confirmation because of his previous decisions on abortion and health care as a U.S. Court of Appeals judge.
"We are fighting Brett Kavanaugh's nomination because he represents the greatest threat to the right to legal abortion since Roe was decided. Already in America, the right to abortion is under attack, putting access out of reach for far too many women, especially low-income women and women of color. Brett Kavanaugh would take our current reality and make it worse—much worse," Lori Lodes, an advisor with Demand Justice, wrote in a statement to ABC News.
"If the images of women in Handmaids costumes are striking, good, because this is serious. Women's bodies, futures and lives are literally on the line," Lodes wrote.
The "handmaids" costume is a recurring theme at protests of President Donald Trump and Vice President Mike Pence, who are both pro-life.
Their concern is further bolstered by Trump's comments that he would nominate "pro-life justices" to the Supreme Court. Kavanaugh has described the 1973 landmark case establishing a constitutional right to abortion as "settled law," but leaders at Planned Parenthood called this response "hollow words."
The Demand Justice protesters were among many on Capitol Hill for the first day of Kavanaugh's hearings.
Late Tuesday, U.S. Capitol Police said 61 protesters were removed from the Hart Senate Office Building hearing room and nine other were removed from the second floor of the Dirksen Senate Office Building.
As senators spoke, both women and men stood up intermittently in the hearing room and interrupted senators to chant "Vote No on Kavanaugh."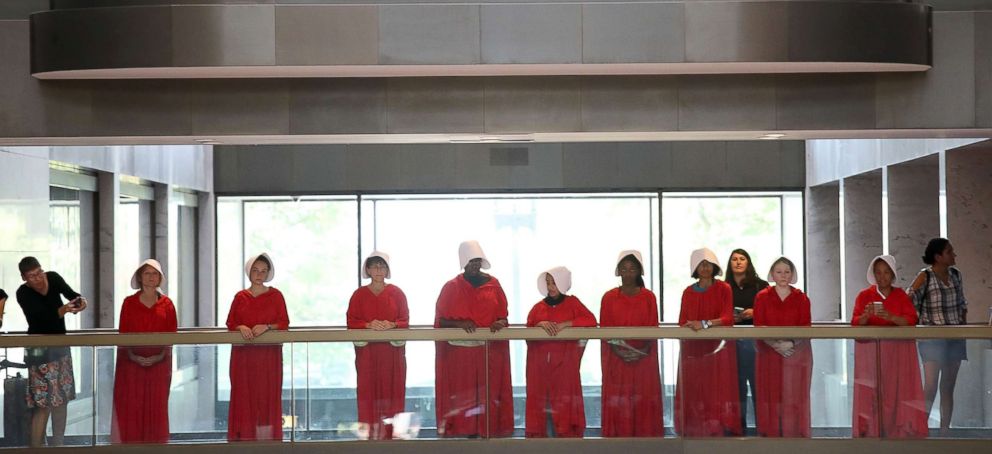 "This should be an impeachment proceeding," one protester shouted, referencing Trump's legal challenges, before she was escorted out. A number of men were also arrested, though the majority were women.
Shaunna Thomas, 37, was arrested for disorderly conduct around 30 minutes into the hearing, she said. "Senators, on behalf of millions of women whose rights would be stripped by a Kavanaugh court, I demand you reject this nomination," she stood up and shouted over the committee chairman, Republican Sen. Chuck Grassley of Iowa.
Thomas is the co-founder and executive director of UltraViolet, a left-leaning organization that works to fight sexism. Her main concern, she said, is that Roe vs. Wade is at stake. She missed her three-year-old daughter's first day of school to be in the hearing.
"I missed it because it is clear to me that if his nomination proceeds, if he gets on the court, her life is going to be limited, her choices are going to be limited. She will have less ability to achieve and live up to her potential as a woman than I did, and that's unacceptable to me," Thomas said.
She's not confident Kavanaugh won't be confirmed, she said, but she's confident that women are watching.
"Ultimately, this is up to Republicans," she said. "So I'm never confident that Republicans, under their leadership, are going to show up for people who need them -- that's not what they do -- but I am confident in people holding them accountable at the polls and telling them what they need to do, so we'll have to see if they're willing to listen to their constituents or not."
Multiple times throughout the day, senators denounced the protesters.
When a protester spoke over Republican Sen. Orrin Hatch of Utah, he turned to Grassley and asked to "have this loudmouth removed."
"We shouldn't have to put up with this kind of stuff. I hope she's not a law student," Hatch said.
Grassley explained that he "expected the police to do their job" and "the committee to go on."
When another protest shouted a few minutes later, Hatch said, "Frankly, these people are so out of line they shouldn't even be allowed in the doggone room, but Judge Kavanaugh, I'm proud of you."
Sen. Patrick Leahy, a Democrat, also got angry when he was interrupted by a protest. "Mr. Chairman, I do not intend at any point to continue what I have to say with such interruptions. I don't care who's side they're on," he said.
Protesters also shouted pleas for a delay of the hearing, an attempt Democrats pushed at the opening of the hearing.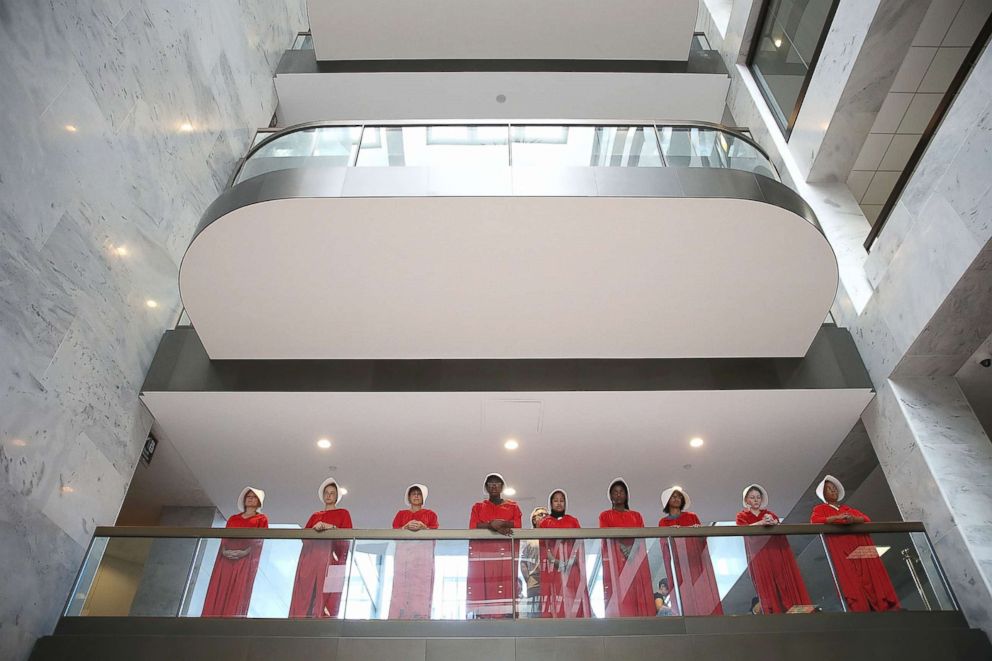 Sen. Dick Durbin of Illinois, the second-ranking Democrat in the Senate, acknowledged that Democrats had put together a coordinated effort to propose more time. One day before the hearing, another 42,000 pages of documents were released, on top of the 440,000 pages already made public by the Senate Judiciary committee.
"I had no idea that at 11 p.m. last night, 42,000 more documents would be put on top of us and we'd be asked to take them up today. So it added insult to injury," Durbin said.
Durbin and other Democrats also argued that there were more documents Democrats wanted to see before proceeding.
"We have been denied real access to the documents we need," said Democratic Sen. Richard Blumenthal of Connecticut.
Ranking member Sen. Diane Feinstein said senators were missing 93 percent of the documents from the course of Kavanaugh's career with Independent Counsel Ken Starr, the George W. Bush White House and the D.C. Circuit Court of Appeals.
Grassley repeatedly emphasized that there were more documents available for Kavanaugh than for any of the past five Supreme Court nominees ahead of their hearings.